We use affiliate links. If you buy something through the links on this page, we may earn a commission at no cost to you. Learn more.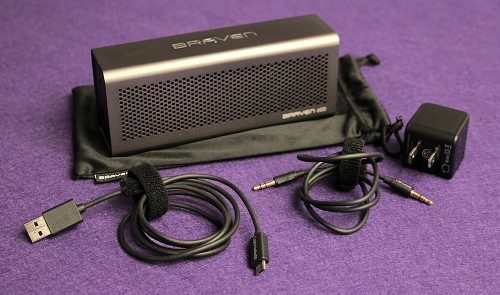 I am quickly becoming a fan of portable audio speakers and docks. They are convenient and sometimes sound way better than their size would indicate. Last year, I reviewed the wonderful Soundmatters FoxL speaker which impressed everyone who heard it with its jaw-dropping sound. Later Jawbone released the Jambox, which is basically a reworked FoxL in a much prettier case. There was also a company named Spar which made a beautiful, aluminum-wrapped speaker, the Zephyr. Spar (now Braven) has replaced the Zephyr with three new speaker models, the Braven 600, 625s and 650.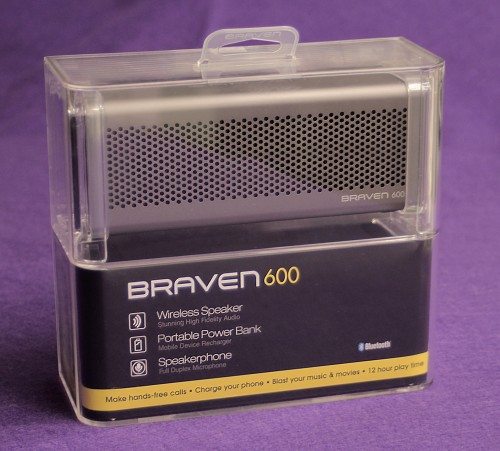 I'm reviewing the Braven 600. Right out of the box, you notice the Apple design influence and how beautiful this speaker is. The seamless, anodized aluminum exterior looks and feels great. I had the natural aluminum look, but the 600 is also available in an anodized red. Speaker holes are cut into the front and back, allowing almost 360º air movement which expands the soundstage. Actually, the front and back are identical looking, and it's only the printed Braven logo on the front that gives you a hint. The 600 is a visual match to the MacPro tower, but truthfully, it will look good next to anything.
Be warned though: The Braven 600 is a Dr. Jekyll and Mr. Hyde speaker.
Let's deal with Dr. Jekyll first.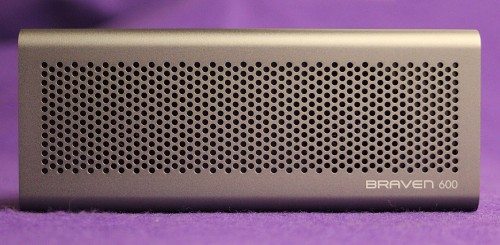 The 600 is a Bluetooth speaker. I've said repeatedly that I have issues with Bluetooth. But Apple's superior AirPlay technology on something this small is not practical, so if it's wireless, it's Bluetooth or nothing.
Pairing the 600 to the iPhone and iPad was simple and straightforward. Press and hold the pairing button for a few seconds, and that's it. One recurring problem I had was reconnecting using Bluetooth after a period of the 600 not being used. More than once, I had to re-pair the speaker with my iPhone to get a connection. It wasn't difficult, but it was annoying.
While using Bluetooth, I could walk around my studio office with no dropouts or skipping. I have a rather large studio/office, and this is better reception than I've had with some other Bluetooth speakers. However, its advertised 30+ ft. range is still nowhere near the range of AirPlay.
The sound quality using Bluetooth was a bit better than I expected. Volume could get fairly loud, but nowhere near as loud – or as clear – as a wired connection. Also, I found out quickly that using the built-in equalizer on the iPad or iPhone severely cuts into the already compromised volume. Also using Bluetooth, the highs at full volume become uncomfortably brittle.
All in all, a mild-mannered and respectable – for Bluetooth – speaker.
Then there's Mr. Hyde.
Disconnect Bluetooth and hard-wire the 600 directly into an iPod, DAC (digital audio convertor) or computer and everything changes. The 600 is no longer Mr. Nice Guy. The volume is considerably louder, clearer and fuller. Audio performance is improved in almost every way. A wired Braven 600 speaker can fill a small room with decent sound for such a small speaker.
But Mr.Hyde doesn't like to be pushed too far.
The 600 does not have powerhouse bass like the similar FoxL or Jambox speakers. But, with the 600's better audio clarity, you may discover that you prefer the Braven over those bass monsters. I did. The 600 is much easier on the ears with extended listening. Just don't throw any woofer-testing music at it, because the 600 just can't handle a bass-heavy song at full volume without distortion.
So you have a choice: The subdued, polite Dr. Jekyll approach using Bluetooth or the hard-wired volume monster Mr. Hyde who can get out of control when pushed. Even with the drawbacks, Mr. Hyde is much more entertaining.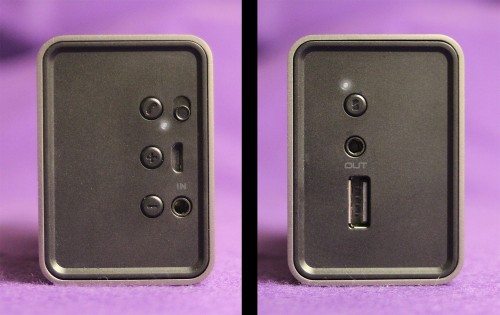 Controls and ports are placed at both ends of the 600 speaker. One side has an on/off switch, mini USB for charging, Bluetooth pairing button, and AUX IN port. The other side has an audio AUX OUT port, battery check button and light, and a standard USB port for charging an iPhone or iPod. That's right – the 600 will charge your iDevice while it plays music from that device. But please realize that if you choose to charge your phone that way, it will substantially shorten the life of the speaker's battery. Still, it's a good option for battery emergencies.
The buttons on the Braven are small – tiny really – and I had trouble seeing what they were unless I looked closely. These small buttons are elegant, but impractical. It's only after hours of use that I instinctively knew the button's functions without having to think twice.
The 600 series speakers can be daisy-chained for increased sound, letting you add as many Braven speakers as you care to the chain. You can also individually control the volume for each speaker, if you wish, using that speaker's volume buttons.
Because the Braven 600 distorts when overloaded with bass, it works better with rock and country rather than hip-hop or techno. "Start Me Up" from the Rolling Stones, leaps out of the speaker with power and authority. It's hard to imagine Keith Richard's killer intro guitar riff sounding weak in any speaker, but Braven does it proud.

Folk and vocal music also benefit from the 600's tuning. Leonard Cohen's melancholic ballads sound distinct and depressing, exactly as they should. "The Partisan" is a particularly sad ode to French freedom fighters during World War II. The plaintive guitar supports Cohen's deadpan delivery. The clarity of the 600 is more evident when female backing vocals enter the mix. With excess bass, the song could have devolved into mud, but on the 600, the song's mood remains intact. The same could be said for the John Prine song, "Hello In There," sung by Bette Midler on her 70s debut album. The lone piano backing Midler's aching singing are a good match for the 600.
Using the 600 as a speaker phone was simple. As long as Bluetooth is enabled, you can remain hands-free. However, I noticed with embarrassment that if I had the speaker volume at a comfortable level for music, any ring-tone from an incoming call was much louder. I jumped a few times when this happened. Also, I had to press a couple of buttons on my iPhone before I could answer the call and begin talking. Once the call was connected though, my party and I could hear each other speaking is a normal tone of voice with no difficulty.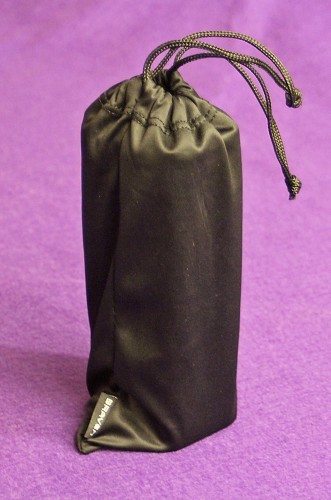 The 600 is the least expensive of the three models Braven sells, but I wouldn't call it entry level. The main difference between the 600 and the identical looking but more expensive 650 speaker is the battery – 12 hours playback on the 600 vs 20 hours on the 650. The 650 also has what Braven calls HD Audio with APTX. I haven't heard the 650, so I can't speak about the difference in audio quality. The mid-range 625s is made for outdoor use with a protective rubberized exterior instead of aluminum and comes with a flashlight attachment. The 600 has a draw-string bag for carrying, but it's sized to only carry the speaker and is too small to include the extra connection wires and charging plug.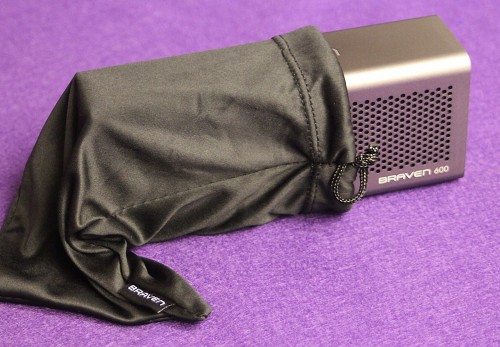 If you are looking for a small, unobtrusive speaker for desktop use, the 600 speaker is just about perfect, especially when hard-wired to an audio source. Plus, it's absolutely gorgeous. And even though it's also convenient to use as a portable Bluetooth speaker, the volume penalty is something to consider if Bluetooth is your primary reason for the speaker.

Product Information
Price:
$149.99 US
Manufacturer:
Braven
Requirements:

Audio source
Bluetooth or mini plug

Pros:

Clear, balanced audio
Not too bassy
Can be daisy-chained
Beautiful design

Cons:

Expensive
Distorts at max volume
Bluetooth volume not as loud as hard wired