The Gadgeteer is supported by readers like you! If you buy something through links on our site, we may earn an affiliate commission at no cost to you. Thank you! Learn more.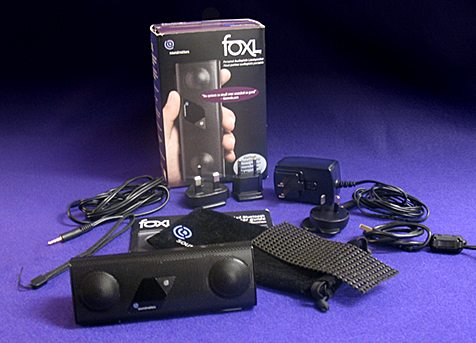 One of the benefits of doing gadget reviews is coming across a product that is so cool, so unexpected, and so jaw-dropping that it's almost magical. When you first see the small Soundmatters FoxL speaker, you might think it could work as a personal speaker. When you first hold the foxL and feel its heft, you may even think that it's pretty well built … for a small speaker, anyway. But when you first listen to the foxL, all those coulds and mights give way to OMG, that's unbelievable!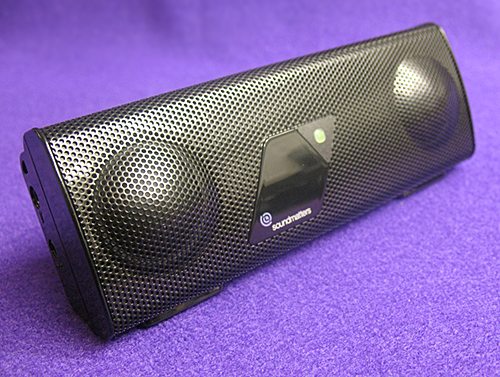 Here is a speaker that seems to bend the laws of physics. As a test, I started cornering unsuspecting friends, coworkers and family members to ask them if they would like to hear something "interesting." Invariably, they'd agree. I would then slowly and dramatically pull the foxL out of its protective, draw-string bag, plug in my iPod and ask what kind of music they like. I would find an appropriate song and hit play.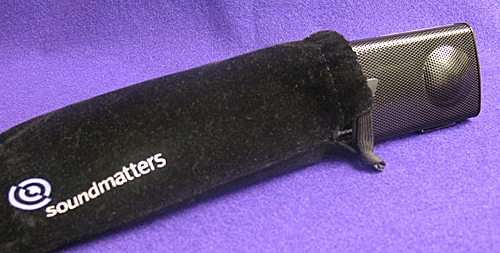 If I could photograph the looks on their faces and use them in ads, I feel like I could sell a million of these miniature foxL speakers.  And while the price tag may dampen some of that enthusiasm, that desire to have one remains.
FoxL was designed by a NASA scientist named Dr. Godehard Guenther. I read that when CEOs of major audio companies mention this man, it is in reverent tones. After reading what he's done, I believe it. Dr. Guenther is responsible for in-wall speakers, multi-channel car amplifiers and digital time-delay for realistic surround sound, just to name a few of his innovations. He initially conceived the foxL speaker because there just wasn't a small, portable speaker available that delivered the quality sound he demanded. So he made one.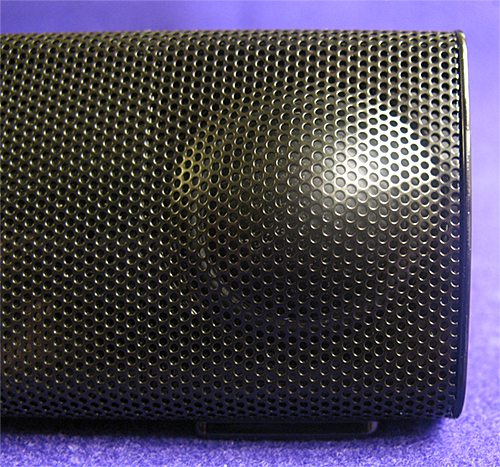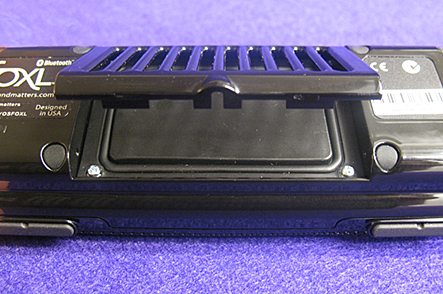 It becomes clear that a lot of thought and energy went into the foxL with its use of expensive audio components and patented technologies. Soundmatters managed to combine a tweeter (high frequencies) and a woofer (low frequencies) into one speaker, a "twoofer" they call it. There's also a lot of other geeky stuff incorporated into the foxL, but I won't bore you with the details. The foxL website explains it all in excruciating detail. One cool feature I will mention, though, is the "Bassbattery." This patented solution combines a subwoofer and battery which dramatically reduces the overall size of the unit to about that of a large candy bar. You can actually feel this Bassbattery vibrate like crazy when music is playing. It never ceases to impress people. And if that's not enough bass for you, there's an outlet port for connecting an optional powered subwoofer.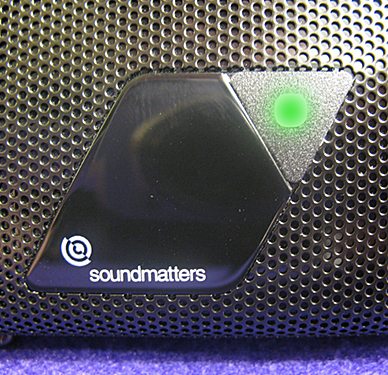 The foxL comes in two versions; with and without Bluetooth. The Bluetooth option is $30-50 more. I had some issues pairing my iPhone with the foxL until they became aware of each other. As I have stated in previous reviews, I am no fan of Bluetooth and the same holds true here. The sound and power of the foxL is compromised when using Bluetooth and – for me – overshadows any convenience Bluetooth might offer. If you really need a hands-free mic with speakerphone capability, then go ahead and spring for the Bluetooth option. But if you don't need Bluetooth, save some money and forgo it.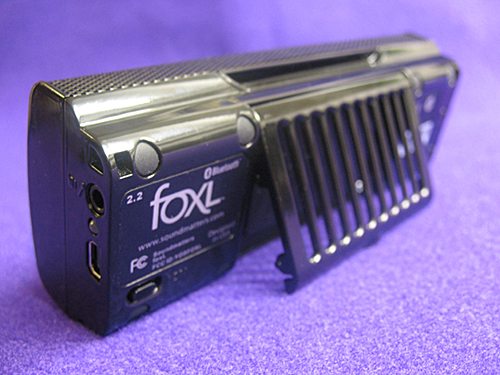 Soundmatters says the foxL's rechargeable bass-battery is good for 8 hours. I didn't formally test this, but it seemed accurate. Charging is either done through a mini-USB port or directly into an electrical outlet. Among the many included accessories are all the cables you'll need and a power adapter kit for just about any place you live or may visit (a nice touch). There's also a lanyard you can use as a wrist strap.
On the back of the foxL, are the on/off slider switch, volume buttons and a "kickstand" grill. This kickstand is usually necessary, because without it, the foxL doesn't balance as well. This kickstand also allows the foxL to angle upwards towards the listener which helps the audio sound stronger. Included is a clever anti-slip acoustic "yoga" mat which prevents the foxL from literally walking across a hard surface when the bass is extra heavy. Trust me, when there's a lot of bass, it will walk.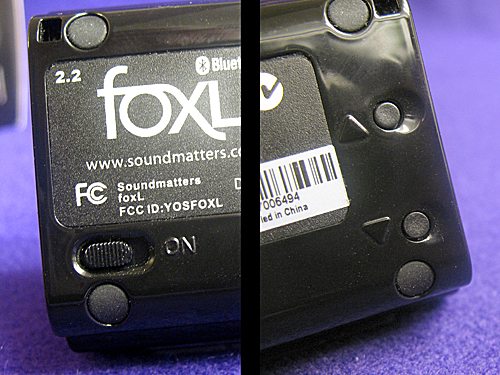 I have a few small design issues with the foxL. For instance, why is it that the volume buttons and on/off slider are hidden on the back? That's true with many portable audio products and it bugs me. Since they're on the back of the unit, I can never seem to remember which side has which buttons. It's an inconvenience. Also, I keep forgetting to turn the unit off when I'm finished listening. Later, when I want to use it, it's dead and I have to recharge it again or just plug it in. A simple auto shut-off when not in use would be a nice touch. With all that said however, my complaints about the foxL are pretty nit-picky.
The versatile foxL sells for $199 with Bluetooth and $169 without, which can be a deal-breaker for many people. I understand that. Some of the people I showed it to gasped at the price despite the impression it made. But if you truly want decent sound and don't have extra space for bigger, more powerful speakers, then the price begins to make sense. Place this in front your monitor and you might just save money on those bigger speakers you didn't buy.
Whether I am listening to classic rock, classical or just talk radio over the internet, the foxL never ceases to impress me with its size vs. power ratio. Only maxing out the volume on some demanding music tracks would cause the foxL to sound unpleasant.
As I am writing this review, I can feel this little wonder vibrate my desk as if it were a much larger speaker. I am still in awe how much good audio comes out of something so small. The Soundmatters foxL is very portable, built like a tank, comes with a slew of extras and sounds way, way better than it looks like it should. It has become a constant companion to my iPod. Maybe that is magical.
Product Information
Price:
$199 w/Bluetooth; $169 w/o Bluetooth
Manufacturer:
Soundmatters
Requirements:
Pros:

Seems to bend the laws of physics
Fun to impress friends with its audio
Small and portable
Well built
Easy to set up and use

Cons:

Expensive
Quirky design issues
Bluetooth compromises the audio
iPhone did not initially want to connect