We use affiliate links. If you buy something through the links on this page, we may earn a commission at no cost to you. Learn more.

This is the first I have heard of this device, but The Brennan JB7 is a music player that apparently has been available in the UK for a while. They now have a US web site at www.thebrennan.com. It's essentially an MP3 player with a hard drive, USB port and CD slot. It comes in a 160 GB model for $539, and a 500 GB model for $699.
At the simplest level, you can load your CDs in the front slot and it rips them directly to the internal hard drive. They have a pre-loaded album database that will add the titles and artists, and seven playlists you can setup and are named by colors. There is no network connection, so to update the database you need to order a new database on CDROM ($10).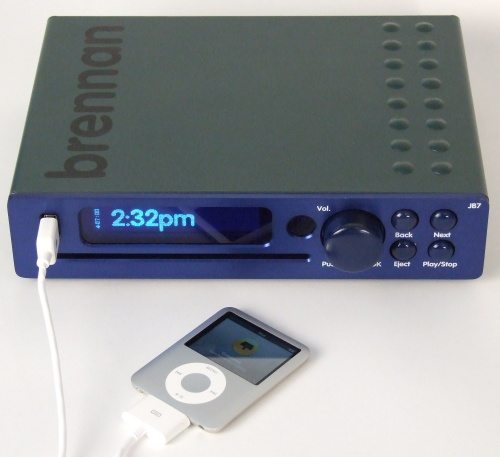 The connectors include:
24V DC to power (and AC Adaptor)
Headphone output
Line out
Aux in (to connect tuner, turntable, ipod, etc.)
USB Port
You can record anything through the Aux port, you can also play files connected via USB. This can be an flash drive, hard drive, or even iPod (though they warn of odd file names).
The JB7 only supports MP3, or you can rip a CD with no compression. It also only supports FAT formatted drives.
It has its limitations, but the JB7 looks to do the job it sets to do right out of the box. What do you think? Too limited? Anyone actually have one?