We use affiliate links. If you buy something through the links on this page, we may earn a commission at no cost to you. Learn more.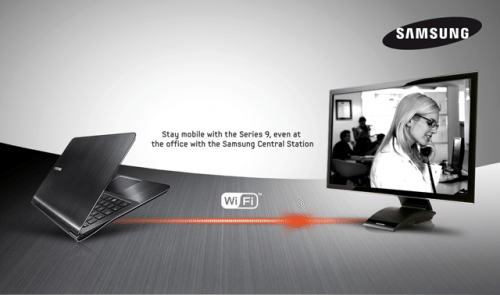 Samsung has recently released 23" and 27" SyncMaster displays as part of the Samsung Central Station series (which was first introduced in CES'11). The Central Station uses UWB wireless technology to connect to a laptop, like the Samsung Series 9 that comes with built-in UWB. If your laptop doesn't have a built-in UWB support, you can use the USB dongle. The Central Station will identify the laptop when it is near to it, and will operate as a wireless display and docking station. The Samsung Central Station is a LED LCD display with 1080p resolution (1920×1080). The base of the display operates as a docking station, and is equipped with HDMI and VGA outputs, a speaker port,  an ethernet port, and 2x USB 2.0, 2x USB 3.0 (to achieve full USB3.0 you will need to use the upstream USB port and connect it to a USB3.0 port on the laptop).
This is not the first product that use wireless technology to display images on a screen. Intel had introduced the wireless display technology that uses the WiFi network to connect to the TV wirelessly. Toshiba is selling the Dynadock Wireless U docking station, that operates as a wireless docking station. Apple had introduced the Thunderbold port, that reduces the connectivity (display, USB and LAN) to one cable. Nevertheless, in order to go completely wireless, we need to reduce the power cord as well.
See the CNET review of the 'Samsung Central Station SyncMaster C23A750X' and the Samsung press release for more details