We use affiliate links. If you buy something through the links on this page, we may earn a commission at no cost to you. Learn more.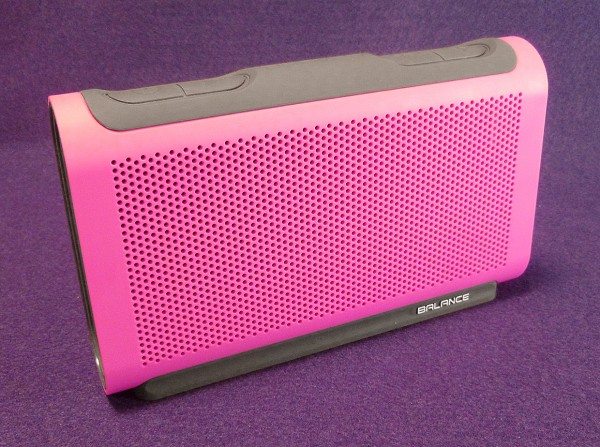 It's no secret I really like Braven speakers. Their small 600 series of speakers were sonic wonders which Braven eventually replaced with the newer 700 series. However, it was the 850 the knocked it out of the ballpark for me. When new, this large and heavy Bluetooth speaker blew away every other Bluetooth speaker I had heard up to that point. Since then, the portable Bluetooth speaker field is getting crowded with other, excellent choices in all prices. The new Balance Bluetooth speaker is Braven's attempt to stay ahead of the pack.

The first thing I noticed about the Balance speaker is its looks. Multi-colored thick plastic with rubberized gray non-slip coating looks and feels wonderful, making the speaker easy to pick up, even with wet hands. Speaking of wet hands, the Balance is IPX7 rated. That simply means that the speaker can be underwater at a depth of 1 meter for 30 minutes without harm. That alone makes the Balance a good  speaker for outdoor activities regardless of the weather. Another good thing is that the Balance will float, so no worries if taken on a boat . The delicate ports on the back of the Balance are covered with a thick, water-tight seal that's securely bolted on.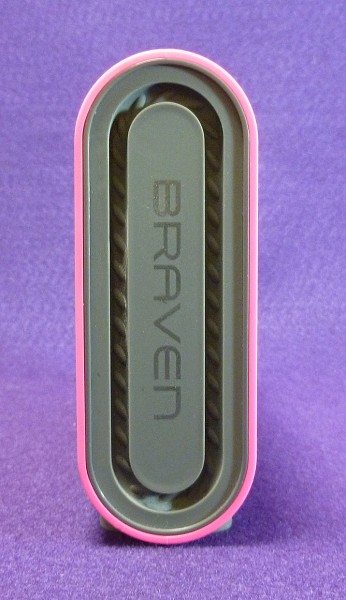 While the Balance speaker's dimensions are not that petite, it is fairly thin, making it easy to stash in a backpack or swim bag for easy toting. The rounded shape sits on a flat base that looks too narrow to prevent the speaker from being easily toppled, but looks are deceiving—it takes some effort to knock it over.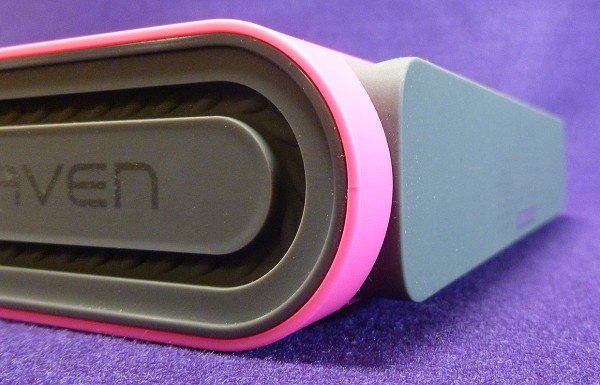 The speakers are over-sized, allowing for decent volume in open spaces. The Balance does not have 360 degree sound—there are two front speakers on the front with bass radiators on each side. The upside of this arrangement is that the speaker can be laid down without any loss of audio.The Balance comes in four neon colors (magenta (Raspberry), orange (Sunset), green/yellow (Electric Lime), blue/lavender (Periwinkle) plus black (Raven) and white (Alpine). Believe me, the colors are far from subtle. The top, sides and base are a medium gray which keeps the color scheme from becoming gaudy. The brightest colors can also help find the speaker if misplaced outdoors.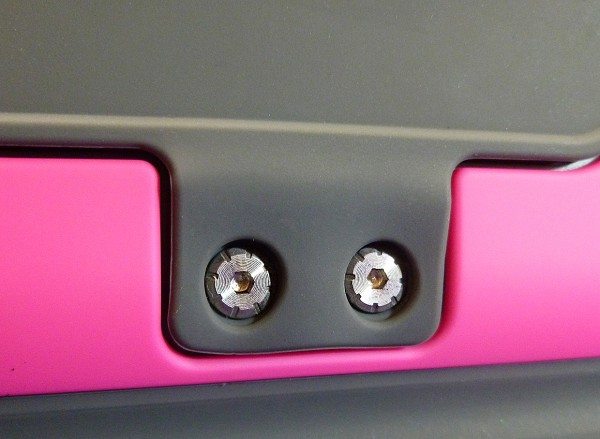 Braven has always been known for being able to charge a smartphone and the Balance is no exception. Its 4000 mAh battery will fully charge a smartphone—provided that the speaker itself is charged (of course). The Balance comes with hands-free calling as do other Braven speakers. However, I've yet to come across a portable Bluetooth speaker that improves upon hands-free over the iPhone by itself.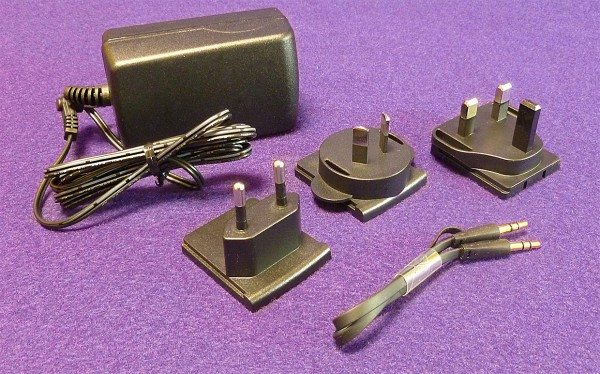 The Balance's built-in battery is good for 18 hours. While that's impressive, there are speakers that offer longer charge times. Note that if the Balance is used to charge a smartphone, the battery life will be less than 18 hours. Charging the speaker itself is dead-simple—just plug the included power cord into the power port. It bugs me that Braven insists on using a proprietary power brick for charging. A USB setup would be practical, especially if it's compatible with other USB plugs. Lugging around additional power bricks can be a pain.

There are four over-sized buttons along the top of the Balance speaker. On/Off and Play/Pair buttons are at one end with Volume/Skip/Repeat at the other. The volume button beeps when max volume is reached. These buttons are a bit difficult to press which is both good and bad. It's good because it is almost impossible to accidentally press a button and interrupt a party with sudden silence. It's bad for people who may have arthritis or other difficulties with their hands. This could be a deal-breaker for some.
Pairing is fairly simple—press the Play button for two seconds and a voice prompt  tells when it's pairing and when it's connected. The volume of these prompts is the same regardless of the volume of the speaker itself, which can be embarrassing if you're trying to use the speaker late at night in a quiet house and this loud female voice enthusiastically says, "Pairing!"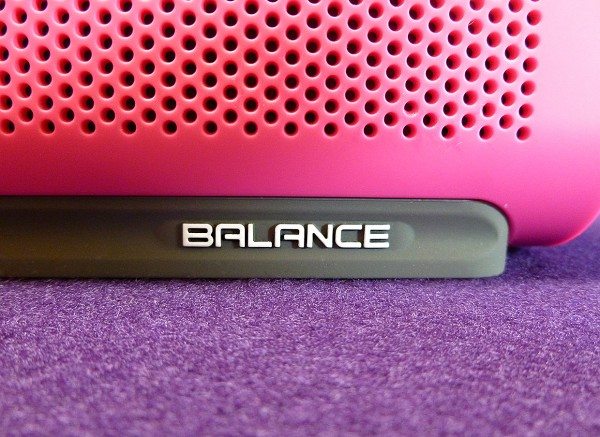 So how does the Braven Balance sound? It depends on what you want the speaker to do. At lower volumes, the Balance sounds on par with other, smaller (and less expensive) Bluetooth speakers. Crank up the volume and the Balance becomes a different animal. At almost full volume, the audio was almost indistinguishable from the more expensive Fugoo speaker, although the Fugoo is tougher than the Balance.
It's only when you activate what Braven calls "Boost Mode" that the Balance shows its true colors. Pressing Play and Volume Up button simultaneously activates Boost Mode. The volume gets louder overall with slightly more emphasis on bass. This helps carry the audio signal wider and farther, making the Balance perfect for the outdoors.
I played Kraftwerk's Europa Endlos (German version) album and was impressed at the Balance's ability to handle both the treble and bass without favoring either frequency. Granted, the bass lacked the oomph that a regular stereo speaker would give, but this is a portable Bluetooth speaker, so it can only do so much. However, the bass was powerful and deep—and that counts for a lot with a few people gathered around a swimming pool or at the beach. Out of curiosity, I streamed this album from both my iPhone 6 and iMac and the sound sounded identical except for a slight volume increase when coming from the iMac. It wasn't enough to make any difference, though.
One thing I noticed is that if a song is a bit muddy sounding (hello, Rolling Stones), the Balance's reproduction is muddy also. That tells me two things: The Balance does nothing to help sloppily recorded songs and the speaker is more accurate than its price would indicate. Given a choice, I'll take accuracy over trying to "fix" a song every time.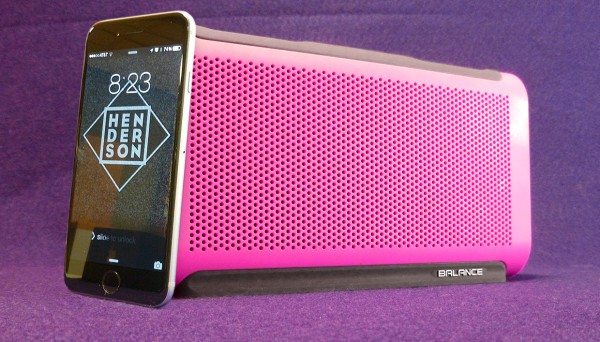 Since Incipio acquired Braven, the introduction of new products has been sent into overdrive. The Balance speaker is a bit of departure for Braven with its less boxy profile. The Balance is a well-rounded (pun intended) portable Bluetooth speaker that can be used without worry. At only $129 (less at Amazon) and good sound with waterproofing, Braven strikes the perfect balance between price and usability.
Source: The sample for this review was provided by Braven. Please visit their site for more information or Amazon to order one.