We use affiliate links. If you buy something through the links on this page, we may earn a commission at no cost to you. Learn more.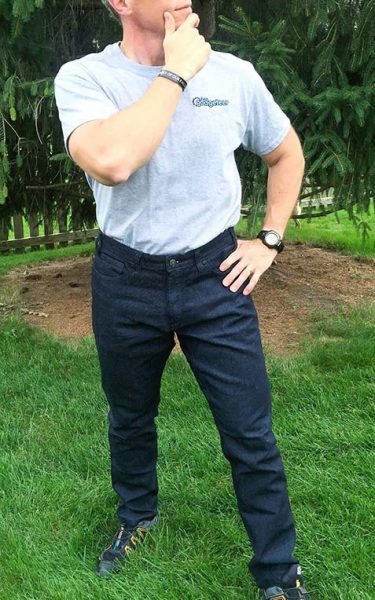 I love wearing jeans.  About a year ago, my company relaxed its dress code from jeans only on Fridays to jeans every day. Every. Day. And my job satisfaction went up several notches. Shortly after this, I discovered the existence of jeans with a bit of stretch to them (which is helpful for guys who actually work out), and ever since then I'd been on the lookout for some. I managed to find a few pairs here and there, but while searching for men's stretch jeans online, I stumbled upon some jeans from a company called swrve that not only had some stretch to them, they were also infused with CORDURA, which in my experience with other products I know to be a super durable fiber. When Julie offered the opportunity to try them out, I was all over it. Let's check them out! Gadget on!
History
swrve was founded in 2005 by Matt and Muriel, after Matt, a cyclist, decided that the cycling clothing that he really wanted wasn't available, so he began designing his own.  Calling their products a "trifecta of style, durability and function," although swrve (a word that evokes movements cyclists must often execute when navigating busy cities!) produces goods originally borne of the needs of cyclists, their products can very easily transition between activewear to streetwear to a night on the town.  Although I myself am really only a casual cyclist, taking a few trips on easy trails with my family, or an occasional mountain bike trail romp, I definitely appreciate and look for clothing that is designed for active folks.
Features
Per the swrve site, here are the features of their CORDURA Slim jeans:

front coin pocket
low waist in front to prevent your belt from digging into your gut
higher waist in back to stay respectable and to keep you warm
seamless diamond gusset for comfort
rear accessories pocket
reflective strip on both inside legs that are exposed when you roll up your cuff
high quality YKK metal zipper
rivets make them more durable
stylish slim fit for everyday use
Fit, Function and Performance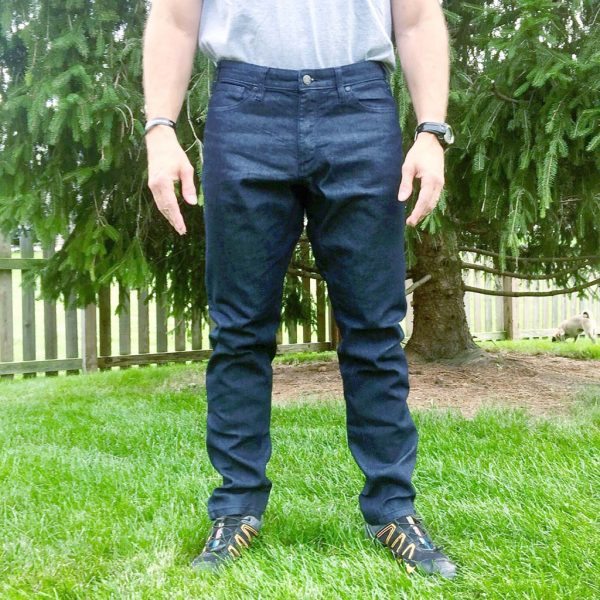 Right out of the bag, I liked the look and feel of these jeans, even before I tried them on. They felt lightweight, even thin, but not too thin, because they also felt durable.  But I'm not talking about the 1800s industrial, blue-collar Levi Strauss blue jeans that were unbreakably as stiff as a board even after a hundred washes.  I'm talking about the kind of durable that feels like you could give them a lot of abuse—working in the yard, hiking, biking, etc—yet they would hold up just fine, thank you very much.  In addition, they were a really deep, dark blue color—swrve calls it "Indigo." In fact, as you will see from the photos in this review, in various lighting, the color of these jeans can vary from a super deep blue to almost black. Very classy and I felt like I could dress them down for working or up for a night out.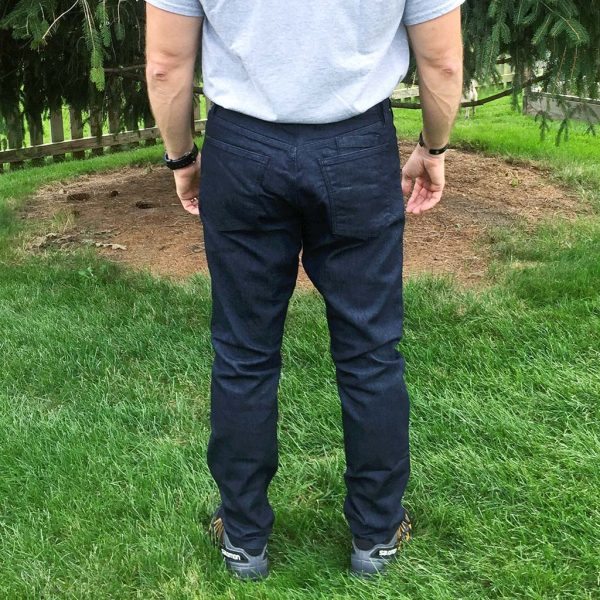 swrve sells their Cordura jeans in three styles: Regular, Slim and Skinny.  Regular is a looser cut, Slim is reviewed here and Skinny is a much closer cut. In full disclosure, I am a bit picky about how my jeans fit.  OK, a LOT picky.  The swrve folks went out of their way to help me find a size that I liked (thank you!!). I settled on 34×32 Slim style, and although I thought that I might actually need a 33×32 Slim, after washing and drying them once, the 34x32s shrunk down (more than I had expected in a blended fabric like this) and fit darn pretty well.  Note that the photos here are all prior to washing and drying.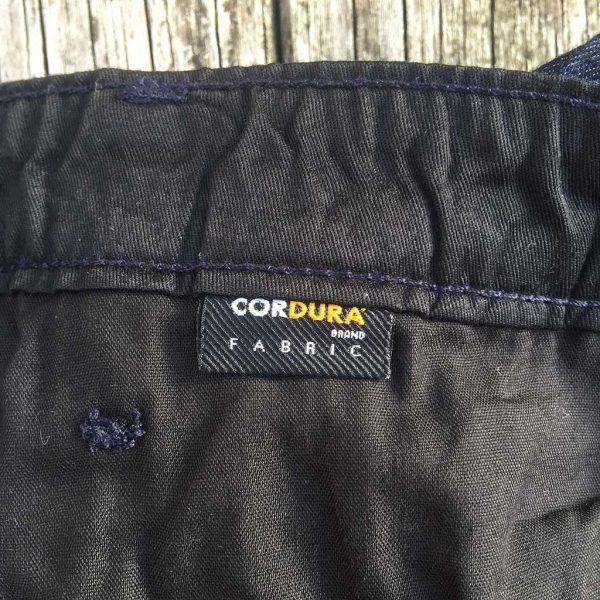 One of the not-so secret ingredients of swrve's CORDURA jeans is—wait for it—CORDURA!  Inside the jeans are a little tag with the officially-trademarked CORDURA logo, just to show you these jeans are the real deal.  But what is CORDURA and how is it used in these jeans? CORDURA nylon is a fiber used in many high-end fabrics, like military gear, backpacks and other accessories, but it's also being used more widely in clothing.  It's super abrasion resistant and that helps these jeans hold up to wear and tear better than a standard cotton denim fabric, plus it dries quicker than standard 100% cotton denim.  And it's woven right into the fabric of these jeans.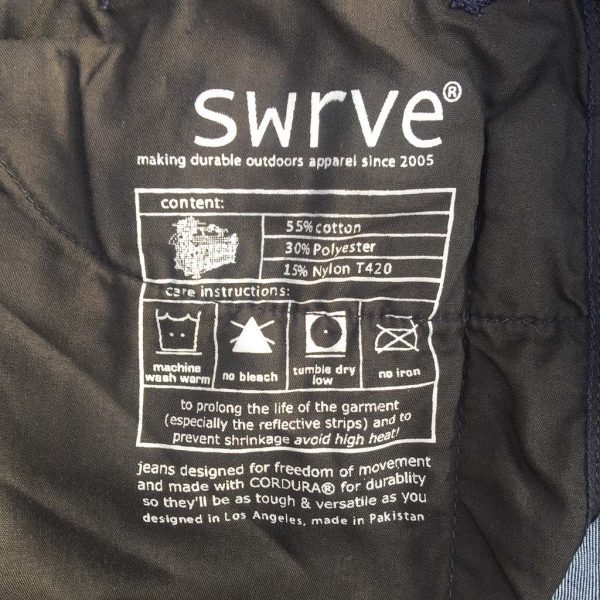 Above you can see a photo of some info printed inside the jeans that tells the make-up of the fabric as well as care instructions.  As you can see, the fabric content is 55% cotton, 30% polyester and 15% nylon T420 (which is the CORDURA).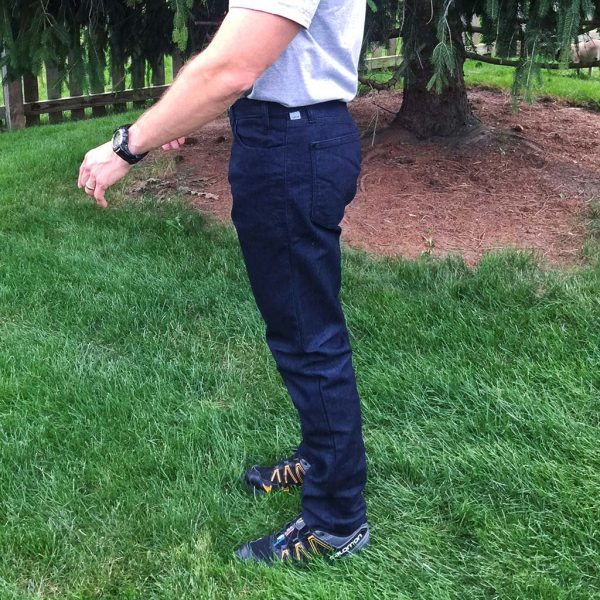 Although it's a bit difficult to see in the images above and below, these jeans have been designed with a bit lower front and higher waist in the back.  A somewhat minor design detain, but I noticed that it did make them feel just a bit more comfortable.  Plus, they might just help in preventing you from displaying a bit more along your backside than you'd like.  😉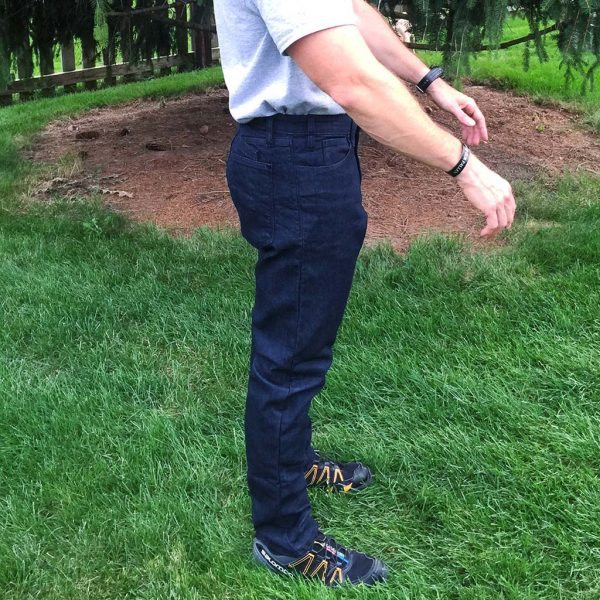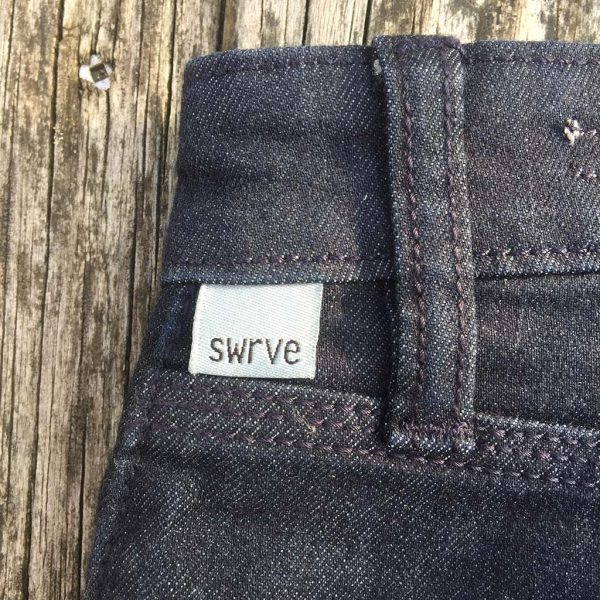 swrve wisely didn't feel the need to plaster their logo all over the outside of their product.  I like that they went with subdued branding, like the little tag shown above.  To me, that shows a company that is confident in letting its design and construction speak for itself, rather than having to "scream" it out publicly.  More on this below.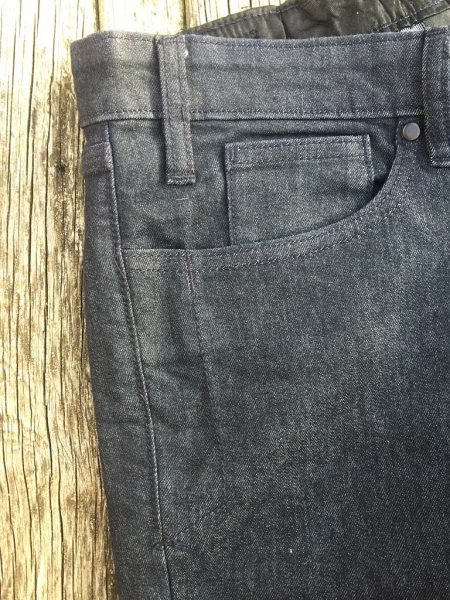 In addition to the standard front coin pocket, these jeans have a few extra pockets beyond the typical "5 pocket" design of most jeans.  One of these extra pockets is shown in the images above and below.  It's a long, narrow pocket sew into the outside edge of both the left and right front pockets.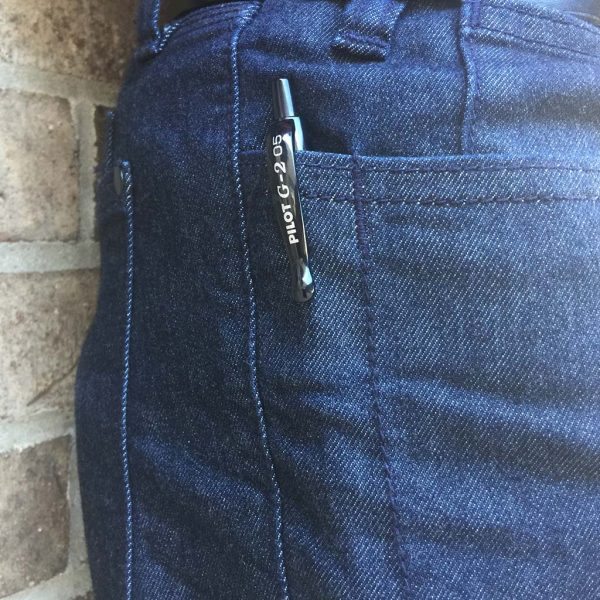 As shown above, a pen fits perfectly in either of these pockets, and a narrow pocket knife may fit in them as well.  Nice thinking on this, swrve peeps!  Very useful!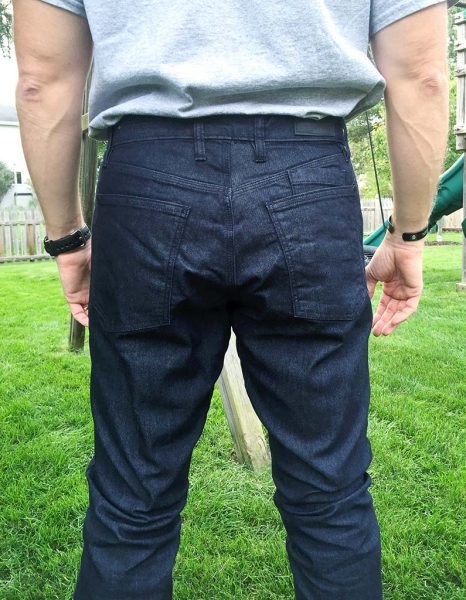 Another aspect of these jeans that is a bit different from standard jeans is the number of belt loops.  swrve's CORDURA Slim jeans have a whopping eight loops.  It may seem like a small thing, but I like this because I think it helps your belt more consistently keep the waist of your jeans up where you want it to stay.
The other additional pocket is a small one that sticks up above the right back pocket a bit, as depicted above.  If you're playing at home, this brings the total count of pockets on these jeans to a eight.  It's a curious one, and my first guess was that it is intended to hold a small, minimalist-type wallet, but it is too small even for the very minimalist wallet that I currently carry (the Slim Fold Micro Soft Shell, reviewed earlier by me here).  Maybe I'll find something else to carry there!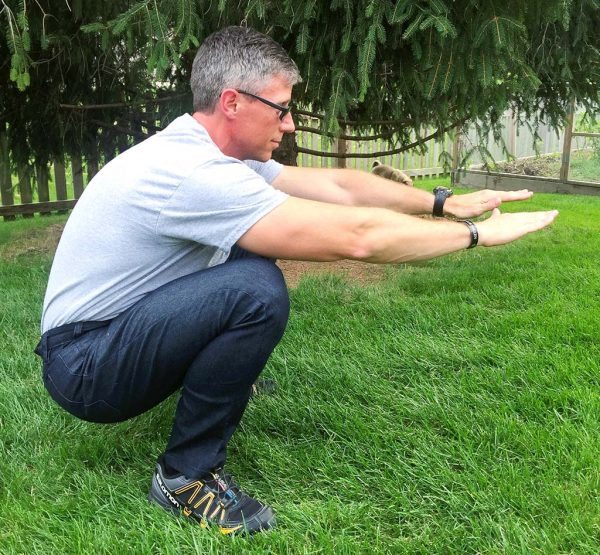 Since swrve has designed and built these jeans for "freedom of movement," I thought I'd do a few moves to check out just how free my movement was while wearing them.  I started off with some air squats, as seen above.  I figured this would be a pretty strenuous movement to check the flexibility of jeans.  Don't judge my form—I need to work on hip mobility.  They actually performed pretty well!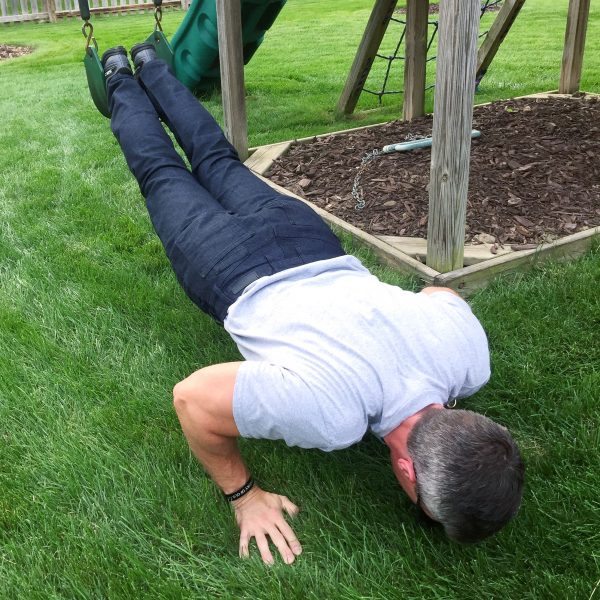 Some decline push-ups on the swing seat.  Why?  Because I can, that's why.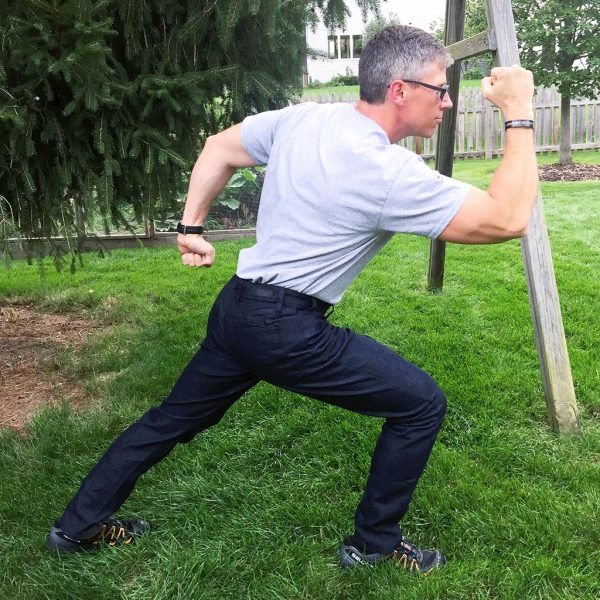 What am I doing in the photo above?  Lunge-running?  Walking like an Egyptian?  An Ahh-nuhld pose?  I don't know. Creative expression, people. In any case, the jeans were comfortable even while performing the above…activity.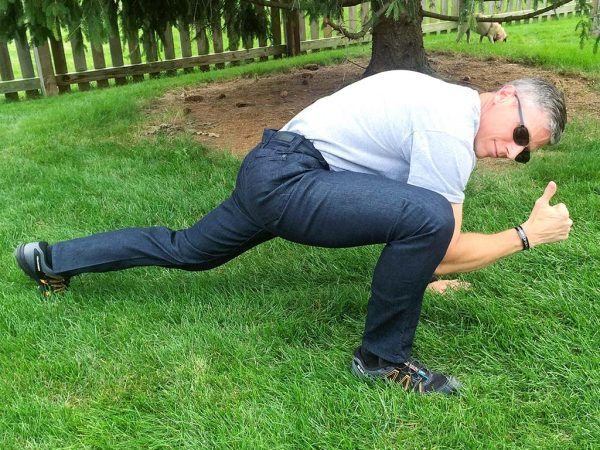 I wrapped up my PT session with some mountain climbers.  And I'll tell you what, although I probably won't be working out in these jeans, overall they were decently comfortable while performing the above activities.  These swrve CORDURA Slim jeans have two things going for them that help bump up the comfort factor.  One is the bit of stretch that has been added to the material, the other is the seamless diamond gusseted, shown below.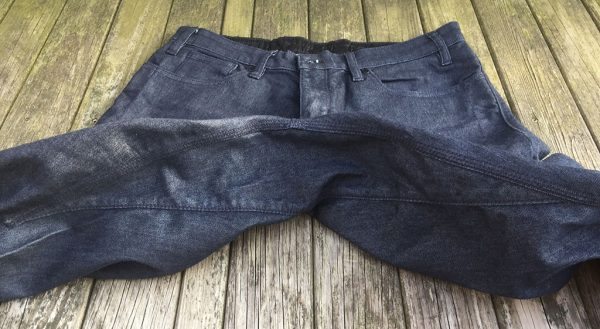 If you aren't familiar with a gusset on pants, see the image above.  It is basically a piece of diamond-shaped additional material that is sew into the…ahem…crotch area.  The extra material provides some added clearance when performing certain movements, and it really helped with mobility during several of the activities depicted in the photos above.  I think it would be very useful for cyclists as well, helping with the movement of pedaling.  Interestingly, I didn't even notice the gusseting was there during normal wear.  Almost like a secret feature.  Well played, swrve.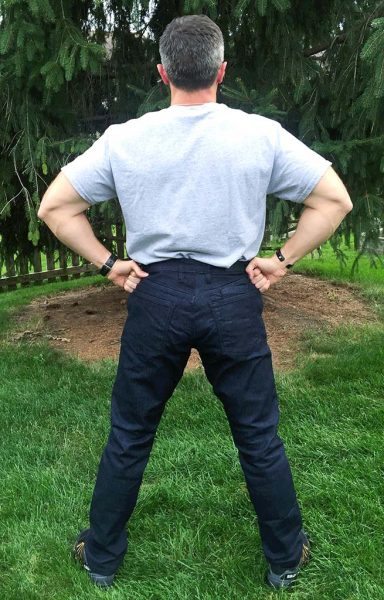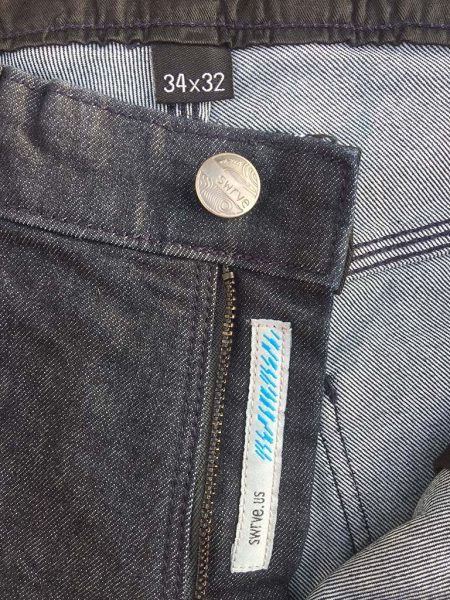 In addition to being well-designed, these jeans have been well-constructed, and I appreciated swrve's little details like the logo button and various logo tags, which were unobtrusive, yet a neat touch.  The include a top-of-line YKK zipper to boot!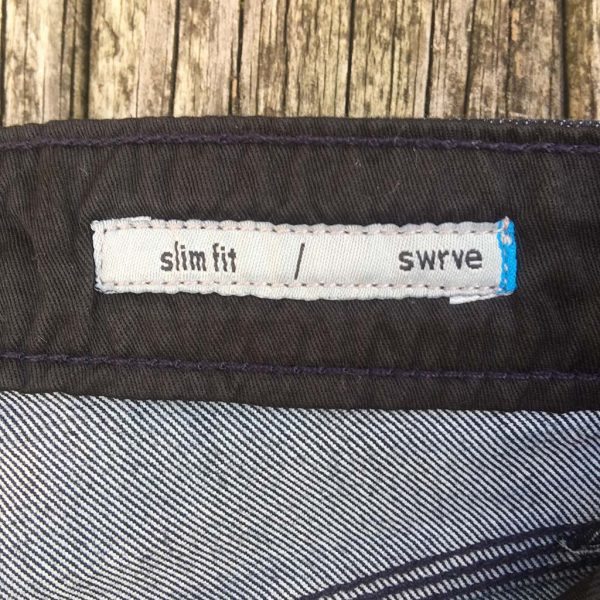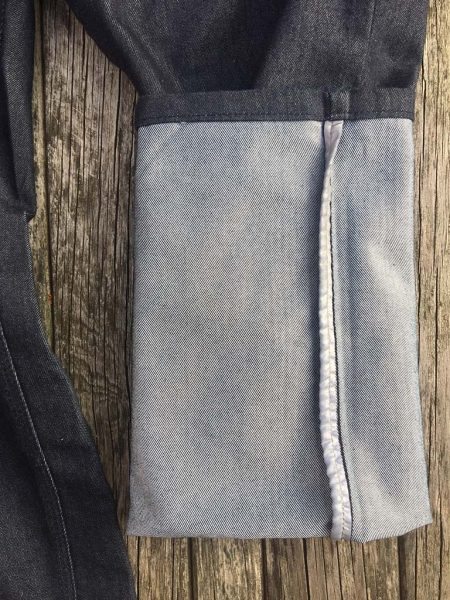 Another hidden feature of these jeans is a narrow strip of 3M Scotchlite Reflective material sewn into the inner seam of both of the legs (though I am only showing one of them above).  This is intended for cyclists.  They can roll up their pant legs a few turns, giving clearance to keep their pants from rubbing against their bike, and in doing so, the reflective strips appear and give additional visibility in low-light or night cycling.  I'm more of a casual cyclist and I doubt I'd use this feature often, but I thought this was a pretty clever feature, especially for urban cyclists or anyone who basically lives on their bike.  Kudos on this one as well, swrve.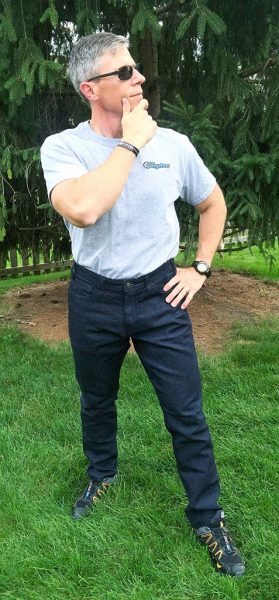 Final Thoughts
What did I think of the swrve CORDURA Slim jeans?  I liked them. A lot. They are lightweight, a bit thinner than most standard cotton denim jeans, but the addition of CORDURA makes them at least feel super durable.  And the added bit of stretch and diamond gusset makes them even more comfortable to wear.  They have some additional nice design features, like the cut of the waist, the added pockets and reflective strips, but to me those are nice bonuses—I like the fit, feel and look of them, and that I can dress them up or down.  As of right now, these are my favorite jeans.  If you want some really durable jeans that are also quite comfortable and with added mobility, check out swrve's CORDURA Slim jeans (or their similar cousins, the Regular or Skinny versions).
Updates 02/25/18
Great jeans. As mentioned in the main review, they are lightweight, thinner than most other jeans, durable and a bit stretchy—all of which are design and build factors that I appreciate. Unfortunately, I gradually phased them out of my regular wardrobe rotation because they just didn't fit me quite like I wanted.
Price: $100
Where to buy: swrve
Source: The sample for this review was provided by swrve. Please visit their site for more info or to order.
Product Information
Price:
$100.00
Manufacturer:
swrve
Requirements:
Pros:

Lightweight
Durable and strong
Softer than they look
Added stretch plus diamond gusset improve mobility
Lots of subtle but useful added features

Cons:

'Twas initially a bit difficult to find just the right size to fit me