We use affiliate links. If you buy something through the links on this page, we may earn a commission at no cost to you. Learn more.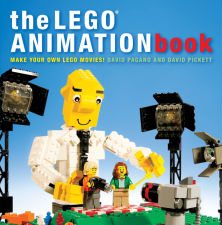 New from No Starch Press: The LEGO Animation Book A guide to making LEGO movies by David Pagano and David Pickett. This book will turn you into a stop-motion animation movie master. This 216-page book full-color hardback book is a comprehensive guide that will show you the ropes for filming your own animated LEGO movies. According to No Starch Press founder Bill Pollock
This book is for anyone who watched The LEGO Movie and thought "I want to do that!"

Author David Pagano's motivation for creating the book is to "inspire the next generation of LEGO filmmakers. That's why we've included (almost) all of our secrets." For David Pickett, nostalgia plays a role: "I wish I had a time machine so I could give this book to myself as a kid and learn to make awesome LEGO animations back then."
This book will help you learn about timing, lighting, conveying action, and more. The LEGO Animation Book A guide to making LEGO movies will be available on October 14th from No Starch Press but you can pre-ordered a copy of the book now for $19.95.