We use affiliate links. If you buy something through the links on this page, we may earn a commission at no cost to you. Learn more.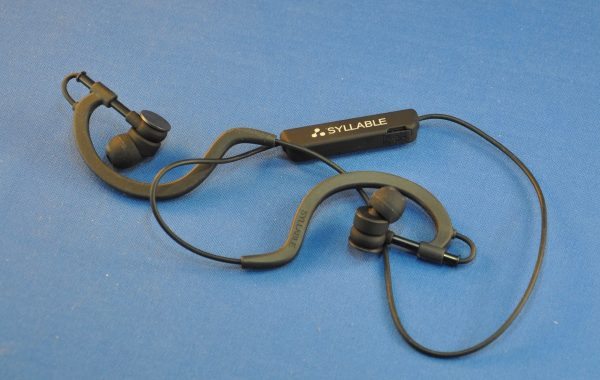 Bluetooth, the de facto standard in wireless connections, is really getting a workout these days. Speakers, keyboards, stylii, headphones, and even key-fob trackers all depend on this tech to attach to your smart devices. The D700 Sport earbuds, a recent entrant into the field of BT earbuds was sent to me from a company called Syllable for testing.
Note: Photos may be tapped or clicked for a larger image.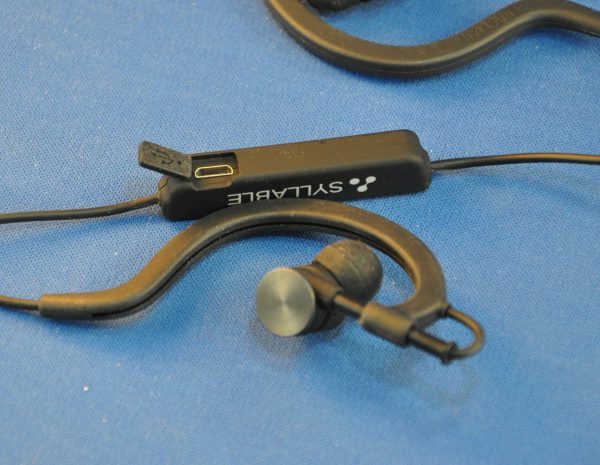 The unit is typical of most tethered earbuds – two speaker assemblies tethered by a cable with a mic/controller inline. There are three buttons, two for volume, and one multi-function button that turns the system on/off, pauses music, and disconnects calls. In this unit, the inline controller also contains the battery and the charging port.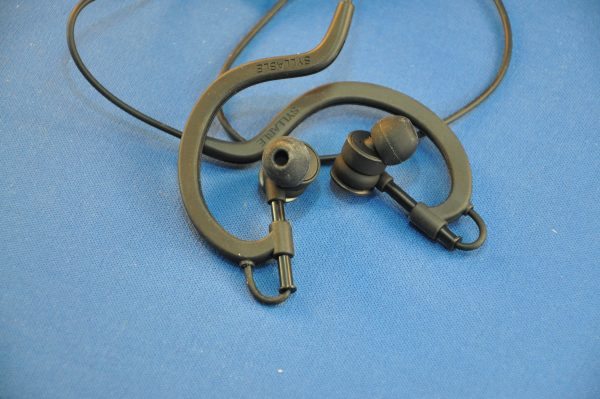 Each earpiece has a stabilizing ear hook which prevents it from falling out of the ear during movement. The hooks themselves are very comfortable and flexible and manage the cables well. The speakers are mounted on small arms that extend from the top of the ear hooks, where they can swivel to angle toward your ear canals.
The whole assembly is very light and feels like there is nothing there when you're wearing it. While testing, I wore them while walking and listening to music, as well as sitting still and writing at my MacBook. They play just fine, but with the stiff swivel arm, they don't have enough flexibility to fully stay in your ear canals. If I take my fingers and press gently on the backs of the speaker, they will tighten enough to allow me to hear more bass and prevent noise leaks around the silicone earcups.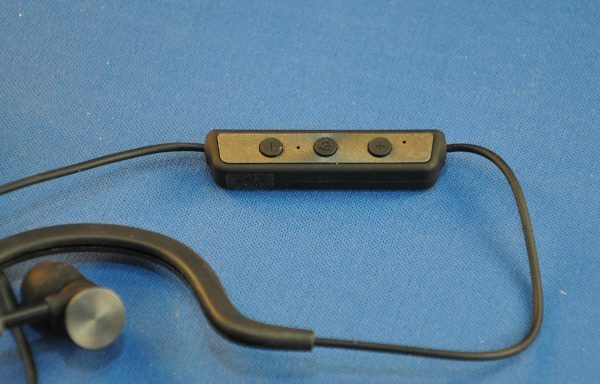 Included in the package is a USB-microUSB cable that is used for charging and several replacement ear pieces of different sizes. The projected use time is 4 hours, but I couldn't use them that long. The sound without me using my fingers to press onto the speakers is pretty tinny. Unless I kept perfectly still while typing, I could not keep the sound consistent enough to actually enjoy using them. By then, however, I had to cram the earbuds so tightly into my ear canals that they quickly fatigued me. No matter which size adapter I tried, the results were all the same: I could push them in really tightly, and last an hour or so, but if I moved around a lot, they would loosen, and the sound would become tinny and hollow.
With the removal of headphone jacks from at least three models of smartphones released recently, wireless earbuds and headphones are going to become much more popular. Currently, there is a wide array of models out there, varying in price, comfort, durability, splash-resistance, and sonority. We've covered a huge swath of them in recent years, but I think this is just the first wave.
Source: The sample for this review was provided by Syllable. Please visit their site for more info and Amazon to order a pair.