We use affiliate links. If you buy something through the links on this page, we may earn a commission at no cost to you. Learn more.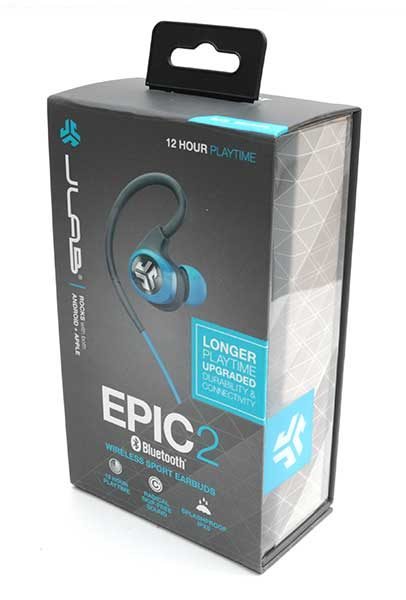 Now that I'm considering switching to an iPhone 7 Plus, my quest to find the ultimate pair of wireless earbuds is really heating up and the latest pair that I've been testing are the Epic2 Bluetooth wireless sport earbuds from JLab. Yay or nay? Let's find out?

What is it?
The JLab Epic2 Bluetooth earbuds are wireless earbuds that are designed for people who workout, run or do any activity that will make them sweat. Here's what JLab says about the Epic2 on their site:
Blood. Sweat. Tears. And whatever else you can dish out. We've spent the past two years listening and innovating. The JLab Epic2 Bluetooth Earbuds are 100 percent splash-proof, sweat-proof and washable with an IPX5 rating with an ultra-sonic sealed battery compartment and plasma coated microelectronics. Just finished a run? Rinse off your buds for your next round.
What's in the package?

Epic2 Bluetooth Wireless Earbuds
2 mini cable management clips
Universal USB to micro USB cord
Hard travel Case
8 sets of silicone gel tips: Single flange (XS, S, M, L), Double Flange (S, M), Triple Flange (M), Shallow (M)
JLab's Service and One-Year Warranty
Hardware specs
Connectivity: Bluetooth 4.0 w/aptX
Waterproof: IPX5 rating
Battery life: 12 hours
Driver size: 8mm
Weight: 15g
Design and features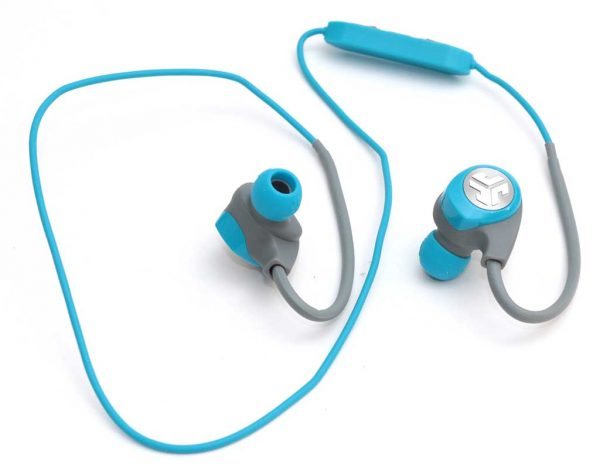 The Epic2 earbuds are available in 3 colors that include Black, Teal and the Blue/Grey version  that you see above. Attached to each bud is a short length of memory wire that can be formed around the outside of your ear to customize the fit.
A thinner 17-inch length of cable attached the two buds to each other.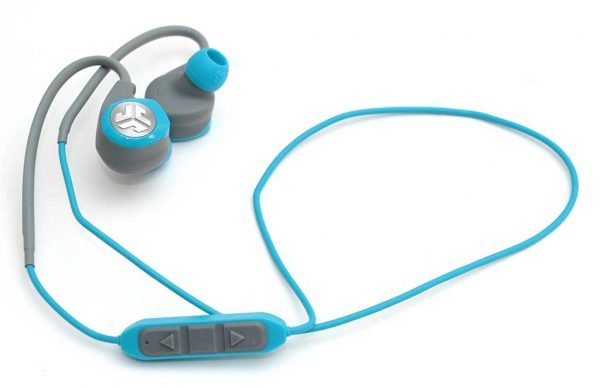 Built into the cable is a three-button controller and microphone. The outside buttons control volume and track navigation and the middle button answers and ends calls, as well as initiates pairing and power.
A tiny status LED is located next to the volume up button.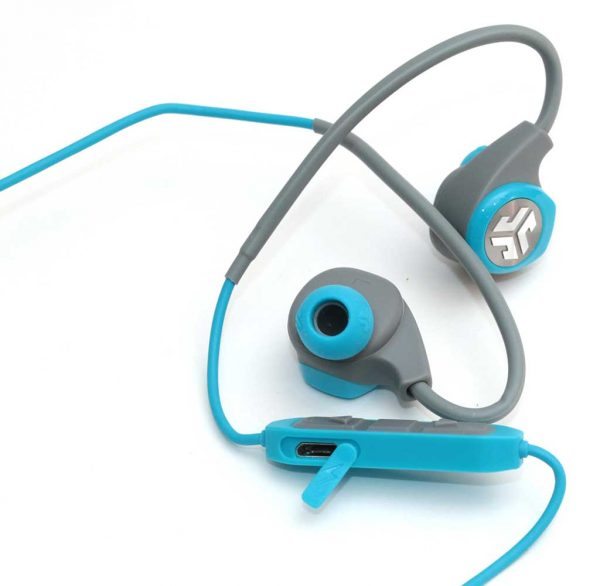 The in-line controller also has a micro USB connector that is used to charge the Epic2's batteries.
I had a little trouble when using the controller to switch tracks. This is done by holding down the volume buttons and sometimes I would accidently skip a track when all I meant to do was change the volume levels.
Fit and function
The Epic2 earbuds come with quite an assortment of ear tips that range in size and types. It's unfortunate (for me) that they didn't include wing style tips. That's the style that works best in my ears.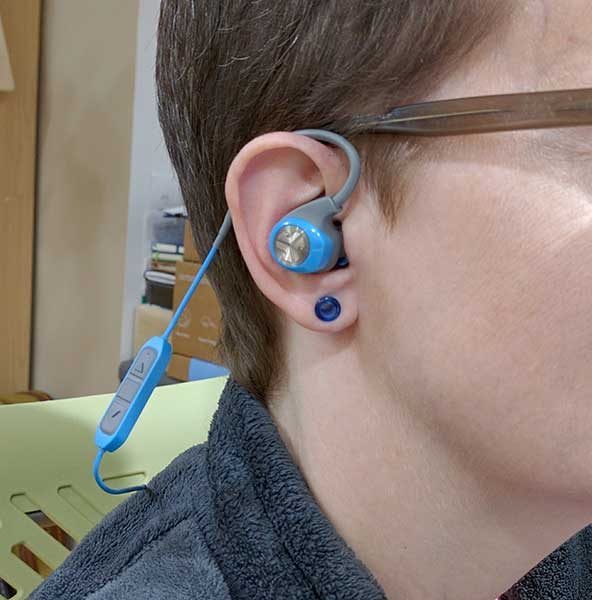 That said, I had the best luck with the triple flanged tips that were included in the selection of tips. They stayed in the longest, but would still become unseated after awhile.
These are the type of earbuds that seal out outside noise which you may or may not like. I typically do not like this style because when I pause music I can hear my heart beating, my breathing, and my own voice when I'm in a phone call.
Sweat proof?
I wore the earbuds while working out on more than one occasion, and did not have any issues with sweat damaging them. But, I should preface that previous statement by saying that my workouts usually don't make me sweat enough that it's actually running into my ears.
Sound quality
I paired the JLab Epic2 earbuds with my Nexus 6P and an iPhone 7 and listened to a variety of music through Spotify and videos on YouTube. Volume levels are good. In fact, I found them almost too loud when listening to music in a quiet room. I would often want to turn down the sound just a little more but was unable to do so without turning off the sound altogether.
I had no issues with music skips or stutters while sitting still or working out.
As far as sound quality, I have no real complaints. These earbuds don't sound as good as my favorited wired earbuds, the DUNU TITAN 1 earbuds but that's not surprising either. As long as you're not expecting audiophile quality audio you should not be disappointed.
For my testing, I used Spotify on an iPhone 7. Katy Perry's Rise sounded a little muddy in both bass and clarity. But The Weekend's Earned It sounded great with just the right amount of bass and mid-highs. The vocals on Through the Dark by Alexi Murdoch were clear but mellow. Saint Raymond's Fall At Your Feet had pretty good bass and clear vocals and I had fun rocking out to the drum beats in How You Like Me Now by The Heavy.
Battery life
JLab claims that the Epic2 earbuds have 12-hour battery life, which is more than most earbuds in this category offer. I didn't listen to music for a straight 12-hour session, instead, I used the earbuds as I normally would, here and there for days. I'm still running on the first charge after using the Epic2 earbuds for 30 minutes here, an hour there, a couple minutes here and there for the last 2 weeks. So far I'm very impressed with the battery life and have no complaints.
Final thoughts
After listening to wide variety of music, the JLab Epic2 Bluetooth earbuds didn't disappoint but they didn't blow back my hair either. With their water and sweatproof design and great battery life, these earbuds should make gym rats and everyday listeners happy.
Right now, these are my favorite wireless earbuds. But I'm not ending my quest yet…
Source: The sample for this review was provided by JLab. Please visit their site for more info and Amazon to order.