We use affiliate links. If you buy something through the links on this page, we may earn a commission at no cost to you. Learn more.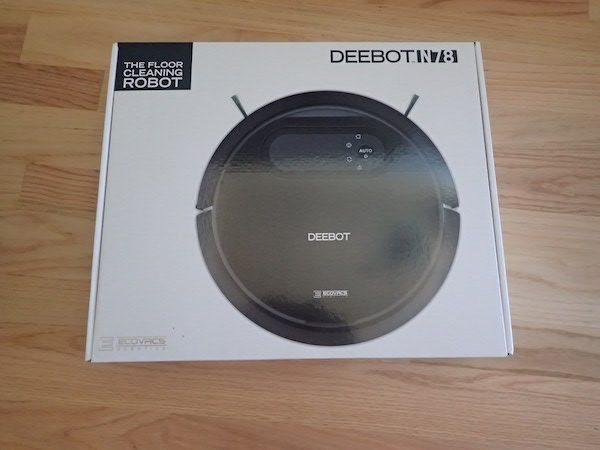 Robot vacuums are proliferating, and it's wonderful. It's a perfect match, a mindless machine for a mindless task. I hate vacuuming, but living in dusty farming country and having a big hairy dog, it is a necessity. We've had another vacuum robot doing the job for the last 2 years and I've been satisfied with its work. I do have a few complaints though and I wondered how the ECOVACS DEEBOT N78 would stack up.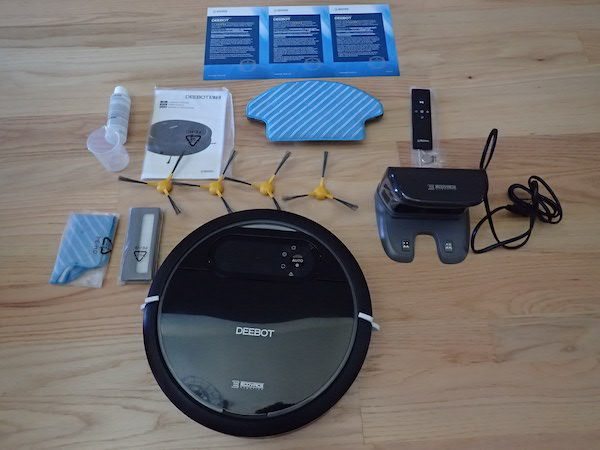 The DEEBOT N78 comes well packaged in the box with 13 pieces plus 2 instruction documents. Setup is foolproof. The DEEBOT N78 was charged when it arrived but the instructions said to charge it for 4 hours before using. I complied and put off my vacuuming for a day.
I was happy to see the DEEBOT N78 came with a remote control! Thus, moving it to a new location became a game of chase-the-big-hairy-dog. Once I set the DEEBOT loose to do its job I was pleasantly surprised by how quiet it is. My other robot vacuum has to be banished to a closed room or a time when I'm not around because it's too loud. The DEEBOT N78 is quiet enough to work where I'm working, even if I'm on the phone.
After one day of vacuuming I put the DEEBOT N78 to work mopping the kitchen, another mindless task I hate. To set the DEEBOT up for mopping, the water tank accessory must be filled and fitted with the washable cleaning cloth. The DEEBOT kit comes with a little cup that holds the perfect amount of water and has a sharp spout that fits the DEEBOT reservoir opening. No soap or cleaning liquid in used in the mopping process. The filled water reservoir snaps onto the bottom of the DEEBOT N78 behind the vacuum opening. The water wicks through openings in the bottom of the reservoir and gets the cloth damp. The damp cloth follows the vacuum and serves to pick up the finest dust and minor smudges. I'm not expecting this to clean up the spilled glass of milk or the tablespoon of mac and cheese, but it did give the floor a nice clean feeling. The dirt in the DEEBOT dustbin stayed dry. It wasn't the kind of mopping I was expecting but it was easy and decent.
The next day we had the robot vacuum contest. Both robot vacuums were set loose to wander or get stuck as they willed. After an hour I stopped them both and compared their work product (yuck). The DEEBOT chose to go to the farm office, a treasure trove of dirt, sand and shedding carpet. The other robot went the other way, ending up in the family room with the dog bed, another excellent choice for a hungry vacuum. As you can see from the picture, they both picked up a similar amount of dust, dirt, fur and rug shed. (I find it amazing that my house seems to have a never-ending supply of dirt! Am I really that dirty? My friends won't say.)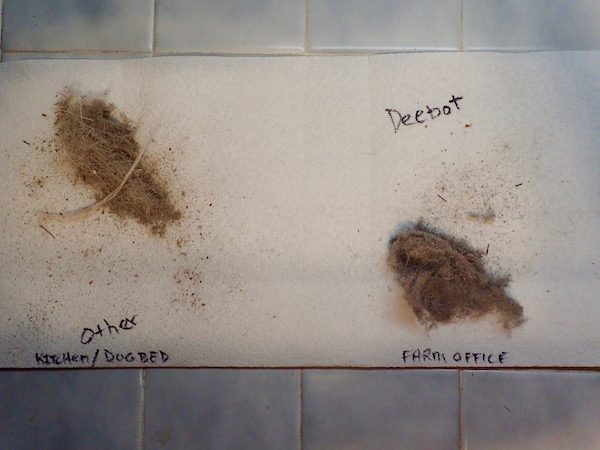 Cleaning the DEEBOT dust bin is much easier and faster than the other robot vacuum. The back end flips open revealing the dustbin storage. The dustbin handle flips up to unlock the dustbin and allow it to be lifted out of the DEEBOT and emptied. The DEEBOT filter is removable and includes a washable foam pad. The dustbin area also stores a small cleaning brush, which is a nice touch. The DEEBOT has fewer moving parts to catch long hair, stray dental floss and such, so that's one less thing to deal with.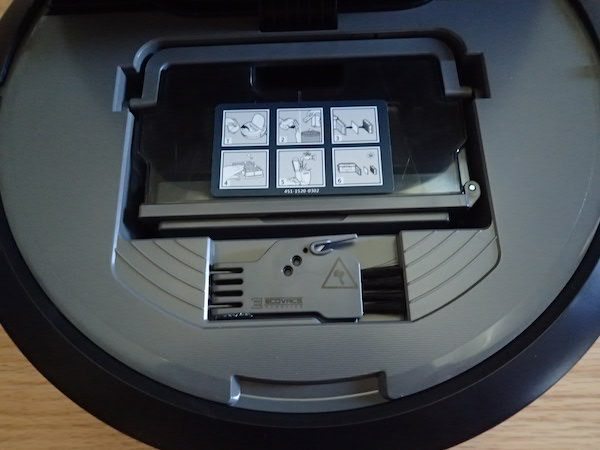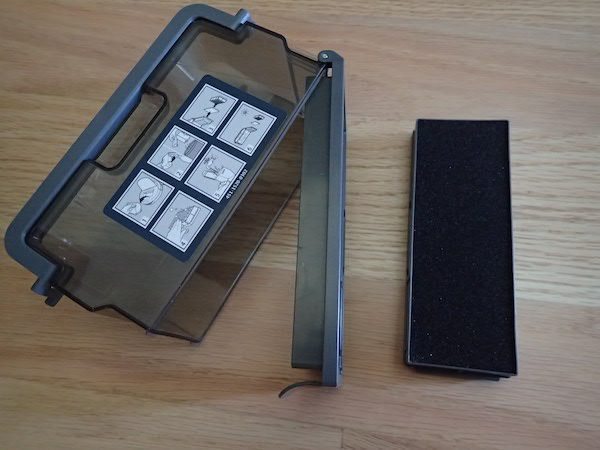 As the DEEBOT traveled through the house I noticed it was not bumping into walls and furniture as much as the other robot. The DEEBOT has side sensors that alert it to an obstacle before bumping. It still bumps things, but not nearly as much. This adds to the quiet factor and I believe will improve its longevity. The DEEBOT did seem to have more of a tendency to get stuck going over area rugs, and I missed the voice telling me what's wrong. The DEEBOT just beeps.
The DEEBOT N78 battery life is impressive. Tonight I turned it on before going out for dinner and it was still going when we got home three hours later. I was careful to remove obstacles and pick up cords so it had no excuse to get hung up while we were out.
One problem both robots have is the propensity to play hide-and-seek. I'm waiting for one that includes a remote call activation that's loud enough to hear when it's hiding in the back of the closet under the coats. Or maybe I'll get one of those location tracker tiles and tuck it inside and use my phone to find it.
The quietness of the ECOVACS DEEBOT N78 is a big plus. I found myself turning off the other robot vacuum because I couldn't stand the noise. Since it's quiet, DEEBOT N78 will get more run time and therefore, more dirt. And that is the whole point.
Source: The sample for this review was provided by ECOVACS. Please visit their site for more info and Amazon to order.
Product Information
Price:
$178.49 Amazon Prime
Manufacturer:
ECOVACS
Retailer:
Amazon
Requirements:

Dirty floors and disdain for having to vacuum. (I understand some people actually like it, sort of meditatively I suppose.)

Pros:

It's quiet enough to use a phone in the same room.
There are fewer moving parts to wind up long hair and stray string, so there is no unwrapping debris.
It's easy to empty.
It senses walls and obstacles before bumping them.
It has a remote!
It picks up very fine dust.

Cons:

It doesn't talk to tell me what's wrong, only beeps.
Doesn't announce when it's docked itself.
It doesn't have 'roller bars' so it may not be doing as thorough a job on rugs.
The side brushes are already getting a bit frayed.
Hide and seek gets old.