We use affiliate links. If you buy something through the links on this page, we may earn a commission at no cost to you. Learn more.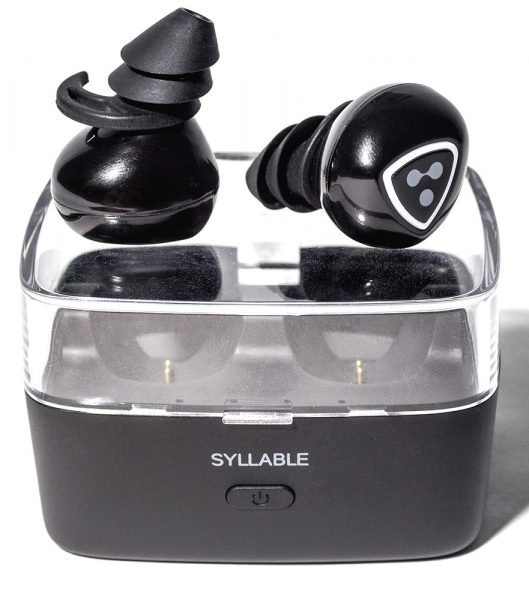 The D900s is the newest version of the D900 wireless earbuds from Syllable so let's check out the new upgrades made to them. If you haven't read my review of the previous version, check out my
Syllable D900 review
. But if you want to jump right in to the D900s review,  then let's move on.
The D900S is truly a wireless set of earbuds that connect to any Bluetooth device such as a smartphone, iPhone, tablet, iPad, or computer.
The big advantage with these earbuds is that they don't have a physical wire so the earbuds can really be called wireless. You have the option to use both earbuds together as a stereo headset or you have the option to use just one of them as a handsfree device for phone calls. The D900S are the same size as the previous model and have similar specs.  They still have the same shape, look and feel. These earbuds still have the bulbous round shape that stick out of your ears and are held in by soft silicone tips. When I unboxed these earbuds, I was hoping that they would have been smaller than the previous D900 earbuds but they seemed to be the same size.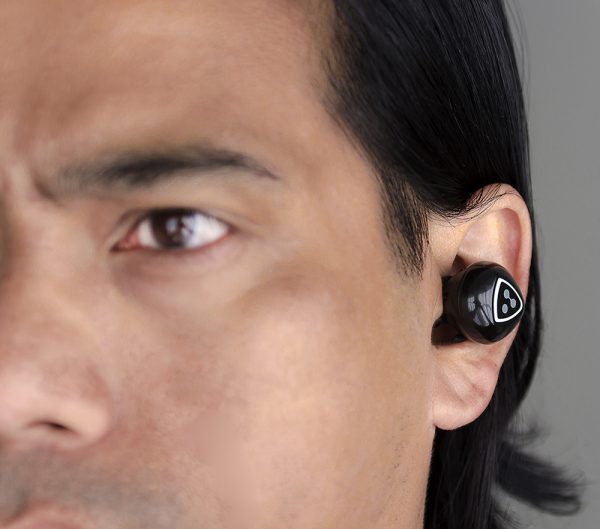 After reviewing the
BackBeat FIT
from Plantronics, I am more aware of earbuds that go in my ears since the FIT's have a very thin profile and sit flushed against my head.  The D900S are so round that trying to squeeze them further into your ears just won't change the fact that they stick out more than most earbuds do.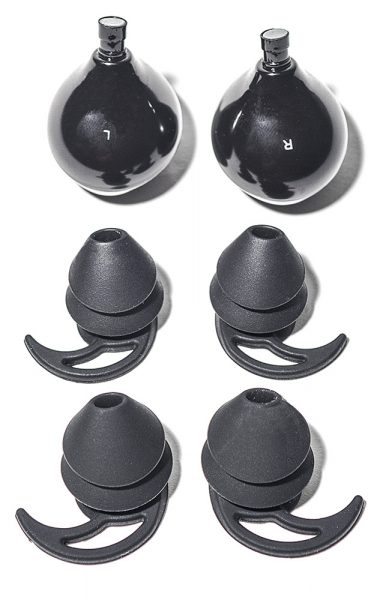 The silicone tips on the D900s still have the wingtips similar to the D900 model to help secure them into your ears so they don't fall out. Included in the box is only one set of larger silicone tips so you only have an option of Small or Large. Typically, in other earbuds I have had came with two extra tips making your choices to Small, Medium, or Large. With these earbuds it's either one or the other. Not much of a selection there.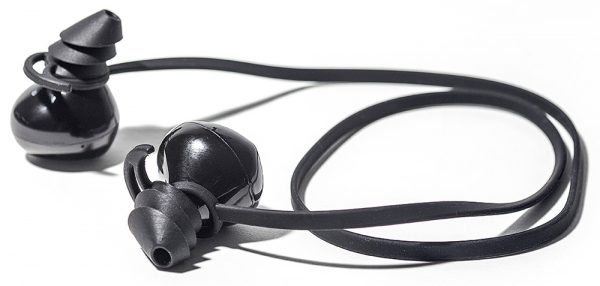 However, now included with the D900s is a rubber cord that attaches to each earbud. So now you can have the option of having the earbuds corded together. I thought this was a great addition from Syllable to give you that option of keeping it corded or uncorded.  I mean, who doesn't love options? Still, one of my main concerns is that if you push the earbuds further into your ear for a more secure fit, then you sacrifice the ability of being able to hear the outside environment around you. And as you know, isn't very ideal, especially if you are running or biking on a road with traffic around you. Personally, I like to hear the ambient noise around me when I run, walk or bike. I never have my music blaring in my ear either but keeping the music so low to hear traffic around you just isn't enjoyable. The music gets easily drowned out by the environmental noise around me.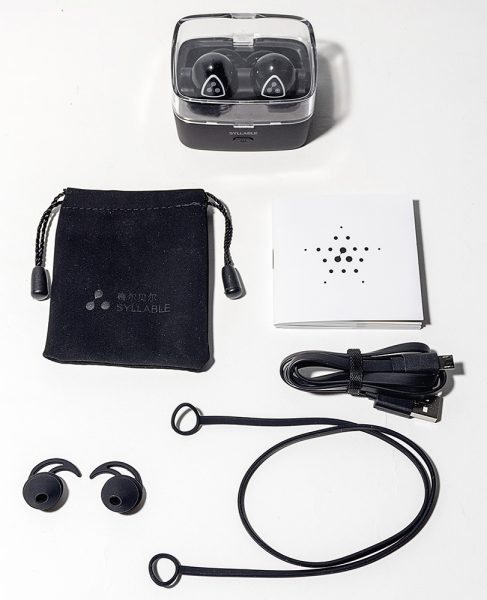 Besides the charging box, rubber cord, and extra silicone ear tip, the D900S comes with a manual, a USB charging cable, and a soft pouch. The pouch is a handy item to have when you want to carry the earbuds and rubber cord with you. This way they won't get lost if you need to throw them in a bag or purse.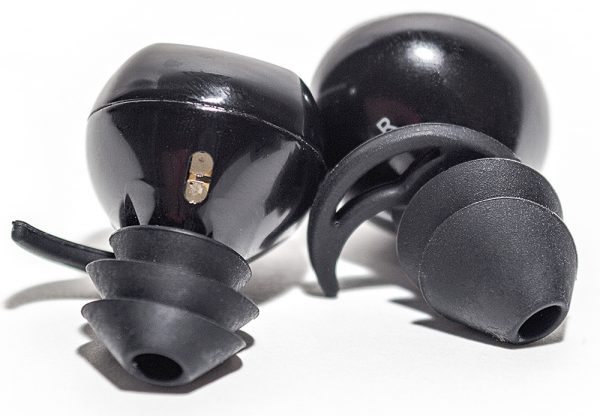 These earbuds have metal plates on the side that need to be aligned and touch the metal pins inside the charging box to activate the charging process. The D900S earbuds are supposed to have a battery life of four hours and can be charged in two hours. It also has a Standby time of two hours as well. However, I usually got around 2 hours of battery. I don't know if increasing the volume or pressing the Main button affected battery life since the times would vary.
One of the new improvements from the D900S is that the changing station box now has LED lights to display the status of the charging battery level. This is a big improvement over the previous D900 earbuds which had a storage case/intelligent changing box as well but without the LED status lights.
Although it is nice to have the LED lights to notify you of the status of any remaining charge, just keep in mind that you run into the same dilemma with the D900, which is if you lose or forget the charging box then you have no way to charge the earbuds. Unfortunately,  the D900S have a proprietary charging port so losing the charging box would be very bad news for your earbuds.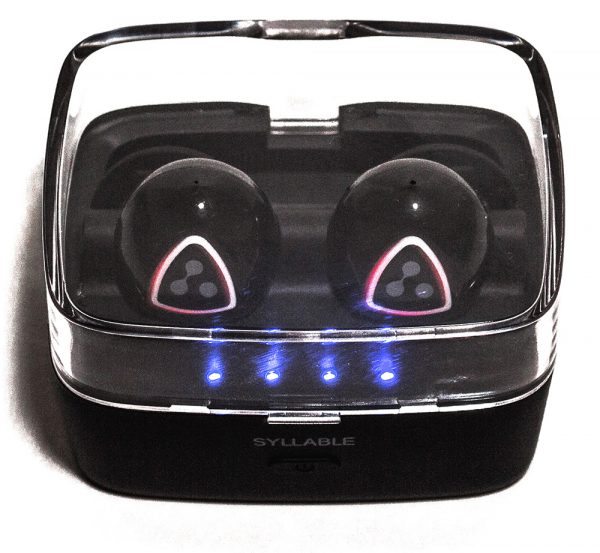 A good feature about these earbuds is that they are water-resistant and splashproof  so they are perfect to wear during those sweaty work outs. And in case you get caught in the rain while you are out jogging with them on, then they should be fine as well.  The D900S earbuds have an IPX rating of only 4 so submersing them in water probably wouldn't be such a great idea.
And speaking of jogging, just like the D900 model, I wouldn't recommend doing any hard running with these D900S on. The hard pounding will shake the earbuds loose.  Because of the size and bulk, these earbuds aren't the best for an intense run or extreme workouts since they have a tendency to work itself loose from your ear from any vigorous shaking or vibrating. So, if you are going to do some heavy running with these earbuds I would suggest that you  attach the included rubber cord to them. This way, in case one does pop out of your ear you won't have to go searching for it on the road somewhere.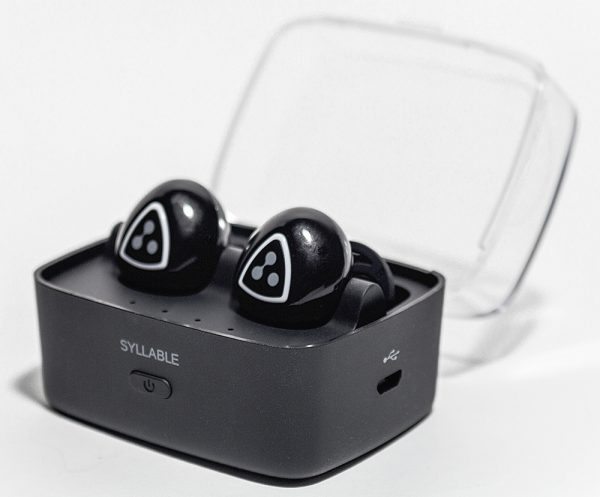 The earbuds should already be paired to each other straight out of the box. However, if you do need to manually pair the earbuds to each other then that's where things got tricky. When you read the instructions on pairing the earbuds to one another, you will find it is easier said than done. To pair these earbuds, the instructions state to pair one earbud first, which should be the Right earbud. It took me awhile to pair the earbuds to each other but would take me a few tries and after I finally got them paired they didn't stay paired after I turned them off. Because when I turned them on to use them again it seemed like I had to keep pairing the earbuds to each other.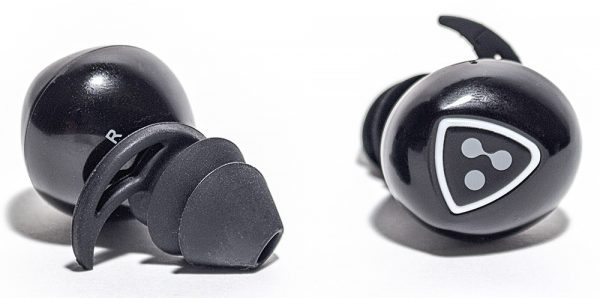 The earbuds support A2DP and AVRCP protocol so you can Pause and Play your music with the touch of the main button on the side of the earbud.  Unfortunately, you can't skip forward or backwards through your music with these earbuds, nor can you control the Volume. These would still have to be done through your smartphone, tablet, iPad or whatever device you have the earbuds paired to.
The main button on the Right side earbud can Answer/Decline or End a phone call. When you have a phone call, keep in mind that the call won't be in stereo. Your conversation will only be coming out of the Right earbud only. The quality of the phone call is just as you would expect from a handsfree earpiece. Nothing spectacular, just average. After all, it is just a mono audio phone call from one earbud when compared to music playing in stereo from both earbuds. But all in all, it was still pretty clear on both ends of the phone call for me. I could hear the person on the other end of the line just fine and they could hear me just as well.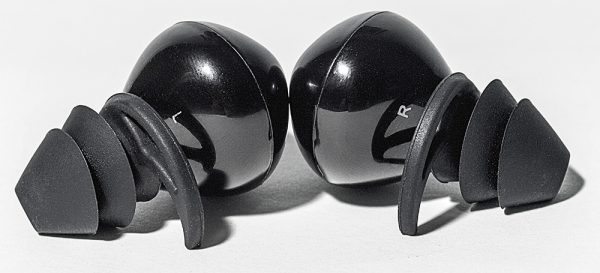 The sound quality is actually not bad. Although, the D900S don't have a strong enough driver to push the low bass you still can get a resonating bass sound. The mids are there and sound good too. But for me, I like the additional sound and thump of the bass that I get from the Plantronics BackBeat FIT, however, these earbuds don't have that.
However, they can sound great. On my LG G4, I can change the equalizer on my music player so I can get a few sound options which changes the dynamic of certain songs to give me a more custom tone to the type of music I am listening to which makes that song sound even better. With that said, I would much rather leave the equalizer to one sound option for all my songs, which I do, since I don't want to have to keep changing the equalizer for each individual song as I listen to it.
To sum up this review, the Syllable D900s  are truly wireless stereo earbuds that allow you to be capable of  listening to music as you workout or taking your daily phone calls. However, it is not without limitations. But if you can overlook these limitations then you may enjoy wearing these wireless earbuds. I can see the appeal to have the cord-free  earbuds since I enjoy the wireless aspect of the D900s, but I think time will tell if the concern of certain features like lack of volume control, spotty pairing, or the issue of environment sound, will make or break these earbuds or will the wearer just have to deal with it.
Source: The sample for this review was provided by Syllable. Please visit
Amazon
for more info.
Product Information
Price:
$69.99
Manufacturer:
Syllable
Retailer:
Amazon
Pros:

Cord-free earbuds.
Included optional rubber cord.
A2DP and AVRCP protocol.
Included soft carry pouch.

Cons:

Don't sit flush in your ear.
Only 1 extra earbud tip included.
Proprietary charging box.
Pairing earbud to earbud is spotty.