We use affiliate links. If you buy something through the links on this page, we may earn a commission at no cost to you. Learn more.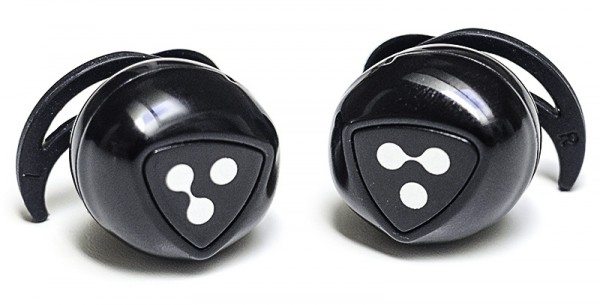 The D900 Black-Bean Bluetooth headset is truly an example of wireless technology. I have been waiting for a pair of headsets like this for a while now so let's see if it was worth the wait.
For as long as I can remember I always thought of having a Bluetooth earpiece in each ear, but without wires connecting the two of them, but the technology wasn't there yet. That is until now. The D900 Black-Bean is a Bluetooth 4.0 earpiece headset that can pair to each other allowing  stereo sound to a connected device.
Although there are two ear pieces you can use one ear piece if you prefer, for example, when you are using it for a phone conversation. But when you want to listen to music you can easily use the two earpieces as a stereo headset.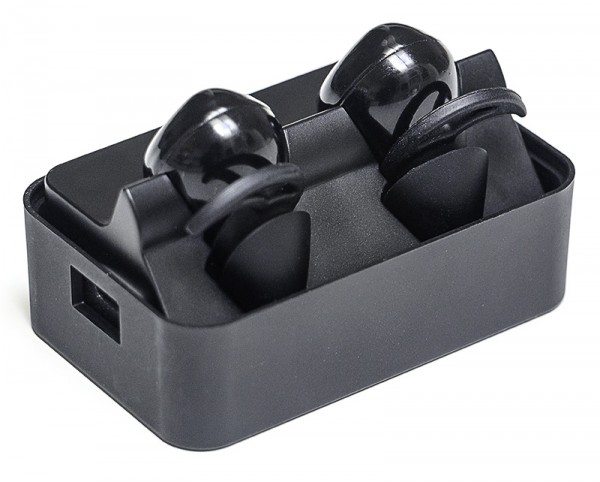 Let's jump right into some of the main features of the syllabus D900. First and foremost, zero wires. When they say wireless, they mean wireless. There aren't even any wires that connect the two earbuds together. I really like this idea since I don't like having any cords just dangling from my body. I can't tell you how many times I have snagged my headphone cords either on my camera tripod or just forget that I have my earbuds plugged into my phone and as I stood up from my desk my phone gets pulled onto the floor.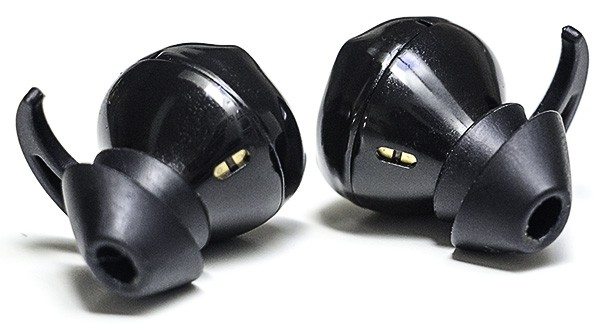 With the D900, you are truly free from wires. The D900's have a silicone wingtip earbud to help keep the earpiece in your ear. They can help keep the earbuds in your ear if you were just sitting at your desk, driving in your car or walking around your house. However, if you are doing more vigorous movements such as jogging or working out, they will have a tendency to slip out of your ear. I had this issue when I took a run with them. The shock of pounding on the pavement was just too much for them. However, walking, or at the most a light jog, wasn't so bad. If you are a heavy runner will they have a tendency to work loose. I did try jamming them into my ear to give it a more snug fit but over time it did become loose again. And when you place any earbud so far into your ear you risk the chance of blocking out the outside environmental sounds. Plus, I don't think these are sweat-proof or moisture proof since I didn't see any notifications in the manual or on their website. I, for one, can get real sweaty if I run or train hard.
They do come with an extra set of gel earbuds, however they appeared to be the same size earbuds except they were clear in contrast to the black earbuds that are already on them. Also included is a microUSB cable and a small manual guide. Keep in mind that the manual is very small and the print is even smaller. So if you have a hard time reading small print you may not like the manual.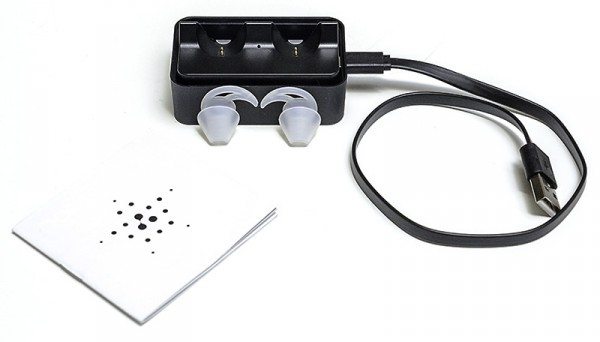 Since these are active noise cancelling earbuds, which already try to dampen the noise around you, the size of the silicone earbuds can cover your ears to the point that it can muffle a good amount of environmental sounds. These earbuds really block out the surrounding noise around you, preventing you from hearing any traffic or people around you. You will eventually have to decide if you want a low volume to hear the environmental ambient sounds or have a normal listening volume but not be able to hear anything going on around you.
One thing to keep in mind is that if you do go out jogging with them on, riding a bike, or even running on a treadmill at the gym, and one of the earbuds happen to pop out, there is no cord attached to catch it from falling to the ground. You are going to have to definitely catch it or risk losing it in the street or it rolling under some piece of gym equipment.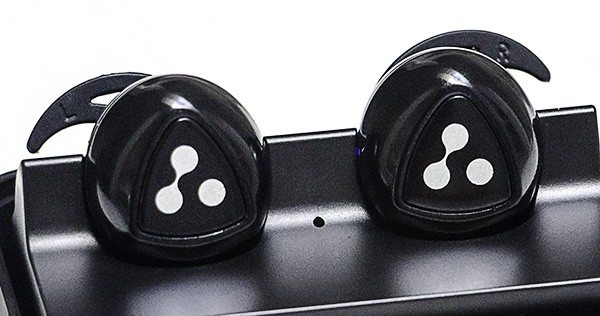 As for volume, there isn't a physical volume button on any of the earbuds, so you have to control the volume through your smartphone, tablet, iPhone or iPad. So you will need your device within arms reach if you need to adjust the volume.  You also have to use your device's fast forward or rewind controls since the D900 can only play or pause with the center multi-function button or otherwise known as the Entity button.
A personal preference that I have are verbal prompts. It's just something I have gotten used to with the Plantronics BackBeat FIT. Unfortunately, these earbuds have a lack of verbal audio prompts to inform the wearer of the D900's status such as remaining battery life, on or off, connected or not connected, etc. As far as a low battery warning the D900 just beeps in intervals to inform you that the battery is low until it powers itself off.
Pairing the headsets was fairly easy. To pair the earpiece just hold down the multifunction button, or Entity button, for 2 to 3 seconds then the LED lights on the earbud will blink red and blue informing you that it is in Pairing Mode. Your device will then be able to find it. When pairing the second earpiece to the first one, just hold down the non-paired earbud's Entity button for 1 to 2 seconds and it should automatically pair to the first earbud.  I had no problem pairing the two earbuds together. It almost seemed like they paired themselves. There is a more detailed instruction in the manual that is included but if you are  someone that needs to see it done, here is a video that you can watch.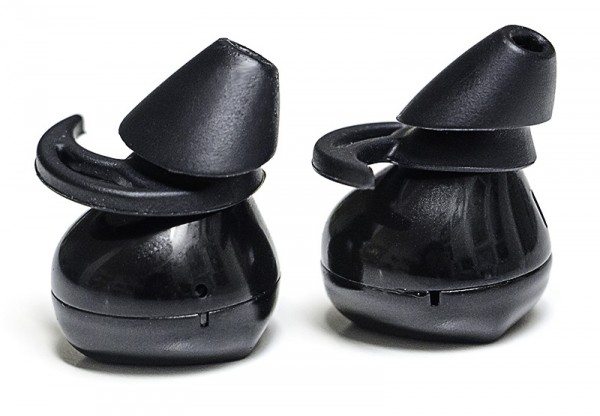 The D900 Black-Bean is a perfect size for a hands-free Bluetooth headset since it is small and low in profile and you don't have that protruding ear piece with a large boom mic. After having worn those type of hands-free headsets before, I find them cumbersome and awkward. Many of these pinhole microphones on Bluetooth headsets have gotten so much better with sensitivity that the pinhole mics on the d900 picked up my voice just perfectly. I didn't have to raise my voice to the person I was speaking to on the other end. The call quality was pretty good too. It was clean and clear and very audible. There were no muffled sounds so I was very pleased with the call quality. The person on the other end could hear me well and I could hear them just the same.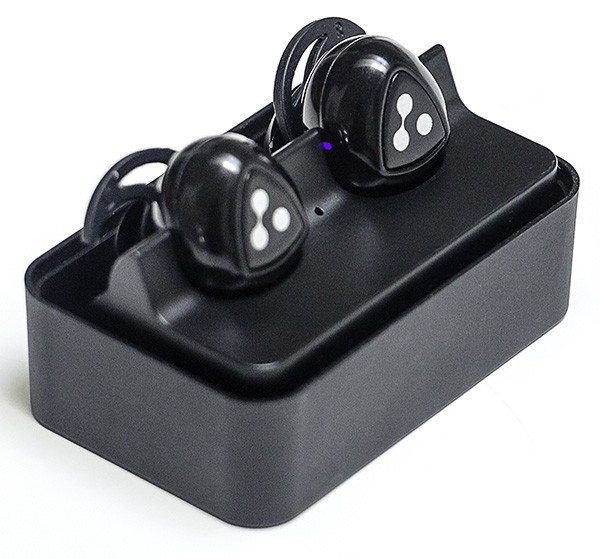 Overall, I love these Bluetooth earbuds. I love the size of them, the look, the lack of wires, but one thing that bothers me is the battery life. I never got more than one and a half hours out of them and these are supposed to be rated to have a battery life of up to 5 hours. But I do notice that the blue LED light stays lit when they are on the charging dock without the USB wire plugged in. Could it be that the charging dock is draining the battery if the earbuds are sitting in the charging box? I mean if the blue LED lights stay lit then wouldn't it be draining the battery? I guess once the earbuds are charged then they should probably be removed from the box. However, it defeats the purpose of a storage box.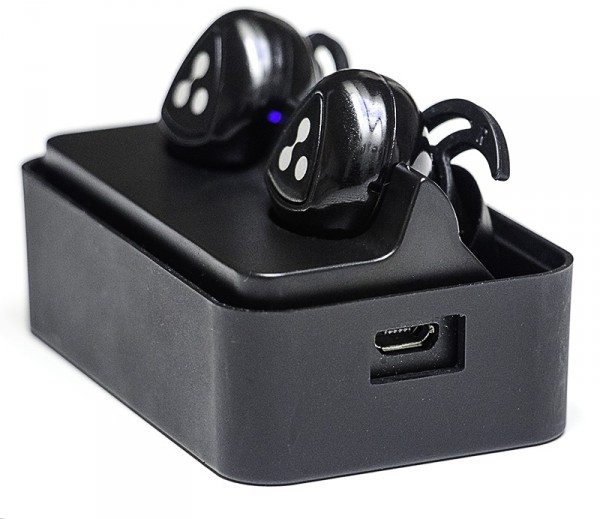 And speaking of the storage box, it is great to have as a charging station, however, if you ever lose this box you can forget about ever charging the earbuds again. That is until you buy another charging box. This is because it is a proprietary box that has the charging pins in it so there is no other way to charge the the D900 earbuds. If you take these headsets on vacation, make sure you remember the charging box or you will be out of luck. And forget about doing a quick charge with your microUSB car charger without the charging box. This just seems like one extra piece of equipment to carry around just to charge the earbuds. I think it would have been convenient to have the microUSB port right on the ear buds but still be able to charge them in the charging box as an option.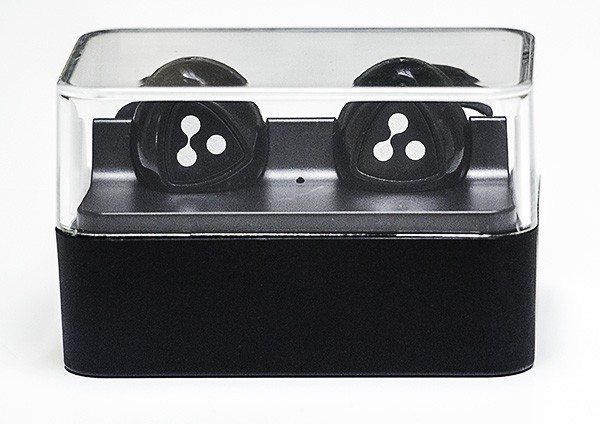 Whether you hate them or love them, you have to agree that the wireless feature between the two earpieces is another advancement for Bluetooth gadgets. For me, it's a love hate relationship. There are many things I liked about the D900 headset but there are also numerous personal preferences about them that I wasn't too thrilled about. These are one of those products that you are going to have to try out for yourself to see if they fit your personal preferences and style.
So, in conclusion, were they worth the wait? I would say yes. Of course, hopefully with time, I know they will only get better. But as they stand now, I use them while I am editing images or editing videos on the computer, but I don't go running with them. I think they have their place such as in a low impact environment where you are not doing any kind of vigorous activity with them on. If you can do that then you will be happy with this headset.
Source: The sample for this review was provided by Syllable. Please visit their site for more info or Amazon to order a pair.