We use affiliate links. If you buy something through the links on this page, we may earn a commission at no cost to you. Learn more.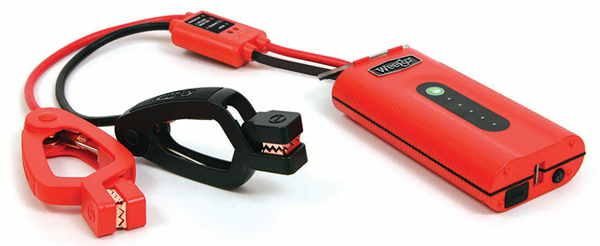 At least once or twice a year the battery on Jeanne's Kia or the battery on our lawn tractor dies. Using jumper cables with another vehicle like my MINI Cooper to jump start the dead battery always makes me nervous. First I have to Google the cable connection sequence and then actually do it. The last time I had to do this, I must have done something wrong because the plastic around the jumper cable grips started smoking and melted. Needless to say, it freaked me out and has made me worry about the next time I might have to jump start a battery. That's one reason why portable jump starters have been on my radar lately.
The new Jump Starter 44 from Weego has several features that make it desirable for anyone who is shopping for an easy to use jump start device. First of all, it provides enough power to start gas engines up to 6.4 liters and diesel engines up to 3.2 liters. It can also be used to  charge mobile devices including phones, tablets, and other USB devices.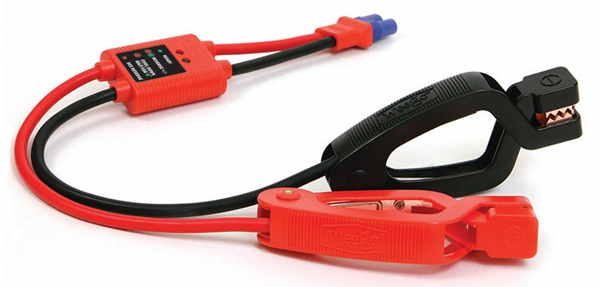 The Weego 44's cables have Smarty Clamps with jaws that open much wider than traditional jumper cable clamps making them easier to connect any battery terminals. And best of all, it guides you through the jump start connection process with light and sound.
Lights and sounds built into the Smarty Clamps™ make it easy for the user to instantly know that a successful engine start is possible. Weego 44 incorporates new Connection Detection technology that displays a green light to indicate the cables are properly connected and ready for a jump start. A red light lets the user know the unit is improperly connected or not connected to a 12-volt system. Flashing lights and a buzz noise alerts the user to a Reverse Polarity issue (crossed cables) on the battery terminals. Weego 44 also has Over-heat Protection which prevents any damage of Weego during cranking; after a cool down period, it resets itself for another jump. Power Surge Protection shuts Weego 44 down automatically if the engine requires more power than Weego is rated to deliver and Anti-Spark Protection ensures the unit will not spark if the clamps touch each other or other metal objects.
The Weego 44 has additional features like a built-in 500-lumen flashlight with two LED lenses that will stay illuminated for up to 14 hours on a single charge and a lanyard and hook that can be used to hang it from your vehicle's hood latch if there isn't a flat area to place it.
The Weego Jump Starter 44 has an MSRP of $149.99. It will be available in August from weego.com and other online retailers like Amazon.