We use affiliate links. If you buy something through the links on this page, we may earn a commission at no cost to you. Learn more.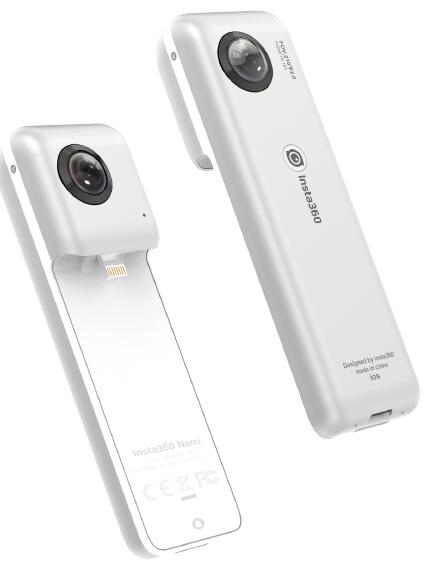 GoPro cameras have literally changed the way we experience recorded video: The ultra-wide field of view of these cameras has accustomed the viewer to the expanded perspective these wide-angle lenses record. Now we are on the cusp of a new revolution in video – 360° immersive virtual reality – and Insta360's Nano camera offers a convenient, innovative, and relatively low-cost way to capture 360° immersive virtual reality footage.
The camera is about 4 3/8″ long, 1 3/8″ wide and less than an inch thick. It can be used on its own to record a 360° projection of the world in 3K (3040 x 1520) at 30 FPS or in still photos onto up to a 64 GB microSD card. The camera has an 800mAh battery that should provide over an hour of recording time. When connected to an iPhone 6/6s standard or plus the phone functions as the camera's viewfinder and internet connection, permitting the user to live-stream the action. The recorded video can be played back as a VR field of view or in a "tiny-planet" projection. The ecology of the video and the apps that support it is very well established, allowing the recorded video to be viewed on almost any device and social media platform, instantly, without any post-production requirements. As an added bonus, the box that the unit comes in can be converted to a "Google Cardboard"-like device for viewing immersive video using a smartphone with a compass.
The Insta360 Nano is available now on Amazon for $199.