We use affiliate links. If you buy something through the links on this page, we may earn a commission at no cost to you. Learn more.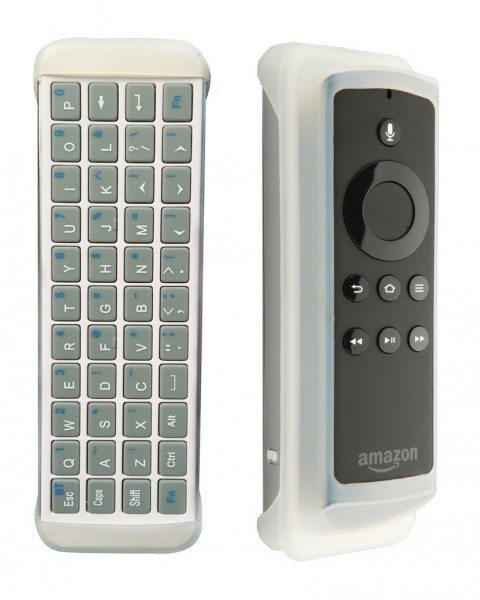 Ever try to enter in your username and password using nothing more than a handheld remote?  I have several bluetooth keyboards I could use with my various streaming devices, such as Apple TV or Amazon Fire TV, but I never seem to have one handy.  The iPazzPort is a Bluetooth keyboard that comes with two sleeves to combine a full QWERTY keyboard with your Amazon Fire remote.
Out of the box, it's easy to see what's going on:  The iPazzPort keyboard is nothing more than a candybar shaped QWERTY keyboard that comes with two silicone sleeves that fit over your Amazon Fire TV or Fire Stick remote.  (Amazon remote not included.)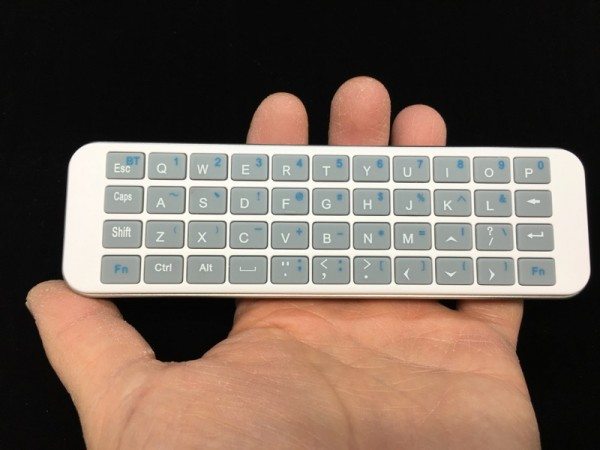 The keyboard is an array of rubbery keys with tactile click for feedback.  The blue Fn key invokes different characters.  There is a tiny space "bar" under the C-key.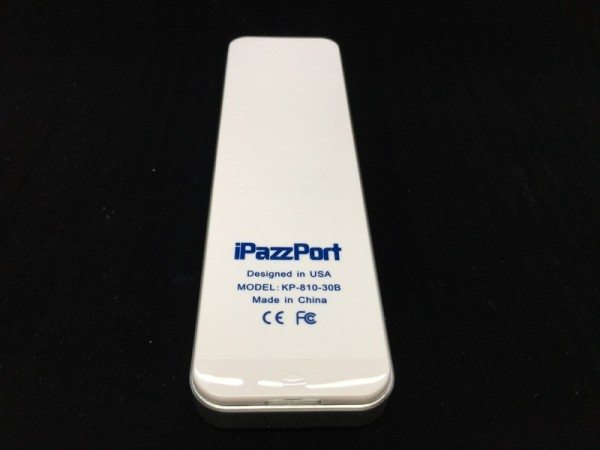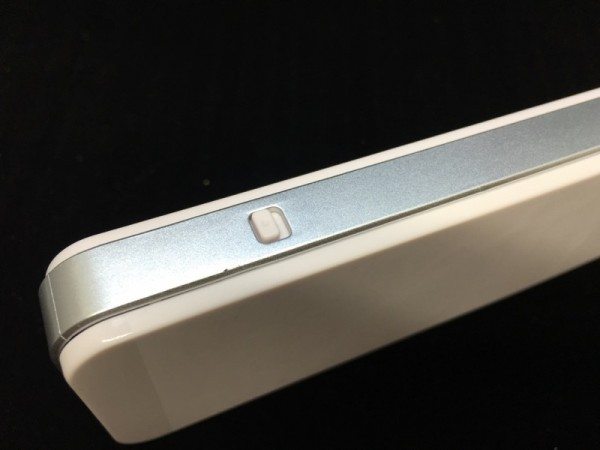 What's this switch?  I wasn't sure either at first.  Turns out it's a power switch.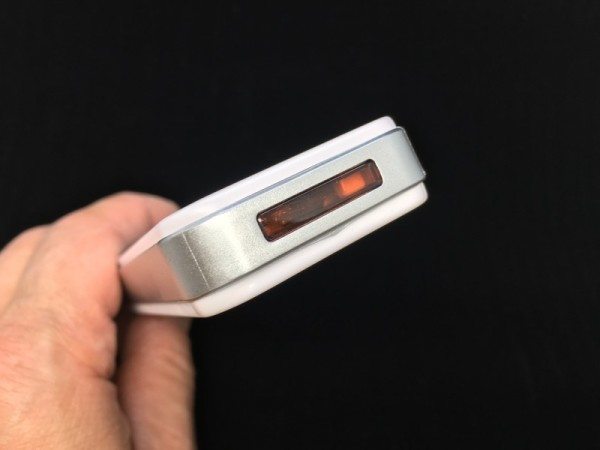 On one end I found a semi-transparent window that reminded me of a traditional infrared remote.  No worries, it's still a Bluetooth controller.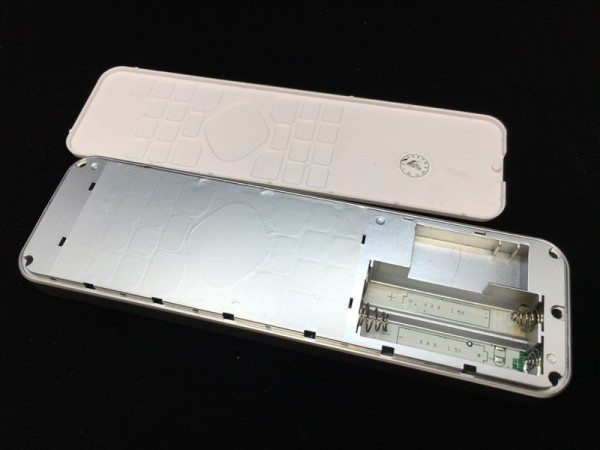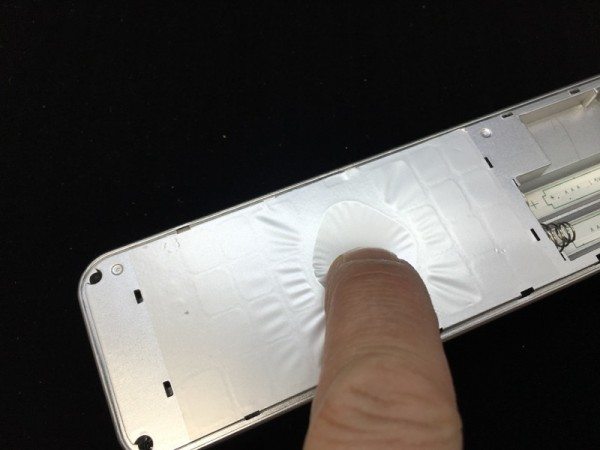 The rear panel pops off fairly easily.  It feels pretty thin.  The imprint on the remote appears to indicate that this chassis was repurposed from a different remote control at some point.  In the photo above, my finger is placed over the hole where a D-pad would normally go.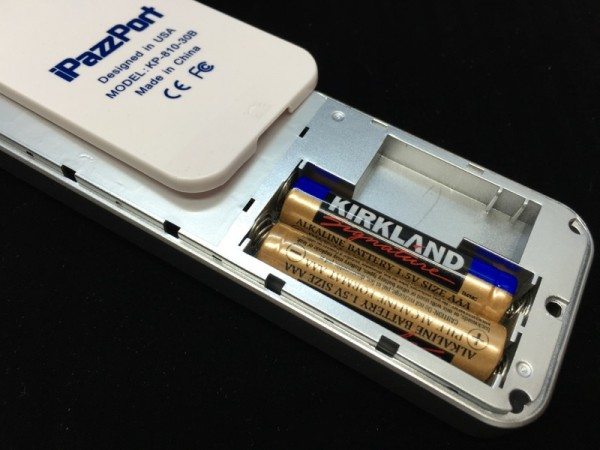 The remote takes two AAA batteries, not included.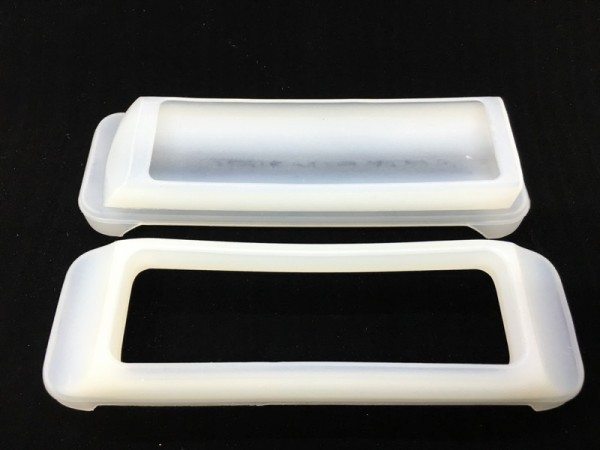 You'll get two sleeves for the two types of Amazon Fire TV remotes.  I own the larger remote with the microphone.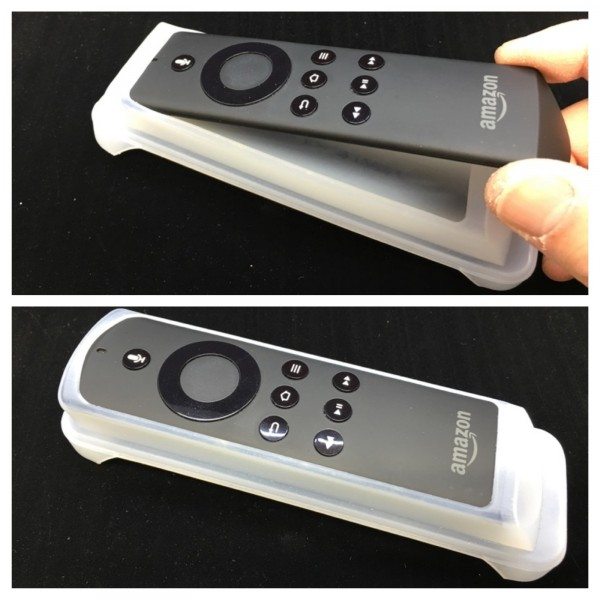 The silicone sleeve stretches a bit, and the remote fits in quite nicely.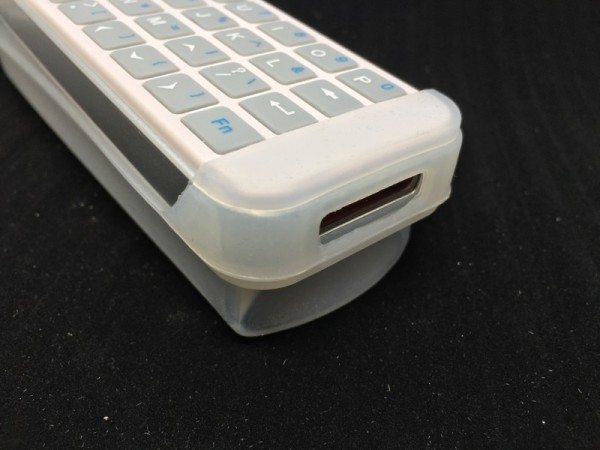 There's an opening on the right side of the silicone case to expose the little keyboard window.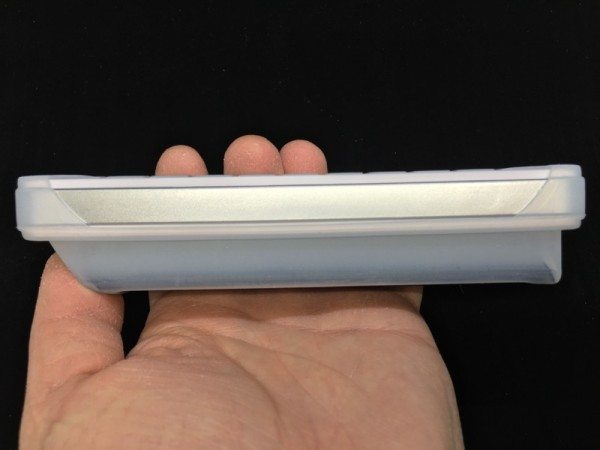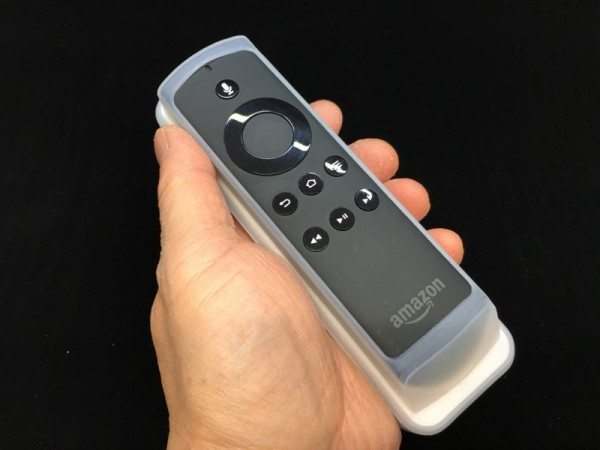 When combined, the Amazon remote and iPazzPort keyboard now create something roughly twice the thickness.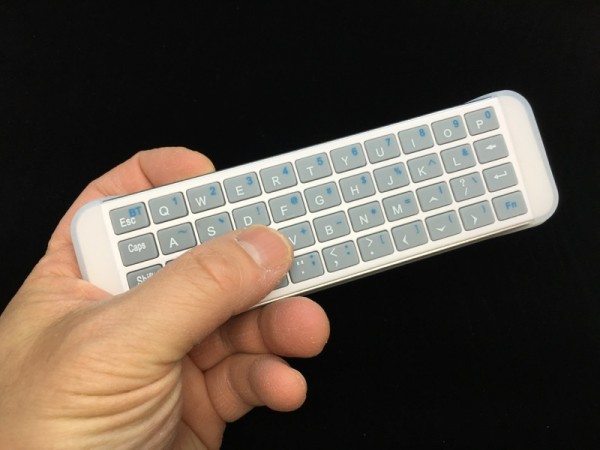 You still get full keyboard access even with the sleeve on and the Amazon remote attached.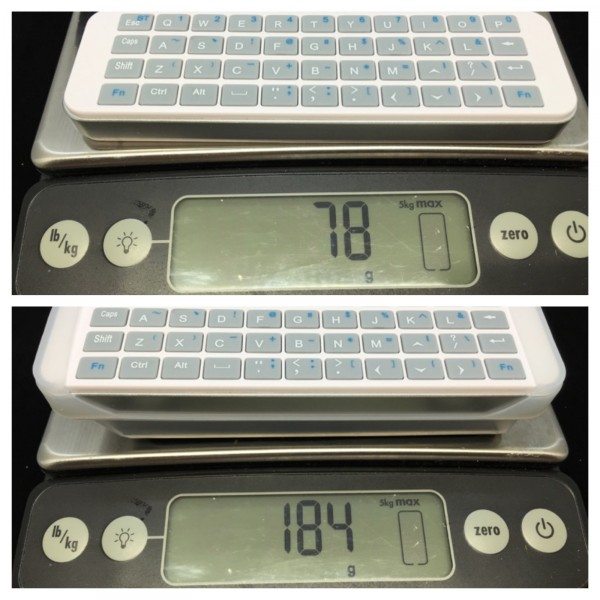 By itself (with batteries) the iPazzPort keyboard weighs 78 grams, and 184 grams with the Amazon Fire TV remote mated together.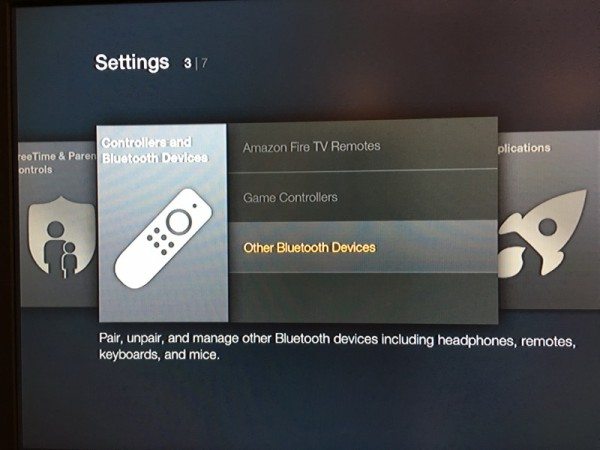 Pairing with my Amazon Fire TV is quite easy.  Go to Settings and choose "Other Bluetooth Devices.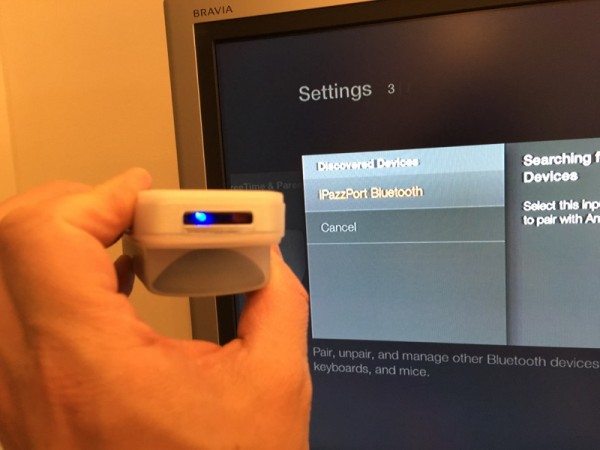 Turn on the iPazzPort remote, and choose it on the screen.  Thankfully, the keyboard shows up in plain-language as itself: "iPazzPort Bluetooth".  And, see that blue light?  That's what the little window is for!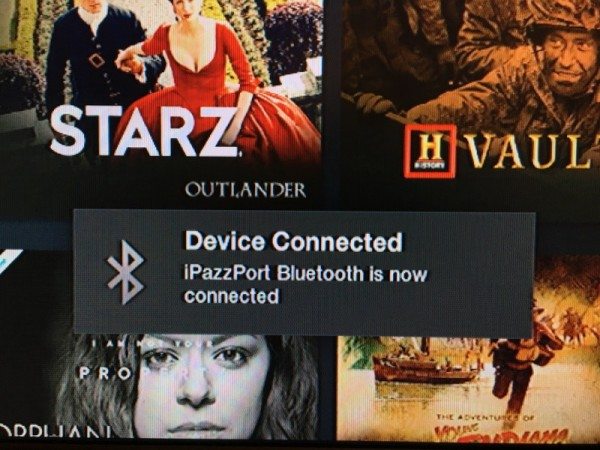 Now, when you turn on the keyboard, you'll see a small popup message in the lower right of your Amazon Fire TV screen.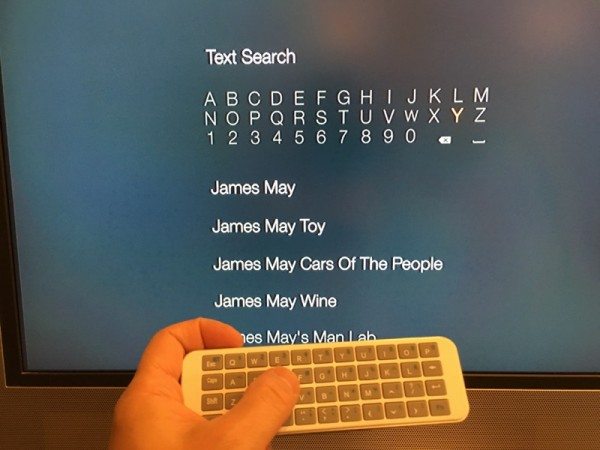 Once paired, I had no difficulty typing in searches or even navigating around the Amazon Fire TV.  To navigate, you can use the up/down/left/right and enter keys just as you would on the Amazon Fire TV remote.
I do not own an Amazon Fire Stick.  There are printed instructions for what appears to be "side-loading" something to get the iPazzPort keyboard to work.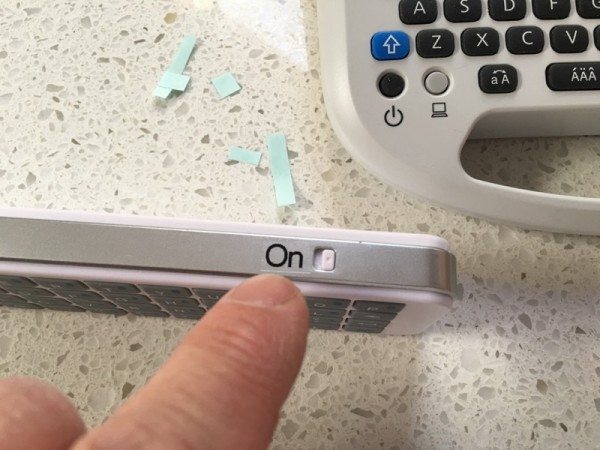 One pet peeve of mine is unmarked switches.  To remedy this, I attached a label to clearly indicate which switch position turns the remote on.
Another minor annoyance is how the combined, piggy-backed remote feels in the hand.  The Amazon Fire TV remote is a compact, sleek device that feels good in your hand.  You can forget that if you attach the keyboard.
Then there's the question:  Do you need such a thing?  The voice search function on the Amazon Fire TV works so well, I've never had to type anything in.  However, if you've ever had the misfortune of having to re-enter your account information, or logging in to something (such as the Netflix app for the first time), then the iPazzPort Bluetooth keyboard is worth it.  So much so, I've decided to keep it handy where the remotes "live" (a side table), but without the silicone holder.
Source: The sample for this review was provided by iPazzPort. Please visit their site for more info and Amazon to order.
Product Information
| | |
| --- | --- |
| Price: | $20.99 |
| Manufacturer: | iPazzPort |
| Retailer: | Amazon |
| Requirements: | Bluetooth, two AAA batteries |
| Pros: | The sleeves keep your Amazon Fire remote attached to the keyboard. Works with any Bluetooth device that can accept a keyboard (tablet, smartphone, etc.) |
| Cons: | Slightly flimsy battery door. Unmarked power switch. Pairing with Amazon Fire TV Stick may take some extra steps (not covered in this review). Combining the keyboard and your Amazon remote adds a lot of bulk. |