We use affiliate links. If you buy something through the links on this page, we may earn a commission at no cost to you. Learn more.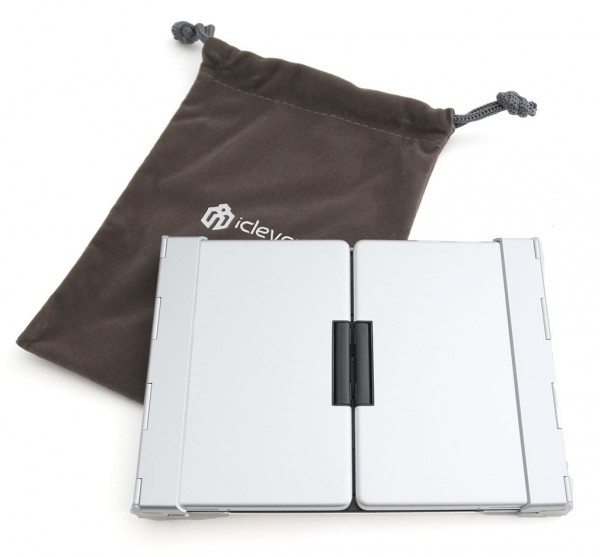 There are many different folding keyboards on the market for mobile warriors, prepared travelers, coffee shop surfers and tiny house Gadgeteers. These small keyboards are designed to take up minimal space while still providing a comfortable way to touch type on your mobile devices. I've tried many different ones over the years and I usually find something about them that annoys me such as the key layout or size. So I wasn't too hopeful when I accepted an offer to review the iClever Tri-folding Bluetooth Keyboard (IC-BK05), but after using it it for the past week, I'm surprisingly impressed. Let's check it out.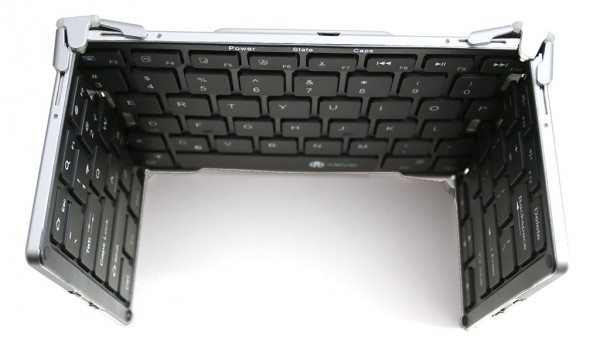 This keyboard has a brushed aluminum outer shell and features a tri-fold design. After you charge the keyboard using the included micro USB cable, unfolding it automatically powers it up so that it's ready to be used.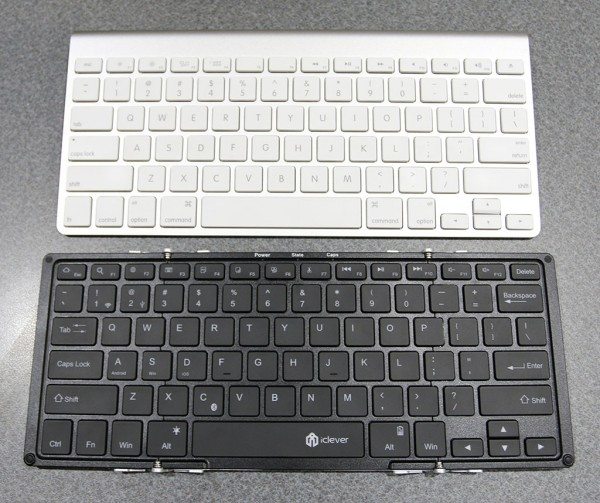 Unlike a lot of folding keyboards that I've reviewed over the years, the iClever keyboard is actually slightly larger than my favorite desktop sized keyboard – the Apple wireless keyboard. The layout and key size are almost identical so I didn't have any problems pressing the wrong keys by accident.
This keyboard has some nice features not found in other folding keyboards that I've reviewed.

First of all, the keyboard has a back light feature. Not only that, but you can choose from three colors including Blue.

Red.

And green. There are also two brightness levels for the back light. Although this feature looks cool in the photos, you really can't see it unless you're in a pretty an area with low light. Even at the brightest setting you won't be able to see the back light in a normally lit area.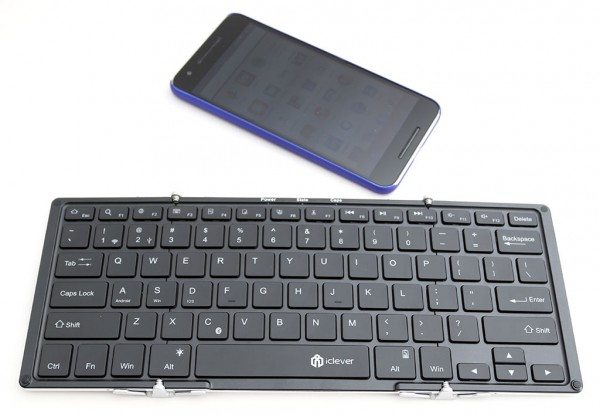 My favorite feature of the iClever Tri-folding Bluetooth Keyboard is that you can use it wired or wirelessly. So you can hook it up to your desktop computer with the included USB cable or pair it with your tablet or phone using Bluetooth. But wait, that's not all… You can leave the keyboard plugged into a computer via USB and toggle to wireless mode using an function key combo to use it with your phone or tablet. I tested this functionally while using this keyboard with my Windows laptop and a LG G5 smartphone. I also tested it with the same phone and my MacBook Pro. It's pretty handy to toggle to wireless mode to answer a text message when it comes into your phone, instead of picking up the phone and using the touch keyboard.
The iClever also has three modes that include Android, iOS and Windows. Switching between these modes allows for special keys to work that bring up the home screen, media play back controls, volume controls etc.
After a week or two with this keyboard, I have to say that it's currently my favorite folding keyboard. It folds down to a small package, has a great layout, large keys and can be used both wirelessly and wired. The iClever Tri-folding Bluetooth Keyboard is a keeper.
Source: The sample for this review was provided by iClever. Please visit their site for more info or Amazon to order.