We use affiliate links. If you buy something through the links on this page, we may earn a commission at no cost to you. Learn more.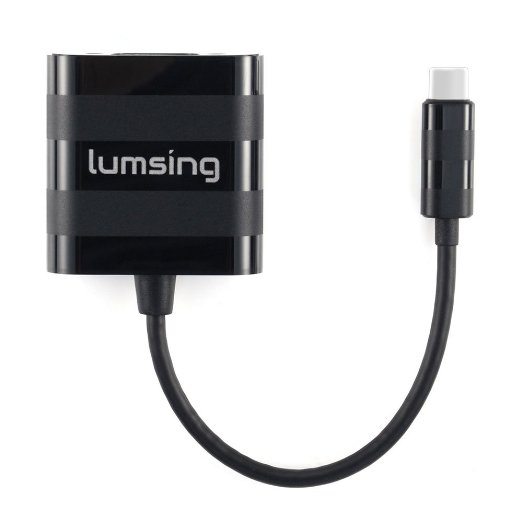 A while back I traded in my SUV for a more family friendly minivan that we can take road trips with. Since my children are still young, I had a drop down DVD player installed in the van.
While researching DVD players, I attempted to find one that also had an HDMI input. My thinking was as we head to a more cloud based world, I would eventually be able to hook my smartphone or tablet into the HDMI port and stream movies for the kids. This would allow me to leave behind the DVDs and leave room for the many souvenirs my children con my wife and I into buying.
With that in mind, I was recently given the opportunity to review the Lumsing USB C to HDMI adapter. Currently, I'm using a Nexus 6P smartphone which is equipped with a USB C port.
With summer rapidly approaching and a few road trips on the horizon, the timing for this review couldn't be more perfect.
Specifications
USB 3.1 type C
Max resolution – Ultra HD 4K @ 60Hz
Connectors – Reinforced nickel-plated
Housing – PVC mould, full metal jacket assembly
Length – 7.8 inches
Weight – 1.02 oz
Performance
The adapter is a relatively simple one.
One end of the adapter has a large, HDMI input port, while the other end has a USB C plug. There isn't anything else to the adapter other than some branding on the front and back.
The adapter didn't come with any instructions, guides, illustrations, etc., but using it seemed pretty straightforward. I assumed you plug one end of an HDMI cord into your TV and the other into the adapter. After that, you plug the adapter into the USB C port of your phone, laptop, tablet, etc.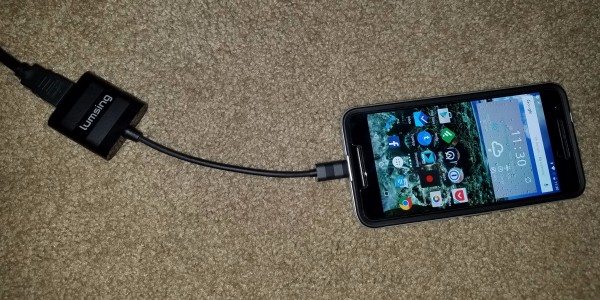 I took my Nexus 6P and did just that.
Unfortunately, I couldn't get the adapter to work. My TV just displayed a blank picture as if nothing was hooked up to it.
I thought maybe my HDMI cord was bad and I figured I should test it. One of my laptops has an HDMI output, so I attached the HDMI cord to the laptop and within seconds my TV was mirroring my laptops display.
Now that I knew my HDMI cord was working, I went through my 6P's settings to see if there was an option I needed to enable, but couldn't find anything.
Fortunately, my wife had given me a Chromebook Pixel for Christmas and that also has a USB C port.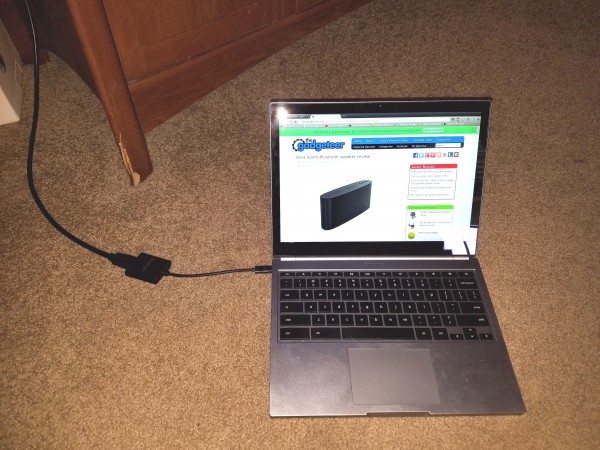 I plugged the adapter into the Chromebook and…nothing.
I went through the same troubleshooting steps as I did with the 6P, but nothing worked.
Next, I reached out to Lumsing and asked for some help.
Lumsing replied somewhat quickly, unfortunately their response wasn't very helpful:
Thanks for your email. please provide the order id# frist. in this matter,please have a try with another device and please check if it was installed properly. thanks
The above quote is cut and paste directly from their reply.
Grammar and spelling aside, I have a few issues with this reply.
First, USB C isn't a widely available feature yet. I already tried the adapter on two devices, suggesting I try it on another device is only slightly more helpful then suggesting I lubricate the plug with unicorn tears.
Second, they suggested I make sure it's installed properly. As I said before, they didn't provide any manual for the device. While I assumed it was a pretty straightforward device, perhaps there is a step I missed or was unaware of.
Third, it's a pet peeve of mine when support asks for an order number before providing support. Support for a product shouldn't be dependent on whether or not you can quickly locate the order number. If someone needs to have the item replaced, then I understand verifying an order, but not just to provide help. 
Although, you could argue they did provide help before receiving an order number, it wasn't the high quality support I was hoping for.
I emailed Lumsing a second time and they agreed to send out a second adapter to review.
A few days later I received the second device and tested it on my Nexus 6P; however, it still didn't work.
I then fired up the ole' Google machine and began to check if anyone else had issues with the 6P and HDMI output; maybe it was my phone, not the adapter.
I quickly found out that it's fairly common for 6P owners to have issues with HDMI output…mainly because the 6P doesn't support HDMI output.
Generally, I would take some responsibility for not researching this and figuring it out sooner.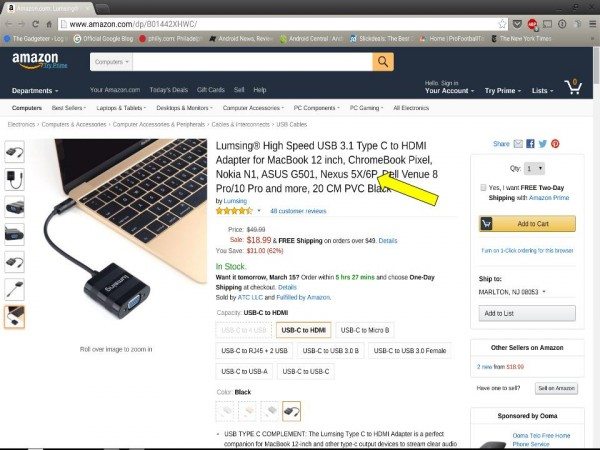 However, the 6P is listed as a compatible device directly on Lumsing's Amazon page.
Additionally, my email to support specifically stated I was using the adapter with a 6P and they didn't appear to know it wasn't supported.
Okay, moving on.
So now I understand why my phone didn't work, but what about my Pixel?
I again plugged the adapter in my Pixel and…..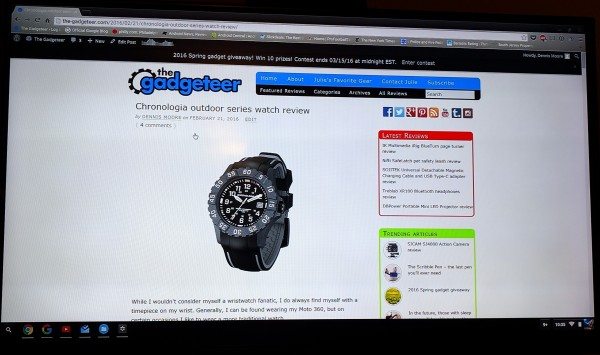 It worked! Above is an image of my TV mirroring my Pixel's display.
The imagine quality appeared to be on par with what my Pixel was displaying; however, I was curious how the adapter handled audio and video.
I loaded up Youtube and found an HD trailer for an upcoming movie.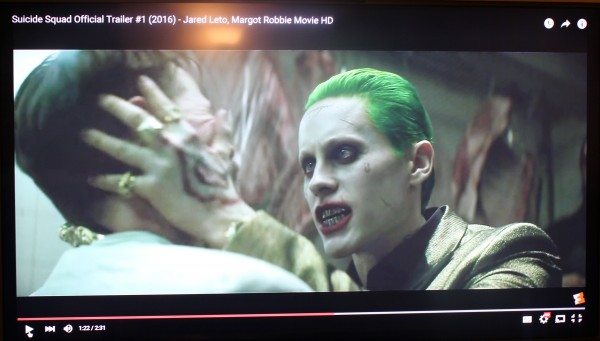 As you can see, picture quality is great. If you zoom into the picture above, you can make out even the most minor details on the Joker's forehead. It's really great when you consider that is photo of the image from my TV, not a screenshot.
While the trailer was playing, audio was just as good as if it were a normal channel playing on my TV.
So it seems that once you find a device that works with the adapter, it does an excellent job of transmitting audio and video.
After reviewing the item, I was torn between whether I would recommend it or not.
Obviously, there were a few issues with the device; Lumsing falsely advertising that the adapter was compatible with the 6P – which was the main reason I was interested in the adapter, and the fact the first device didn't seem to work at all.
However, the adapter did work great when I received a functioning sample and attached it to a compatible device.
All things considered, I think it would be something I'd pass on.
Even looking past the issues I discovered, the adapter costs $18.99 and is limited in what it can do. For $35 you can buy a Chromecast and do everything the Lumsing adapter does, but you have dozens of more compatible devices and you don't have to work within the confines of a HDMI cord.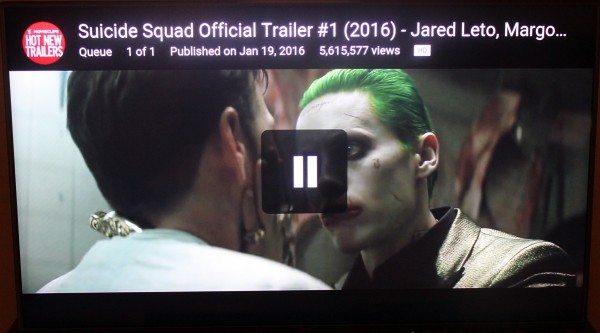 Just to prove my point, I loaded the same movie trailer as before and cast the Youtube page from my Pixel to my TV.
The giant pause icon in the middle of the screen makes comparison a little bit difficult, but the audio and video quality of the two videos were identical.
While the idea behind the Lumsing adapter is good, it just doesn't seem practical. My advice to anyone who would be interested in this device would be to spend the extra money and invest in a Chromecast.
Source: The samples for this review were provided by Lumsing. Please visit their site for more information and Amazon to order.