We use affiliate links. If you buy something through the links on this page, we may earn a commission at no cost to you. Learn more.
Product Requirements:
Device:
Any touch-screen PDA

Have you got a favorite student? One that is about to begin getting ready for
heading back to school? Or are you looking for a fun multi-pen that doesn't take
itself (or you) too seriously?
If so, you might want to look at the iStylus
Duo, which combines a ballpoint pen with stylus in a clear or colored
translucent exterior . The body and the barrel of the iStylus are made of
plastic. A simple, yet stylish clip made of a pewter colored metal adds the
pen's only decoration. 

The iStylus uses an easy twist-action to reveal or remove each writing tip.
This is my favorite method for choosing a pen tip, and it is fun to be able to
see the inner mechanisms working to present your selection.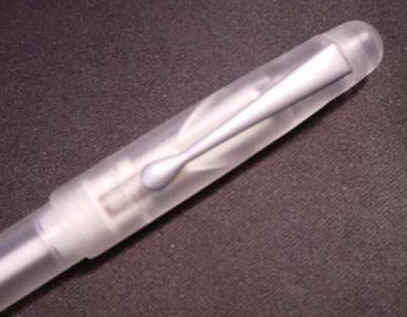 One of the things I like best about this multi-pen, is that the black
ballpoint insert is full sized. If you have a lot of writing to do, this
pen can handle it. 

The stylus tip is bright white, and slightly rounded – not pointy at all. I
found that it wrote equally well on my PDA's screen – with or without
protection.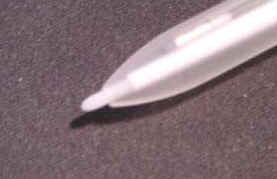 The iStylus weighs .3oz (9g) so some might find it a bit lighter than they
expected. Its length  is 5.5" (13.9cm), and its barrel is .4"
(1.1cm), making this multi-pen a good size for writing, neither too fat nor too
thin.
For some unknown reason, the very top of the pen unscrews to reveal a small
storage area. It makes me wonder if we might someday see a version of the
iStylus that has a mechanical pencil, as this would be a great place for a large
eraser.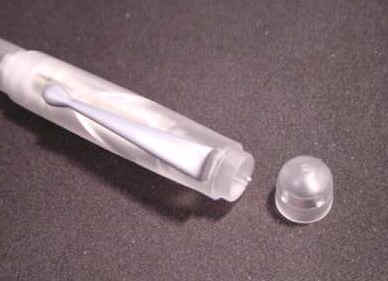 I think that this Duo is an excellent value; and for this price – you won't
have a heart attack if you realize that it has been misplaced, or dropped and
broken.
The iStylus is available in 3 transparent colors, iClear, iRed, and iBlue,
and is available from Stylus Central.
Price: $4.95 
Available in iClear, iRed, and iBlue
Pros:
Inexpensive
Full size Pen refill
Easy to operate
Fun styling
Cons:

None
Product Information
Price:
4.95
Manufacturer:
Stylus Central
Pros:

Inexpensive
Full size Pen refill
Easy to operate
Fun styling

Cons: