We use affiliate links. If you buy something through the links on this page, we may earn a commission at no cost to you. Learn more.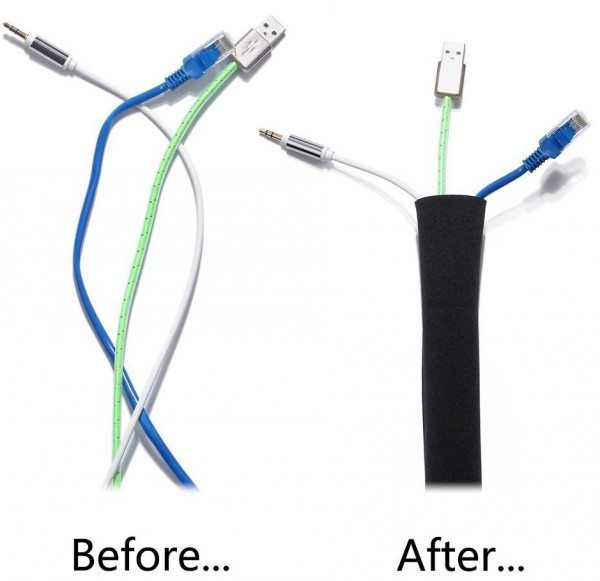 I loathe cable messes and thus, I love cable organization products. Right now I am using plastic spiral tube wrap to tidy up my cable messes but neoprene cable sleeves are available that will bundle your cables together more attractively if you are willing to pay a higher price. There are some that are available that you may cut to your desired length but use Velcro to enclose the sleeve like the reversible black or white Baltic Living Cord Organizer available from Amazon for $16.99 (80″ length x 1.2″ diameter). You will receive 10% off when buying two Baltic products (code: BALTICQ2), 15% when buying three (code: BALTICQ3), and 20% off when buying five (code: BALTICQ5). Another just like this one is the AGPtEK Narrow Neoprene Adjustable Cable Sleeves which is 59″ long x 1.2″ diameter, is reversible (black or white), and is available for $9.99 from Amazon.
There are other neoprene cable sleeves available that come in ready made lengths and use zippers to enclose them like the Wuudi 4 Pack Cord Management System. This is a pack of four sleeves that are each 22.5″ long x 1.5″ diameter (only comes in black) and is available from Amazon for $13.99. Another of the zipper enclosed neoprene cable sleeves is the Kootek 5 Pack Cable Management Organizer (black only) available from Amazon for $13.89. There are four sleeves that measure 19.7″ long x 1.2″ diameter and the fifth measures 39.4″ long x 1.2″ diameter.
All of the aforementioned products will allow you to Velcro or zip two sleeves together for a larger diameter if necessary. In addition, all of the neoprene cable sleeves permit you to cut slits or holes in them to allow your cables to separate from the bundle along the length of the sleeve. Not only do the sleeves provide an attractive way to tidy up your cable mess but they also make cleaning around the cables much easier!