We use affiliate links. If you buy something through the links on this page, we may earn a commission at no cost to you. Learn more.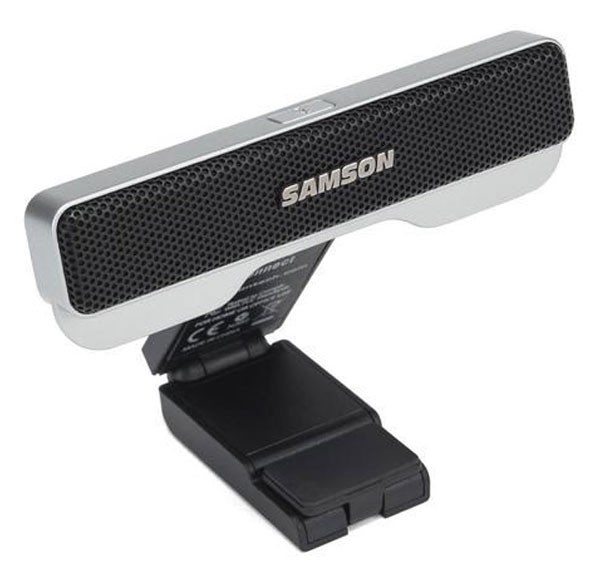 The Samson Go Mic Connect USB microphone is a portable, easy to use microphone that can be used with your Windows or Mac computer, or your IOS device (with the Apple Camera Connection Kit).  Samson's Go Mic Connect Portable Stereo USB Microphone is the next step in advanced audio solutions for digital communication, including VoIP, digital broadcasting and speech-to-text dictation software. At the root of the design are two matched high-quality microphones and advanced audio converters, which provide vastly improved audio performance over standard computer microphones.
The microphone features a unique, compact design that mounts to the top of your laptop or computer monitor, as well as a headphone output for zero-latency monitoring.  The Samson Go Mic Connect microphone comes with a micro USB cable, built-in stand, and a small fabric pouch for easy portability.
Additionally the Go Mic Connect features state-of-the-art digital processing which provides Focused Pattern Technology and Active Noise Cancellation. Focused Pattern Technology creates a concentrated pickup pattern that blocks sounds beyond the focal area. This is perfect for noisy environments, such as call centers, where conversations are going on all around you and you need to ensure that only your voice is captured. Active Noise Cancellation on the input and output signals improves intelligibility of the audio heard through VoIP communication. Powering the advanced features of the Go Mic Connect is the Samson Sound Deck software (available as a free download from www.samsontech.com).
Setting up your Samson Go Mic Connect takes a little effort, but the effort is more of several steps vs. being complex.  You must go into System Preferences and select the Go Mic Connect as your default microphone, both in your computer and your audio software set up.  You then need to download and install the Samson Sound Deck software.  Don't forget to plug your headphones into the headphone jack in the back of the microphone so that you can hear the playback.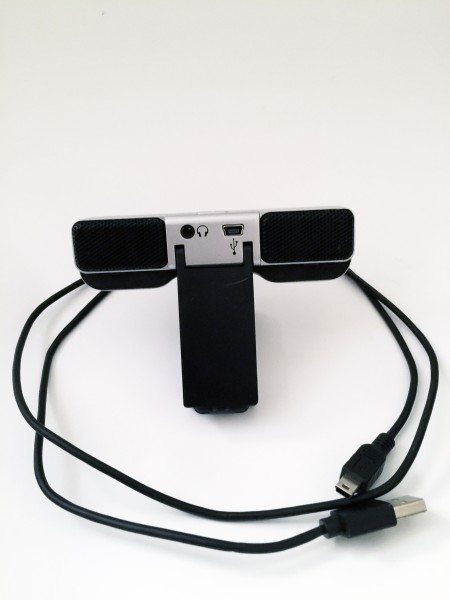 Back to the microphone itself.  The Samson Go Mic Connect is the big brother of the Samson Go Mic Portable (which I also have).  The Connect is bigger, more robust, and includes an excellent stand that gives you more options for placement. As you can see on the photo below, there is a microphone mute button on the top of the device and on the back is the headphone jack and the mini-USB Jack which connects to either your Windows/Mac computer, or the USB jack on the Lightning to USB connection kit.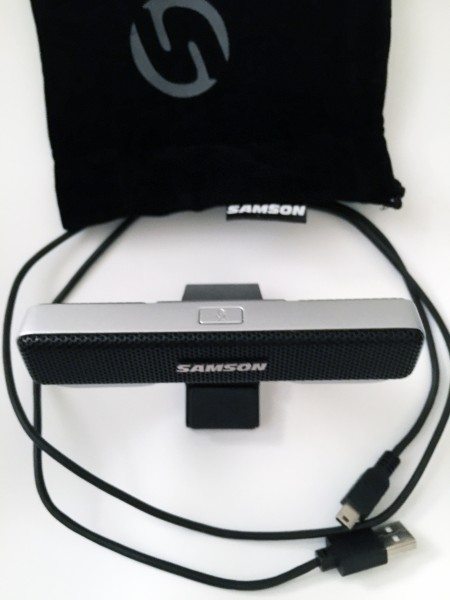 If you are not using the stand, the Go Mic Connect clips on the top of your laptop computer.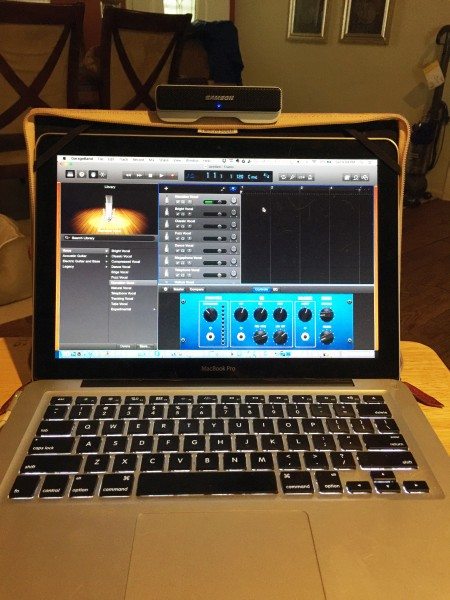 Let us now look at the specifications for the Go Connect microphone:
Polar Pattern: Omni-directional
Capsules: Two, 10mm condenser capsule
Frequency Response: 20Hz – 20kHz
Software Filter Algorithm: Digital Noise Reduction, Focus Pattern Technology, Echo Stop (Windows only)
Sample Rate: 44.1/48kHz
Bit Rate: 16 Bit
Power Requirements: 5V 50mA
Max SPL: 130 dB
Dimensions: 4.3"x 0.6" x 3.2" / 110 mm x 82mm
Weight: 0.3 lb / 139 g
Minimum System Requirements Windows (PC)
Windows XP / Vista / Win 7 / Win 8 / Win 10
800MHz or higher, 256MB RAM or larger, USB port Mac OS
Mac OS X 10.4.9 or higher
733MHz or higher, 512MB RAM or larger, USB port
So how does the Go Mic Connect sound? For the size, and design, the Samson Go Mic Connect provides a great combination of features and sound quality.  The device is bigger than the Samson Go Mic Portable, but the difference in size is a good thing.  The sound is excellent and surprisingly clear.  I should point out that the Samson Go Mic Connect is not a microphone that is attached to a microphone stand.  This is a small, desktop microphone that, with its pouch, is small enough to easily stick in your laptop bag, iPad bag, or your guitar case.
As a reminder to those who may not have read my recent review of the IK Multimedia Duo PRO, here is a rundown of my current recording "studio" environment: My main computer is a 2013 MacBook Pro 13.3", and I have it connected to a pair of Alesis monitor speakers, another display monitor, and various keyboards (including an IK Multimedia iRig keyboard), and 4 acoustic-electric guitars and one electric guitar, a Blue Yeti USB microphone, a Fender amplifier, a Yamaha powered PA speaker, a BOSS Pedalboard and a BOSS drum machine.  Additionally, I have a Samson Go Mic Portable and a BOSS Micro BR-80 portable studio recorder.  I also have an iRig guitar interface and an Apogee 96K guitar interface.  For most of my recording projects, I use my Blue Yeti microphone.  However, my Blue Yeti is definitely NOT portable.  Up until now, I have used my Samson Go Mic Portable when I go mobile (or the microphones in my BOSS Micro BR-80).
Before we get too deep into the specifics of the Samson Go Mic Connect, let's do a little background on microphones.  As I noted above, I have several microphones, each is used for a different purpose.  When I play guitar (either my acoustic-electrics or my electric), I simply plug my instrument directly into my Fender amplifier, my MacBook (via my IK Multimedia DUO Pro interface or my Apogee 96K), my iPad Air, or my iPhone 6+.  Using any of my several amplifier modeling applications and my headphones, my guitar is amplified without a microphone.  I of course, could choose to amplify my guitars with a microphone, and many purists would say that is the optimal choice when playing an acoustic guitar.  For convenience, and control, however, I choose to directly connect whenever possible.  My voice on the other hand, does not come with an audio jack to plug in directly, so whenever my audio project requires my talking or singing, I must utilize microphones.
Due to time constraints here, I will limit my discussion of the types of microphones, to the Condenser variety that the Samson Go Mic Connect is an example of.  There are Condenser microphones of the USB flavor, like the Samson Go Mic Connect and my Blue Yeti, which are great for projects that require recording with a Digital Audio Workstation (DAW) application, like GarageBand or Logic Pro, podcasts, or video conferencing.  The USB connector also makes it possible to use without a separate audio interface, plugging directly into your computer or compatible mobile device. Then there are Condenser microphones of the XLR flavor like the Blue Microphones Bluebird.  Microphones with an XLR connector work great for plugging directly into amplifiers and PA systems, but if you need to connect to a computer or a mobile device, you need to go through an external physical audio interface device.  Now, since I do not perform in public very much and just play for my own enjoyment, I can use smaller microphones for the little vocals I do.  However, it should be noted that the Samson Go Mic Connect microphone works great as a microphone for Skype, FaceTime, or other video conference tools. With the microphone mounted on the top of the laptop screen, sitting directly in front of it, provides outstanding sound without taking any space.
In conclusion, the Samson Go Mic Connect microphone works well, is a breeze to use, and is an excellent addition to your audio toolset.
Samson decided to launch it on Indiegogo to give customers at chance at purchasing the product at an early bird special price of $40 instead of $79. Here is their response below to choosing Indiegogo:
Indiegogo has built a reputation on empowering passionate people with a vision for creativity and innovation. It has always been Samson's mission to design products where technology and art intersect, tailoring our designs to meet the user's lifestyle and requirements. This ideology led us to design the first professional USB Studio Condenser microphone (The C01U) as well as the original and extremely popular Go Mic, for consumers seeking a portable, high-quality USB mic. This holds true with the Go Mic Connect. We recognized that there were a lot of users capturing audio on-the-go that needed to remove unwanted background noise. While Samson is an established company, with a 30 plus year history, it wasn't until companies like Indiegogo came along, providing us with the opportunity to easily connect with audio enthusiasts and early adopters. By introducing Go Mic Connect on Indiegogo, we have the opportunity to get units in the hands of people who are passionate about audio prior to launching the product nationally to the consumer market. Through Indiegogo, we can communicate about the product early on in its release cycle, implementing feedback to quickly make changes and improve the overall user experience. We take every comment seriously and are not looking to Indiegogo contributors to fund development costs of the Go Mic Connect. We intentionally kept our funding goal low with the flexible funding option to ensure that units were available to everyone that wanted one. It is our goal to give passionate audio enthusiasts the opportunity to enjoy and experience the Go Mic Connect early and interactively.
Source: The sample for this review was provided by Samson Technologies. Please visit their site for more info and Indiegogo to pre-order one.
Product Information
Price:
$40.00 Early Bird pricing on Indiegogo, the retail price will be $79.00
Manufacturer:
Samson Technologies
Retailer:
Indiegogo
Requirements:

Windows XP / Vista / Win 7 / Win 8 / Win 10
800MHz or higher, 256MB RAM or larger, USB port Mac OS
Mac OS X 10.4.9 or higher
733MHz or higher, 512MB RAM or larger, USB port

Pros:

Great sound, unique design, portable

Cons: