We use affiliate links. If you buy something through the links on this page, we may earn a commission at no cost to you. Learn more.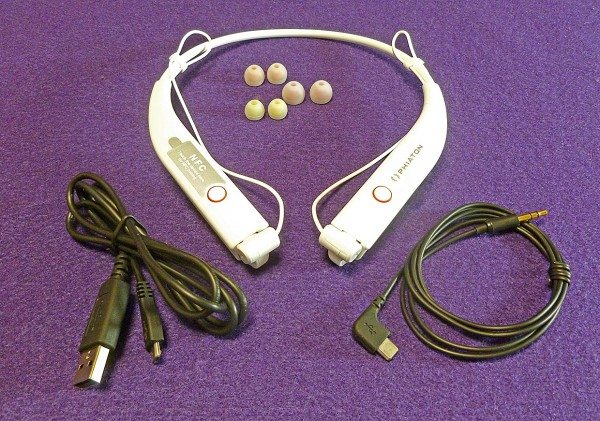 I've always liked Phiaton's earphones and headphones, Their MS 100 BA balanced armature earphones are one of the best bargains available. The Chord MS 530 headphones are a comfortable pair of Bluetooth/Noise canceling headphones that look as good as they sound. Phiaton has adapted the noise canceling tech for their BT 100 NC earphones. Bluetooth quality, range and shrinking electronics make it possible to wear Bluetooth earphones without looking like a dork.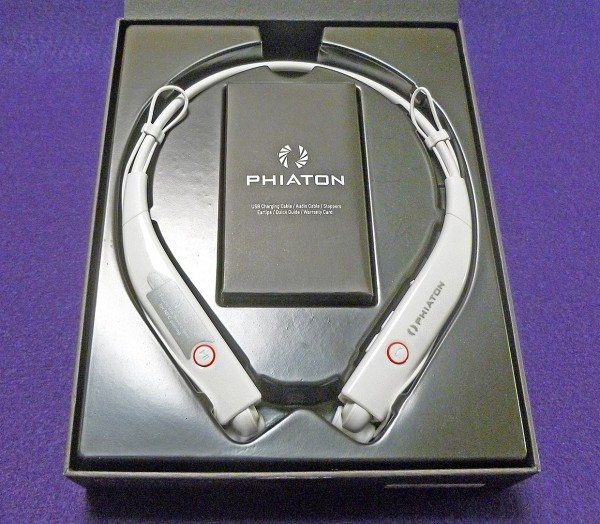 The BT 100 NC earphones are attractive in an athletic sense. They wrap around the back of the neck like an open necklace with the electronics housed at both ends. The earpieces extend from those ends on an adjustable cord that can be as long or short as desired for a custom-like fit. The earpieces also tuck neatly inside the housings when not in use which makes them protected and easy to store.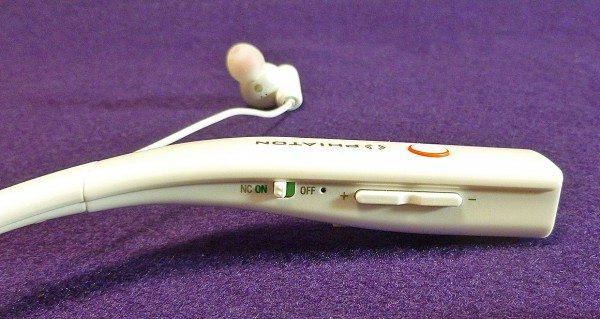 Turning the BT 100 NC earphones on and off is not intuitive—there is no dedicated On/Off button. You have to press the Call button for 2 seconds until a voice prompt announces "Power On or Power Off". Hold the button for only one second and the mic turns on and your smartphone redials the last number called. While trying to make it more simple, Phiaton has managed to needlessly  make it more complicated, especially when you can't see the buttons while wearing the earphones. I kept mistaking the Noise Canceling slider button for the On/Off switch. That would be more intuitive, but that's not how it works.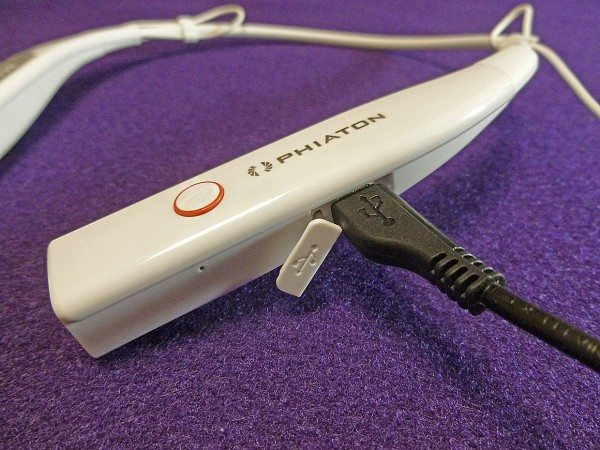 The BT 100 NC earphones fully charge in about 2 hours with a battery life of 7.5-12 hours depending on noise canceling use. That's impressive. It's worth noting that should the batteries lose charge, the BT 100 NC earphones can be used with an included wire although noise canceling will no longer work. Included in the box are USB and audio cables, four sets of ear tips and "stoppers" that hold the tips in place. The stoppers didn't work well for me.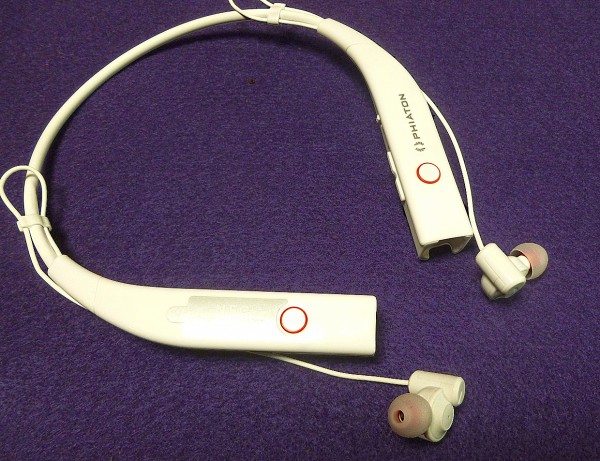 Pairing the BT 100 NC earphones is simple if a bit strange. Hold the Play button for 2.5 seconds (not 2 or 3 seconds, but 2.5?)  until another voice prompt indicates whether pairing was successful or not. Android smartphone users have the added luxury of using NFC for even faster pairing. Of course, Apple—being Apple—doesn't use NFC pairing. There is a volume rocker switch and a slider NC On/Off switch in the left housing near the On/Off/Phone button.
The BT 100 NC earphones are capable of doing many things, such as Phone calls, active noise canceling and of course, Bluetooth. They are water and sweat resistant for active outdoor use. I usually listen to audiobooks while doing yard work and I'm constantly bombarded by mower, weed-wacker and chain-saw engine noises. The BT 100 NC earphones can lower the decibels considerably and save hearing when in noise canceling mode.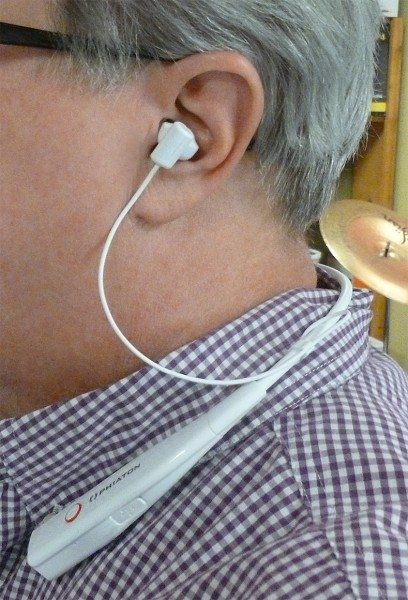 I have a couple of issues with daily outdoor use. I've noticed that Bluetooth keeps dropping out while using an older iPhone 5 (where I usually store my audiobooks) even when it's in my pocket. I've had to resort to using my newer iPhone to successfully pair and hold a Bluetooth signal. It's not an ideal situation for hot, sweaty Florida work. The Bluetooth is version 4.0, so that may explain the older iPhone's constant dropouts. Apt-X is also included, but Apple doesn't do Apt-X—why am I not surprised? Another win for Android users.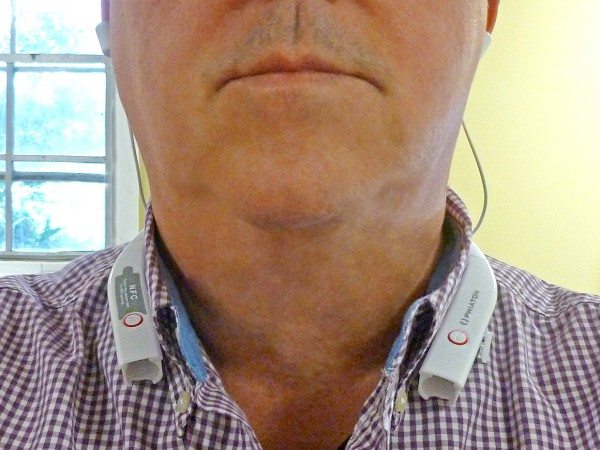 My other issue is music. If I depended on the BT 100 NC earphones for strictly music listening, I would not be a happy customer. Granted, they sound way better than plain ole' earbuds, but even Phiaton's own MS 100 BA armature earphones blow these away in audio quality. Of course, these are wireless and have noise canceling, but as with many NC earphones, music quality is compromised more than I like.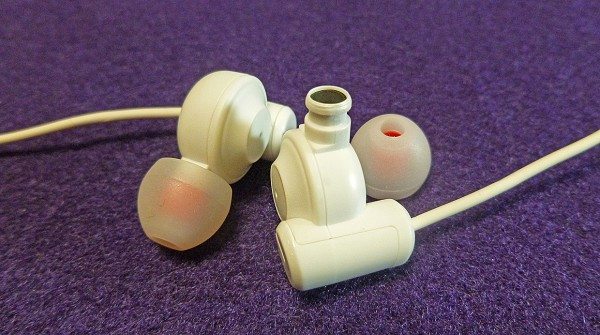 Bass is a weak spot with the BT 100 NC earphones. Music is a bit too bright sounding with an emphasis on treble. Playing with the smartphone equalizer helps some, but it mostly masks the issue leaving music with an artificial sound. However, when traveling by airplane travel or commuting, the active noise canceling alone makes up for any musical shortcomings. It's still magical to me when background noise just disappears with the flick of a switch.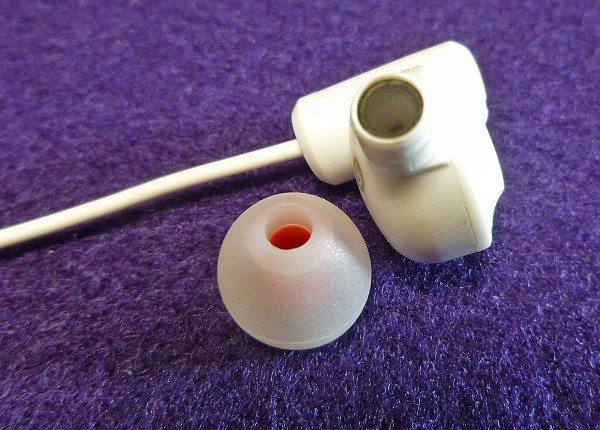 The BT 100 NC earphones are made of plastic. That may seem cheap, but metal can become burning hot from sunlight in warmer climates, so it makes sense. Plus, plastic weighs practically nothing which is good for extended use. Construction seems sturdy enough. There are two color options—black or white. I wonder if my white sample will turn yellow with age and sweat. I'll let you know after the summer when they get a thorough workout.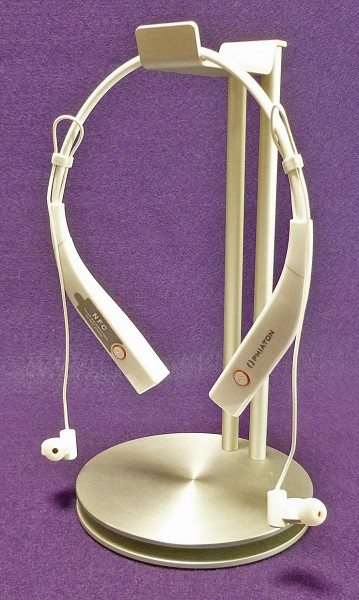 If your reason to buy an earphone with active noise canceling is for travel or commuting, the Phiaton BT 100 NC earphones perform quite well in blocking background noises. Add to that their comfort, light weight and water/sweat resistance and this may be exactly what you're looking for. Just don't demand too much from them when playing music and make sure Bluetooth is up-to-date on your device. If they sounded like Phiaton's own MS 100 BA earphones, I could recommend the BT 100 NC without hesitation.
Source: The sample for this review was provided by Phiaton. Please visit www.phiaton.com for more information and Amazon to order.