We use affiliate links. If you buy something through the links on this page, we may earn a commission at no cost to you. Learn more.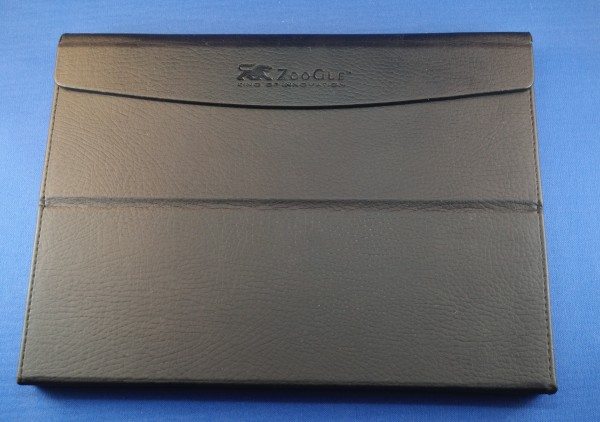 Years ago, in the early days of the iPad, there were few innovators who went beyond the basics of what Apple offered in their iPad cases – the basic folded angles that propped up the iPad at two angles for video or keyboard use. One of the few case manufacturers of the era to go beyond this, ZooGue, developed a great system that allows for infinitely adjustable work angles. Their newest case/stand is sized for Apple's mid-range workhorse, the iPad Air 2. I was sent a black unit to test.
Note: Photos may be tapped or clicked for a larger image.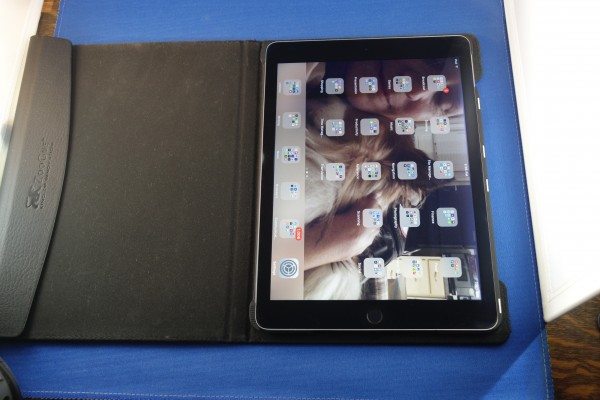 For those who have never seen their cases in action, ZooGue makes a fully enclosing case that has two sides – one for the cover/base, and the other to mount to the plastic molded holder for the iPad itself. The top part of this second side folds down and clings to the two soft Velcro strips that run up the outside of the first side. The stand side's Velcro is covered in transport by a folding, magnetic flap that holds the unit closed and covers up the possibly clothes-catching "sticky" side of the velcro. (See image below.)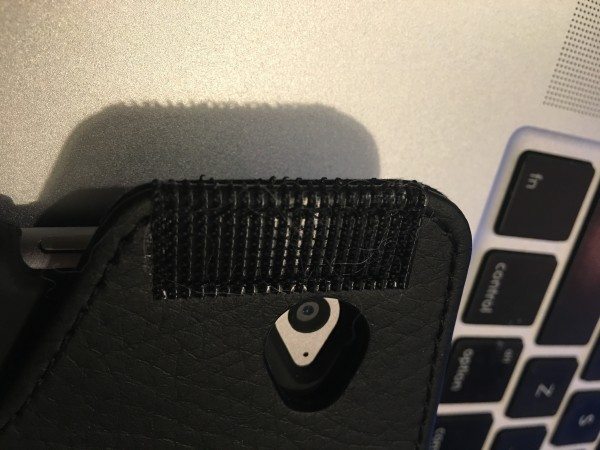 The outer sides of the case is a pebble-grained faux-leather, top-stitched and tucked under on all edges. The interior is a fine microsuede, also stitched and folded under. There were a few tiny loose stitches on one or two of the hinges, but none were missed, just some untrimmed threads stuck between the materials. The outside narrow sides of the front cover has a 1.75″ strip of loop-side hook & loop fabric, fully glued and stitched to the inner stiffener of the case. They are slanted near the hinge to form a sort of chevron effect around the ZooGue Griffon logo. At the opposite, open, end, a two-inch flap swings around the full length to magnetically grasp the other piece. The magnets are strong, but not overly so. You won't worry about things falling apart, but you'd not want to pile a sheaf of papers inside, since it wouldn't close properly. There is no designated pen loop, but the cover flap has enough room to hold most clip-on stylii I have seen.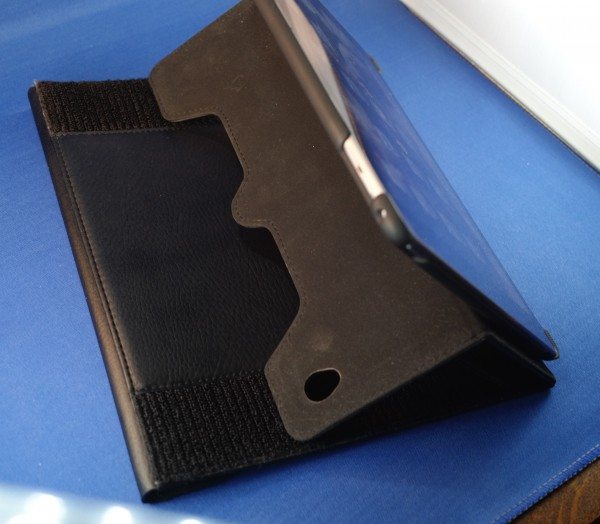 Across the top of the iPad holder inside (well, technically, the right side, but in use, it's across the top) are several magnets imbedded into the hard rubber shell. These ensure the case closes tightly. The lower corner covers, toward the hinge, each have "thumb-grips" to make it easier to release the device from the case. I really appreciate this, as putting on some cases is a bit of a downer, since you know what a fight it's going to be when you're ready to use a different case and have to take this one off!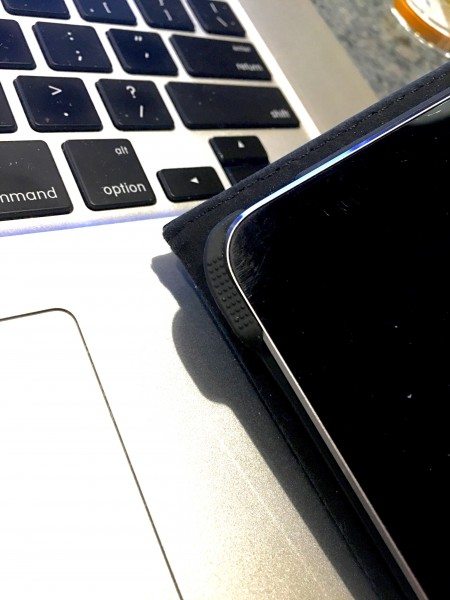 As with virtually all stand-type iPad cases, ZooGue has wisely managed to leave all the ports, buttons, and the camera/mic on back unobstructed, so that you can actually use the device while it's in the case. The stability of the case allows you to set it up, connect whatever cables or things you'll need, and be confident that the iPad is going to stay put, so long as the surface it's resting on does. Since the camera is in the top part, you can use this to live-project as a document camera during your presentation, or add sound with a wired speaker system. If you'd prefer to attach a lens or Lightning port camera, mic input or other device, there are no encumbrances to these ports. The only place I ran into trouble while using this case is with the clamp-type style of swing-arm stands. Because the case is designed to attach to itself, it isn't as solid when folded back flat and mounted in one of these stands and then leaned forward, like for reading in bed. But for other uses, like connecting to a guitar input, attaching my new DXO One camera, or putting a splitter into the earphone port, there were no problems at all.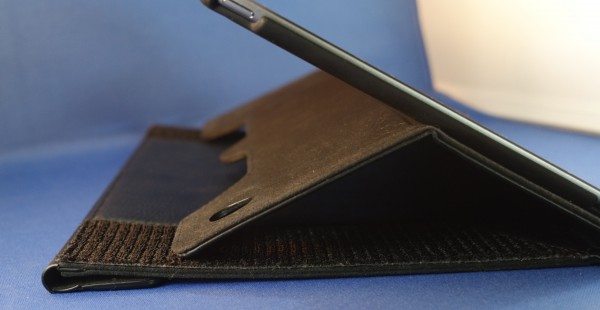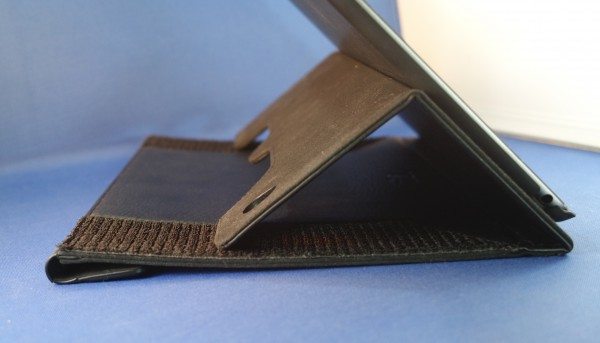 Over the years, the folks at ZooGue have kept improving their cases, trying flip-out wings and other methods to allow infinite adjustment, protection, and a classy sense of style. In their current offering, they have made a few small but important improvements, like the covering of the sticky Velcro and the thumb grips. But, like all cases which fold over to place the interior cover flat on the surface, I can't fully recommend using it, due to my fear of bringing dirt or scratchy debris into direct contact with the screen. There are many other cases that are affordable, yet offer a stand that doesn't place the screen cover onto your car fender, that food court table, or your kitchen countertop.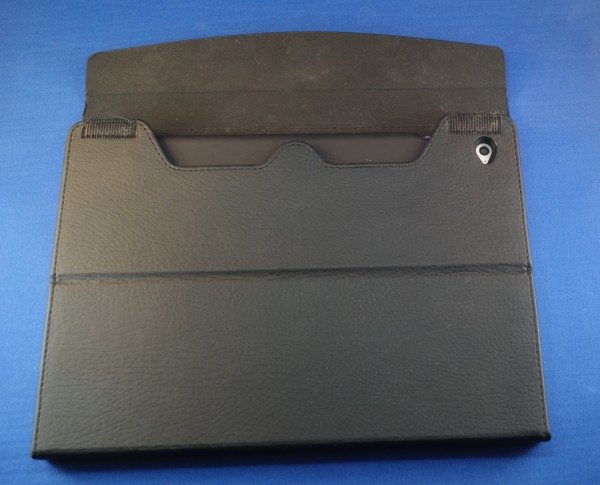 Everything about this case screams quality – materials, workmanship, anticipation of use cases – except for this single (to me) important consideration. Still, if you're the type who only places your iPad on your schmutz-free desk, or are good about wiping up the place where you're going to work, you may love this case.
Source: The sample for this review was provided by ZooGue. Please visit their site for more info and Amazon to order.
Product Information
Price:
$50.00
Manufacturer:
ZooGue
Retailer:
Amazon
Requirements:

iPad Air 2 (models for other iPads are available)

Pros:

Well made
Quality materials
Infinite adjustment of viewing/typing angle
Very stable

Cons:

Inside of case is face down on surface when using, which can bring screen into contact with debris.