We use affiliate links. If you buy something through the links on this page, we may earn a commission at no cost to you. Learn more.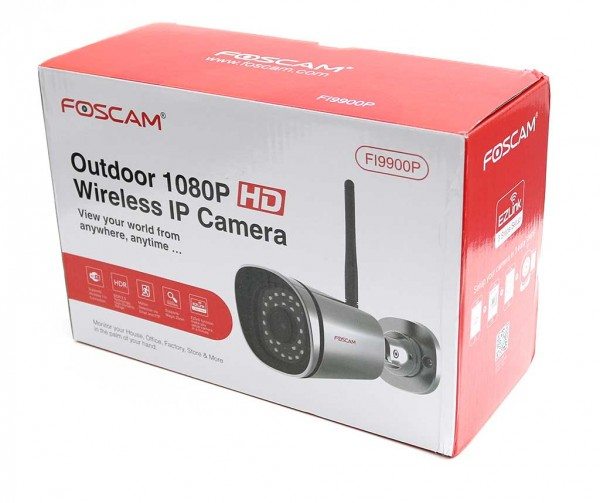 Cloud based security cameras like the Nest Cam, Logitech's Logi Circle cam, the FLIR FX security camera and others are very popular because they are easy to setup, have a mobile app and don't require special wiring to use them. Then there are wireless IP cameras like those from Foscam that are also easy to setup, have a mobile app and come in wireless versions that don't require special wiring. What's the big difference between the cloud cameras and IP cameras you ask? The main difference is that you can use third party applications to view their video feeds, enabling you to create your own surveillance system that doesn't require a monthly subscription fee. Foscam recently sent me their FI9900P Outdoor 1080P Wireless IP Camera that can be used as both a cloud camera or a wireless IP camera. Let's take a look.
Note: Images can be clicked to view a larger size.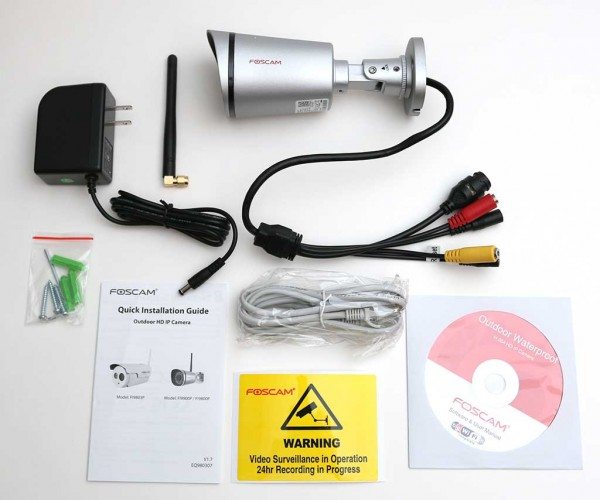 What's in the box?
Foscam FI9900P camera
AC adapter
Mounting hardware
Ethernet cable
Driver CD
Quick install guide
Warning sticker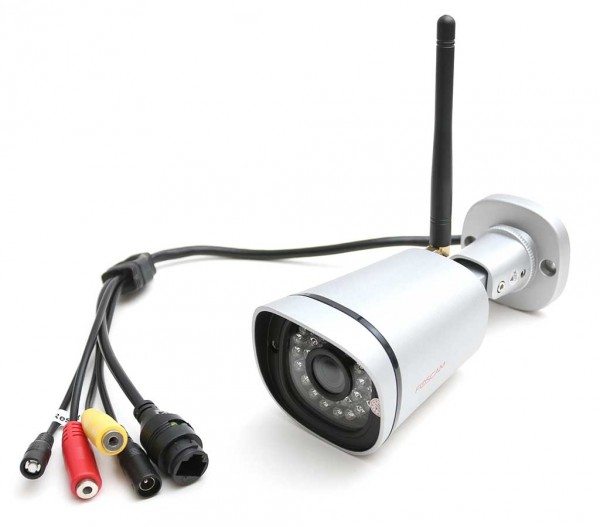 The Foscam FI9900P Outdoor 1080P Wireless IP Camera is a bullet-style weatherproof camera with a brushed silver metal housing and a wiring pigtail attached to the base that provides power, RCA jacks for two-way audio, Ethernet and a reset switch. The camera also has a removable antenna for wireless streaming over your 2.5GHz wireless network. Be aware that the camera does not support 5GHz.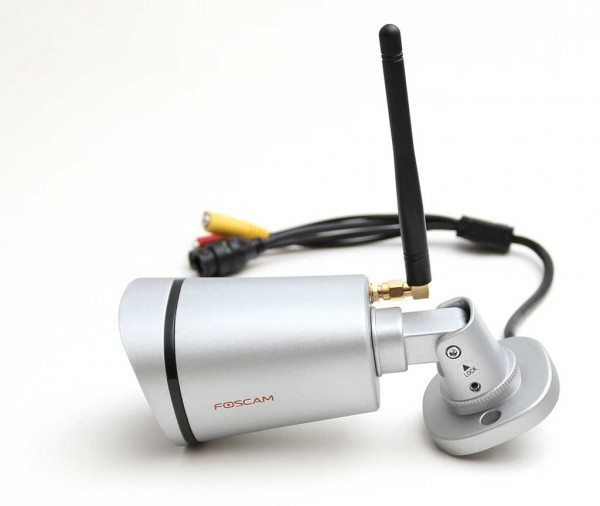 The camera has 3 set screws. Two of them allow for X and Y movement and the other one is for rotation.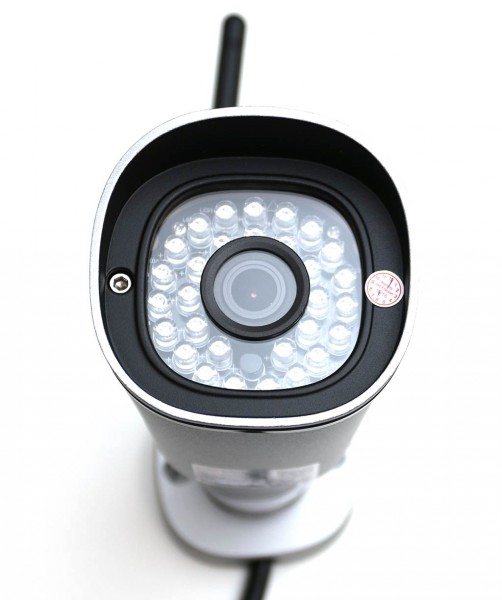 There are 30 IR LEDS surrounding the 2.0MP (1920 x 1080) 106° lens for night vision up to 65ft.
This camera also has a built in microSD card slot that can be used for advanced video recording features. But it's interesting that nothing is mentioned about this feature in the documentation that comes with the camera or even on the product page on Foscam's website.
To access the microSD slot you have to actually void the warranty! See the little round sticker in the image above? That's the warranty seal. The sticker is over a hex screw that must be removed in order to access the microSD card slot.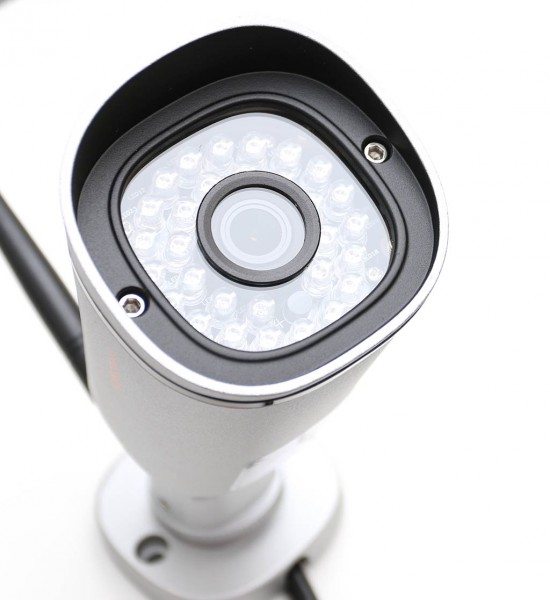 Warranties don't worry me, so I removed the sticker which is so thin that it crumbles if you so much as give it a mean look.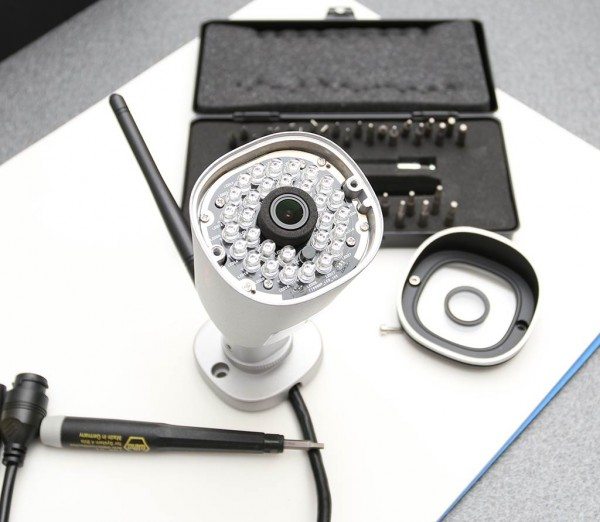 I then used a hex driver bit to remove the two screws on either side of the lens along with four other screws.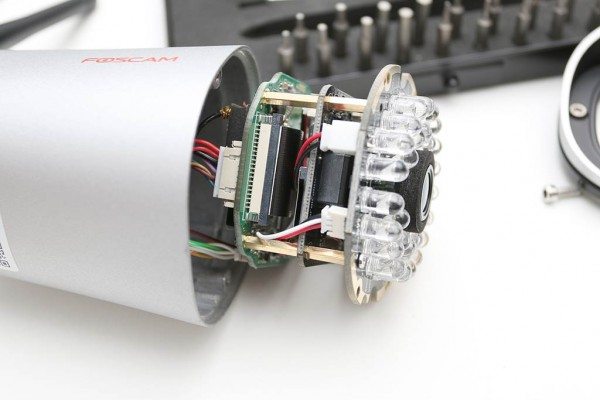 Being careful not to touch the lens, the lens and IR LED assembly lifts out. You can see the empty microSD card slot in the image above, It's on the second level between the white and red wires almost dead center in the image.
With a microSD card installed, I carefully reassembled everything and proceeded to setup the camera.
Setup is simple using the Foscam app for iOS or Android. I installed the app on my Nexus 6P. The app leads you through the setup which takes just a couple of minutes. Basically you use the app to scan the QR code on the camera and you're done.
Once installed, the app will show your connected cameras and allow you to tap on them to view a live streaming view. You can zoom in/out, toggle night vision, and adjust image quality.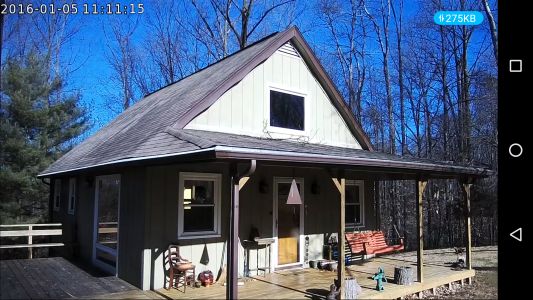 Image quality is very good with the FI9900P. The image above is set to the lowest quality image.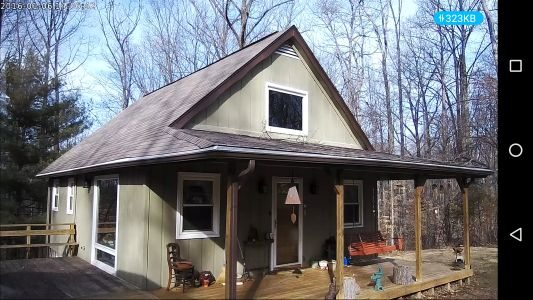 And here is a view using the highest image quality. These images were taken with the camera pointing out of my garage window. I've yet to install the camera outdoors due to it being winter and I'm a big baby when it comes to working outdoors in the cold.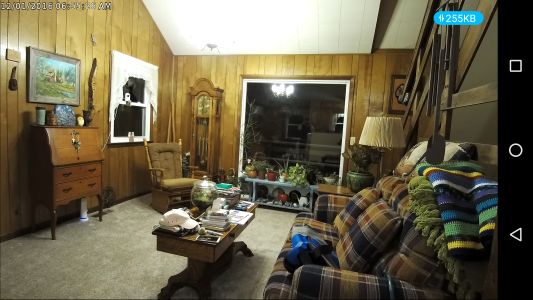 Here is an indoor shot at with overhead lights.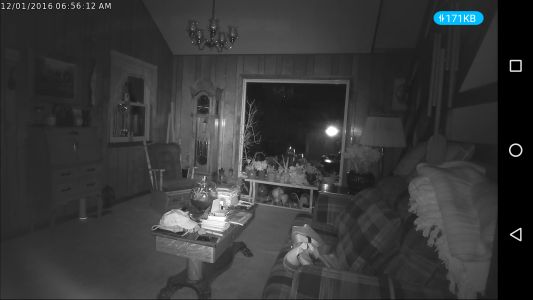 And here is another shot of the same room with the lights out and night vision turned on. The glare on the window is from the IR LEDs of the Foscam camera. By the way, there is an audible click when the camera switches IR on and off. Just to show how dark the room was, here's one last shot showing all the lights off. The light you see on the lower left is from a Simplisafe security system.
The Foscam can be setup to send a notification to your phone when motion is detected. By default, all you will receive is a popup on your phone that says motion was detected with the time and date. If you want more info like a snapshot or a video of the detected motion, you have to pay for Foscam's cloud service. At the time of this writing, they offer 7 day video storage for $7.99 per month. Be aware that this isn't 7 days of continuous 24/7 video. It's just the video clips that were captured when motion was detected. Once you pay for the service, a button appears in the mobile app at the bottom of the live view that takes you to the playback mode with a timeline that shows blocks that represent captured video.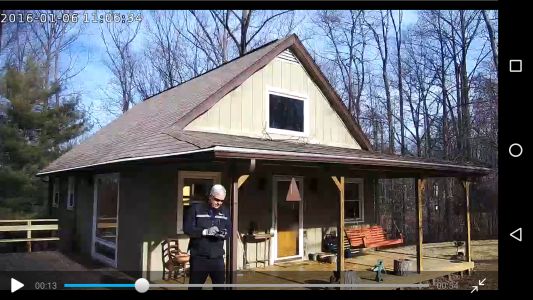 You can slide the timeline to view the appropriate video clip. Paying for the cloud service also changes the notification messages list to add a snap shot.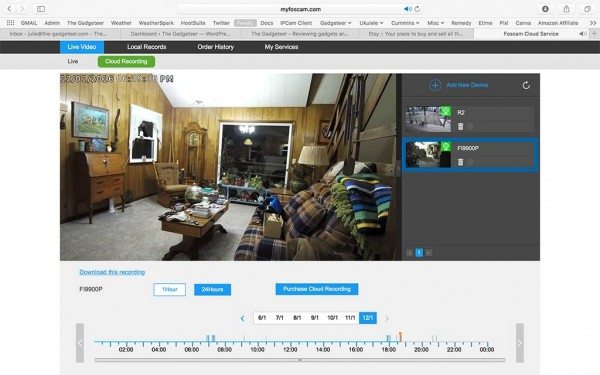 You can also use Foscam's online viewer to view your cameras. It's a little fiddly though and half the time it won't connect to the cameras or will time out. You also have to install plug for your browser in order to use it, which is a pain.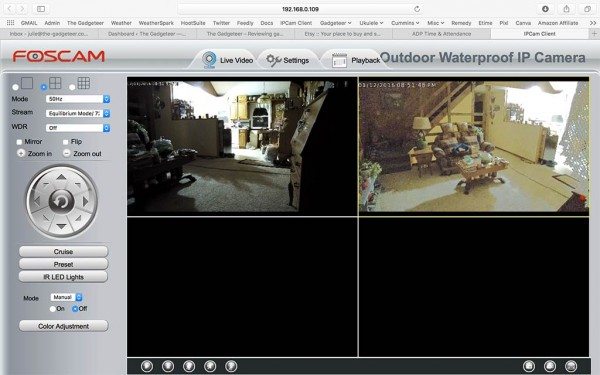 There is yet another way to watch video from the Foscam FI9900P Outdoor 1080P Wireless IP Camera. The camera has a built in web server application that you can access from your browser. It can then be used to configure advanced settings such as motion detection trigger zones, notification emails, SD card management and more.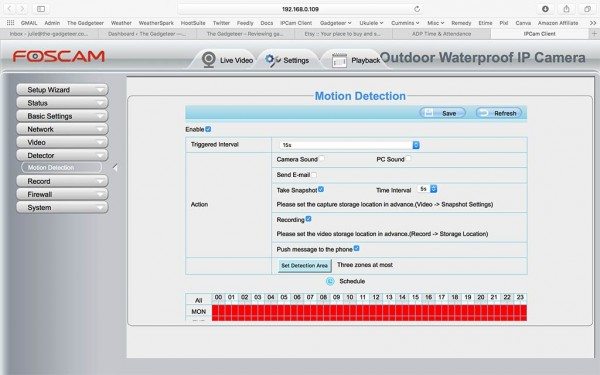 Warning: setting up email notifications sounds good in theory, but your inbox can quickly fill up with mail if you set the motion detection triggers to be highly sensitive. When I was testing this feature, I set it up before going to bed and woke up to over 500 messages in my inbox which caused Gmail to shutdown my account for several hours because they thought I was spamming.
Another thing to be aware of is that you will need to set a static IP address for the camera as power cycling will cause it to grab a new address. You will also need to setup up port forwarding on your router if you want to be able to use the built in web server outside of your own network – remotely.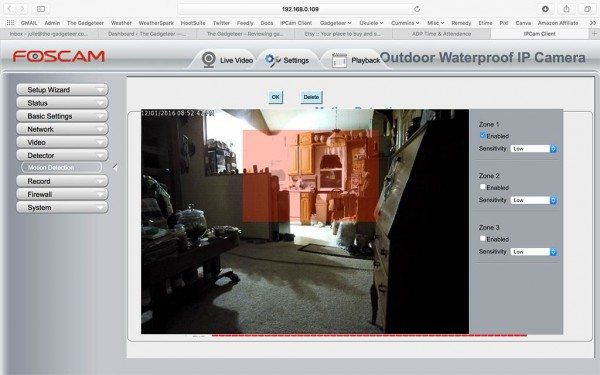 Of all three methods of accessing the camera, I think the mobile app is best for basic viewing and the built in web server is much nicer than Foscam's web based viewer.  If you don't like any of the three solutions, you can google IP camera viewer and find many more. That's one of the nice things about IP cameras like the Foscam.
After reviewing the Foscam R2 and now the FI9900P, I've boxed up my Dropcam Pro and am no longer using it. The Foscam cameras have better image quality and don't cost as much as some of the other cameras on the market. I also like that I can find better viewing software and can "roll my own" security system without having to pay the monthly cloud fees.
Updates 08/17/16
Read the paragraph above… Well, that was 7 months ago and while I like Foscam cameras, the mobile app would sometimes shut down so that motion detection notifications would not be triggered or sent. I recently switched back to Dropcam / Nest cam which are more expensive, but they are pretty much rock solid which is what I want and need.
Source: The sample for this review was provided by Foscam. Please visit their site for more info and Amazon to order.