We use affiliate links. If you buy something through the links on this page, we may earn a commission at no cost to you. Learn more.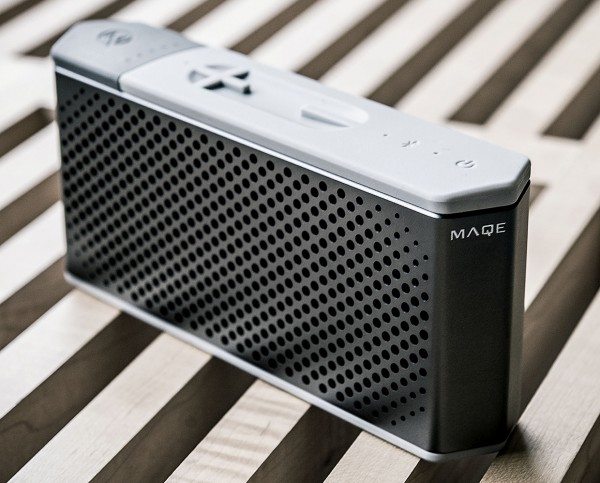 Here's a scenario: You're out in the middle of nowhere listening to your portable Bluetooth speaker when the battery dies—and you don't have access to an outlet to recharge it. Well, if you have the Maqe SOUNDJUMP speaker, no problem. The SOUNDJUMP is unique because it has a replaceable battery pack allowing the battery to be quickly swapped for a fresh one.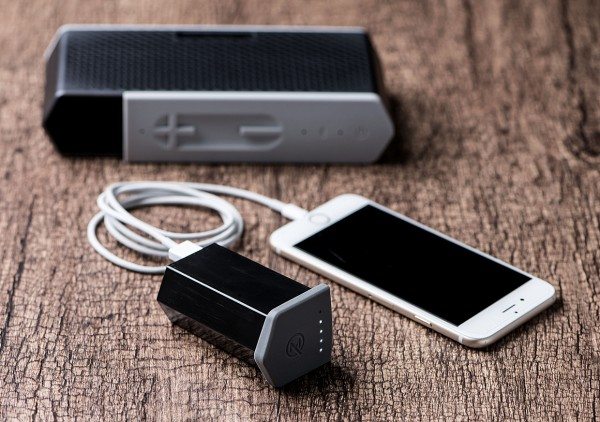 Maqe didn't stop there. The aluminum bodied SOUNDJUMP has a DSP (digital signal processor) and a Class-D amplifier coupled with two custom 45mm full-range drivers and two passive radiators letting you crank out music at any volume in crystal clear sound. 4.0 Bluetooth guarantees the latest Bluetooth currently available. There is a built-in speakerphone and a fast-charging braided USB cable with power adapter. The speaker measures 7.2in x 3.2in x 1.5in.
The removable Maqe JUMPSIX 6000 mAh Battery/Powerbank powers the speaker, but will also charge a smartphone. Additional battery units are available, so if you forget to charge one, there are as many available as you decide you need. Eject the dead battery, snap in a replacement and you now have an extra 20 hours of use. The JUMPSIX batteries are magnetically held in place for a secure fit.
The Maqe SOUNDJUMP speaker is available now. It sells for $149.99 US and comes with one JUMPSIX Battery/Powerbank. Extra batteries can be pre-ordered for $29.99 each. Visit www.maqemore.com for more information.