We use affiliate links. If you buy something through the links on this page, we may earn a commission at no cost to you. Learn more.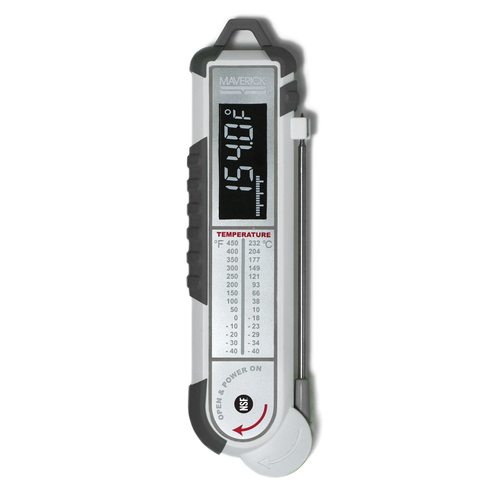 Since I know so little about cooking, I approach it like I would any engineering problem:  I follow directions when possible.  One essential cooking tool I need is a reliable thermometer.  Let's see how the Maverick PT-100 thermometer works out.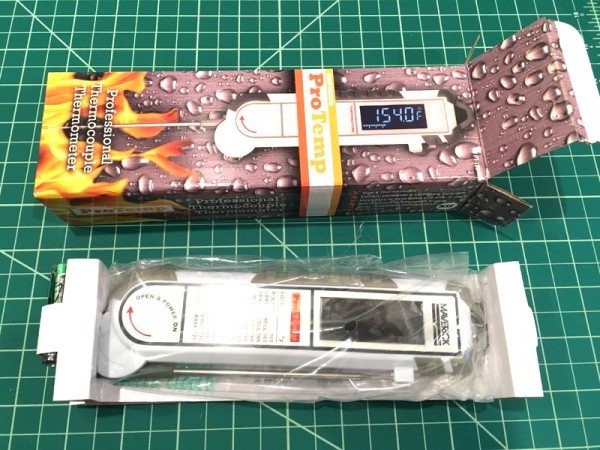 • Commercial Grade Thermometer with NSF approval
• Type K Thermocouple with integral stainless precision micro tip probe
• Water & Dust resistant to IP44
• Shock resistant against multiple 3' drops onto concrete floor
• High Contrast LCD with Big .5" Backlit Blue-White Digits on Black Display
• Temperature range: -40F (-40C) – 450F (230C)
• 100% Factory Calibration Certificate included guarantees performance & accuracy to NIST standards
• Dimensions closed: 7.4" x 2.2" x .7″
• Probe length: 5″
• Auto Power Save after 5 minutes of inactivity
• Unit turns ON/OFF automatically when the probe is pivoted
• LCD Resolution is: .1C/.1F
• Low battery indicator
• Selectable Fahrenheit or Celsius
• Handy Cooking Chart on body
• Uses 3AAA batteries (included)
If you're curious, you can download the instruction manual here.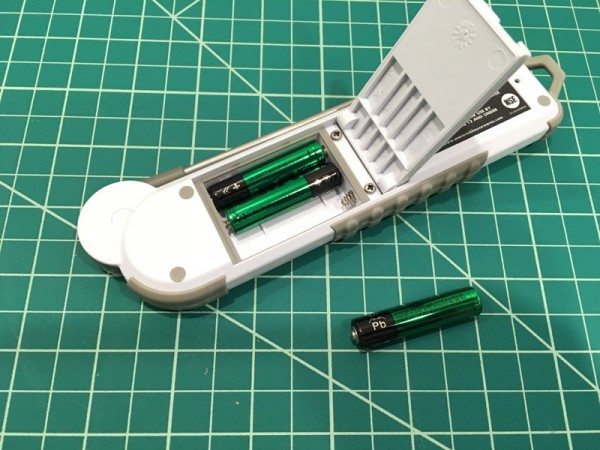 The PT-100 takes three AAA batteries, which are included.  Note the battery door has a small rubbery seal around the opening.  The PT-100 is rated for water and dust resistance to IP44.  This isn't waterPROOF, but "water splashing against the enclosure from any direction shall have no harmful effect."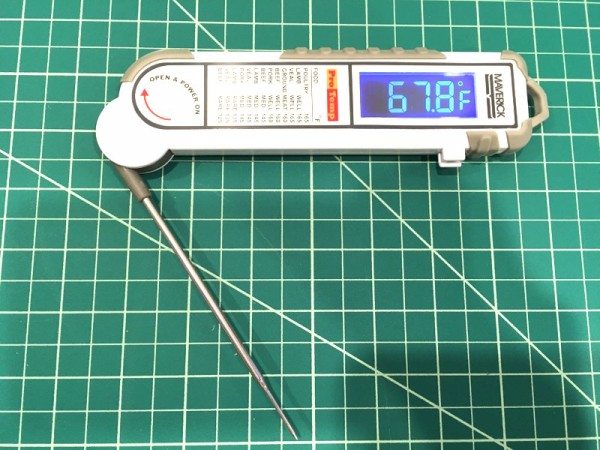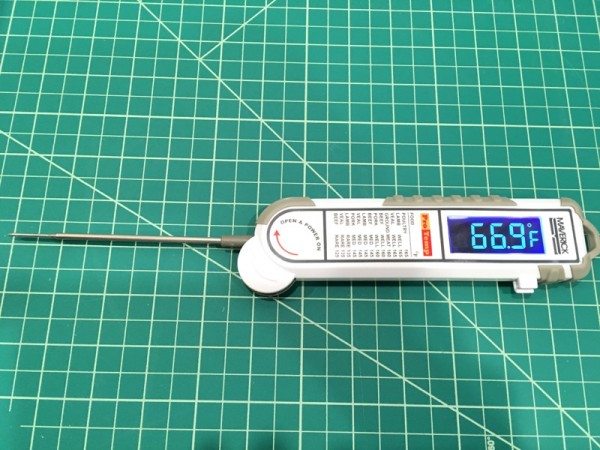 Flipping the temperature probe out turns the PT-100 on.  The temperature is displayed with a backlit, inverted LCD (light numerals on dark background).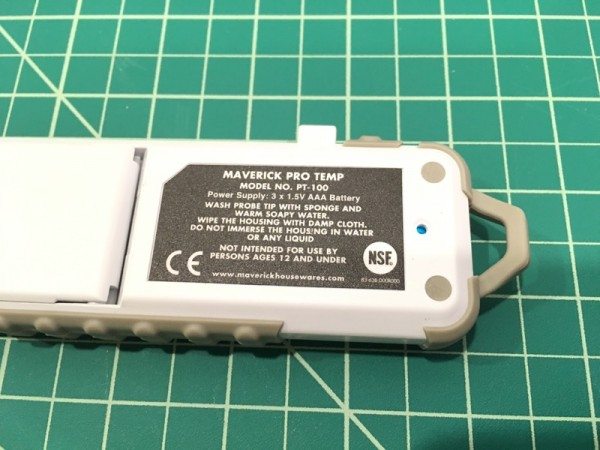 That tiny inset dot on the right of the label is a Fahrenheit to Celsius toggle.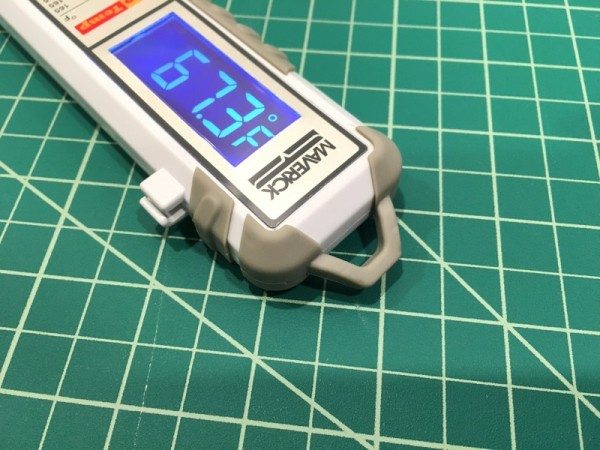 The PT-100 has rubbery bumpers around the corners, including a loop for a wrist lanyard.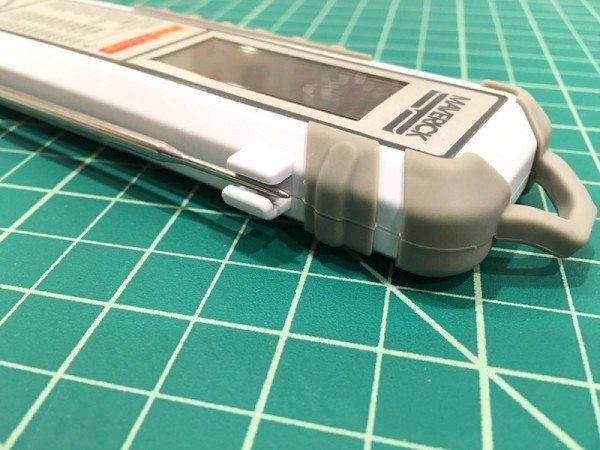 To turn the PT-100 off, simply push the temperature probe into the folded position.  I noticed the probe didn't really clip or snap into place like I would have expected.  It just kind of sits there.  There's also an auto power save feature (5 min of inactivity).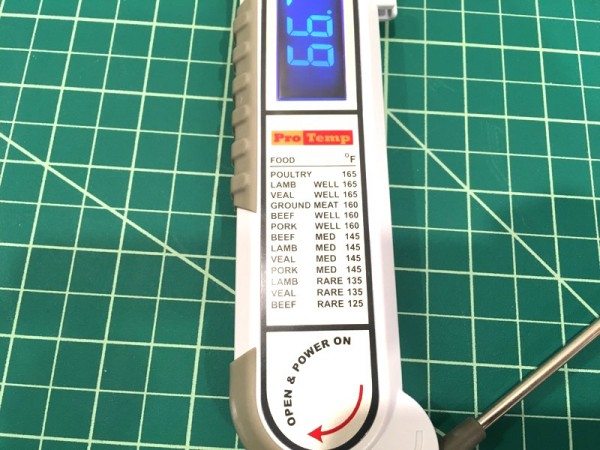 The model I received had a food temperature guideline printed on it.  This is different than the label shown on the website or packaging, which shows a F-to-C conversion table.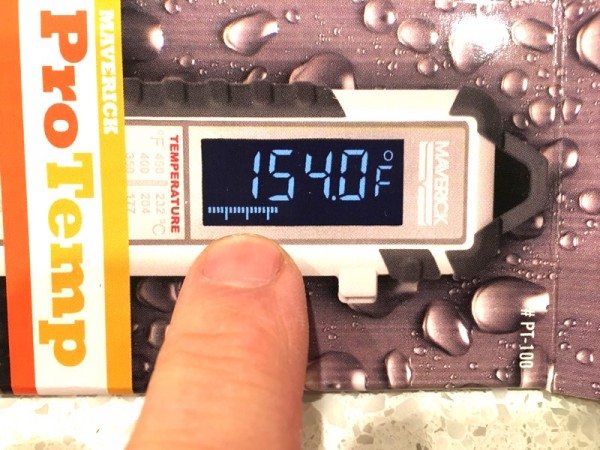 Also different is the LCD display itself.  The package (and website) shows an analog representation of a bar graph.  No such feature on the actual sample I received.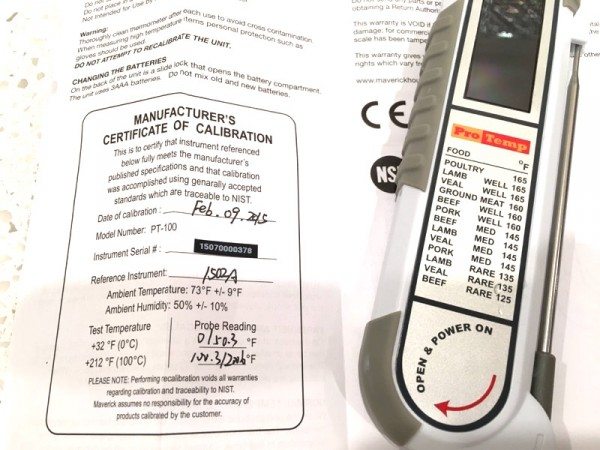 The PT-100 comes with a calibration certificate, with date and serial number.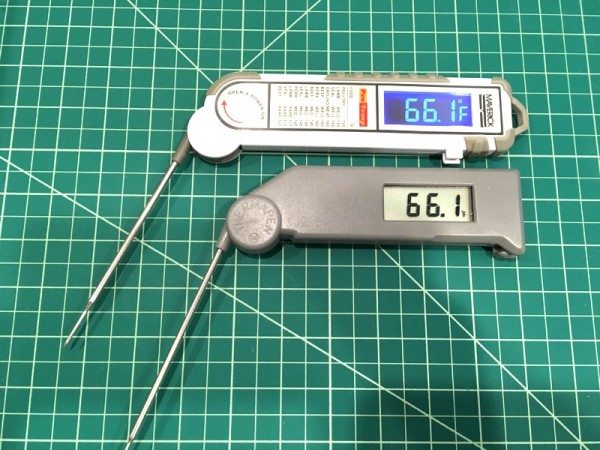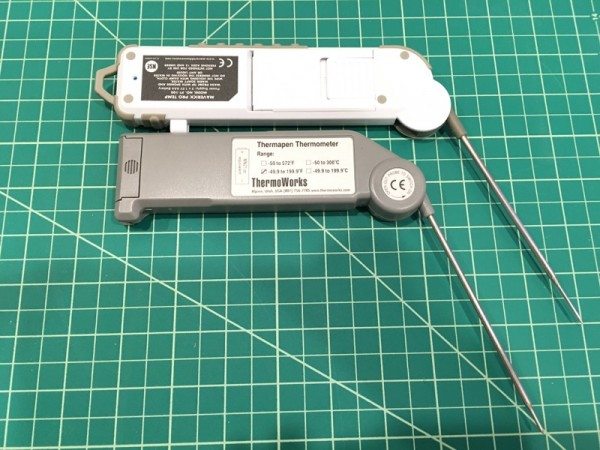 The Maverick PT-100 looks a lot like my old standby, a very old ThermoWorks Thermapen.  Unlike the PT-100, my old Thermapen uses an oddball A23 battery, does not have a backlit LCD, and my particular version won't display Celsius.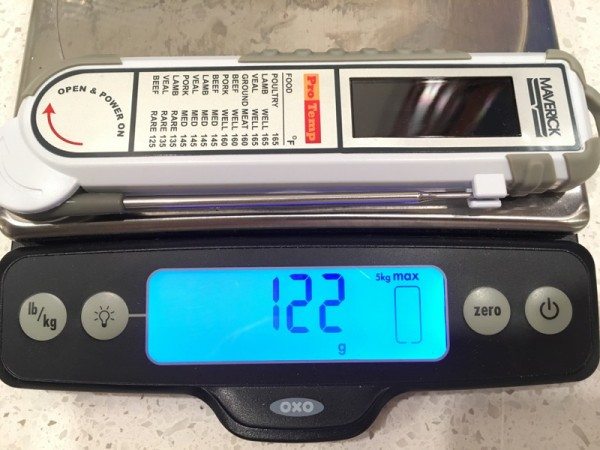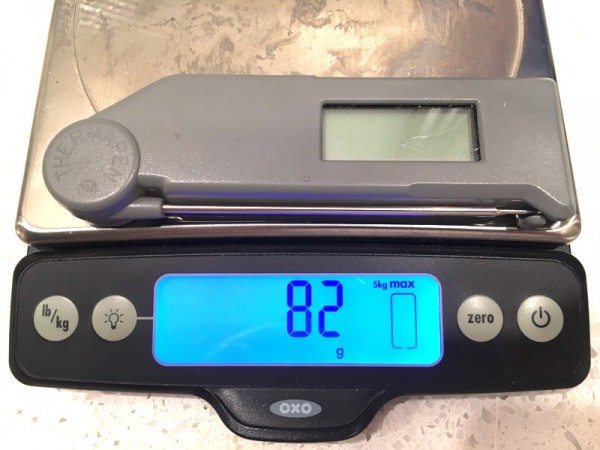 The PT-100 is also heavier as well.  Those AAA batteries don't weigh nothing.  I suppose if you carry one in your shirt pocket all day, this might make a difference.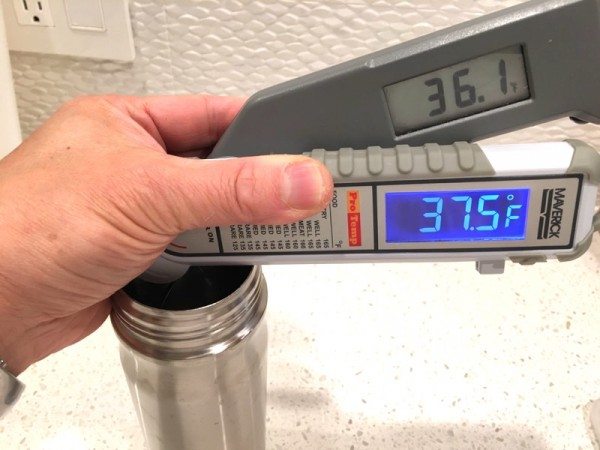 I put both thermometers into some cold water.  As expected there was a variance in the temperature readout.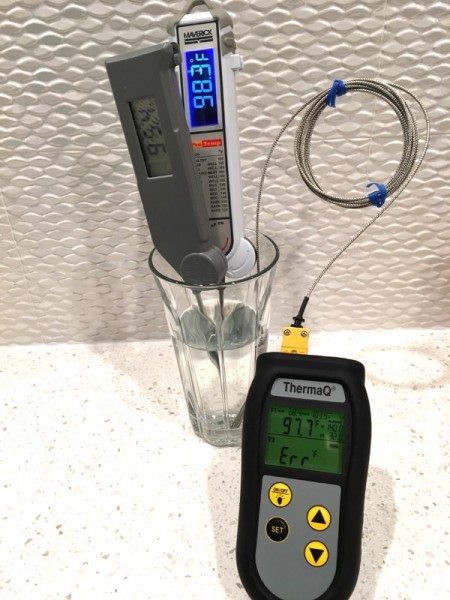 Next I did a warm water test.  Again, some differences.  I even brought in the ThermoWorks ThermaQ to join in the bath.
But which is correct?
Some things to consider:
The listed accuracy of the PT-100 is +/- 2 degrees F (at 0-212F).  If I recall, my old ThermaPen was a pricey unit with an accuracy of within < 1 degree F.
In testing, I noticed the ThermaPen, which at the time of manufacture was considered "super fast", settled at a temperature about 3 seconds faster than the PT-100.
For cooking or baking, I really question the need for the 0.1 degree display resolution.  That's just me.  Give me a whole number and I'm happy.  The later (current) versions of the ThermaPen can round off the last digit to a whole number.
The Maverick PT-100 Thermometer has some great features I wish all kitchen thermometers have; a backlit LCD, water resistance, and auto shutoff.  I would like the ability to disable the final tenths digit, especially if accuracy is only +/-2F, and the difference in packaging (conversion table and bar graph) make me wonder a little.
Source: The sample for this review was provided by
Maverick Housewares
. Please visit their site for more info and
Amazon
to order one.

Product Information
| | |
| --- | --- |
| Price: | $99.99 MSRP, $51 through Amazon |
| Manufacturer: | Maverick Housewares |
| Retailer: | Amazon |
| Requirements: | 3 AAA batteries (included) |
| Pros: | Backlit display, splash resistant (IP44), uses common AAA batteries, can switch display between degrees F and C. |
| Cons: | Sample was not exactly as pictured. Probe doesn't seem to lock shut. Listed accuracy may be fine for home cooking, might not for those needing more precision. |