We use affiliate links. If you buy something through the links on this page, we may earn a commission at no cost to you. Learn more.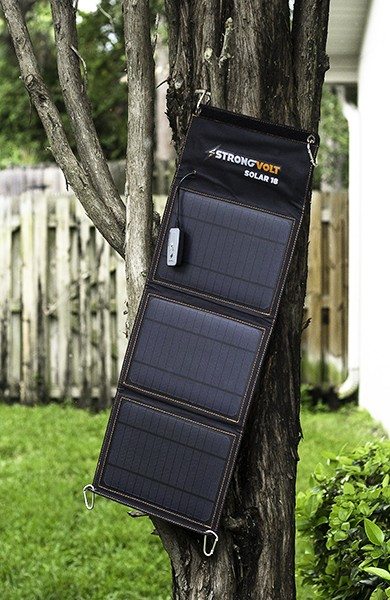 Let's face it. We are a battery operated world. With all of our electronic gadgets, like our iPads, smartphones, iPhones, MP3 players, GPS, handheld games, and tablets, they will still have to be plugged into a power source to recharge the battery that powers them.

So what happens when you find yourself out camping, or fishing, or doing any outdoor activity and you need to charge your cellphone? At this time you are without a wall plug, or laptop, or without any portable charger to power your device? You could always get back in your car and plug into your charging cable, but that would mean that you would be stuck to the mercy of your car's cigarette lighter outlet. Not fun if your intention was to enjoy the great outdoors. So to answer the question, we look towards the sun for solar power. And the StrongVolt Solar 18 with 18 Watts has the ability to charge your iPhones, smartphones, GPS, action camera, or other small devices in about one and a half hours and larger devices, such as an iPad or tablet, in up to 5 hours.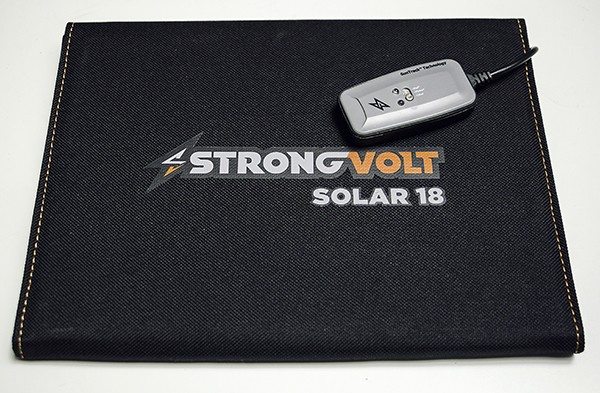 This solar panel charger, or smart charger, is the perfect gadget for the times when you go camping or hiking or fishing and you are spending most of the day outdoors but require a power source to charge your device. Sure you can bring along a portable charger but eventually that charger is going to need to be plugged in to be functional again. With the Solar 18 you just need to tap into the power of the sun. I find this solar power charger to be the most beneficial during an emergency situation or when power is lost like in a natural disaster, or any event where power is lost like in a city brown out.  But for those non emergency situations, it is a perfect piece of equipment to have for the outdoor adventure.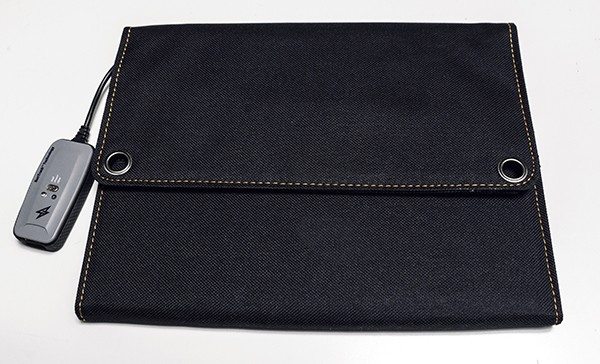 The Solar 18 when folded is about the size of an average tablet around 10 inches folded and weighs about one and a half pounds. The actual specs are: 7.5″ in. x 10.1″ in. folded and 29.5″ in. x 10.1″ in. unfolded. Weight is 1.44 lbs. (652g). Output is USB 5V, 2100 mAh.
When I took the Solar 18 out into the sun I can tell the panels were activated right away because the LED light indicator lit up immediately.  All I had to do was plug in my phone's charging cable into the USB port of the Solar 18 and it started the charge right on my phone right away. The StrongVolt smart charger features their SunTrack Technology. The benefit of the SunTrack is that it is supposed to automatically reconnect back to your device if there is any disruption or interference from any clouds or shade.  I would think that is a given occurrence and not necessarily a technology. Sun is out, the smart charger charges. The sun is gone, then the charging stops. Sun comes back out and the smart charger starts the charge again.  Maybe it's just me but isn't that what would be the most likely thing to happen?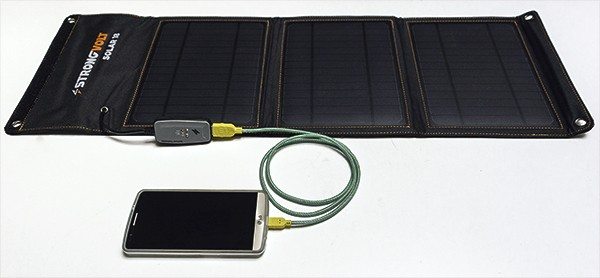 Basically, it reconnects when the sun is back out. However, the StrongVolt is suppose to deliver power in the shade and in cloudy weather. I tried both situations and it worked fairly well.  In the shade, the red light and green light would rapidly go back and forth between each other. But if I angled the panels just right then I would get a steady green light. On a cloudy day it seemed to work fine, so it seems there is a bit of play when in the shade.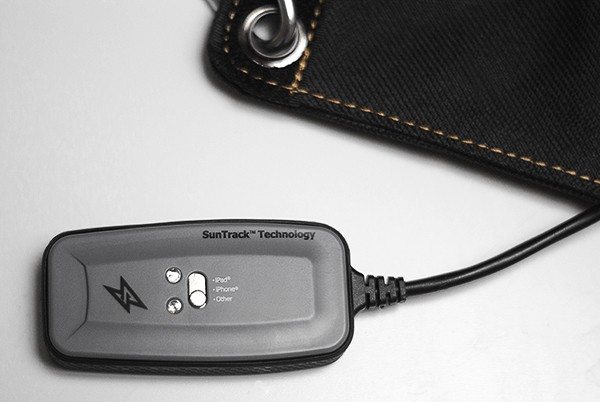 Never miss one of our posts again. Sent MON, WED, and FRI with the latest gadget reviews and news!
On the SunVolt is a USB dongle that has a switch that allows you to select the right amount of power for the device you are charging. The LED indicator lights will notify you if there is sufficient amount of sun to use the smart charger.  If the red  if on, it will indicate that there is not enough sunlight to charge your device and the green light will indicate that the charger is ready.  Take note that there is only one USB port. It would have been nice to have at least 2 USB ports available.
The StrongVolt comes with four carabiner clips that you can connect to the smart charger allowing you to attach it to your backpack or hang from a tree or a chair or anywhere else that you can think to hang it from.  I like the idea of the carabiner clips because you most likely will want to be hanging the smart charger rather than carrying it in your hand. The canvas material and the solar panels are waterproof, however, it seems like the USB dongle is not waterproof since it does not have any kind of water sealing around it. So be careful not to get the USB dongle wet.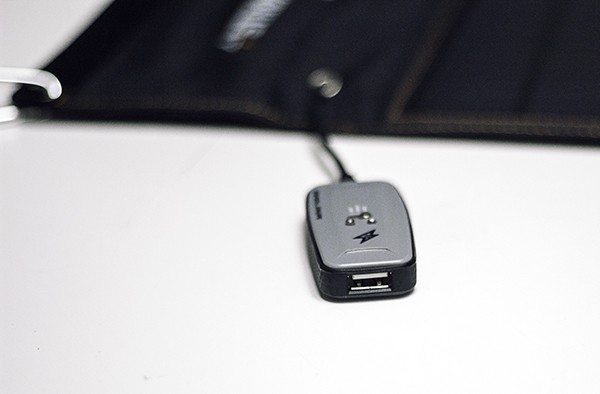 In addition to the carabiner clips, the StrongVolt comes with a quick start guide and on the back of the guide is a chart that shows the estimated charging time of various devices. This is nice to keep around just so you know the charging times need for certain devices you may have.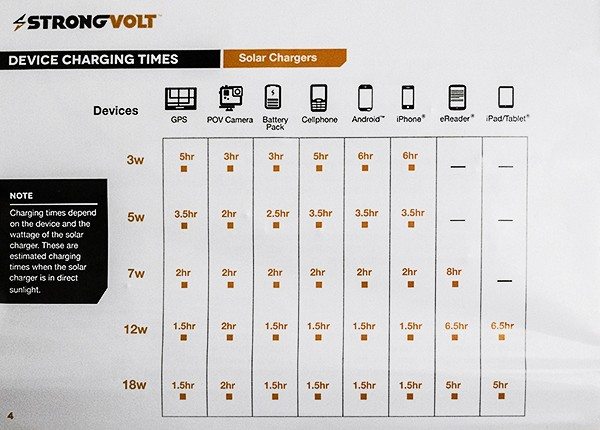 All-in-all. the Solar 18 SmartCharger from StrongVolt worked perfectly and it work the way it was intended. This is definitely something to have when you go camping, go fishing, go hiking, or when you are doing any other outdoor activities and when you need to charge your devices when there aren't any power sources around.  This is a definite thing to have during those natural disasters or in any type of emergency where you are without any power to charge and use your cellular phones, tablets, iPads, or GPS devices. I wouldn't be surprised if these become a staple in a rescue agency's Emergency kit. When a disaster happens and there is no power to plug some of your small devices into, these smart chargers would be a valuable commodity. Not only that, it sure beats having to sit in your car waiting for your phone to charge.
Source: The sample for this review was provided by StrongVolt. Please visit their site for more info.
Product Information
Price:
$159.99
Manufacturer:
StrongVolt
Pros:

Portable and compact.
Lightweight.
Waterproof solar panels.
Easy to attach and carry.
Works even in cloudy weather and shady areas.

Cons:

Only one USB port.
USB port is not waterproof.