We use affiliate links. If you buy something through the links on this page, we may earn a commission at no cost to you. Learn more.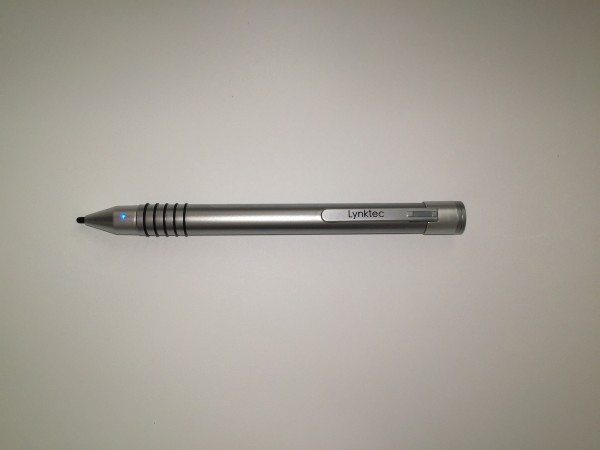 I have always been a big fan of styli since my days with my first Palm Pilot. There has hardly been a capacitive stylus that I haven't used, from iFrogz to Wacom Bamboo, to Hand, to a plethora of other no-name brands over the years. When the opportunity came to review an active stylus, I jumped at the chance. As an early adopter of the iPad and current owner of a 128 GB iPad Air, and a 128 GB iPhone 6 Plus, not to mention an Asus Android tablet, and a Kindle Voyage, I have the luxury of many devices to use a good stylus.  The above image shows the latest LynkTec Apex rechargeable fine point stylus powered up and ready to go. Note that even though the power indicator is blue, this is not a Bluetooth device (more on that later).
Most capacitive styli out there have the same type of squat, soft tip that may be fine to push buttons and draw on your tablet to some extent. These were designed to emulate the size and shape of a finger tip, but offered a way to interface with a screen device without getting fingerprints all over the screen. I have a Hand stylus with a retractable tip, that is advertised as the best retractable fine point stylus. Since I purchased this about six months ago, it has been my go-to stylus for my iPad Air, but NOT for my iPhone 6 Plus. Along comes the stylish, satin chrome LynkTec Apex rechargeable fine point stylus, and after several weeks of daily use, I can honestly say that I am a true convert, at least when it comes to my iPad Air. I have decided that a stylus is just not necessary on my iPhone 6 Plus. On to the specific details about the rechargeable LynkTec Apex stylus.

As you can see from the above image, the LynkTec Apex rechargeable 2 mm fine point stylus, is a full-sized stylus that, at first, feels a little bulky.  Note the power on button on the clip below the cap.  This feeling quickly goes away when you find yourself taking notes in long hand, and you see your thoughts appear on the screen as easily as you would find on a traditional pad and pen.  Combined with the right note-taking app (I prefer ZoomNotes for handwriting), the rechargeable Apex stylus is an excellent tool for taking notes, sketching diagrams, marking up PDF documents, or even drawing pictures.
Using the LynkTec Apex rechargeable fine point stylus does take a little getting used to.  As is the case with other active styli, the tip is much harder than those on capacitive styli.  If you have a screen protector, you may need to press harder for the device to recognize the stylus. Also, it is important to remember to turn off the multitasking gestures function (on the iPad, go to Settings, then General, then toggle the multitasking gesture off) so the pages don't move around while you write.  You also should identify where the palm rejection function is on whatever note taking application you are using. The way this stylus works is also different depending on the application you are using it with. Out of the note taking applications mentioned above, only ZoomNotes actually has a setting for the Apex stylus so far. This allows you to calibrate the application specifically for the stylus.  LynkTec needs to work more closely with these application developers to ensure that their stylus has a setting in each of these applications. Before writing this review, I had all but two of LynkTec's recommended applications.  Although the Apex works with all of the recommended applications, in my opinion, they shouldn't be identified by the manufacturer if there is no setting specific to the Apex.
Here are the product's specifications as reported on the company's Web site:
Tip:    2 mm replaceable conductive polymer nib
Height:    1.5 cm (.6″) with clip
Length:    15 cm (5.9″)
Weight:    1 oz
Battery Life:    Approximately 20 hours of writing time
Compatibility:    Works with all iPads including the iPad 2/3/4, iPad Air, and iPad Air 2, and iPad Mini, iPhone 6, iPhone 6 Plus, and many popular Android devices
Warranty:    One year limited warranty
Never miss one of our posts again. Sent MON, WED, and FRI with the latest gadget reviews and news!
When comparing styli, it is important to note the difference between a capacitive stylus and an active stylus. With a capacitive stylus, there is no power supply needed, which allows them to be thinner, smaller and even combined with a traditional ink pen. However, with an active stylus, like the Apex, there are electronics included in the pen that allow it to give the user many additional functionality, like pressure sensitivity (ideal for sketching), and selecting and manipulating objects on the screen with far greater detail. Active styli often use Bluetooth to connect to a device, however, the LynkTec Apex rechargeable stylus simply needs to be powered on by a discreet button on the pocket clip. In the below image, I have lined up several of my other styli next to the Apex rechargeable stylus on the far left to show you how they compare in size.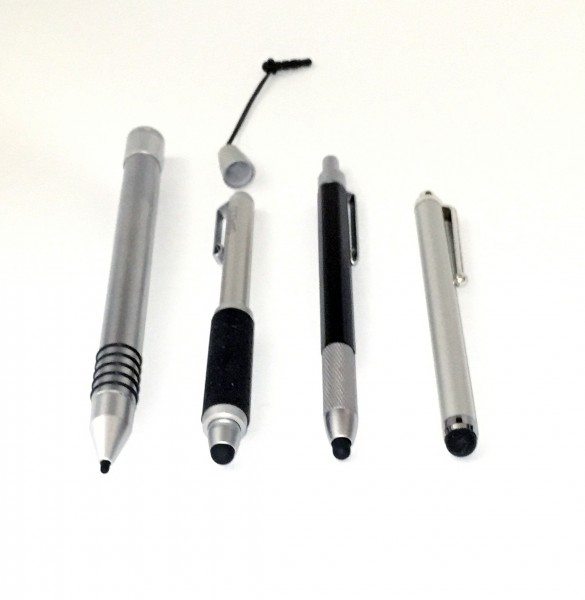 The LynkTec Apex rechargeable fine tip stylus comes with a lithium ion battery that charges quickly (approximately 90 minutes), and lasts for up to 20 hours of writing time. In my use, I found this estimate to be a bit high, but I did write a lot. Charging is done by connecting a micro USB cable to a port at the top of the stylus, accessible by unscrewing the top (the top incidentally stores an extra stylus nib). When charging, a light on the power button on the pocket clip glows red and turns to blue when charging is complete. When the battery is getting low, the light blinks yellow to warn you that it is time to recharge. To conserve power, the stylus powers off automatically after 30 minutes. In the below image, you can see the micro USB port with the cap removed. The cap also holds a replacement nib.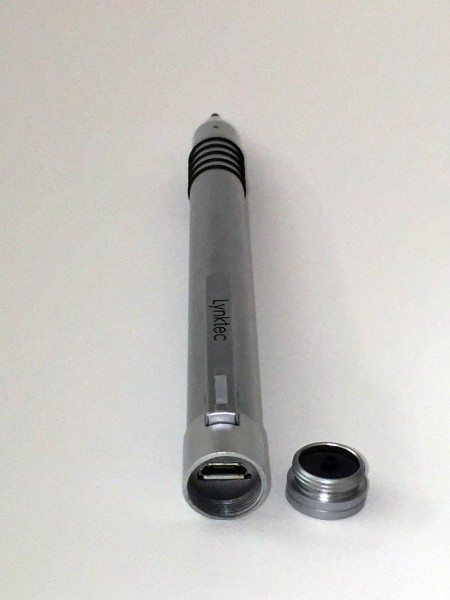 The Apex rechargeable fine point stylus works with all iOS devices, and is compatible with some Android tablets as well. While it works on my Kindle Voyage to change pages, it does a poor job of highlighting text. According to some reviews on the company's Web site, the Apex stylus also works with Windows touch screen devices (I cannot personally verify this as I do not own any Windows touch screen devices), however, it is important to understand that its functionality will also depend on the type of screen protector you are using (if any). I was between screen protectors on my iPhone 6+ for about a week and I noticed that without a screen protector, the Apex stylus worked fantastic on my iPhone, but once I replaced my screen protector (a Daswise glass shield), the Apex was no longer nearly as effective. My iPad Air does not have a screen protector and the Apex works flawlessly.
While there are many users out there who think that styli are a relic of the late 20th century's glut of Personal Digital Assistants (PDAs), it only takes a quick look around to see the resurgence in their popularity. The Samsung Galaxy Note series of smartphones has incorporated an active stylus in their product for years. Microsoft's wildly successful Surface series of tablets come with an active stylus, and even Apple, which hasn't used a stylus since the Newton days (don't feel bad if you've never heard of the Newton – this was Apple's first foray into the PDA market and it never really caught on), recently announced that they too, will be bringing an active stylus to market with their upcoming iPad Pro.
Is the LynkTec rechargeable Apex fine point stylus perfect? No. Is there room for improvement?  Definitely. I'd like to see a retractable tip, as well as the ability to switch-out the active stylus tip for a capacitive tip so it still can be used if the battery is dead. This would also be a good idea so that one stylus could be carried instead of always having to remember to bring a back-up stylus. The Apex rechargeable fine point stylus is definitely not as convenient to carry as any of my capacitive styli, however, I do carry it with me in my gadget bag. Most importantly, there needs to be better support for the Apex by note taking applications. However, for iOS users especially, this is an excellent choice and for the price, combined with their compatibility with some excellent applications, an excellent tool for giving you the kind of precision and functionality, that an active stylus can offer.
The LynkTec rechargeable Apex fine point stylus is available on their Web site in silver for $59.99 plus free shipping, as well as on Amazon.com. I should also point out that LynkTec has created a equally stylish and professional looking faux leather folio iPad case that is designed to accommodate the Apex stylus, for $39.99. Guess what's now on my wish list?
What do you think about using styli with your new smartphones and tablets or touch screen computers? Is this just nostalgia, or do you believe that styli (especially active styli), still are a useful tool, or a passing fad? Do you have any stylus experiences that we could benefit from?
Source: The sample for this review was provided by LynkTec. Please visit their site for more info or Amazon to order.
Product Information
| | |
| --- | --- |
| Price: | $59.99 USD |
| Manufacturer: | LynkTec |
| Retailer: | LynkTec and Amazon |
| Requirements: | Compatible with all iPads, but designed for iPad 2 and newer, iPhones, some Android devices |
| Pros: | Stylish, comfortable to use, rechargeable, decent battery life |
| Cons: | No alternative power (i.e., batteries), stylus tip is exposed (should be retractable), bulky to carry, will not fit into most iPad cases |