We use affiliate links. If you buy something through the links on this page, we may earn a commission at no cost to you. Learn more.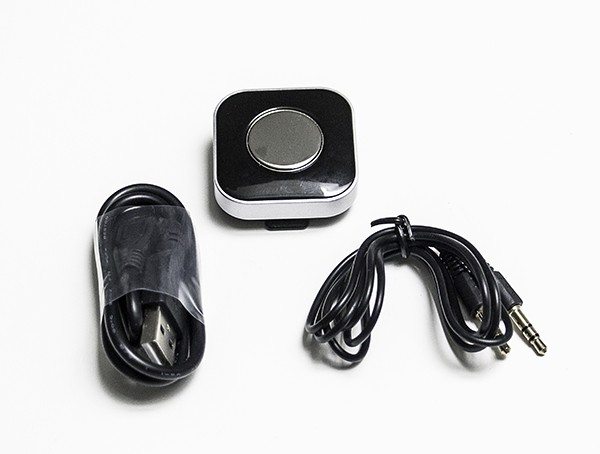 They say looks can be deceiving and this portable NFC enabled wireless Audio Receiver from iClever is no exception.
First of all, this receiver, which is a 3.0 Bluetooth version,  allows you to stream music, podcasts, news, or whatever you are listening to on your smartphone, tablet, iPhone, iPad, computer, or whatever Bluetooth enabled device you are listening to, to another device with a 3.5 mm input jack such as headphones or wired speakers. So, if you have a pair of wired headphones and want to listen to music on your smartphone, but don't want to be tethered to the phone, this Bluetooth receiver allows you disconnect your headphones from your phone while listening to streaming music. This way you can leave the phone on the table or on your desk and go about your business while still listening to your music without the hassle of carrying your phone with you. This is helpful if you are doing some cleaning around your house or maybe doing a project in your garage and don't want to risk getting snagged on the headphone wires. 
This receiver supports A2DP and AVRCP so you can control the PLAY, PAUSE, SKIP on the audio device you are listening to.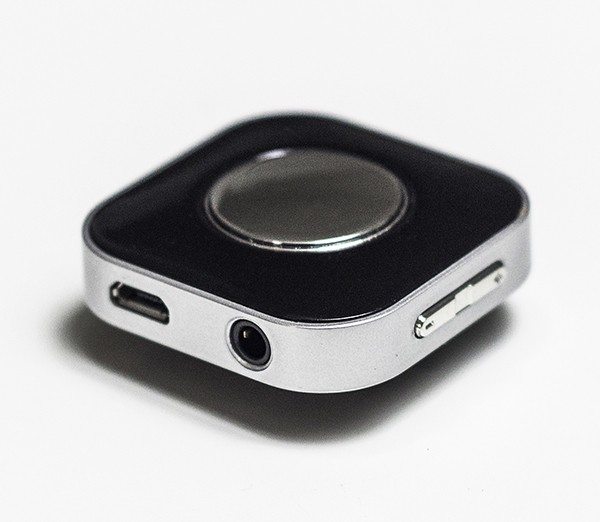 On the front of the receiver is a large silver Home button which is a Call Answer button and Call Reject button. One short press to answer a phone call or a long press to reject the call. You can also double press the Home button to call back the last dialed number. And there is a small pin hole opening on the front of the receiver, just to the bottom left of the silver button, which is the microphone for hands-free calling.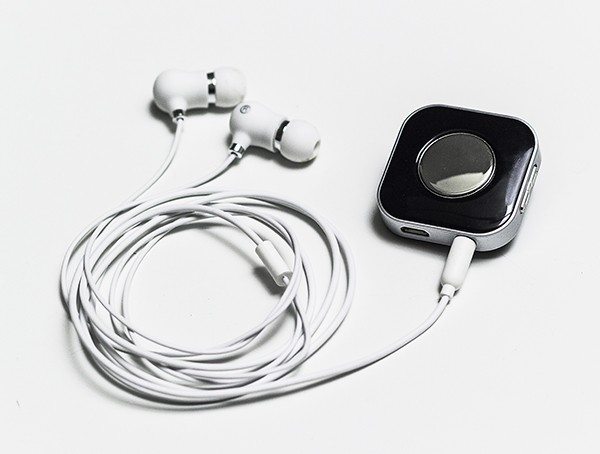 Aside from the headphones or wired speakers, it can be used with a 3.5 mm audio AUX cable to connect to the AUX input on any radio receiver. I connected it to the AUX/Line In jack on the front of my Pioneer radio in my car and it worked fine. I paired my LG G3 to it with no problem whatsoever. It pairs like most standard Bluetooth devices nowadays, by holding down the silver center button for a few seconds and you will see the indicator button flash red and blue. Music streamed effortlessly from my phone to the receiver, and out of my car speakers. There wasn't any audio downgrade or trade-off that I noticed considering the music was being piggy-backed from my phone to the Bluetooth receiver to my car speakers. The sound was clear as if I was listening to the music from the radio itself. Just keep in mind that the receiver has its own volume control so if your phone is turned up all the way and the sound from your car speakers doesn't seem loud enough it may be that the Bluetooth receiver volume is low.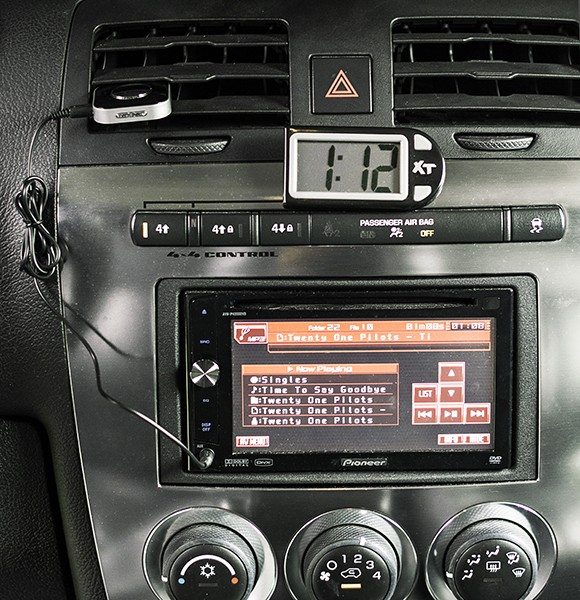 This Bluetooth receiver is equipped with NFC functions such as NFC pairing. Pairing a Bluetooth device is simple enough, however, I find it just as easy to pair new Bluetooth devices to my phones by allowing my phones to be discoverable to the Bluetooth device. Pairing the IBE-01 using the NFC was simple and paired on the first try. The NFC induction area is located directly in the center of the back behind the clip and is also indicated by a sticker. To pair using NFC, the IBe-01 has to be placed right up against your device's NFC location to pair properly.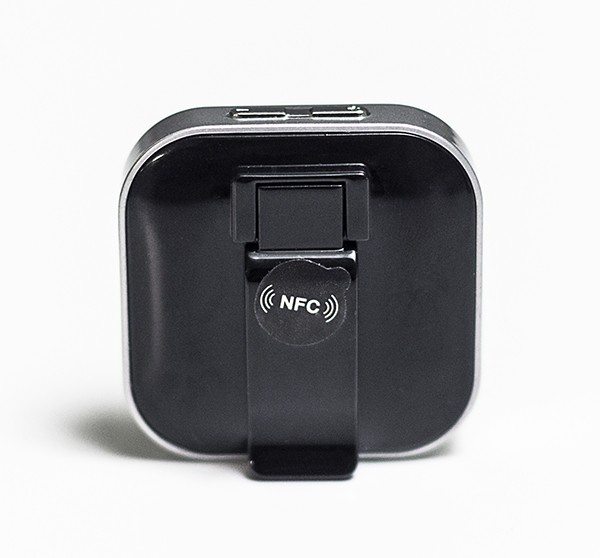 And speaking of clips, although it was thoughtful and useful for the added clip on this receiver, just be aware that the clip is made of plastic and does appear with one strong pull could snap it off. However, as with any well cared for gadget or device, if you don't abuse it or mistreat it then it will last quite awhile. But, if clipping the receiver to your belt or shirt is not your thing, this receiver is small and compact enough to keep in your pants pocket or shirt pocket. Since it is fairly light and lightweight, You wouldn't even tell it is in your pocket. It is about 1.6 "in. x 1.6″ in. x 0.6" in. and weighs around 12 grams.
It comes with a 3.5mm to 3.5mm audio cable, MicroUSB cable and a manual pamphlet. On a side note, the manual font is very small and for people who may have not so stellar eye sight may find themselves squinting or even using a magnifying glass on some areas of the manual. My eyesight is decent but I found myself unable to read a section of the manual because the type print was so tiny.
I didn't have any issues with signal or connection interference while I had it in my pocket and while I had it in a a small compartment pocket on my backpack so Bluetooth signal didn't seem compromised inside of a pocket or bag. It has a typical working distance around 30 feet, that is if the line of sight is clear. I had headphones plugged into the receiver and walked in to my garage while my smartphone was inside the house on the dining room table. When I walked into the garage there was significant interference just as the door to the garage was closing behind me. A few seconds later I could hear dropouts from the connection. With my BackBeat FIT Review, when I walk into my garage with them on I don't have any problems with connection if my smartphone is in the house. However, if I stay in the garage for a minute or so then I will eventually start getting drop out because of the interference from the closed door and walls.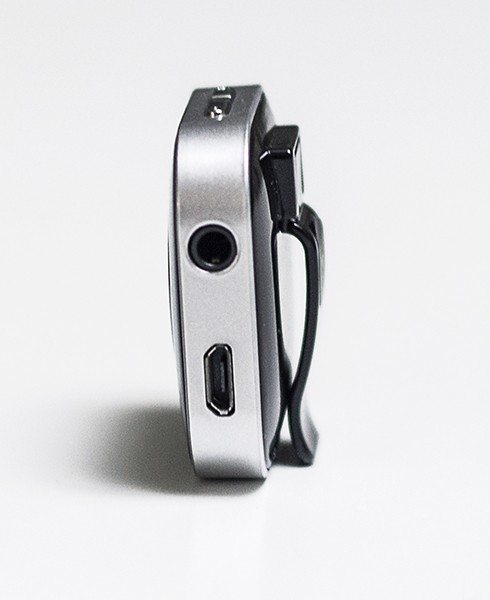 On the right side of the receiver is the headphone jack as well as the MicroUSB port and at the top of it is the volume rocker. The volume rocker was easy to operate and responded quite nicely. I didn't have to keep pushing one side or the other for it to work. The 120mAh battery is rated to last for about 5 and a half hours, however, when I was able to get almost 8 hours from it. Granted when I listened on my smartphones things such as music and news on my iHeartRadio app there were a few times where I didn't listen to anything for a few minutes at a time so there was dead air. I don't know if this saved battery life or I just had a good battery in my receiver but needless to say having a full days battery life in a device is very impressive or refreshing to say the least.
So, if you are looking for a way to wirelessly stream audio from your smartphone, iPhone, tablet or iPad, to  your headphones, speaker or 3.5 AUX audio cable then having the IBE-01 Bluetooth receiver from iClever is a no-brainer. In essence, you can add this receiver to any pair of headphones, wired speakers, home stereo or car stereo receiver and enjoy the benefits of a Bluetooth device. It also comes in 5 different colors so you have a few choices of color to fit your style. It is available at Amazon for $16.99.
Source: The sample for this review was provided by iClever. Please visit their site for more info or Amazon to buy one.