We use affiliate links. If you buy something through the links on this page, we may earn a commission at no cost to you. Learn more.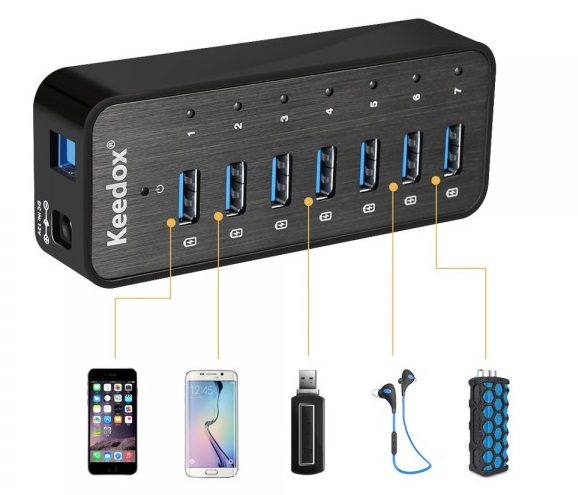 USB has become the de facto charging or input method for many of the devices we own. Nowadays, you don't need to be a tech junkie to require extra USB outlets to charge all your devices. Even the tech challenged have cell phones, tablets, and Bluetooth speakers, all of which use a USB charging cord. If you use a laptop regularly, chances are you own a USB flash drive, mouse, printer, external hard drive, etc. It's easy to see how your average Joe – let alone a tech enthusiast – could find themselves running low on available USB ports. The Keedox USB 3.0 hub hopes to lessen our pain.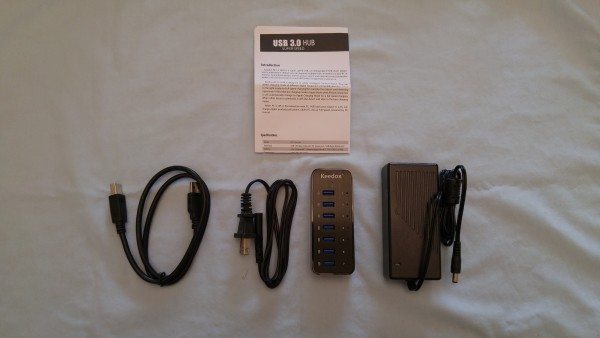 In the box
USB hub
Adapter
USB 3.0 data cable
User manual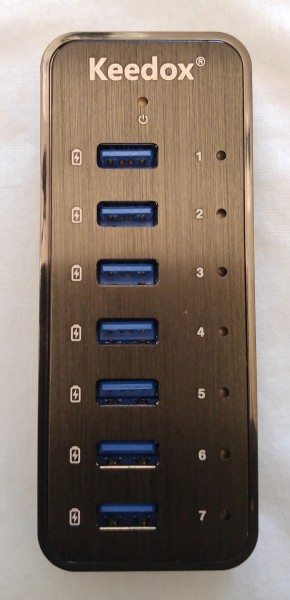 The hub contains 7 USB 3.0 ports and measures 4.25″ x 1.69″ x .91″.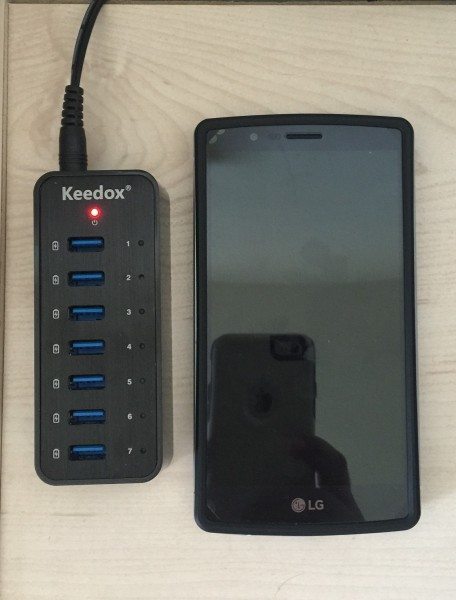 The hub is very small, smaller than my LG G4 smartphone. The front of the hub has a light to indicate when it's powered up and each port has a small indicator light next to it.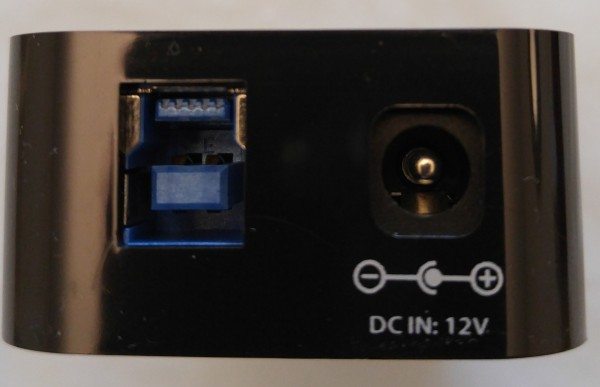 One side of the hub contains the power port and the port for the data cable. The remainder of the hub is nondescript.
Setting up the hub is easy. First, plug the power adapter into the wall and the hub. Then plug the data cable into the hub and your computer. There is nothing else to set up or any software to install. As soon as it's powered up, the hub is ready for use.
Once the hub is set up, you can plug in USB peripherals for your computer or USB charging cords for your devices. To make things easy, each USB port is accompanied by a small indicator light. The light glows blue when a USB peripheral is attached to your computer, but remains off if a charging cord is connected.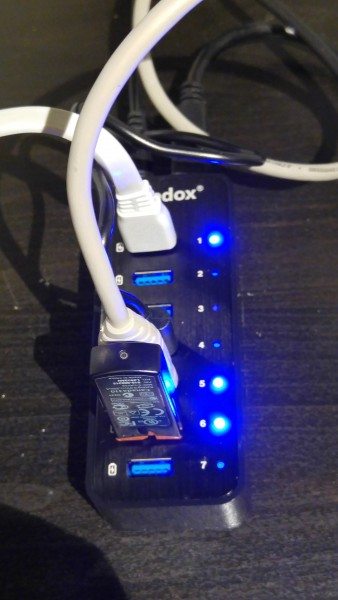 In the picture above, I have a printer, portable hard drive, wireless mouse, and my Moto 360 charger plugged into the hub. As you can see, only the computer peripherals are lit. If you keep the hub hidden under or behind a desk, the light will make it easier to differentiate between charging cords or data cords if you need to disconnect something.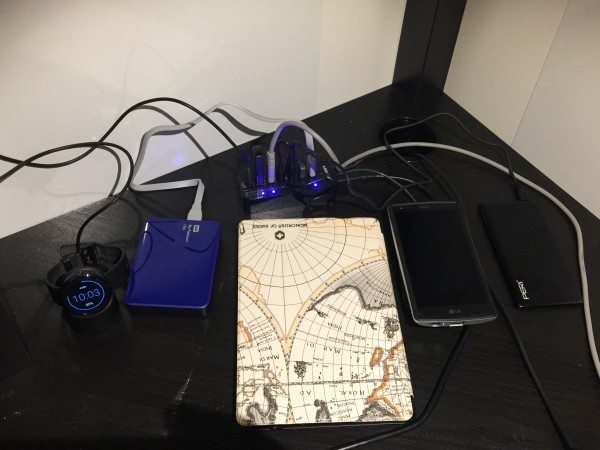 I apologize for the clutter in the above picture, but I wanted to test how well the hub functioned when it was fully loaded. I connected the following to the hub: a Moto 360 charger, a wireless mouse, a printer, a Nexus 9 charger, a GoCharge power bank, a Qi charger, and a Western Digital portable hard drive. All the devices functioned and charged without issue.
Now that I knew the hub's basic functionality worked as promised, I wanted to see if it had any effect on USB 3.0 speeds. To do this, I decided to leave everything plugged into the hub and run a benchmark test on my portable hard drive.

I had previously ran a benchmark on the hard drive when it was connected directly to my laptop and received the above results.

When running the benchmark through the hub, I received almost identical results. Yes, the speeds are marginally slower, but that could be due to several factors unrelated to the hub; for all intents and purposes, the speeds are the same.
Overall, the hub works very well when connected to a computer. It doesn't appear to have any ill effects on USB 3.0 speeds and has no difficulty operating when all 7 ports are utilized.
You may be asking yourself, "Do I really need 7 USB ports?" Honestly, probably not, I've never found myself in the situation where I needed 7 USB ports at once. Connecting 7 devices to the hub wasn't out of need, but rather to test the hub's limits. That being said, I found the hub convenient nonetheless. For me, it comes down to simplicity. Instead of having to unplug multiple cords every time I want to take my laptop on the go, I can just have everything plugged into the hub and only need to remove one cord.
Another great feature of the hub is its ability to be used away from the computer. Due to the fact the hub is self-powered through its adapter, it can be used as a portable charging hub.
I recently went on vacation and brought along the following devices: a phone, a tablet, my Moto 360, a Bluetooth speaker, and my son's Kindle Fire. All of those devices use a USB cable to charge themselves. Generally, I recharge my devices overnight while sleeping. To do this would require using three power outlets or a power strip.
While it's not hard to find three outlets, I don't like having my devices scattered across several rooms. Power strips can be bought just about anywhere, but it's one more bulky item for me to pack. On the other hand, the hub is small enough fit into my cargo pocket or the side pocket of my backpack.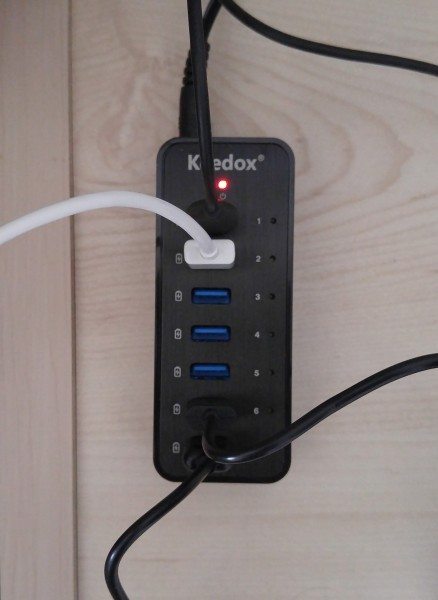 I was able to place the hub on the corner of the nightstand and charge all my devices, while still having space on the power outlet to plug in a portable fan I use. It really was incredibly convenient. Additionally, the fact the lights only illuminate when something is connected to a computer means my room won't be lit up all night.
If you are using the hub for charging purposes, it provides several different outputs. If the hub is being used for data transfer and charging, it provides a charging output of 1.5 amps. If the hub is self-powered and not connected to a computer, the charging output is 2.4 amps. The hub also supports "Apple Mode" for "full speed charging [and] will automatically detect your Apple Devices. Then, it will offer the best current."
I was very pleased with the Keedox hub during testing. My only real concern is its cost. If you are strictly in the market for a USB hub to charge multiple devices at once, you can probably find something cheaper on Amazon; however, if you do intend to use this with a computer, I believe it's well worth the investment. The hub neither sacrifices speed nor size and gives you an ample amount of USB ports.
Source: The sample for this review was provided by Keedox. Please visit their site for more information or Amazon to buy one.