We use affiliate links. If you buy something through the links on this page, we may earn a commission at no cost to you. Learn more.

I buy a lot of merchandise from Amazon, especially electronics, gadgets and gadget accessories. There are a few tips that I've learned about saving while shopping on Amazon that I would like to share. 
Note: Images can be clicked to view a larger size.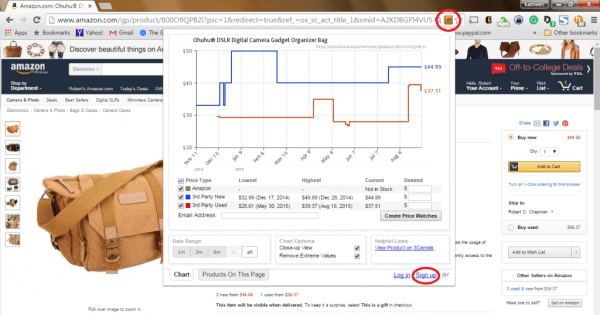 One of those tips is to use the Camelizer extension for Chrome, Firefox, and Safari. This useful extension (I use the Chrome version) will show you the price history of an item available through Amazon and will allow you to set up email notifications when your item has dropped to your desired price. After adding the extension, find the product you are interested in then click on the camel icon located in the URL bar (the icon is circled in red at the top of the above screenshot). To receive email notifications about price drops, you must first sign up on CamelCamelCamel.com (the "Sign Up" link is circled in red at the bottom of the above screenshot).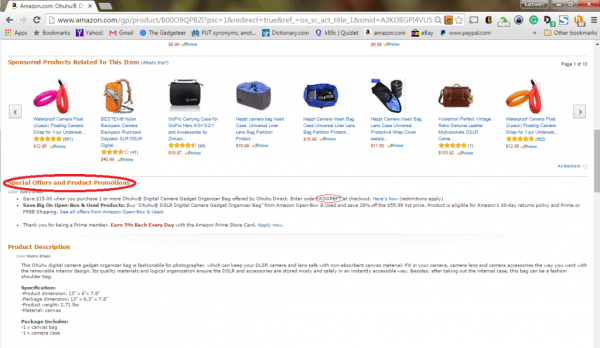 Using the Camelizer extension method of savings takes patience. If, however, you need the item right away, you should first check out my second tip. When you are on the product page that you are interested in, scan down to the middle of the page and locate the "Special Offers and Product Promotions" section (use a computer because this section does NOT appear on the mobile versions of the Amazon app). Here you may sometimes find discount codes for the item you are interested in (see the circled red portions in the screenshot above). Often, the code will require you to purchase an additional item(s), but every now and then the code will apply solely to the product you are purchasing. Note that not all products have a "Special Offers and Product Promotions" section, but it's certainly worth checking out before you buy.
And if you find that you purchased an item on Amazon (sold specifically by Amazon) only to have it go on sale soon after, just contact Amazon customer service and they will refund you the difference. They will usually honor this seven days after the product has been delivered, but I seem to remember them refunding the difference to me for a product I received after that seven days. Again, it's always worth a try.
Finally, if your item has gone beyond its Guaranteed Delivery date, you may qualify for a refund of your shipping cost (if you are not a Prime member) or a one-month extension on your Amazon Prime membership. Please see the "Guaranteed Accelerated Delivery Fine Print" to determine whether or not you may qualify.
I also use other extensions to save money like the Ebates and Honey extensions. The Ebates extension places an "E" icon next to the URL bar which will flash red for a few seconds then display a solid red background behind the "E" when you come upon a product that Ebates has a cash back reward for. To receive the Ebates reward, you must click on the "E" icon then click on Activate Cash Back. I've also used the Honey extension which finds discount codes from the seller you are purchasing items from. When you proceed to check-out, Honey will pop up a sidebar. After clicking on the "Try Codes" button within the sidebar, it will automatically go through the discount codes for you to see if any will apply to your purchase.  Unfortunately, I have had very little success with Ebates and Honey on Amazon. These extensions might work if I were to purchase items other than electronics, gadgets, or gadget accessories. However, even if they don't save you money on Amazon, they may save you money on other websites.
If you have any additional tips about how to save on Amazon, I would love to hear from you!