We use affiliate links. If you buy something through the links on this page, we may earn a commission at no cost to you. Learn more.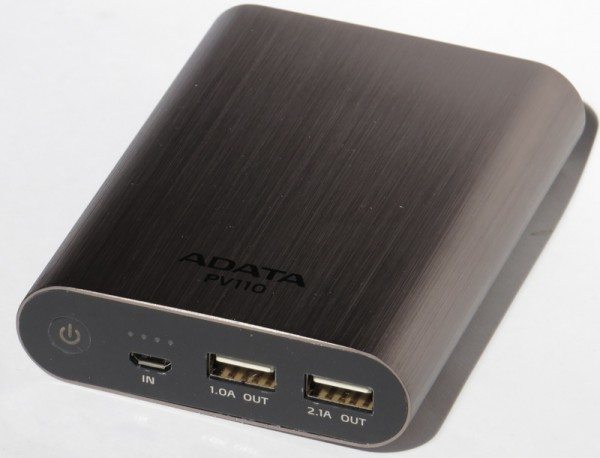 It's been a running joke with my friends that I am always going on a trip. My latest trip took me cross country as a passenger in a car, where my phone was very much needed for GPS, music, and entertainment. Most the time, my phone dies with my constant usage on trips, so I am used to bringing my smaller battery pack along. This time around, I was able to test out the Adata PV110 10400 mAh power bank for the much longer trip, so let's see how useful this little battery pack was!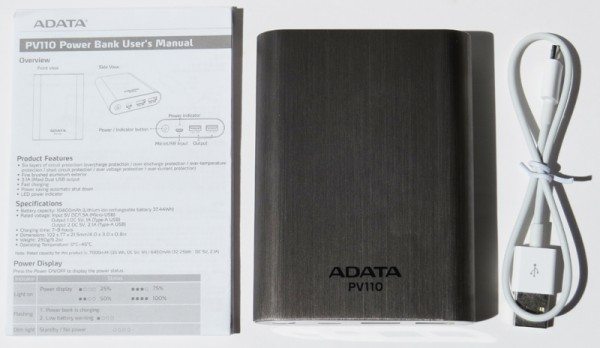 In the package, you'll find a user manual, the power bank, and a Micro-USB charging cord. I liked the fact that the cord was white, as it distinguished itself from the rest of my Micro-USB cords.

Everything is on the front side of the power bank. You'll find the power button, Micro-USB charging port, battery indicator lights, and the two charging ports. As you can see above, one is the standard 1.0A output, while the other is the 2.1A output. I used the 2.1A for nearly all of my charging needs, since it is the faster of the two. It took 1 hour to charge my phone from completely dead to 75%. The 1.0A output worked fine to charge my mother's iPhone 4S when the battery was low both days.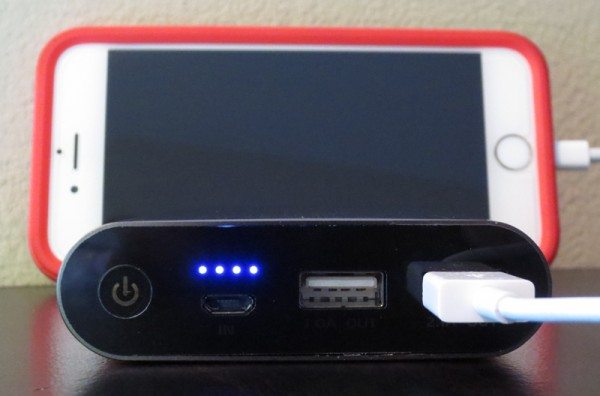 When charging, the battery indicator lights are always on. To check the power level of the battery and to start charging a device, you simply hold down the power button until the indicator lights turn on. Simple enough. It does take a few seconds of holding the button down to start it; more time than any of the other chargers I've reviewed.
Now let's get down to the nitty gritty. At 10400 mAh, Adata's website claims it can charge up to 5 full charges of an iPhone 5 and 1.5 charges for an iPad Mini. I have neither of those, so I tested it out using my iPhone 6 (1440 vs 1810 mAh) and iPad Air (8,827 vs 4440 mAh). Clearly my devices have bigger batteries, so I could not expect similar results. I was very pleased, however, to find that it charged my iPhone from less than 5% four full times before it ran out of juice. Doing the math, that is spot on with their results. Moving on to the iPad Air, I was able to go from completely dead to 85% charged. Since the battery size is double that of an iPad Mini, that is exceeding the standards given on their website.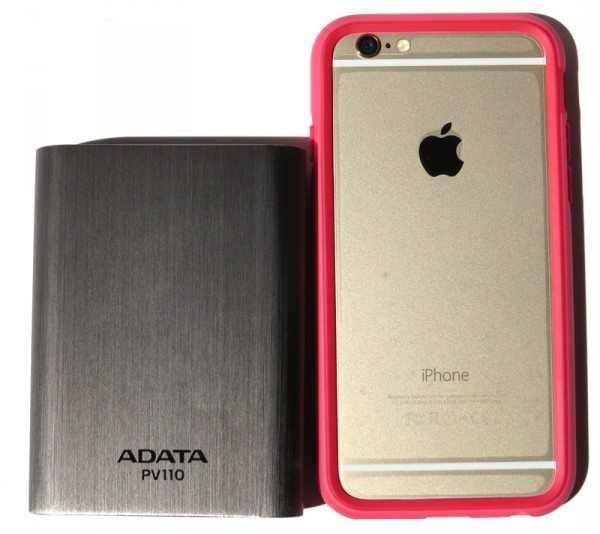 Though small in size, the power bank is quite hefty. I will note that most battery packs are quite heavy for their size, so it wasn't above average for its capacity. I wouldn't use this in my purse on a day to day basis, but for travel, it was great. I was able to pull it out of my backpack and charge my mother's phone and my own. It was good that we had this along, since my sister's Garmin took up the lighter jack.
Overall, I really liked the Adata power bank. It met and exceeded expectations when charging my devices, and is priced very reasonably. I have heard stories of cheap power banks lacking in advertised size, and I was very pleased to find out this one wasn't. One last bonus is that it comes in several different colors, so you don't have to have a drab black or grey battery pack.
If someone were asking me for a recommendation on an inexpensive battery pack, I'd direct them to the Adata PV110 Power Bank. It's a solid battery pack.
Source: The sample for this review were provided by Adata. Please visit their website for more info.
Product Information
Price:
$29.99
Manufacturer:
Adata
Pros:

- Compact design
- Fast charging
- Inexpensive

Cons: