We use affiliate links. If you buy something through the links on this page, we may earn a commission at no cost to you. Learn more.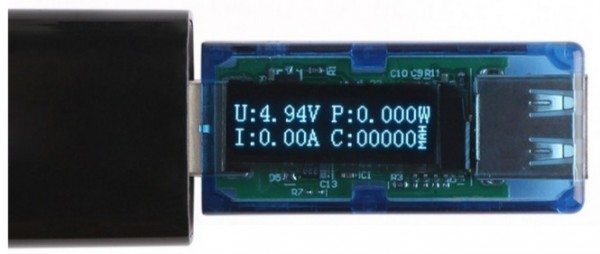 Have you ever wondered why your cell phone is charging so slowly? Could it be an ill-suited wall charger, a bad mico-USB/lightning cable, or does your phone's battery need replacing? Maybe you've wondered if there are truly any differences between different brands of micro-USB cables or how efficient your 10,000 mAh external battery charger is (there is always some loss due to inefficiency, but how much?). Perhaps you just need to detect the optimal position in the sun to charge your solar battery. All of these things can be determined by using a device referred to as a USB charge doctor, USB detector, USB meter, USB multimeter, USB power meter, USB current meter, USB voltage meter and a few others. These devices are connected inline where they receive their power (no battery necessary) and will give you voltage, current, and sometimes power readings. The one shown in the above photo is the DROK Micro OLED Meter Voltage Current Charger Detector. Most of them are the size of a thumb drive and have a USB A male connector on one side that can be inserted into a charger (AC adapter, desktop multi-port charger, external portable battery, or computer/laptop) and a USB A female port on another side in which a charging cable connected to your device can be inserted. They also have displays that will show you the readings. 
There are several kinds available. Here are just a few from Amazon:
PretzelLogix.net provides an informative review of four USB multimeters, three of which are listed above. When purchasing such a device, you should consider the voltage range as well as current range. This is important in cases where you may want to plug the USB multimeter into a power source that supplies a higher voltage such as some Quick Charge 2.0 devices. Doing this can damage the multimeter if it is not rated to handle the higher voltage (the same would be true for current). Many of the USB multimeters support 3V – 7V while the above DROK device supports 3.7V – 13V (the specifications of this DROK USB multimeter state that it supports Quick Charge 2.0 technology and is compatible with 5V, 9V, and 12V power sources). Please click on the above links for more information.