We use affiliate links. If you buy something through the links on this page, we may earn a commission at no cost to you. Learn more.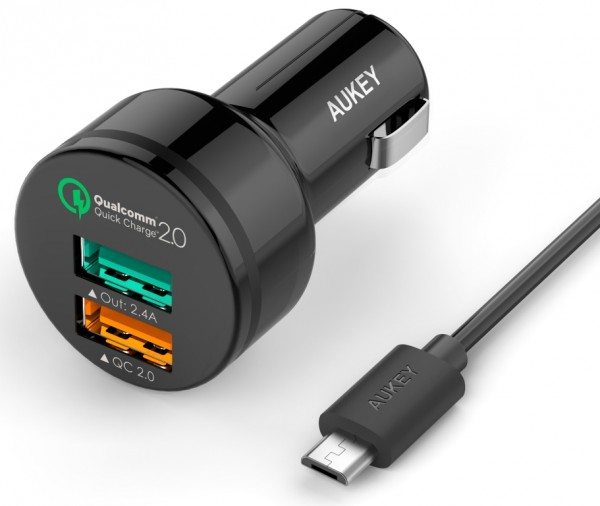 Not all of us have the inexhaustible power of the Star Trek communicators, which is invaluable when you venture out on a five-year mission. Instead, we have to rely on chargers for our phones for the foreseeable future. We constantly demand more power and faster charging speeds, so engineers have provided us with the Aukey CC-T1 2-Port 30W USB Car Charger with Quick Charge 2.0 which is officially licensed and certified by Qualcomm. "Qualcomm® Quick Charge™ is the next generation of fast charging technology for devices powered by Qualcomm® Snapdragon™ processors." This car charger has one Qualcomm Quick Charge 2.0 USB port and one 5V/2.4A USB port for non-Quick Charge devices. The Quick Charge USB port can charge our phones up to 75% faster than a standard port and "With a compatible phone, laboratory tests show that Quick ChargeTM can charge a typical 3300mAh mobile battery from empty to 60%-75% in as little as 30 minutes." 
The following is a list of some of the Quick Charge 2.0 compatible devices:
Samsung Galaxy S6, S6 Edge, Note 4/Edge,
Google Nexus 6,
Sony Xperia Z4, Z4 Tablet, Z3, Z3 Compact, Z3 Tablet Compact, Z2 Tablet,
Motorola Droid Turbo, Moto X 2014,
HTC One M9, HTC One (M8), One Remix (Verizon Mini 2), Desire EYE,
LG G Flex2, G4,
Xiaomi Mi3, Mi4, Mi Note, and more
This car charger can also automatically detect the amount of current needed to charge your device and will provide that current, thus it is safe to plug older devices into the Quick Charge 2.0 USB port as well as the 2.4A USB port; however, they won't charge any faster because both the mobile device and the charger have to be Quick Charge 2.0 compatible to deliver the top charging speeds. The charger also has over-current, overcharging and overheating safeguards to protect your devices. The Aukey CC-T1 2-Port USB Car Charger with Quick Charge 2.0 is available from Amazon for $16.99 (try the code Y2TDBXXI to get it for $9.49 – expiration date unknown). When you order this charger it will also come with a 20AWG 3.3 ft micro-USB cable. Gotta love those engineers – they're giving us all they've got! For more information about this car charger please visit the Aukey website.