We use affiliate links. If you buy something through the links on this page, we may earn a commission at no cost to you. Learn more.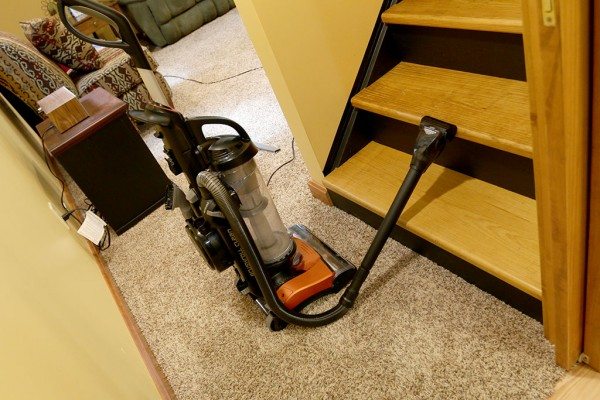 Buying a vacuum can be a lot like buying a new car. Like cars, vacuums are expensive, come in sub-compact, compact, mid-sized and full-sized models with all sorts of options that you may or may not need. I've reviewed quite a few vacuums in the past few years, but keep looking for my holy grail of full-sized models. The latest vacuum that I've had the opportunity to test is the Eureka Brushroll Clean with SuctionSeal AS3401A. It offers some really nice features, but does it tick all my boxes? Let's find out.
Note: Images can be clicked to view a larger size.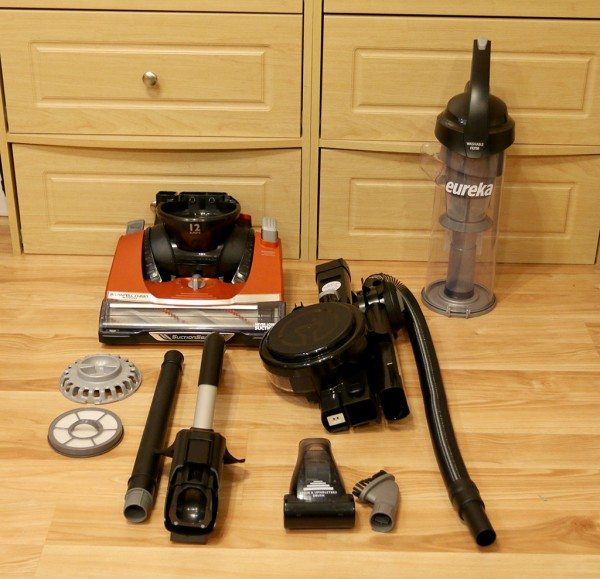 Included in the box
Unassembled vacuum parts
Filter
Extension wand
Crevice tool
Combination brush tool
Stair and Upholstery Turbo Nozzle tool
Quick start guide
Owner's guide
The Eureka comes unassembled, but assembly isn't difficult as it's just a few parts that snap together relatively easily. The quick start guide steps you through the process which does not require any tools.
Once assembled, the Eureka is a full-sized upright bagless vacuum that features an easy access hose withaon-board extension wand, crevice tool and combination brush tool. The vac has a large capacity easy dump dirt bin with a washable filter and a 5-setting height adjustment to clean various types of carpet and bare floors.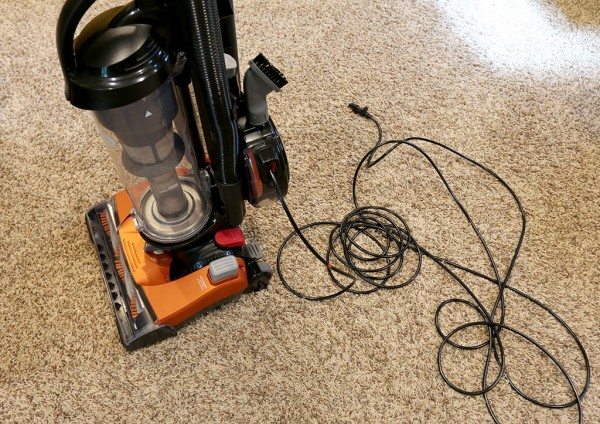 This vac also has a retractable 27 foot power cord that rewinds with the touch of a button. Be careful though, the plug end of the cord wacked me in the leg as it was retracting into the holder. After that happened, I learned to hold the cord in one hand as I pushed the rewind button on the back of the vacuum.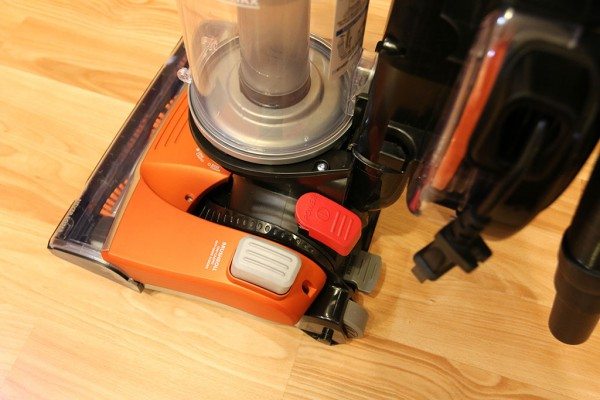 There is a large red foot activated power switch and brushroll on/off switch on the left side of the vacuum.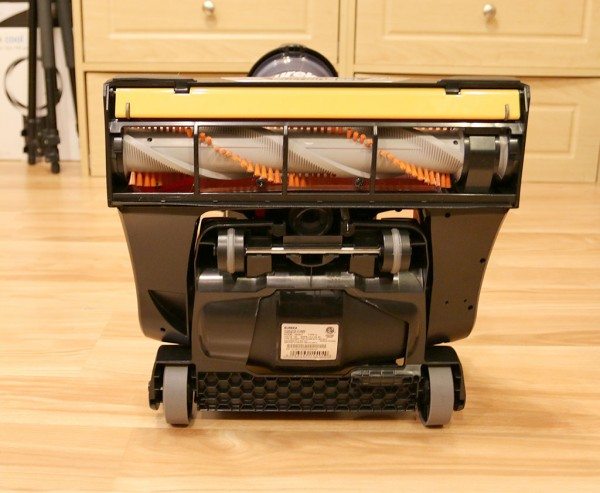 The vacuum head has a 13 inch wide brush with SuctionSeal Technology. What is SuctionSeal?
SuctionSeal® Technology with All-Surface Suction Plates™ concentrates airflow for deep cleaning suction power. As you move across carpet, hardwood or tile floors the plates raise and lower, creating a seal to maximize airflow for powerful cleaning performance. Whether it's surface dirt or debris hiding in crevices, it's sucked up and away, without any scattering. Unlike most other vacuums, Eureka  Brushroll Clean™ with SuctionSeal® is engineered with AirSpeed Technology® for an efficient air path with limited bends and turns. This allows more air to pass through the vacuum. The direct air path from floor to cup decreases the distance for dirt to travel, which increases the amount of airflow for powerful suction.
I tested the Eureka on carpet and hard surfaces like the wood floor in my office and vinyl floor in my kitchen. I think the vacuum does a better job cleaning carpet than hard surfaces, but even so, it was able to suck up scattered cat litter and dry cereal on my kitchen floor with the brushroll turned off.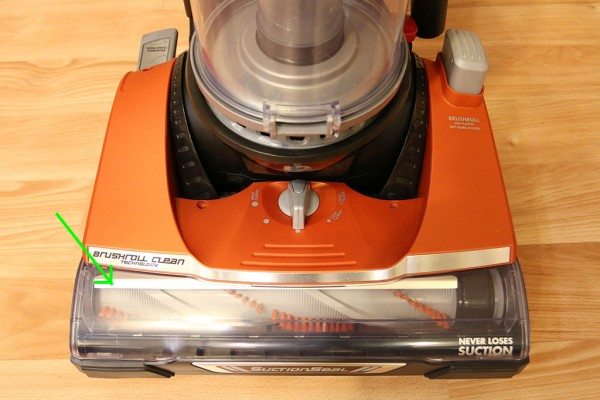 If you have pets like I do, the brushroll clean feature will be a welcome one. If pet hair accumulates on the brush bristles, it can be easily cleaned off with the built-in metal scraping bar. You can see the bar pointed out in the image above.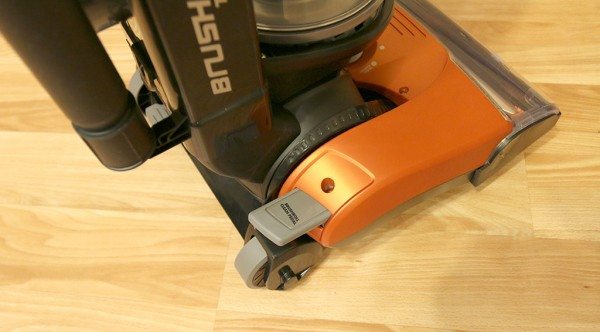 There is a special switch on the right side of the vacuum head. When it is activated with the vacuum powered on and the brush rolling, the bar will scrape against the bristles to dislodge any hair stuck to them. I tried to get some hair stuck in the bristles so I could see it in action but I didn't have any luck even when I didn't vacuum for a few days so that there were several tumble weeds from my long haired cat Max. So I can't be sure the feature works since I wasn't able to test it. But from what I see, I think it should work as designed.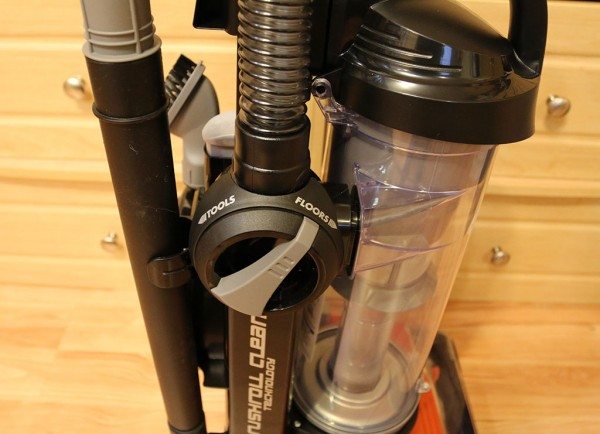 I really like that the on-board tools are so easy and quick to access with this vacuum. All you have to do is turn the selection knob from floors to tools and you're ready to use the 12 foot stretchable attached hose with the extension wand, crevice tool and combo brush.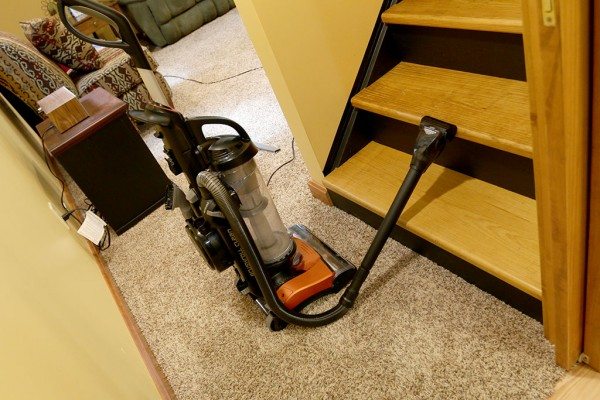 The Turbo Nozzle tool comes in really handy for cleaning stairs and furniture. This tool doesn't store on the vacuum when you're not using it like the other tools though.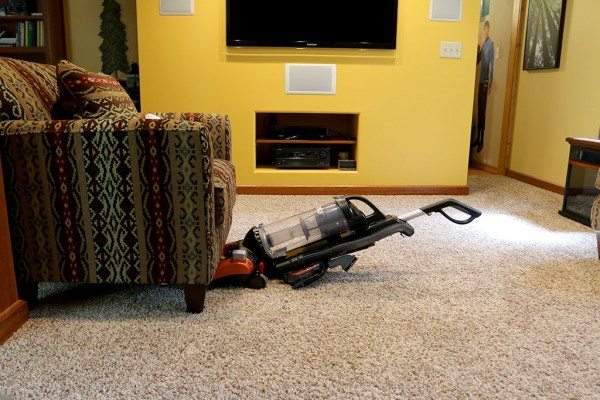 Vacuuming floors is considered to be a chore and using the Eureka did not make that chore any easier. Although the vacuum has a comfortable handle and does a really good job of picking up dirt on carpets and hard floors, pushing it around will give you a real work out. The Eureka is not self-propelled and does not pivot so it feels like you have to wrestle it around the room. Speaking of which, it's too large to fit under most chairs and beds.
When it all comes down to it. this vacuum ticks a lot of my must-have boxes, but not all of them. If it could pivot and was self-propelled it would be almost perfect. That said, for the price and features the Eureka Brushroll Clean with SuctionSeal AS3401A vacuum is a good buy, will clean your floors and might even help you drop that gym membership from all the effort you'll put into pushing it around.
Source: The sample for this review was provided by Eureka. Please visit their site for more info and Walmart to order.