We use affiliate links. If you buy something through the links on this page, we may earn a commission at no cost to you. Learn more.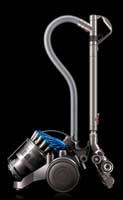 Dyson is well known for their space age style upright bagless vacuum cleaners. I've wanted to try one from the first time I saw one of their commercials on TV. I wasn't aware that they also sold canister style cleaners and happily accepted the opportunity to review the Dyson DC23 Turbinehead Canister Vacuum Cleaner when recently asked. They sent it. I've been sweeping. Let's see if it sucked (a good thing) or not.
Hardware Specs
Air Watts (constant) – 220 AW
Movement type – Fixed wheel
Filtration – Lifetime HEPA + Bactisafe
Bin capacity – 0.44 gal
Dimensions – 13.9 x 19.3 x 11.9 inches (HxWxD)
Weight – 19.5 lbs
Max. reach – 36.2 ft
Cord length – 21.6 ft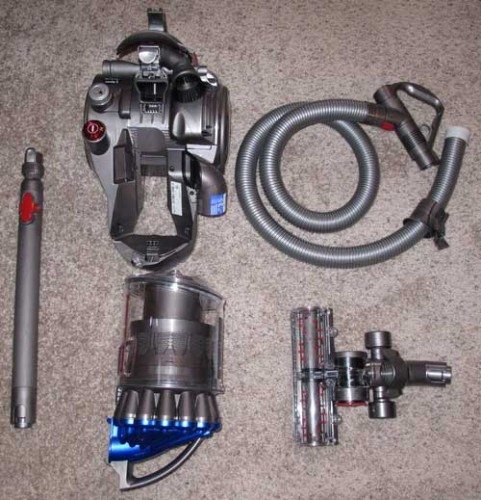 Package Contents
DC23 Vacuum
Hose
Carpet brush bar
Stair tool
Brush tool
Crevice tool
Operating manual
Quick start guide
To start out this review, I have to mention that this is the first time in probably over 35 years or longer that I've used a canister style vacuum. We've been using the same Kirby upright for about 20 years. Kirby's are extremely expensive. I think we paid about $800 for the one we have now, 20yrs ago! I never really liked the Kirby because it's so heavy and it's a pain to switch out the attachments. I also hate changing the bags. That's why the Dyson looked so appealing. No more bags!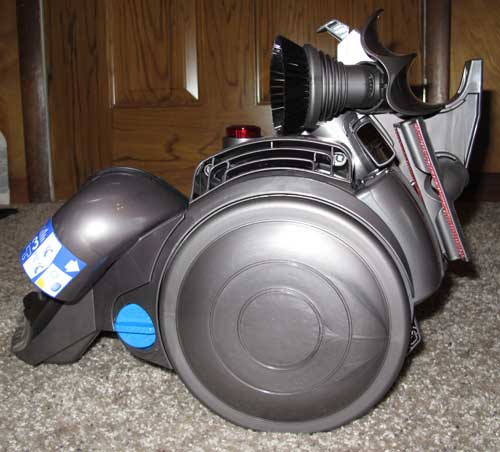 The main component of DC23 is the motor housing which is made entirely of Grey plastic. The Blue plug on the side is the Hepa filter. This filter doesn't need to be replaced. It can be washed periodically and is certified asthma & allergy friendly according to the Asthma and Allergy Foundation of America.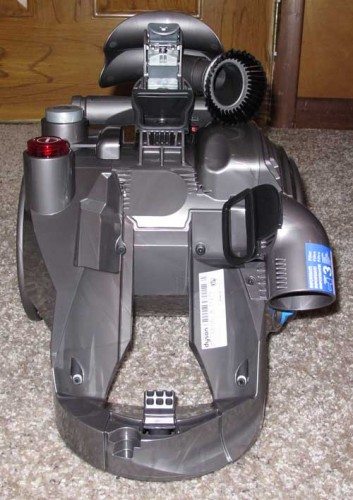 The housing has two large wheels and storage for 3 tools (crevice, stairs and brush).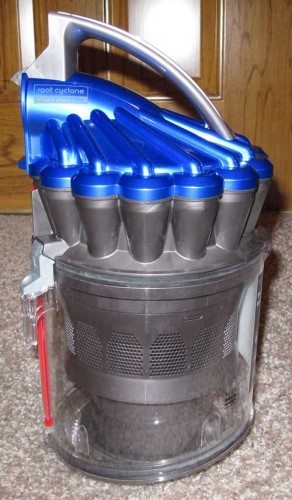 The canister snaps in and out of the motor housing. This is the part that holds all the dirt that the vacuum sweeps up.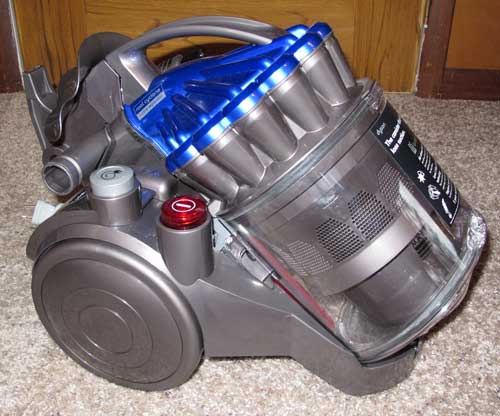 Here it is assembled. You will also notice the big Red power button and Grey cord retraction button.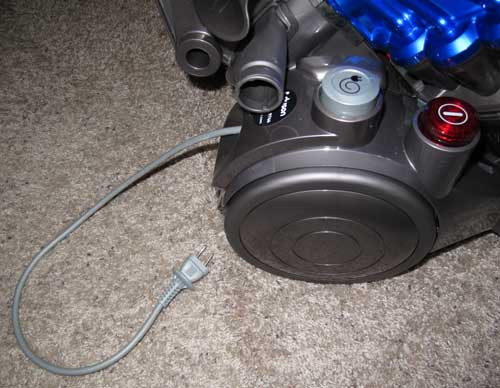 I love that the cord stores inside the housing. Just pull out what you need (it's 21.6 ft long) and then press the button to automatically pull it back in when you're done. Easy!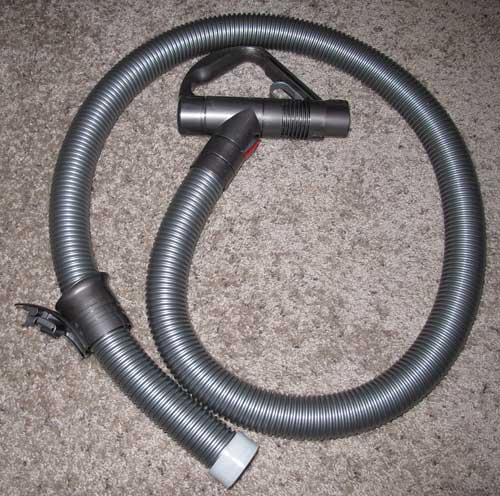 The flexible hose snaps into the motor housing and can be wrapped around for storage.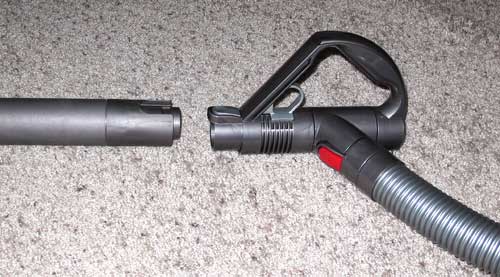 The handle has a swivel grip and an easy snap connector to attach the rigid extension tube or tools.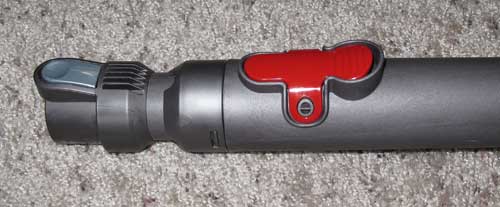 The extension tube can be adjusted by sliding it in and out of one end. Here it is fully collapsed…

and fully extended.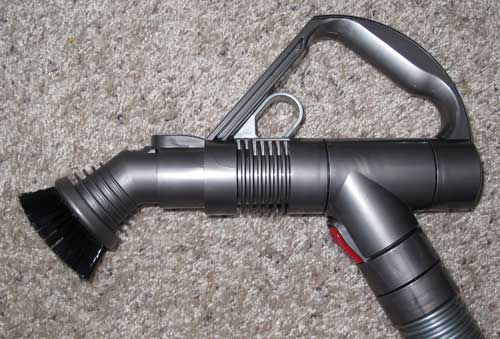 Here is the handle with the brush attachment tool.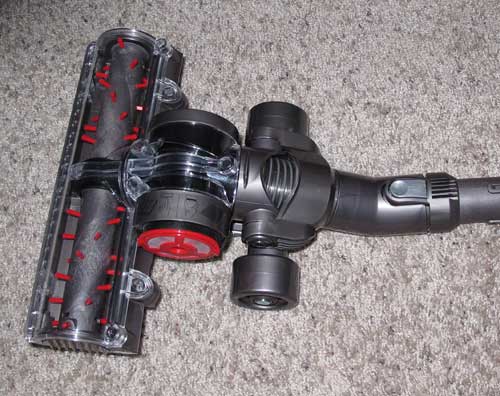 And here we see the carpet cleaning tool. The clear cover is a nice touch as allows you to see if you have anything wrapped around the bar.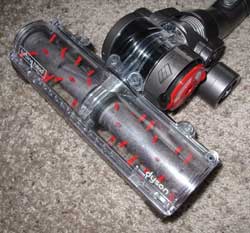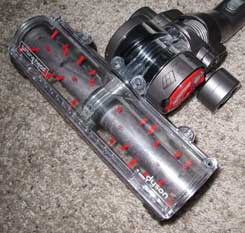 To convert the carpet cleaning tool from carpet to a hard surface such as wood or vinyl floors, you either pull out or push in the Red cap near the wheels of the tool.
Sweeping floors with the DC23 felt a little awkward when I first started testing this vacuum. I've been so accustomed to pushing a heavy upright that the Dyson felt entirely too light weight for me. It didn't take too long to get used to the weight though and now I enjoy that feature more than I thought I would. The only minor annoyance is having to pull the canister along behind me as I sweep a long hallway.
I tested the vacuum by sweeping several rooms of low pile carpet, kitchen and bathrooms with vinyl floors and my computer room that has wood floors. Switching between hard surfaces and carpet could be easier in my opinion. I don't like having to stoop down to the level of the carpet brush bar to push in or pull out the Red cap. It would be nice if there was a switch I could press on the motor housing with my foot.
Sweeping carpets is easy with the swivel carpet bar attachment as it can extend 3 feet or so under beds or tables.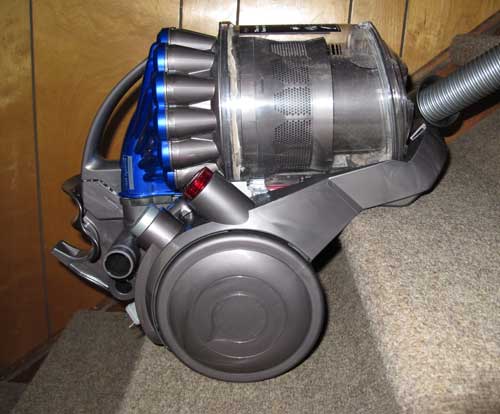 One area that the Dyson DC23 excels over almost any upright vacuum is that it can sit on a set of stairs while you're cleaning them. I have two staircase in my house and cleaning them is a real #@%*. The DC23's wheels sit on one stair, while the front part of the housing rests on the next higher stair. Too bad it can't step up to the next stair when needed…
Swapping the hand tools in and out is pretty easy and they work well with the swivel handle.
Suction through the carpet bar or hand tools was noticeably better than all my other vacuums minus my garage shop vac. The Dyson is considerably quieter than the shop vac too. It's actually quieter than the Kirby and other vacuums that I have.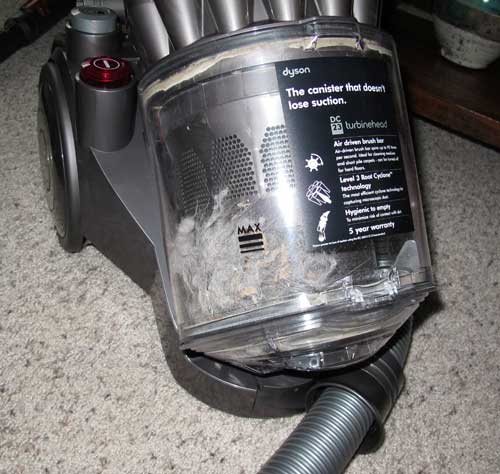 I really love that you can see all the gunk that you've swept up. It's funny that there's a level marking on the side of the dirt canister labeled Max, because that's exactly what I sweep up in my house… my cat Max's hair 🙂 The DC23 does an excellent job picking up his hair. Way better than the Kirby.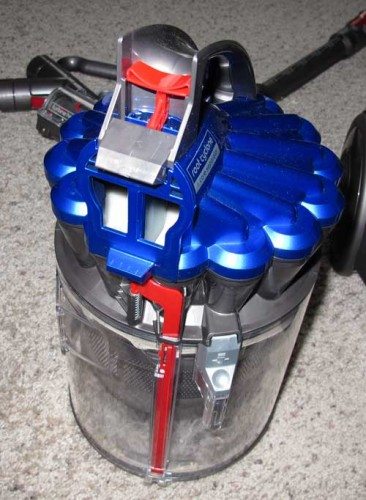 To empty the dirt, you just pull out the canister, hold it over a trash can and press the Red level on top. When you do, the bottom releases and the dirt falls into the trash. Your hands never come in contact with it.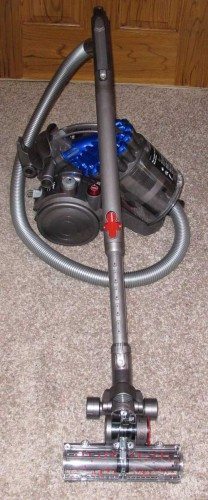 I wasn't sure what to expect with the Dyson DC23 Turbinehead canister vacuum and was a little worried about how to review it. I mean other than sweeping my floors and seeing the dirt in the canister, what else could I do? After a day or so of adjustment, I have really grown to like this vacuum quite a bit. I can tell that it does a better job than my other vacuums. I feel like it takes me less time to sweep with the DC23 than it does with my Kirby, because I don't have to go over the same area more than once to pick up dirt. Yes, this vacuum is expensive. And for the price, it doesn't have the capability to shampoo carpets like my Kirby. But I just love the suction and the fact that I never have to buy bags or filters for it. The DC23 is one of those products where you get what you pay for.
Product Information
Price:
$399.99
Manufacturer:
Dyson
Pros:

No bags
Easy canister cleaning
Great suction
Sits on stairs

Cons:

Needs to be more compact for storage