We use affiliate links. If you buy something through the links on this page, we may earn a commission at no cost to you. Learn more.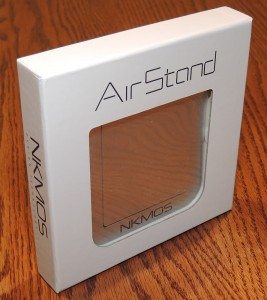 Over the past few years, NKMOS Design Technology has created several versions of their premium smart-device car mounts: the Ultima and Ultima S, both of which began as crowdfunded Kickstarter efforts. Late last year (2014) they began a new Kickstarter project attempting to raise funding for a high end universal tablet stand. The AirStand is now available on NKMOS's main webpage with Nik sending me one to checkout/review. 
Note: Images can be clicked to view a larger size.
According to NKMOS, the AirStand is a 'premium ultra minimalistic, full 360 angle adjustable, universal tablet stand.' It is made from high grade CNC machined aluminum, engineered to support any tablet at nearly any angle. That said, the AirStand is designed to support your tablet on a solid, flat surface like a table or counter (vs your lap).

When not in use, the AirStand folds down relatively flat. It is similar in shape to the MacBook Air, thickest at its hinge tapering down to its leading edge.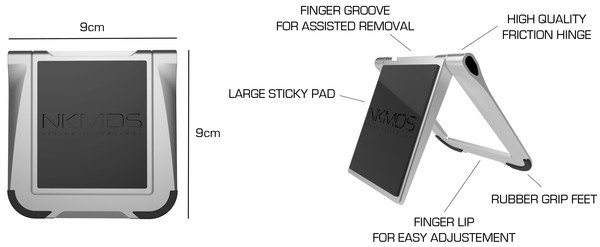 When laying flat, the AirStand is square in shape measuring 9cm on each side. The center piece folds back to create a tent like shape and has a large sticky pad adhered to it.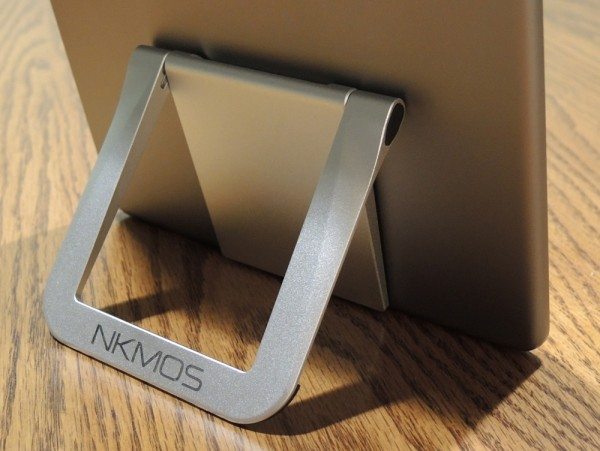 The sticky pad is meant to hold your tablet securely to the AirStand while the friction hinge does a good job of staying at the angle you set it at.

Even set at this lower angle, the AirStand is rock solid, not only from an angle stand point but the rubber 'grip feet' keep it from moving around the surface it is sitting on.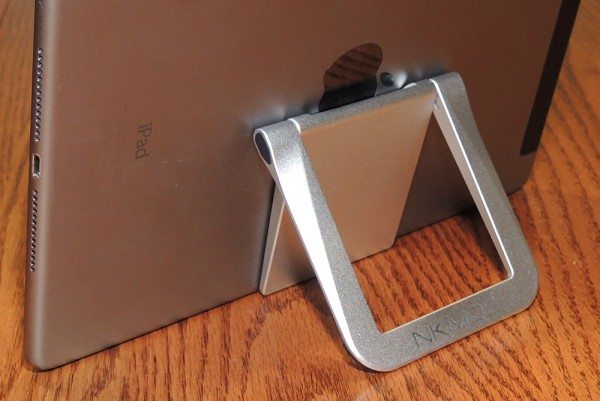 The main surface of the AirStand is VERY sticky and takes a good amount of effort to remove it from the back of the iPad. I see that adhesion strength lessening with time as it wears in. There is a built in 'finger groove' at the top of the stand to help remove the stand from your tablet. It leaves zero sticky residue behind and is also re-useable/resettable. To clean the pad you simply rinse under warm water and let dry.

Even though it is 'Ultra Minimalistic', I do not see myself transporting my tablet with the AirStand stuck to its back. That means the need to cover the sticky pad/main face with a sheet of plastic to keep dust and gunk from building up, reducing its adhesion strength. It is not a huge deal, as it is easy to clean, but it is a shame NKMOS does not include a case or cover to protect the sticky pad surface.

The AirStand is available in black, silver and gold.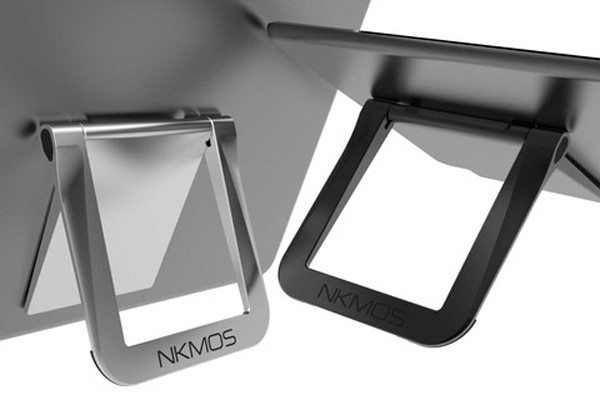 The NKMOS AirStand is a very nicely made and well thought out tablet accessory. Its premium design and construction makes for an excellent iPad (or any tablet) companion. The AirStand's minimalistic footprint is ideal for travel and portability while not sacrificing stability or solid/firm hold on your smart-device. Though no matter how high end, considering what a simple accessory the AirStand is…at $99, it does come with a premium price as well.
Source: The sample for this review was provided by NKMOS. Please visit their site for more info.

Product Information
Price:
89.95 AUD
Manufacturer:
NKMOS
Pros:

Excellent build quality
Premium materials
Minimalistic design
Solid hold on smart-device

Cons: