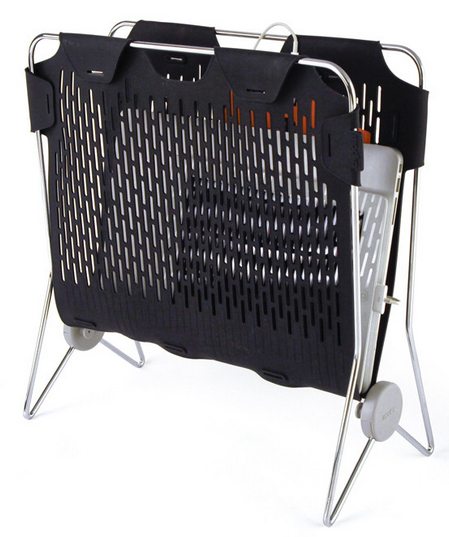 If you're reading this post, you probably share a common problem that all gadget packrats share. We have lots of devices but no good way to store them while they are not being used. I keep my older MacBook Air on the end table next to my side of our double Lazy Boy couch, Jeanne keeps her MacBook Pro on the floor. On the upstairs coffee table, Jeanne has her iPad and I have my Samsung Galaxy S Tab 10.5 tablet. There's nothing wrong with this, but it does look cluttered. One possible solution is the Tuck Device Rack from Modko. It's a V-shaped rack that reminds me of the magazine racks I used to see when I was a kid. The Tuck a modern take on those classic holders. It comes in three colors (white, grey and black) and features a chrome frame attached to a rubber sling that has been designed to hold laptops up to 15 inches and tablets of any size. There is also a smaller rubber pocket that can hold your smartphones, remote controls and more. The main sling is perforated for air circulation and allows the ability to slip charging cables through the slots to plug into your gadgets. Special buttons on the bottom of the frame enable you to wrap excess cord length to keep things tidy and safe. The Tuck Device Rack is priced at $120. For more info visit modko.com.
Support The Gadgeteer
:
We may earn a small affiliate commission from purchases made from buying through links on our site. As an Amazon Associate I earn from qualifying purchases. Learn more.