We use affiliate links. If you buy something through the links on this page, we may earn a commission at no cost to you. Learn more.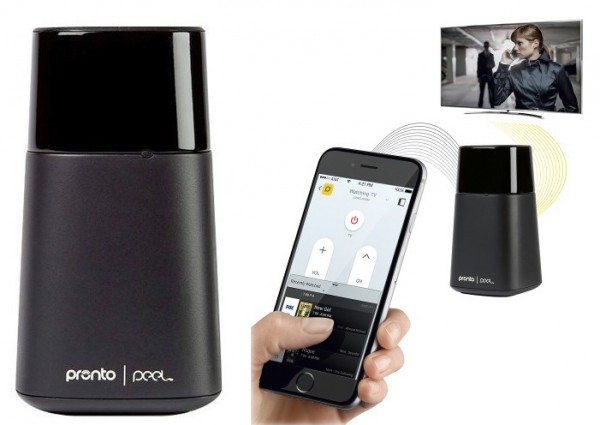 With a home theater, you can find yourself swimming in what seems like dozens of remotes.  They are a pain to keep up with, especially when you know you can control everything with a single remote, but those universal remotes can cost a small fortune.  The Pronto Smart Remote can control all your equipment without breaking the bank.  The Pronto is a small, battery-powered cone that sits between you (and your iPhone, iPod touch, or iPad) and your home theater equipment.  Pronto pairs with your iOS device via Bluetooth, and it converts the commands it receives from an app on the iOS device to multidirectional infrared signals that will control your A/V devices.  (It controls most TVs, set-top boxes, satellite boxes, streaming media, DVD and Blu-ray players, A/V receivers, and air conditioners.)  You'll need to download the Peel app to your iOS device and use it to select and set up your specific devices.  You can create configurations for different rooms throughout your home; you can control up to 8 devices per room for over 50 devices in total.
The Pronto is normally $59.99 at Best Buy, but it's on sale now for $49.99.  You can find Pronto at other retailers, as well.