We use affiliate links. If you buy something through the links on this page, we may earn a commission at no cost to you. Learn more.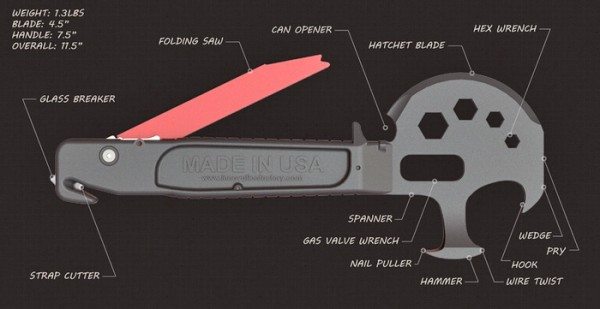 The Lil Trucker is a current Kickstarter project.  This multi-tool is designed by firefighters and built in the US.  You can see from the image that it packs a lot of functionality in a small space.  It has rescue tools – a belt cutter and a window breaker – to get you out of a wrecked car, so you'll want to keep one in your glove compartment.  It has a variety of tools that would be helpful for camping – like the hatchet, saw blade, and the can opener.  Other tools help you with repairs – hex wrenches, spanner, wire twist, hammer, etc.  In other words, you may want to just carry it in your pocket so you'll have it handy no matter why you need it.
The funding period for the Lil Trucker ends Friday, June 5, 2015 at 5:09 AM EDT, so you have plenty of time to pledge for one of your own.  The funding goal has been more than met, and all the early-bird specials are already claimed.  You can get a Lil Trucker for a $69.00 pledge.  Shipping is expected in September 2015.
Oh, and they have a cute little zombie movie to show you all the uses of the Lil Trucker.  Perhaps they should have called it the Little Daryl Dixon…