We use affiliate links. If you buy something through the links on this page, we may earn a commission at no cost to you. Learn more.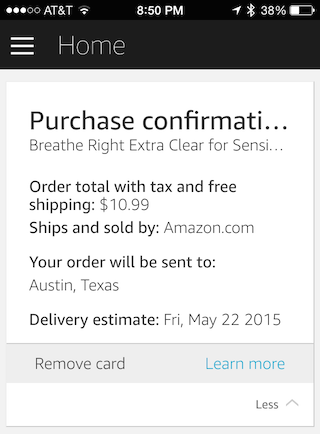 After we had our Amazon Echo for a little while, my partner decided that in addition to being able to add items to our shopping list using the Echo, it would be nice to tell the device to order them. "Just wait," I said. "Amazon is in the business of selling things. Sooner or later, something like that will come along." And it did.
You can now reorder any previously purchased Prime products using your voice. Just say "Alexa, re-order laundry detergent," and the Echo will search your order history and order the item for you. It will use your default payment and shipping settings to complete the order.
If the Echo can't find your requested item in your order history, it will either suggest an item using the Amazon's Choice program or add the item to your Shopping List. If you accidentally order something or don't want the substitute, you can use the Amazon Echo App to cancel the order.
You can turn this feature on and set an optional confirmation code in the Amazon Echo App.
For more information, visit the Amazon Echo website.