We use affiliate links. If you buy something through the links on this page, we may earn a commission at no cost to you. Learn more.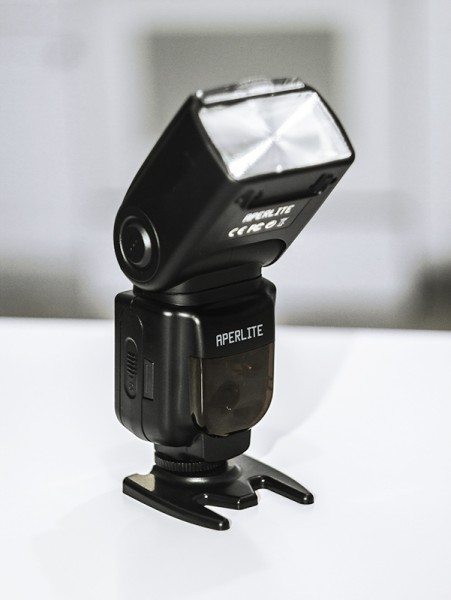 Typically I like to shoot pictures with natural ambient light since the shadows and lighting are what catch my eye anyway. But there are times when I need to control the light or open up some shadows therefore, using a flash or speedlight is needed. So whether you are a professional or amateur photographer, chances are that one of the main tools in your toolkit of camera accessories is a flash. And having a flash with a few bells and whistles can help you in your creative process for your final image.
The Aperlite YH-700C is for Canon cameras and there is also a YH-700N model for you Nikon users. Naturally, I am reviewing the 700C for my Canon DSLR camera so those of you who are familiar with Canon speedlights  I would compare this flash to the Canon 580ii in size and specs from what I have read. I don't use the 580ii, instead I use the Canon 430ii, which is smaller is in size. Plus I also own a Yongnuo 560EX Flash Speedlight.
I will try to write this review based on my experiences with the Aperlite YH-700C since the specs are basically straight forward and found anywhere online. And with that said here is a quick highlight list of product features:
Compatible with Canon DSLR cameras such as the EOS 1D X, EOS 5D Mark III, EOS 5D Mark II, EOS 6D, EOS 7D Mark II, 7D, 70D, 60D, EOS T5i, EOS T3i, EOS T2i.
It can can serve as a master or slave unit in wireless TTL mode and S1 & S2 modes.
It is automatically compatible with the E-TTL II, E-TTL and TTL flash modes.
It has maximum guide number of 58 at ISO 100 and it  has 8 levels of output control & 28 levels of fine tuning.
It has 3 wireless Slave Groups and 4 Wireless Channels.
And it supports auto focus function, auto and manual zooming,  exposure bracketing, AE lock, exposure compensation, high-speed sync with a maximum speed of 1/8000.
Keep in mind that the manual also lists and describes all the features for the YH-700C.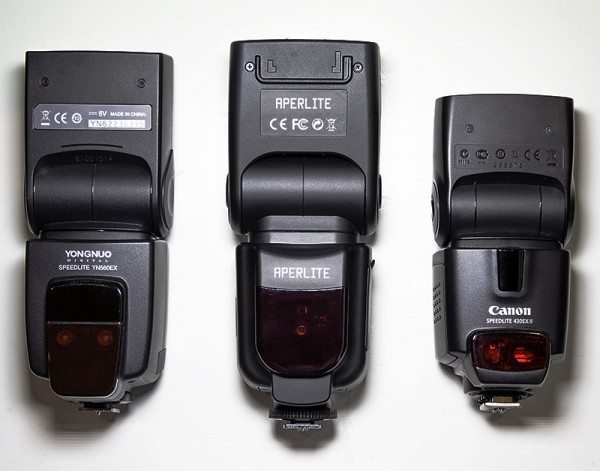 On my personal experience with this flash it is much bigger than the Canon 430EXii that I am used to. Although, it is  bigger than the 430EXii I noticed that the weight of the Aperlite was about the same, roughly about a pound. It wasn't anything scientific, just by holding each flash in one hand. I was expecting the Aperlite to be heavier considering the size being larger than the Canon but the two flashes felt identical in weight. I also "hand weighed" them without any batteries installed in either flash. One main reason I like the Canon 430EXii is for the more compact size, for example, when I am in crowded events and I have my camera hanging by my side where people can knock into you, or you could knock over a drink or your camera can poke someone on in an awkward place. With the Aperlite attached to my camera, it is a bigger flash than I am used to but it keeps me more aware of my surroundings which is a good thing.
The performance from this flash was very responsive and I never had any misfires or issues with the Aperlite. I especially  like the recycle time on it too. The Aperlite states that it has a recycle time of up to 3 seconds and I found myself firing my camera in around a second with the Aperlite keeping up with the flashing.  I also attached the Aperlite to my Yongnuo YN-622C Flash Trigger and the flash fired with no delay. I had no issues either with controlling the Aperlite through the Canon camera. The Aperlite responded well when I made changes in the External Flash Function Menu. The Yongnuo 622C and the Aperlite  appear to play well together.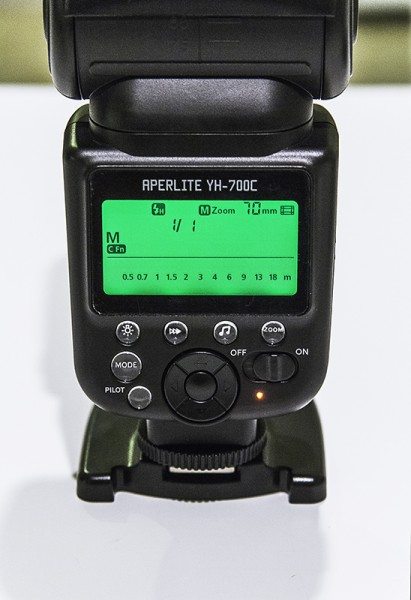 The LCD screen on the back is big and allows you to read the display easily. There is the standard illumination button for those times you need to see the LCD display in low light or in dark environments. Keep in mind that the illumination button doubles as the Custom Functions (C.Fn) button as well. There is a list of all the custom features in order on page 21 of the manual.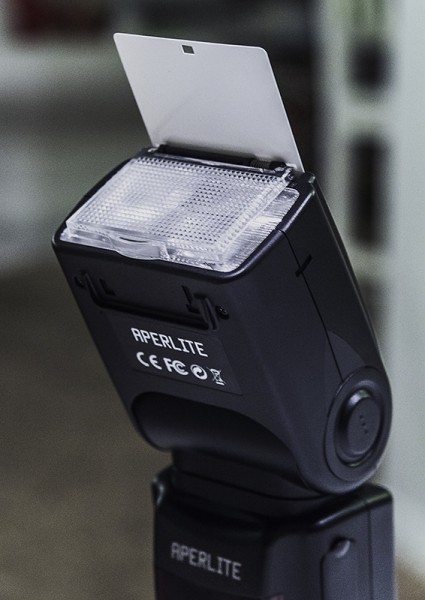 The YH-700C comes with a bounce card or catchlight card that you pull out from the top of the flash head to get help that glint in someone's eye. That Bounce card is pretty useful when doing portraits. One thing that did bother me a little was that the Bounce card didn't always extract out with the diffuser. Numerous times I would have to use my finger nail to help lead the Bounce card out far enough so I could pinch it with my finger tips and then finally extend the Bounce card out. It seems like the Bounce card has a small opening that is supposed to latch onto a raised nib on the diffuser when pulled out. But most times the opening doesn't latch on to the nib so the Bounce card ends up being tucked away in the flash head. That's not a deal breaker for me, and besides the Canon 430EX ii doesn't have a Bounce card so it is nice to have a flash with one even it I have to use my fingertips to remove the Bounce card.
THe YH-700C has an IR Assist beam which is nice and bright and allowed my camera to make decent focusing in low light. I am a big fan of the IR Assist beam and because my Yongnuo 560EX isn't equipped with one I would have to attach the Yongnuo 622C remote trigger to my camera, since it has a built-in IR Assist, and then attach the Yongnuo 560E on top of that. This made the camera top-heavy and just plain cumbersome. It was awkward when I carried it with just one hand but mainly it just put extra weight on the camera causing my shoulder to get fatigued. On a side note, the Canon 430 EX ii has IR Assist.
The top portion of the flash can swivel from 0° to 270° and has a tilt range of -7° to 90°. One thing to note about the Aperlite is that, unlike the Canon 430EX ii, the APerlite's flash head does not have the button release on the side to lock the flash head and prevent it from moving around. However,  the flash head on the Aperlite does a good job of staying locked into position. Unless you have some extra weight on the flash head to force it to tilt down, the flash head is fine without the lock button. Each time I adjusted the flash head position, it felt solid and secure.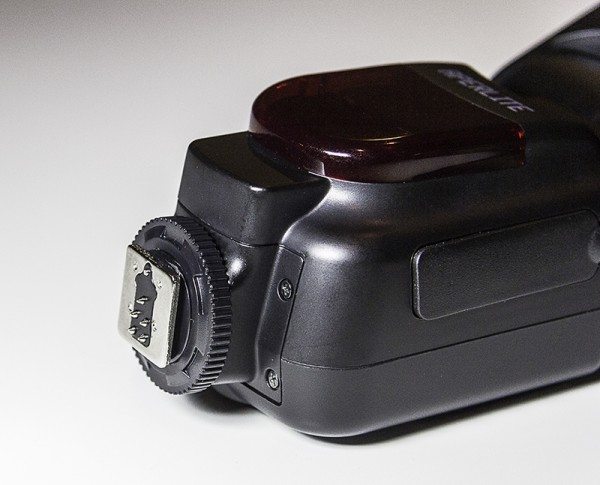 Speaking of locks, the Aperlite has a locking ring on the base where it attaches to the camera's hotshoe. I would have preferred a quick lock like the ones on Canon's speedlights. It really isn't a big deal it is just more convenient with a quick lock then to spend the time spin Aperlite's locking ring to secure it to my camera. I have had close calls when it comes to the generic locking rings. Let's just say I had a flash or two wiggle its way out of my camera's hot shoe just from the time spent using and moving the camera on a shoot or because it wasn't secured enough or I didn't tighten the locking ring enough. Plus, if you have ever over-tightened a locking ring, trying to unscrew it with your fingers is a royal pain especially when you have to squeeze your fingers between the small space of the flash's base and the camera's hotshoe. Having a quick lock makes it so much more convenient.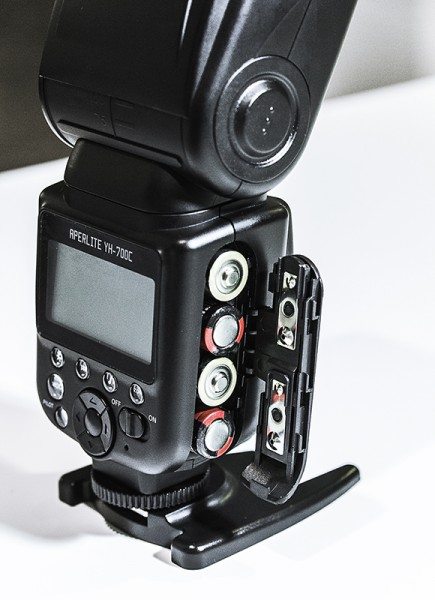 The Aperlite YH-700c uses 4 standard AA batteries which is what most camera flashes use so nothing surprising there. Battery life is said to be between 100 and 1500 flashes and will depend on the certain variables like the  amount of flash power used, or whether high-speed sync(HSS) or Multi (Stroboscopic) is used also.
On the other side of the flash there is also a PC Sync Port and a port for an external battery pack.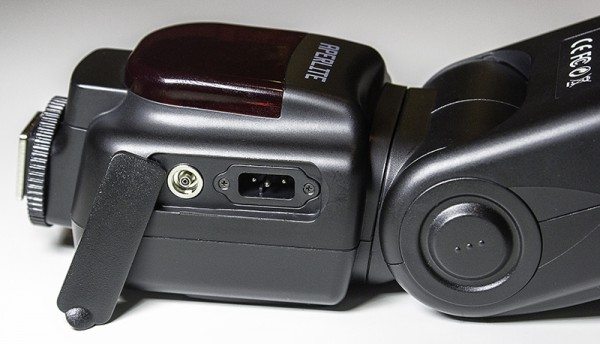 Along with the nice packaging box that it came in, (let me tell you that the box felt like it was made from a strong high quality crush-resistant cardboard) the Aperlite comes with a soft bag and a stand that attaches to the flash so that it can stand upright on its own. I wasn't too thrilled about the bag. I would rather have had the typical case that most flashes come in. There is no place to store the stand. The cases usually have a pocket that you can tuck the stand inside of. With the bag, you just have to throw the stand in with the bag which can scratch the LCD or the flash itself. Or you just have to store the stand somewhere else which increases the odds or you losing it.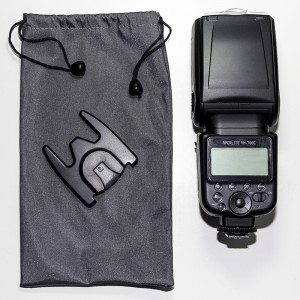 And speaking of a stand, I was however, glad to see that the 1/4″ inch thread under the stand was metal and not plastic. I have had too many plastic threads get worn down or stripped over time and having a metal thread helps alleviate that problem.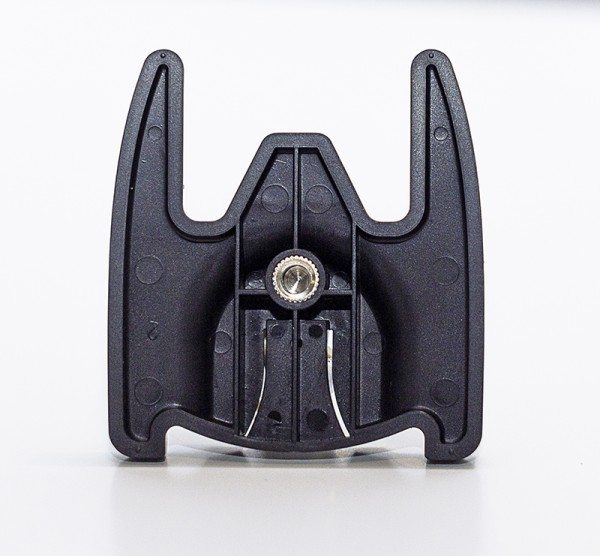 Aside from a few personal preferences, the Aperlite YH-700C is definitely a flash that I will be using in my arsenal of camera gear and equipment. It has much to be desired and plenty of features I use and will use later on. Did I mention that the build and construction of this flash feels solid overall? It may be constructed from plastic but it doesn't feel cheap or flimsy at all. For its price point it compares in features to higher priced flashes, speedlights, flash guns or whatever you choose to call them.

Here are a couple of images of my 9 year old's first clay project of a fish I shot with my Canon in low light.  I used an ISO of 1000 and an aperture of f/4 for both pictures. I used ETTL on the Aperlite and it  gave me a pretty balanced image using the flash.
Source: The sample for this review was provided by AVANTEK. Please visit their site for more info or Amazon.

Product Information
Price:
£54.99 (~ $86)
Manufacturer:
Aperlite
Retailer:
Amazon
Pros:

High Speed Sync
Has built-in bounce card.
Fast recycle time.
Works well with wireless triggers.
Auto focus functions.
Auto and manual zoom.
Works as master and slave flash.

Cons:

Hard time removing bounce card.
No soft case.
Standard locking ring.