We use affiliate links. If you buy something through the links on this page, we may earn a commission at no cost to you. Learn more.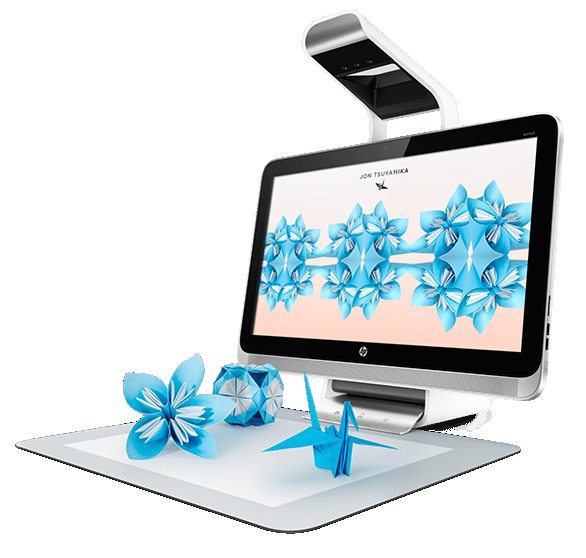 The HP Sprout is an all-in-one desktop computer with the power to set your mind and hands free to design.  The Sprout runs Windows 8.1 on a machine with a 4th generation Intel® Core™ i7-4790S processor, 8 GB DDR3-1600 memory (expandable to 16 GB), NVIDIA™ GeForce GT 745A graphics with 2GB DDR3 dedicated memory, and a 1TB SATA solid state hybrid drive with 8GB flash acceleration cache that offers SSD-like speed and HDD capacity – all these are components necessary for a powerful designer's tool.  The Sprout comes with a wireless keyboard and optical mouse for data input, but you don't create and refine a design with a keyboard.  You need to draw, you need to use your hands to design, and you need a combination of 3D models and digital representations of those models as you work.  You often also need the ability to work with others as you create the design and take it from concept to reality. 
Sprout has a 23″ (diagonal), 10-point touch-enabled, full HD (1920 X 1080) touchscreen display that lets you get your hands involved in the design process, but that's only the beginning.  It also incorporates the HP Illuminator and a touch mat that snaps into the all-in-one's base that really sets the design process free.  The HP Illuminator is powered by the HP DLP Projector, the 14.6MP HP High-Resolution Camera, and the Intel® RealSense™ 3D Camera.  Combined with the 20″, 20-point HP Touch Mat, you'll be able to scan in a 2D or 3D object, and modify and refine the design in a digital format that's projected onto the same Touch Mat that now serves as your graphics workspace.  And the HP Illuminator also serves as your desk lamp, if all those other capabilities aren't enough for you.
The Sprout makes collaboration easy two ways.  The Touch Mat is designed for four hands to work simultaneously, so you can work with a partner. No longer do you have to make a change to a 3D model or a set of digital data, ship it off to someone, and wait for them to contact you with questions or suggestions.  Using the integrated HP high-definition 1MP webcam, you can conference with a design partner and share the HP Workspace, so you can each make and see changes as you work simultaneously.
Sprout is not just for business and industrial uses, though.  Other apps are designed for home use.  The Martha Stewart CraftStudio lets you create and print personalized stationery, cards, and scrapbook pages.  PowerDirector edits your home movies; Crayola Color Draw & Sing lets your kids play and learn.  You can play a virtual piano with the Pianotime app, and there's even an Origami Apprentice app that teaches you origami by projecting instructions on the Touch Mat and providing verbal instructions.  The Bills & Coins app identifies currency and teaches you about the history and construction of the currency and the country that uses it.
The HP Sprout is $1899.00.  Set up a demo at your local HP store to learn how Sprout can set your creative abilities free at work and at home.