We use affiliate links. If you buy something through the links on this page, we may earn a commission at no cost to you. Learn more.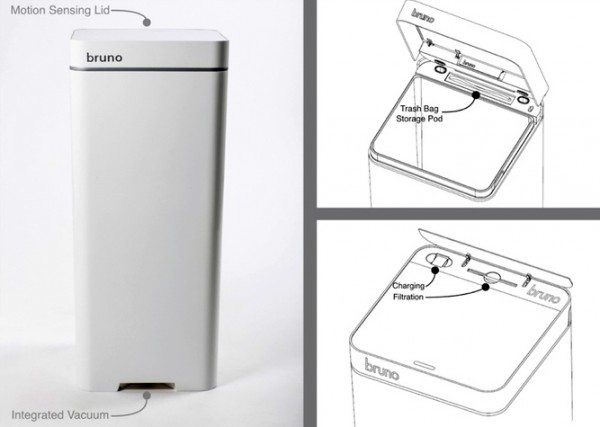 A while back, I told you about the Eye Vac that lets you throw away your dust pan because it could suck up all the sweepings using a vacuum port in its base.  The Bruno Smartcan includes a vacuum at the bottom to suck up all your sweepings, and it also serves as your 13-gallon garbage can – and more!  The Kickstarter project describes Bruno's capabilities:
Integrated Vacuum Feature allows you to sweep directly into the base of Bruno and the sweepings are deposited directly into the trash bag.
Trash Bag Storage Pod eliminates finger pointing because someone forgot to replace the trash bag. Trash bags are stored right where you want them, when you need them, within reach. Bruno also accepts standard 13 gallon kitchen trash bags.
Low Bag Alert will notify you via the Bruno app so you can order custom fitted Bruno bags, delivered directly to your home for the same price as the grocery store!
Trash Day Pick Up Reminder can be set to alert your husband, child, roommate or whomever you would like to take the trash out on trash day… so you won't have to.
Motion Sensing Lid can be opened hands free – perfect for when yours aren't. Simply wave your hands across the top to open the stainless lid.
Built in Charging and Filtration System. A small flip of a secondary lid gives you access to the built-in charging and filtration area. Bruno's powerful 18-volt battery will last a full 30 days on a single charge.
The storage pod feature and the low-bag alert work only when you are using the special, custom-fitted Bruno bags, but you can also use standard 13-gal trash bags.
Bruno's funding period continues until Thursday, June 4, 2015 at 8:38 AM EDT.  The funding goal has almost been reached now, with 33 days left to go.  A minimum early-bird pledge of $149 gets you a Bruno in your choice of white, slate gray, harbor blue, urban red, or stainless ($50 extra for stainless) and a 3-month supply of the custom-fitted bags. The pledge will increase to $159 when the last of the early-bird pledges have been claimed.  Read more about the Bruno Smartcan at Kickstarter.