We use affiliate links. If you buy something through the links on this page, we may earn a commission at no cost to you. Learn more.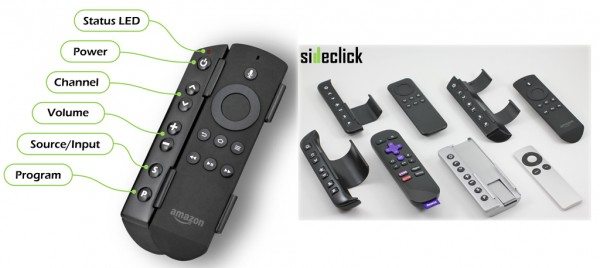 The TV in my bedroom has what has to be the worst remote ever created.  It seems to be underpowered, and there's an opaque cover over the wimpy IR sender that means it sometimes takes what seems like a dozen tries to get the TV to simply turn on or off.  I need to get a universal remote for that TV, and the Sideclick seems like what I actually need.  I have an Apple TV connected to that set, but there's no cable box or anything else connected to it other than a coax cable for the cablevision service.  The Sideclick remote, now an active Kickstarter project, is a "side car", if you will, that holds the remote for your Apple TV, Roku, Amazon Fire TV, or Amazon Fire TV Stick and adds rudimentary controls for your TV.  If you need to access the TV's setup or menus, you'll need to use its own remote, but the Sideclick lets you turn the TV on and control a few other functions.  The keys on the Sideclick are marked channel up/down, sound up/down, and source.  Since you have to program the functions using the TV's original remote, you can actually program them for your favorite functions, even assign the volume buttons to control a soundbar.
Funding for the Sideclick continues until Thursday, May 21, 2015 at 8:34 PM EDT; pledges already have exceeded 50% of the goal.  A few early-bird pledges are still available; $25 gets you one Sideclick of your choice, with shipping expected in November 2015.