We use affiliate links. If you buy something through the links on this page, we may earn a commission at no cost to you. Learn more.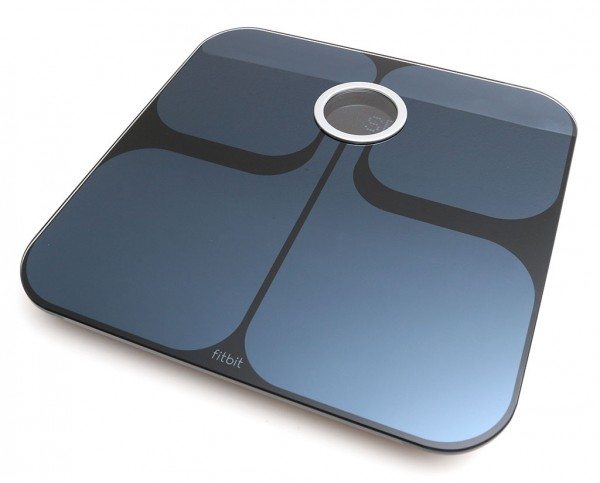 Whether you call it the IOT (Internet of Things), being plugged in, or something else, I really enjoy using connected devices. Some people will say, who needs a thermometer that saves your readings or a fitness tracker that tells you how many steps you've walked each day. I say why not! I don't have the world's best memory, so instead of writing down bits of data, I like it when the data is recorded for me automatically so I don't have to remember to write it down myself. I've been using a Withings wireless scale for over five years. But now that I'm wearing a Fitbit Charge HR activity tracker on my wrist every day, I wondered how well Fitbit's Aria Scale performs. Fitbit was kind enough to send one to me to try so let's take a look.
Note: Images can be clicked to view a larger size.
Hardware specs
Measurement range: 20-350 lbs
Size: 12.3 x 1.3 inches
Weight: 4 lbs, 4.3 oz.
Powered by 4 AA batteries (included)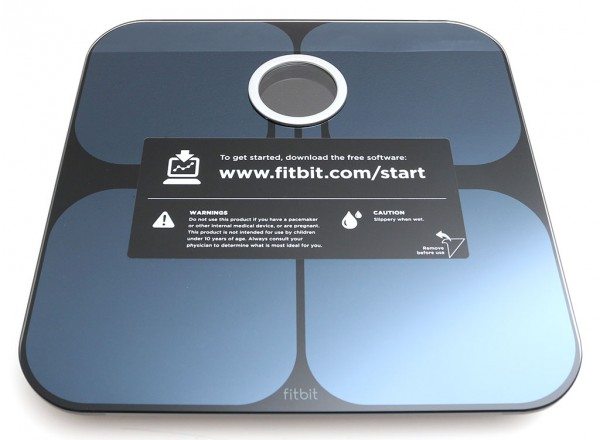 The Fitbit Aria WiFi Smart Scale is available in black or white. I was sent the black version which looks blue in these images. The top of the scale is made of tempered glass with a white on black backlit circular LCD display that shows weight and body fat percentage info.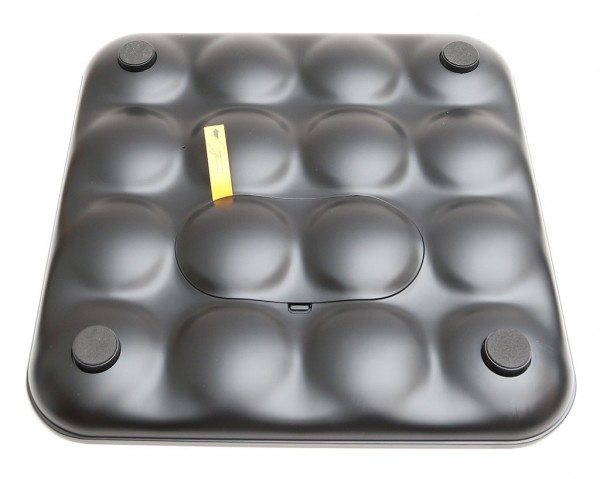 The bottom housing is made of black ABS plastic with rubber feet.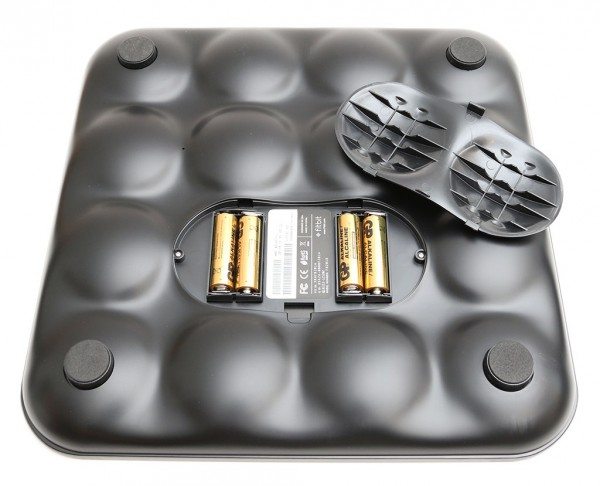 A battery compartment houses 4 AA batteries which power the scale. Thankfully, the batteries are included in the package. I couldn't find any info about how long a set of batteries will power the scale, but if it's similar to the Withings scale, I would guess close to a year.

The Fitbit Aria is pretty small, so it should fit in most bathrooms. That said, my bathroom is so tiny that I don't have floor space for it, so I ended up standing it up against the wall behind the door when it's not being used. I didn't think this would be an issue, but it ends up that it is… More about that later.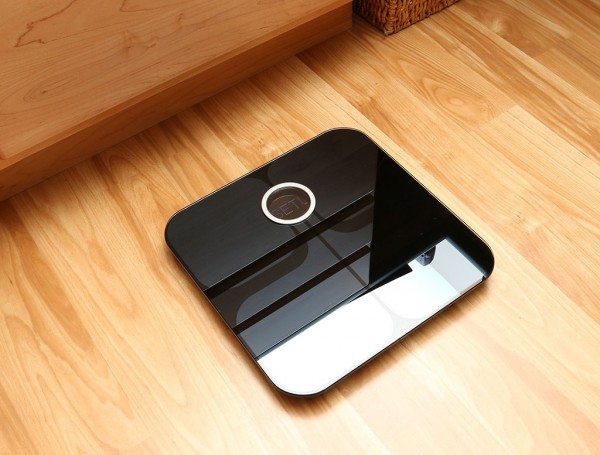 This scale has been designed to work best on hard flat surfaces. I did the bulk of my testing on my office laminate floor and my bathroom's vinyl floor. The Aria uses WiFi to transmit the readings, so it requires a quick setup which consists of logging into a special Fitbit page which leads you through the steps of connecting it to your home's wireless network. I had no problems setting up the scale to communicate with my WiFi router and have had no issues with it transmitting data.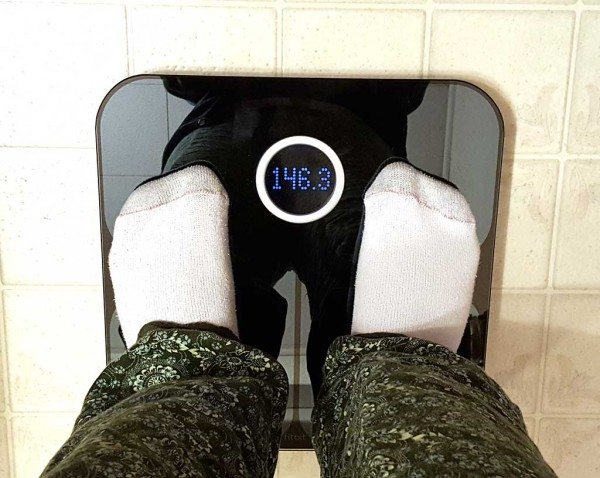 Each scale can recognizes up to eight different people which is nice if you have a large family. I tested it with just two people. If two people using the scale are similar in weight, the scale will ask you to verify the person by showing their initials. If the scale chooses incorrectly you can just tap the scale with your foot until the correct initials are displayed on the LCD screen.
Units can be set to pounds, kilograms, or stones. Since I'm in the US, I opted for pounds.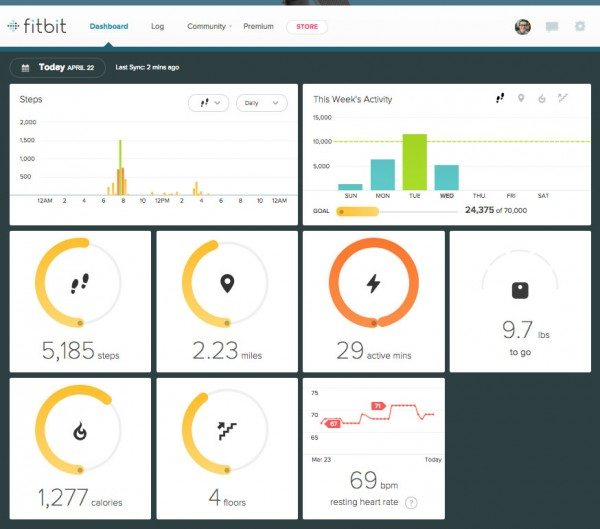 The Fitbit dashboard that is accessed through the web shows how many pounds you have left to lose or gain for your goals.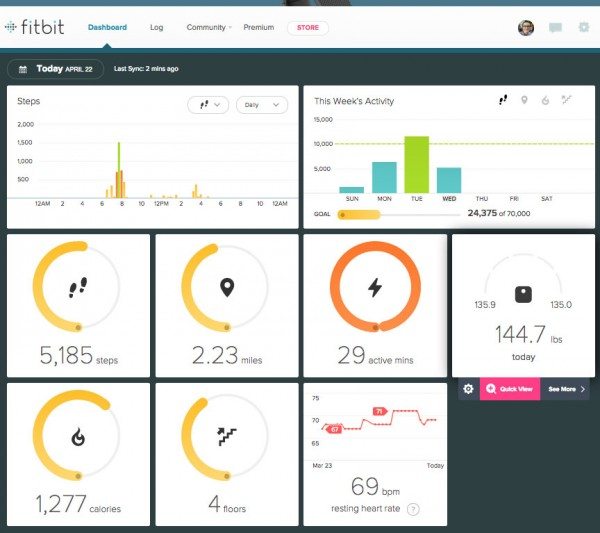 Hovering over the tile will show the last recorded weight.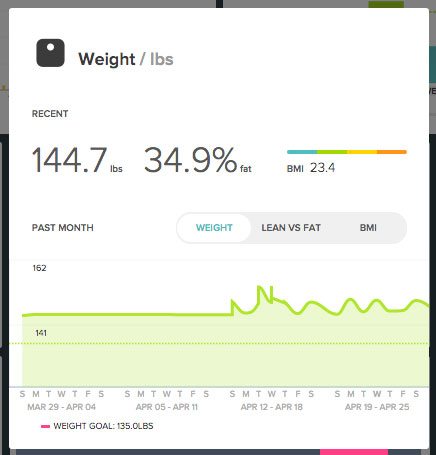 Clicking on the tile brings up a view that shows your recorded weights for the past four weeks as a graph.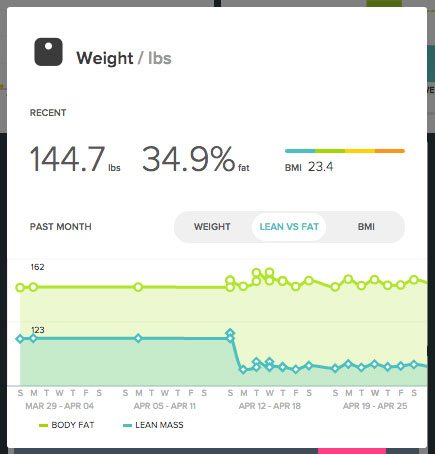 You can also see your fat percentage. Remember that to record fat percentage, you have to weigh barefooted.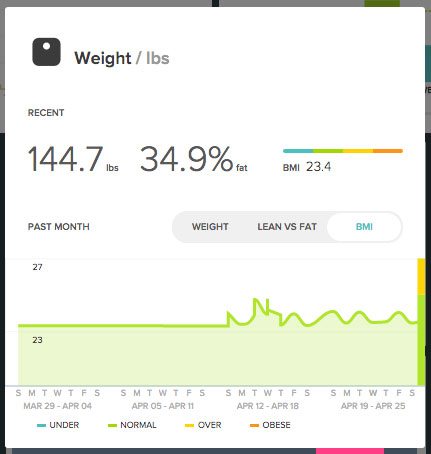 And BMI (body mass index) readings.
You might be wondering why my graph for weight is so erratic. That's because the Fitbit Aria has a weird issue. I thought the scale was defective.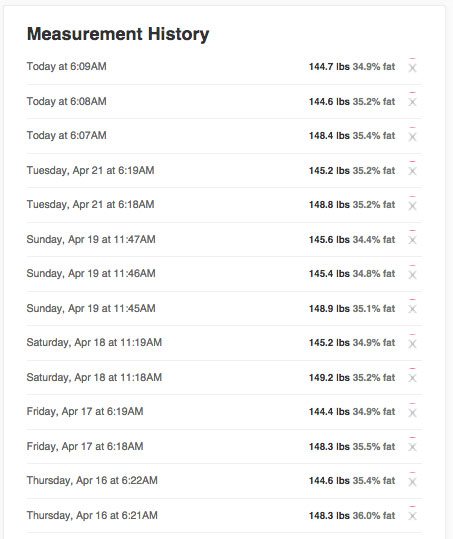 I placed the Withings scale side by side next to the Fitbit Aria each morning and weighed myself on both scales. Each time I'd start with the Fibit. It would always weigh me more than 3 lbs heavier than the Withings scale. I started wondering if maybe the Withings scale was not accurate. But noticed if I would get right back on the Fitbit scale a second time, the reading would then be the same or within a few tenths of a pound of the Withings reading. The image above is the Fitbit's readings and the image below is the Withings readings for the same time period.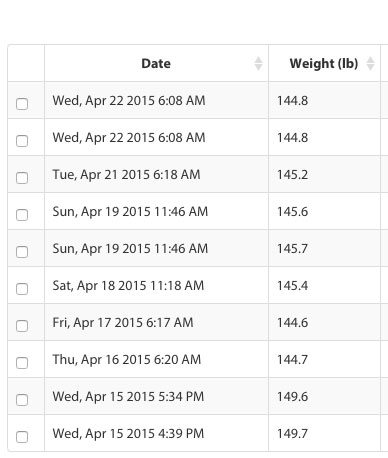 I got very frustrated with the Fitbit Aria scale until I figured out the issue but reading the scales FAQ on Fitbit's website. Apparently you are not supposed to store the scale vertically:
HOW SHOULD I STORE AND CLEAN MY ARIA?

The Aria should always be stored flat. When the scale is stored vertically, the Aria must recalibrate itself before you will see accurate results again. If the scale is moved or stored vertically, it may take from to five consecutive weigh-ins for this process to occur.
Ah ha! I'd never had this issue with my Withings scale so I just assumed it wouldn't be a problem with the way I stored it… wrong! As a result, the scale doesn't quite work out for me since I don't have the space to leave it flat all the time and don't really enjoy re-weighing multiple times each morning. The Fitbit Aria scale is well made and seems accurate as long as you keep it flat.
When it's all said and done, if floor space isn't an issue, I'd choose the Fitbit Aria over the Withings scale because it's $20 cheaper and the data integrates with the rest of my Fitbit data.
Source: The sample for this review was provided by Fitbit. Please visit their site for more info.
Product Information
Price:
$129.95
Manufacturer:
Fitbit
Pros:

Water resistant
Weight shows up in main Fitbit dashboard
Tracks fat % and BMI

Cons:

Requires multiple weighings to report correct weight if scale isn't stored flat