We use affiliate links. If you buy something through the links on this page, we may earn a commission at no cost to you. Learn more.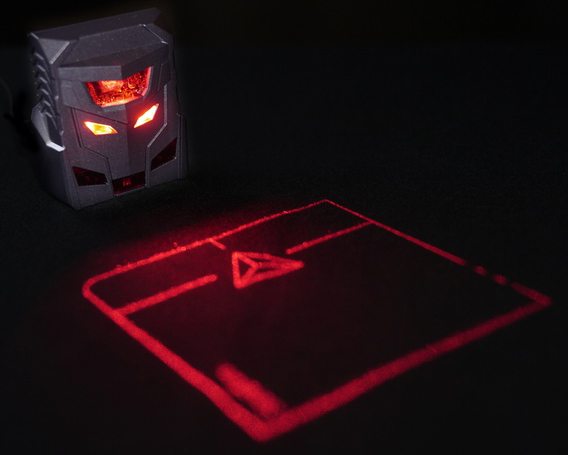 After I recovered from the cool factor, I've always wondered why people would want to use a projection keyboard with their tablet or smartphone.  Sure, the projected keyboard is likely bigger than the on-screen keyboard, but it still suffers from the same problems that the virtual keyboard does – flat, no tactile feedback to let you know if you fingers are in the right place, and no tactile feedback to let you know if you actually depressed a key.  I can see the benefit of a projection mouse, however, and the folks at Serafim have introduced the ODiN Aurora projection mouse, because they saw the benefit before some of the rest of us.  ODiN is a current Kickstarter campaign, but they have already exceeded their funding goal with more than 50 days left in the funding period.
ODiN's shape was inspired by the Norse god of war.  The laser projection mouse "detects reflections signals with infrared sensors instead of traditional cameras, so it can have a higher resolution".  The mouse is suitable for designers and video gamers as well as office workers.  It plugs into a USB port of your computer and replaces a traditional computer mouse; it's also small enough to easily replace your travel mouse.  You don't have to grip a physical mouse all day, just point and touch within the projected area.  These more natural hand movements reduce your risk for carpal tunnel problems.
There are still plenty of $49 early-bird pledges for a single ODiN mouse in your choice of metal green, bright silver, or charcoal black.  When those are gone, the minimum pledge increases to $56.  There are other pledge levels for multiple units.  Funding for the ODiN Aurora projection mouse continues until Friday, May 8, 2015 at 6:04 AM EDT.  Shipment is expect to begin in June 2015.