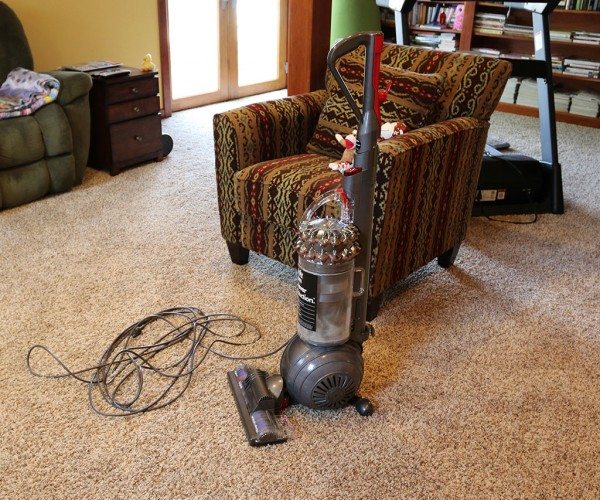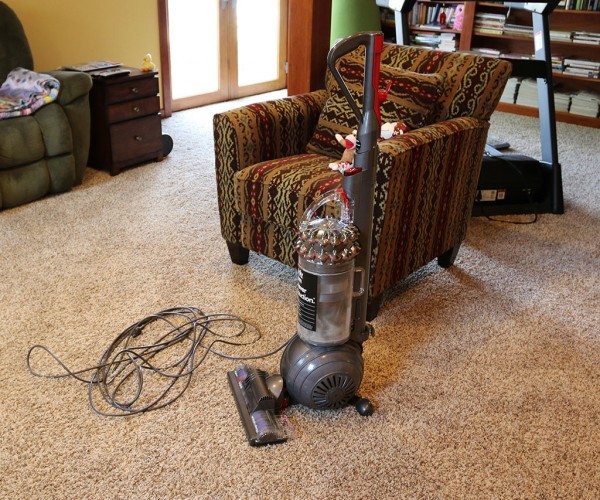 Dyson vacuum cleaners are extremely popular for their superior suction power and bagless design. Last year I reviewed the Dyson D65 Animal vacuum and was impressed by almost everything about it. Dyson's latest model is the Dyson Cinetic Big Ball Animal + Allergy vacuum which looks almost identical to the D65 but has a very important upgrade. It no longer uses a filter that you have to remember to clean or replace. Let's see if the new Dyson Cinetic Big Ball Animal + Allergy vacuum is worthy enough to clean your floors.
Note: Images can be clicked to view a larger size.
When Dyson approached me to ask if I would like to review this new vacuum I asked them if the removal of the filter was the only difference in the new model. Here's what they told me:
You're totally right, the vacuum is filterless. But the technology that makes that possible is brand new and unique to Dyson – the Dyson Cinetic Big Ball has 35 Dyson Cinetic™ tips arranged tightly into the cyclone pack. Smaller cyclones are more efficient, separating more fine dust; however, when you make cyclones smaller, you increase the chance of them blocking. Dyson engineers have engineered every one of the cyclones with an oscillating tip to combat this risk. As a result, these tips are always moving (up to 5,000x a second!), ensuring the dust is moved through the system and into the bin. This vibration ensures that dust separation is so efficient there's no need for a pre-motor filter, so there's no filter to clog, which causes other vacuums to lose suction.
With that out of the way, let's get started with the review!
Hardware specs
Suction power: 180 AW
Filter: No prefilter, non-washable lifetime postmotor filter
Cleaner head: Self-adjusting cleaner head
Stair cleaning: Quick-draw Telescope Reach™ wand
Bin volume: 0.57 gallons
Dimensions: 43.3 x 17.2 x 13.4 inches (H x W x D)
Maximum reach: 50 ft
Cord length: 35 ft
Weight: 19.8 lbs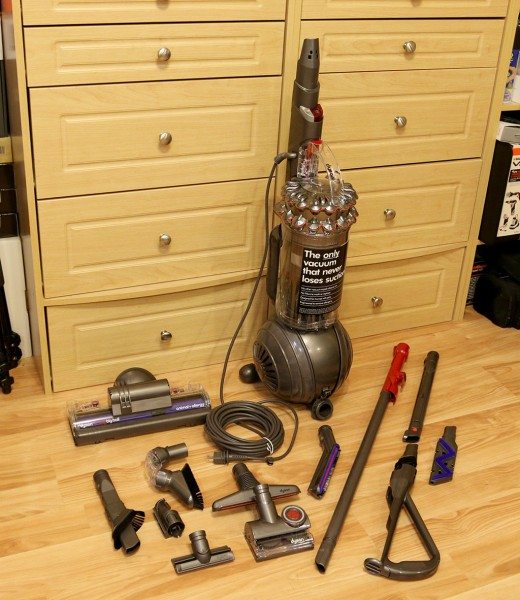 Package contents
Dyson Cinetic Big Ball Vacuum
Tangle-free Turbine tool
Carbon fiber soft dusting brush
Reach under tool
Multi-angle brush
Mattress tool
Combination tool
Quick start guide
Dyson tool bag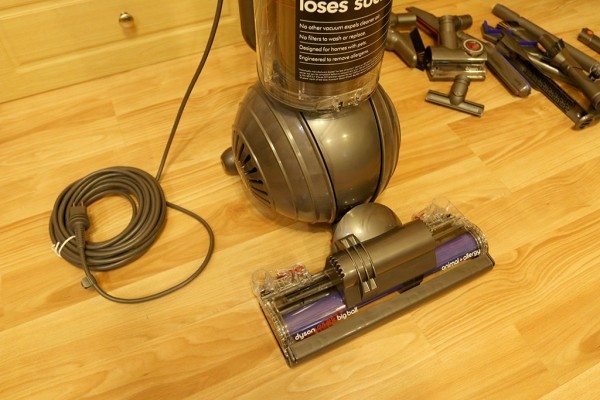 To use the vacuum, there is a minimal amount of assembly that is required. Don't get scared, it's easy takes less than a minute. The first step is to attach the cleaner head. It snaps in place in front of the ball at the bottom of the vacuum.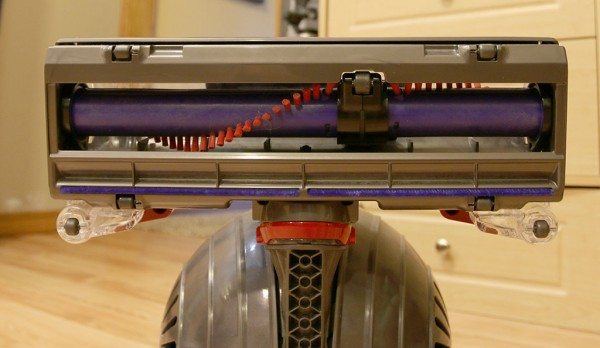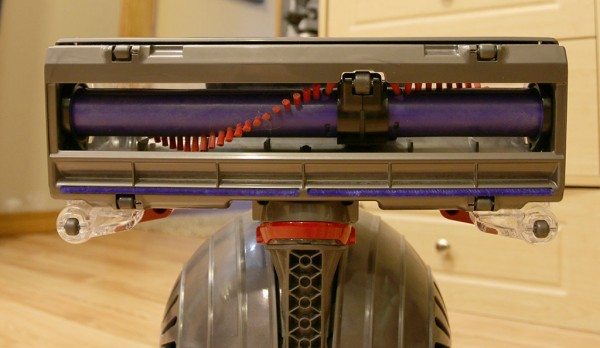 The cleaner head is self-adjusting, so it can be used on any floor type from carpet to tile or wood. The top of the head is made of clear plastic so that it's always easy to see if there are any obstructions or material caught in the brush.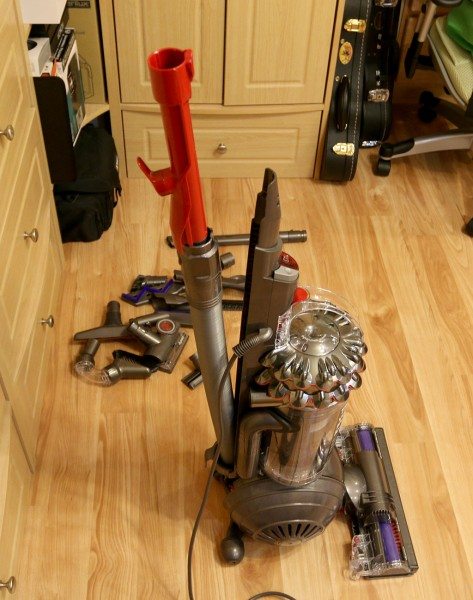 The next step is to slide the Telescope Reach wand into the flexible hose.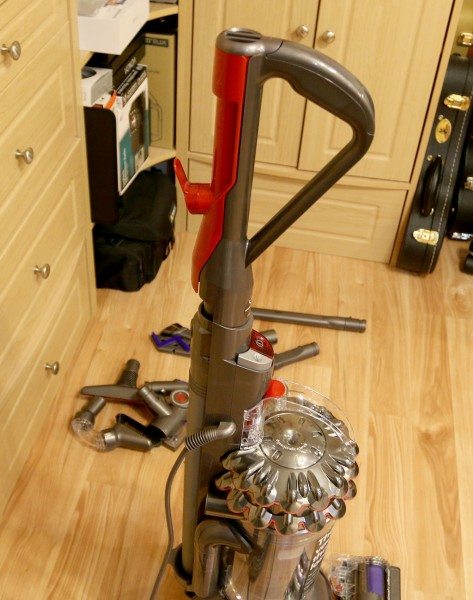 Then the handle can be attached. The handle has groves for the Telescope Reach wand to fit into. At this point you're done with assembly, now you're ready to clean floors, furniture and more.
But before we take the Dyson on its maiden voyage across my floors, let's take a look at the collection of tools that are included with this particular model of the Dyson Cinetic Big Ball Animal + Allergy vacuum.
Tangle-free Turbine tool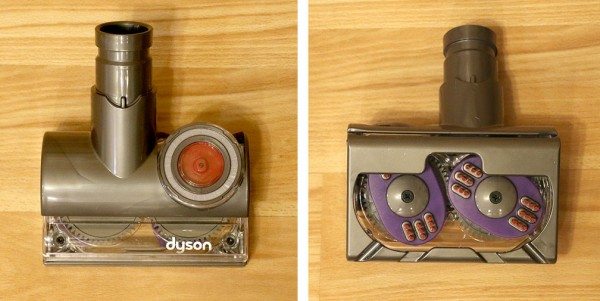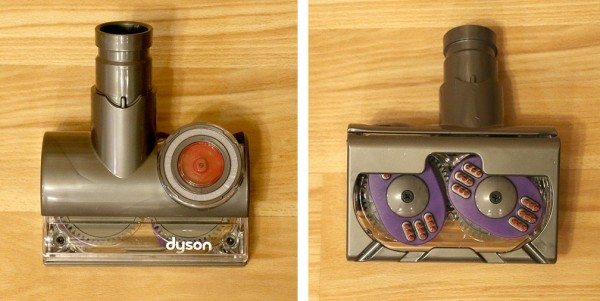 This same tool was included with the D65 that I reviewed last year. It has counter-rotating heads with brushes that have been designed to remove hair from carpets and upholstery. Since there's no brush bar for hair to wrap around, it won't get tangled. The turbine tool has a flexible head that self-adjusts to maintain contact across uneven surfaces. It works great for cleaning cat and dog hair off of furniture. I've already tested it several times on my upholstered chairs and couches and give it two thumbs up.
Carbon fiber soft dusting brush

This is a new attachment which has ultra-fine carbon fiber filaments that are designed to improve pick-up of fine dust from hard surfaces. It's thin enough fits into small crevices and has an angled handle which makes it easier to use.
Reach under tool


The Reach under tool is a wand with a flexible telescoping section that can help clean hard-to-reach parts of your home. There are two attachments which work with this tool. The paddle shaped tool you see above, and the small brush shown below.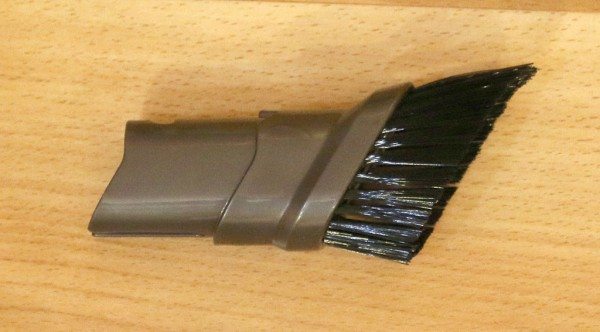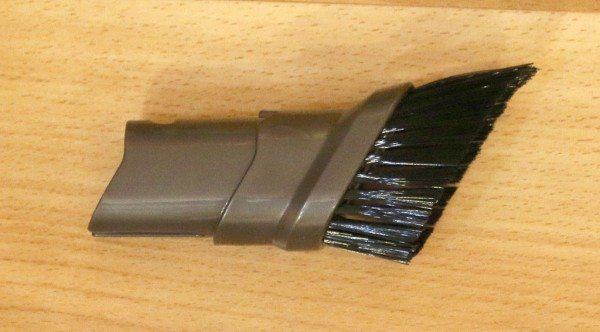 Multi-angle brush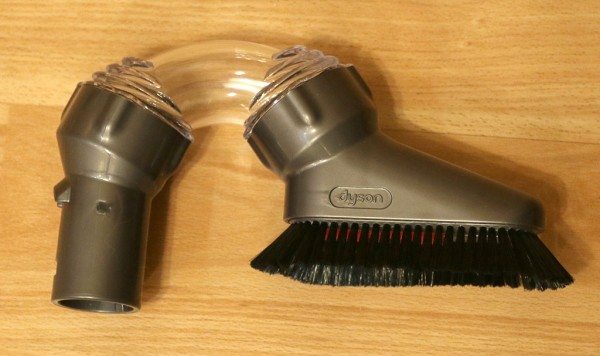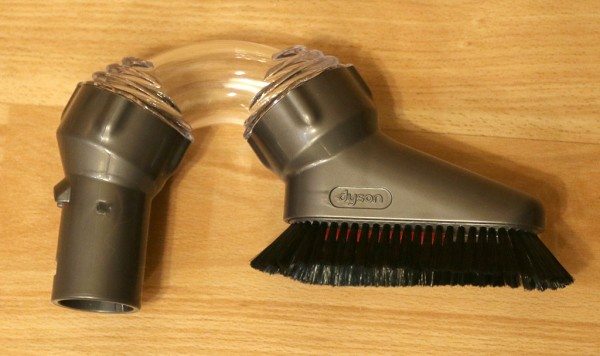 The Multi-angle brush can be customized to provide multiple angles that will remove dust, dirt and allergens from hard to reach surfaces such as cupboard tops, door frames, lampshades, etc.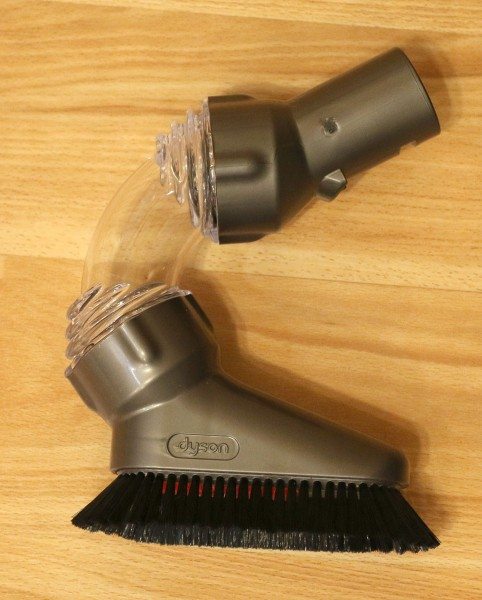 There are two rotating joints that click-lock into different positions for cleaning at multiple angles. It worked great for cleaning the blades in my ceiling fan.
Mattress tool

The Mattress tool attaches to the wand or hose on your Dyson vacuum cleaner and is used to remove dirt, allergens and dust mites from mattresses and upholstered furniture. There are two strips of material on the edges of the tool that use the same type of material that you find in lint brushes.
Combination tool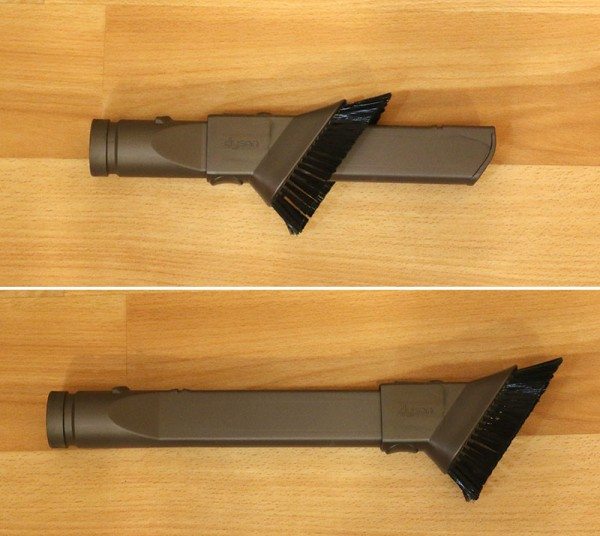 This is a 2-in-1 crevice / small brush tool. The brush can slide down the hard plastic crevice tool when it's not being used or slide to the end when needed.


I'm not sure what this tool is called as it's not even mentioned in the list of included tools. It's basically a smaller version of the mattress tool.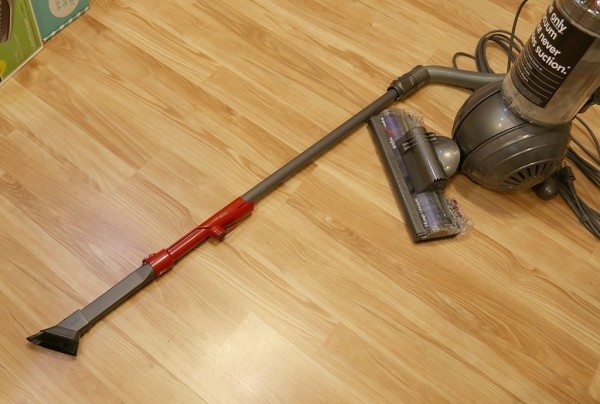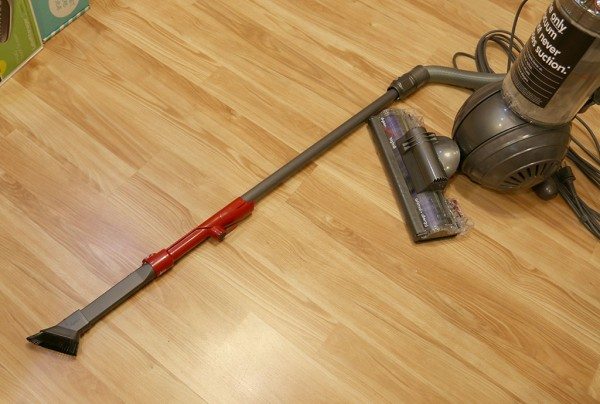 The tools snap into the end of the telescoping wand.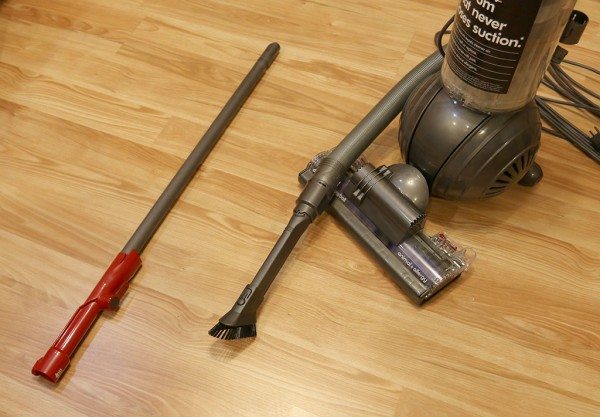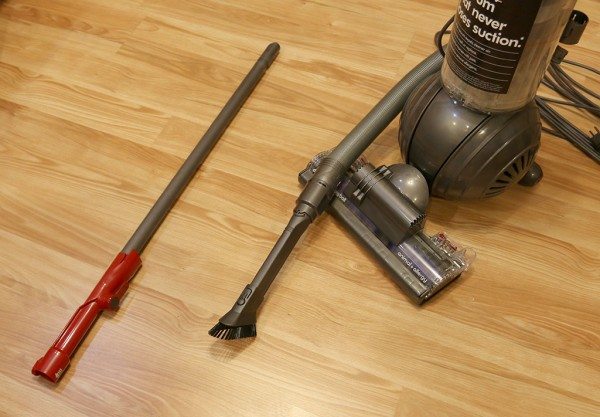 Or you can remove the wand and attach the tools right to the end of the flexible hose.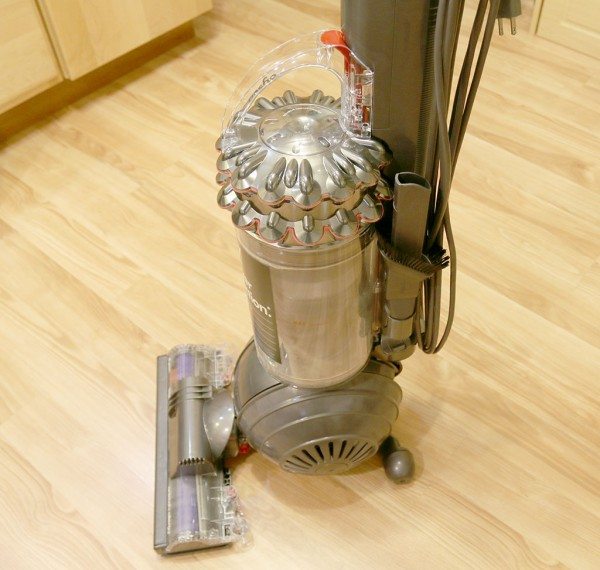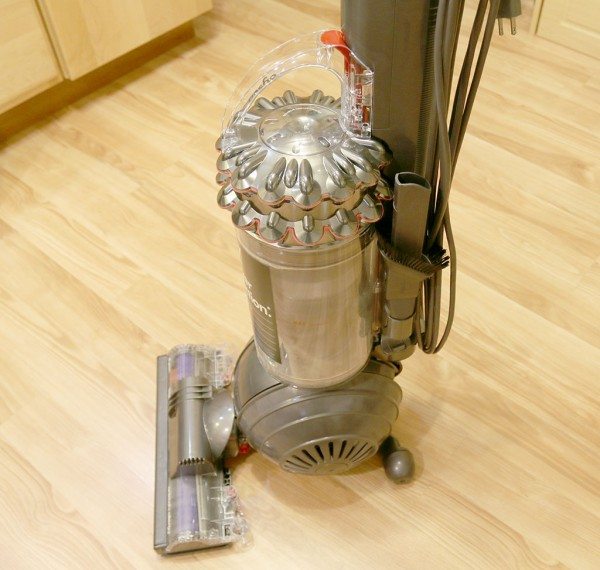 There's a snap on tool holder that you can attach to the side of the vacuum that you can use to hold your most used tool so you won't need to go hunting for it. I use it to hold the combination tool.
Using the Dyson Cinetic Big Ball Animal + Allergy vacuum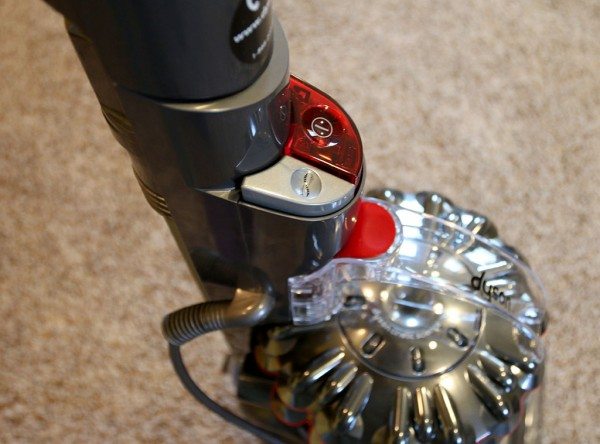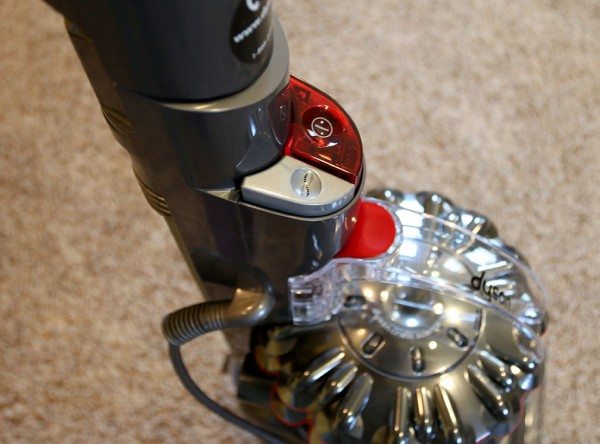 To start cleaning, put the vacuum in the upright position and press the large red power button on the handle. Next to this button is a smaller button that toggles the spinning of the brush. By default the brush will spin, but you'll want to turn it off for wood floors.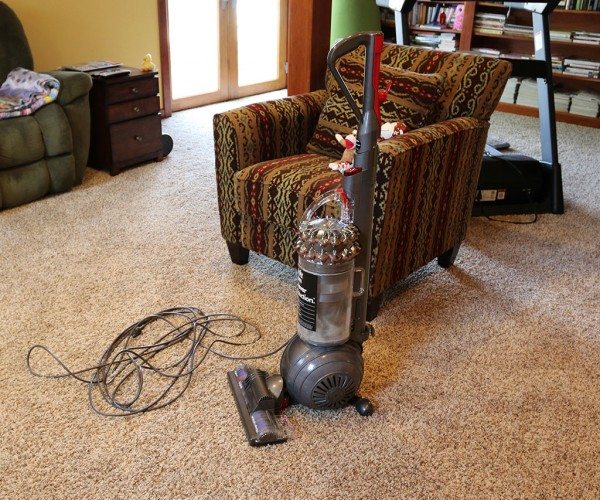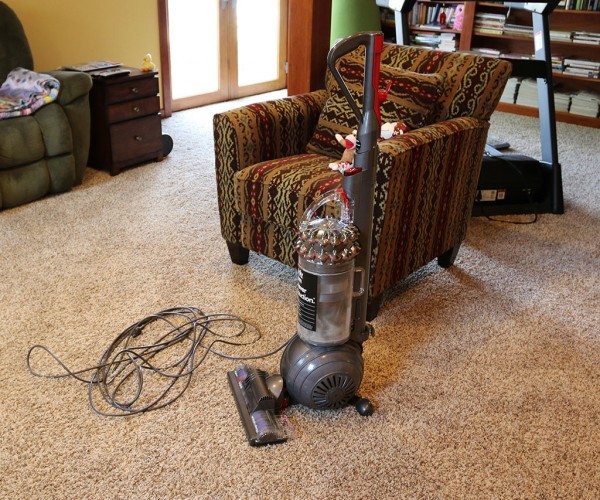 My main complaint with the DC65 was the awkward handle latching mechanism that required too much force to latch. I'm very happy to report that the handle on the Dyson Cinetic Big Ball Animal + Allergy vacuum latches much easier. The only time I have a slight issue with it is if I'm trying to latch it in the upright position on a hard floor. That's because the vacuum will roll forward as I push the handle forward to lock it in place. To fix this issue, I have  gotten into the habit of holding the cleaner head with my foot so the vacuum won't move.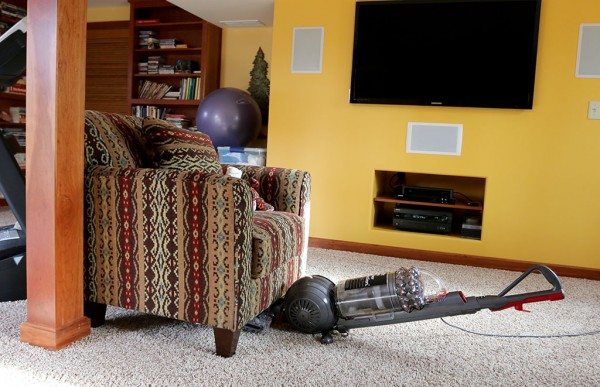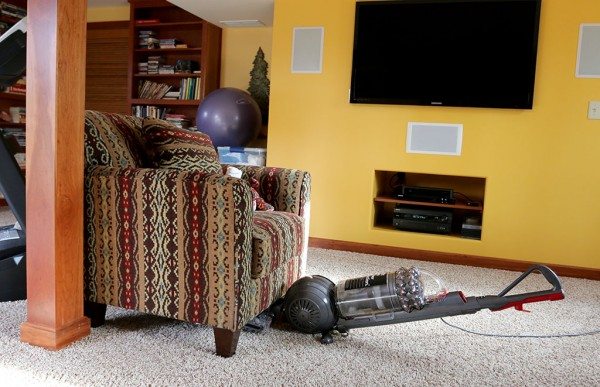 The Dyson maneuvers around furniture easily, but the big ball doesn't allow it to go under most of my furniture as you can see above.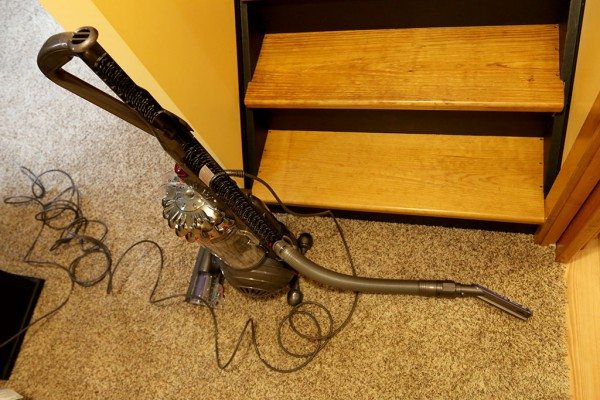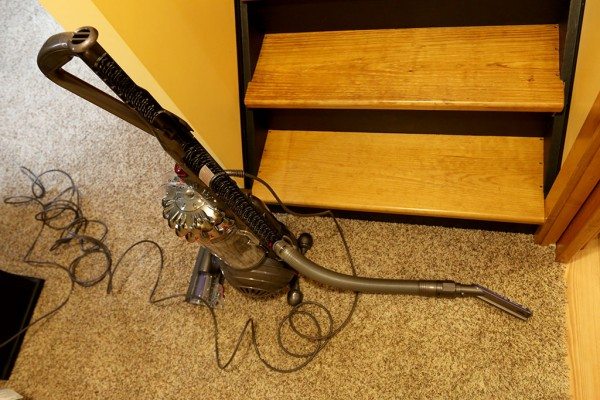 I love having the extendable hose connected right to the vacuum so it's always there ready to use. It is long enough that it can stretch one up a flight of stairs.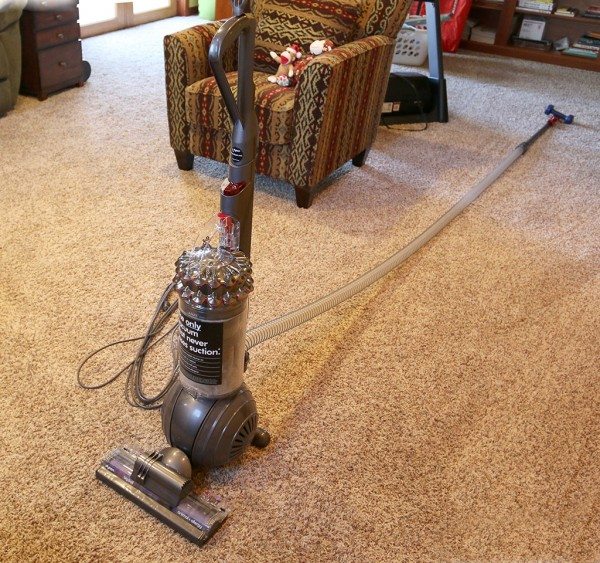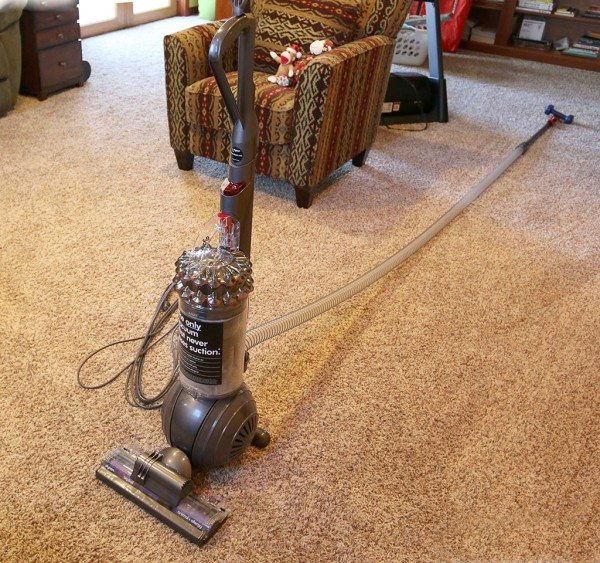 Here we see the hose stretched out. I placed a hand weight on the end of the hose so I could take the picture. The hose always wants to retract, so it might not be that easy to use if the vacuum is on a hard floor as it will cause the vacuum to roll towards you as you stretch out the hose. It seems to work fine on carpet though.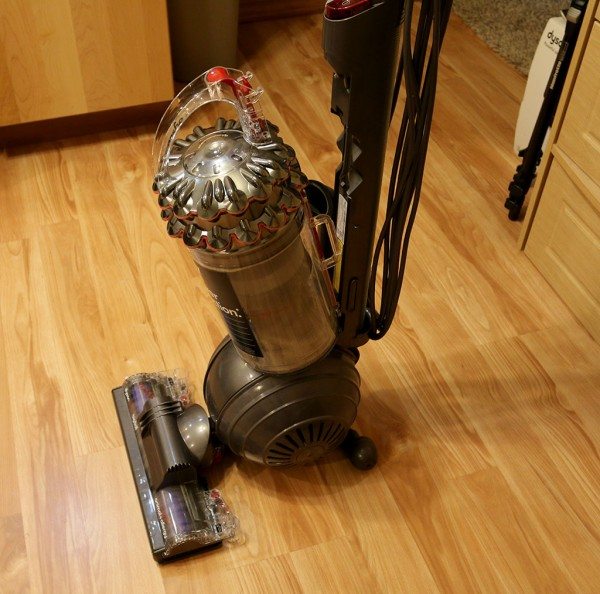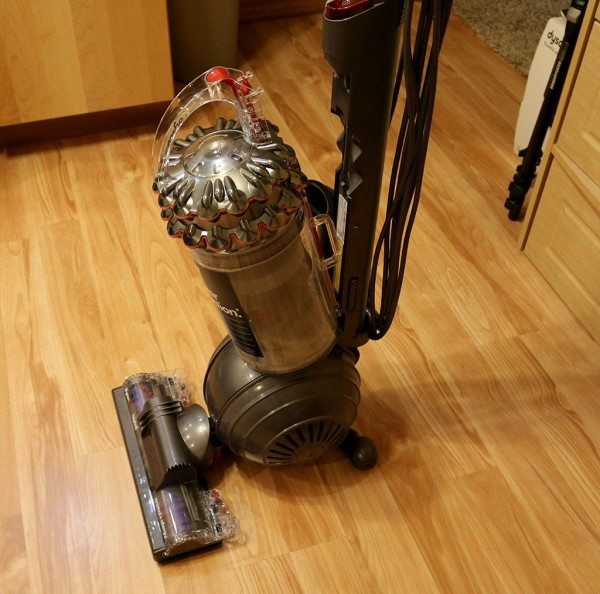 When you're finished cleaning, you'll want to dump the dirt bin. The bin easily detaches from the vacuum by pressing the red button on the handle of the bin.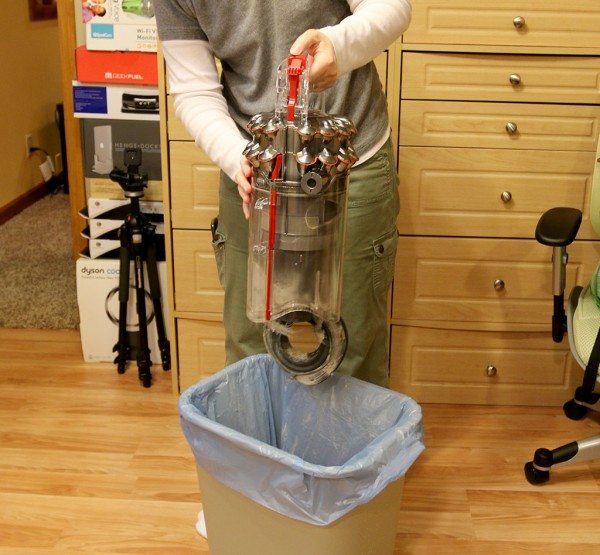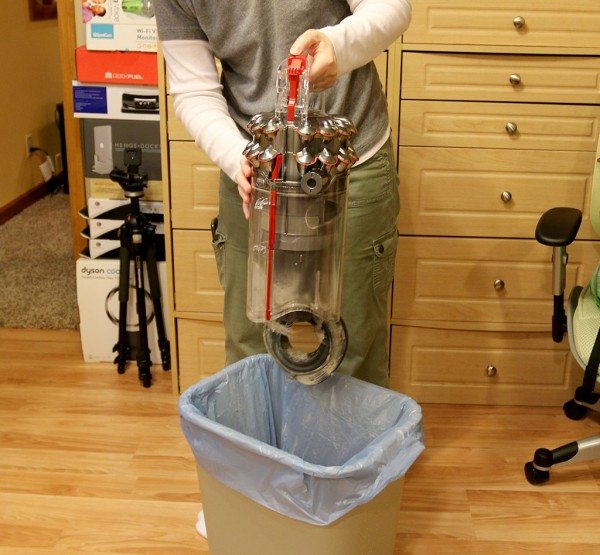 If you press the red button even farther, the bottom lid will unlatch from the dirt bin so the dirt can fall out. The problem I found is that if you have pets and are mostly vacuuming up their hair, it tends to stick to the sides of the canister and doesn't fall out of the bin when you open the lid. This means you'll have to use your fingers to pull out the dirt – yuck!  Also note that the bin capacity is pretty small (.57 gallons). If you have a large house, you may need to empty the bin multiple times before you're finished cleaning.
I used the Dyson on carpet, hard wood, vinyl and tile floors. It was able to pick up dirt on each surface. It did great picking up cat hair, litter and even kibble on various surfaces. Using the Dyson along with the Neato BotVac 80 robot vacuum is allowing me to keep my house much cleaner than before. Jeanne, my better half, was diagnosed as being allergic to dust mites (apparently this is a very common allergy), so it's important that we keep the carpets and floors cleaned of dust and dirt to lessen her allergy symptoms. She says she can really tell a difference since we started using the Dyson and BotVac. The BotVac can go places (under the bed and furniture) where the Dyson can't, so the two make a great pair.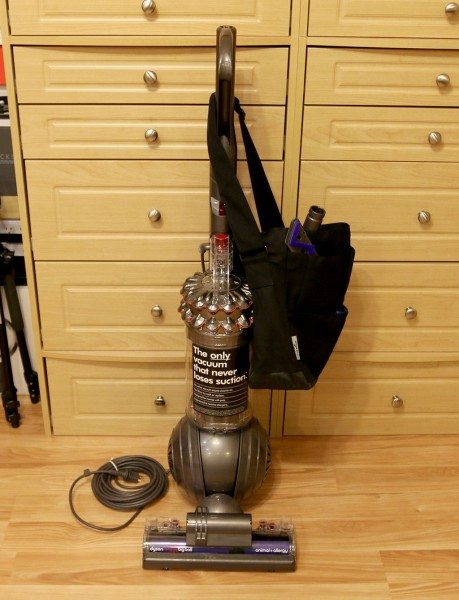 Dyson had one of the best bagless vacuums on the market before this latest redesign to remove the filter. Now that we don't need to worry about cleaning and replacing a filter, it makes this vac even better because it means it is maintenance free. Combine that with the 35 foot cord, built-in extendable hose, included tools and 5 year warranty, and the Dyson Cinetic Big Ball Animal + Allergy vacuum becomes an excellent tool to help keep your whole home clean.
Source: The sample for this review was provided by Dyson. Please visit their site for more info or Amazon to order.
Some of our links in posts like this one are affiliate links, which means that we may receive a small commission on purchases at no cost to you.