We use affiliate links. If you buy something through the links on this page, we may earn a commission at no cost to you. Learn more.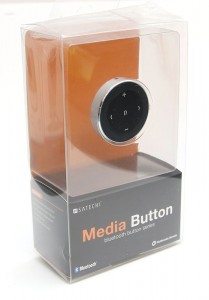 Do you use your smartphone to stream music while you're driving? If you do, you have probably struggled to interact with the music application while operating your vehicle. Especially during the winter months when you're wearing gloves. The biggest issue is that you should not be focusing your attention to skipping music tracks or giving a thumbs up to the latest song from Hozier even though every song of his is worthy of a thumbs up because he's great. That's not the point though. Your eyes should be on the road when you're driving. But how do you safely control your favorite media app in your car? One way is with the Satechi Bluetooth Button Series (Media Button). Like Hozier, this button rocks!
Note: Images can be clicked to view a larger size.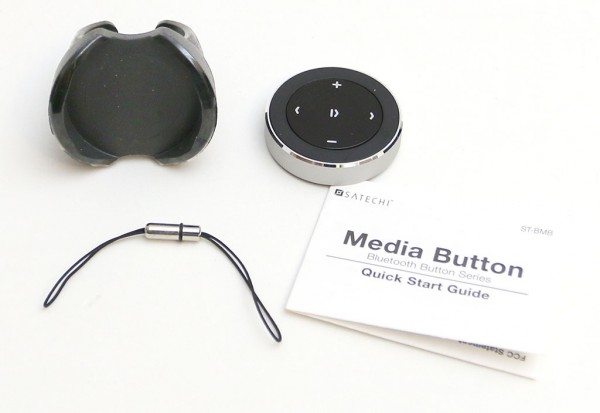 Package contents
Bluetooth Media Button
Button mount
Keychain attachment
3M sticker (not shown)
Quick start guide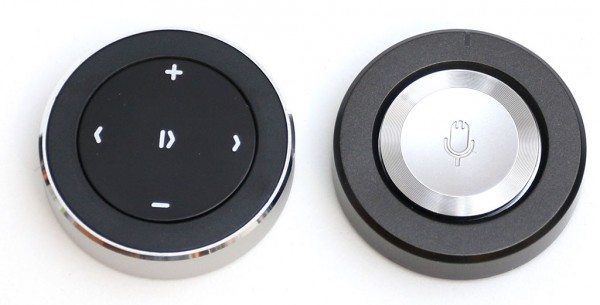 Earlier this week Andy Chen and I told you about a Bluetooth control button called the iBolt Command Remote. The button I'm going to tell you about today is similar to the iBolt button, but instead of being able to customize the button to do different actions, Satechi offers three different buttons. There's the Home button which gives you access to Siri or Google Voice Search, the Shutter button which allows you to snap pictures with a click, and the Media button which allows you to control your media player application. All the buttons are compatible with either iOS or Android.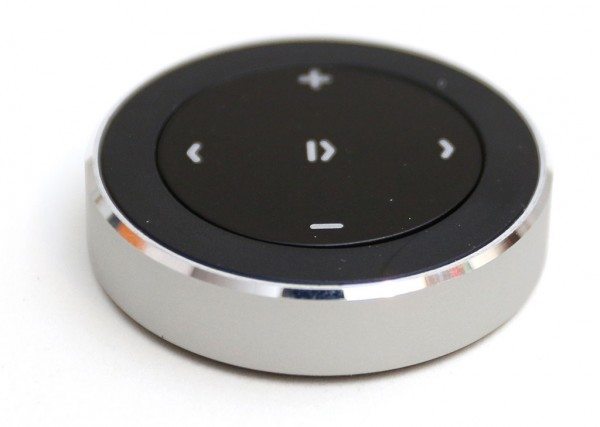 I was sent the Media button to review, which features a slim design made of aluminum and a five way button on the top. The button is flat but can be pressed in the center, top, button, left or right. The button has a very subtle click noise when you press it and has very little tactile feedback. There's also a status LED on the front between the volume up and play/pause labels.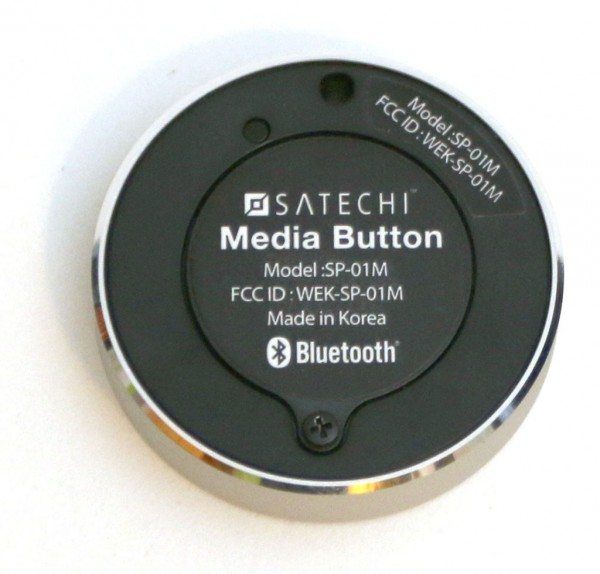 The Media button is powered by one replaceable CR2016 coin cell battery that will last up to 2 years. The battery compartment is on the back of the button along with a small Bluetooth pairing button and an eyelet at the top that is used to attach the included keychain lanyard.
To start using the Media button, all you have to do is press the tiny pairing button with a pointy object until the LED on the front starts blinking blue. Then go to your mobile device, turn on Bluetooth and search for devices. The Satechi Media Button will show up as "POP Multimedia". Click connect and you're done. There are no applications to install or settings to configure. Once paired, the button will control most music apps. I tested the Media button with Pandora, Google Music, Slacker and Spotify using my LG G3 Android smartphone. I was able to adjust the volume, switch between tracks and play/pause playback. Pressing the previous track button only works with apps that support that function like Google's default music app.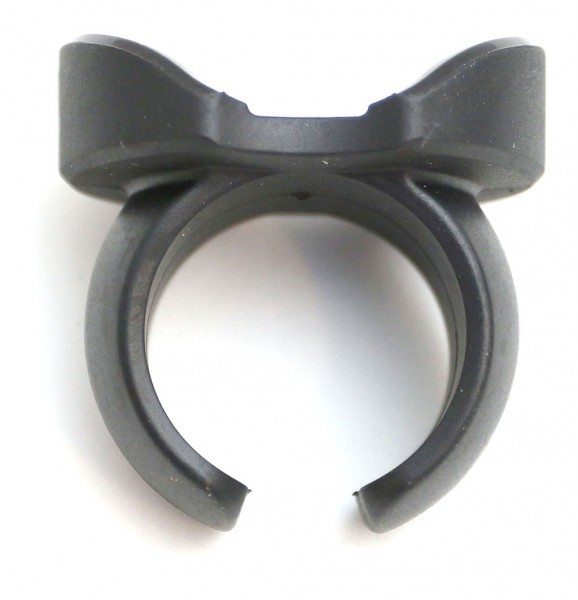 The Satechi Media button has a 40ft range, but I like using it with the included steering wheel mount. The mount looks like a large ring you'd find in a bubblegum machine. It's made of hard but flexible plastic with a holder on top for the button to snap into and arms that wrap around your steering wheel or possibly bicycle handle bars.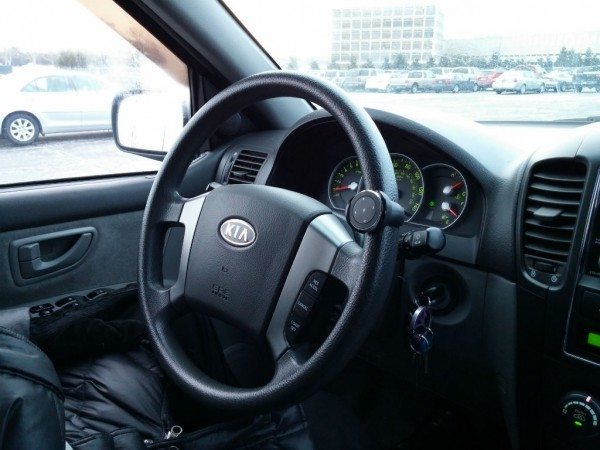 Here you see the button attached to the steering wheel of Jeanne's Kia Sorento. Having the button right there on the wheel makes it convenient to use without stealing your focus from the road.
The Satechi Media button is very easy to use and performs its designated functions without fail. After recently reviewing the iBolt Command Remote, I do wish the Satechi button could be customized to do different actions. But as is, it's a handy accessory that I've enjoyed testing and plan to keep using.
Update 07/19/15
I moved this button to my MINI Cooper and have been using it to control Spotify and Pandora with my LG G3. I'm finding that it is easier to use than the special Tasker gesture setup I was using before to control music. However, I wasn't satisfied (am I ever?) with just being able to control volume, play/pause and prev/next tracks, so I am still using Tasker. I reprogrammed the prev track button to mimic the thumbs up in Pandora or the + in Spotify. It isn't working perfectly (yet), but pressing the prev button on the iBolt multiple times will finally cause the thumbs up or + to stick. I figured that none of the streaming apps that I use take advantage of the prev button, so why not reprogram it to do something useful. I may end up reprogramming the volume buttons so I'll have a thumbs up and a thumbs down.
Update 06/28/16
The battery which was supposed to last up to 2 years only lasted a little over 1 year. When I went to replace it, I realized that it was using a CR2016 coin cell battery instead of the more popular CR2032. I didn't have any CR2016s laying around, but I did have a CR2032. This battery worked fine BUT the battery cover would not fit since the battery is about twice as thick as the CR2016. Since I'm using the steering wheel holder with the media button, I just cut a circle out of an old plastic credit card, held it against the back of the media button over the battery and then fit it into the steering wheel holder. Voila! Since the CR2032 has more capacity than the CR2016, the media button might actually last 2 years this time.
Source: The sample for this review was provided by Satechi. Please visit their site for more info.

Product Information
Price:
$29.99
Manufacturer:
Satechi
Pros:

Simple to setup/use
Easily controls media operations in most apps
2 year battery life

Cons:

Can't customize the button presses