We use affiliate links. If you buy something through the links on this page, we may earn a commission at no cost to you. Learn more.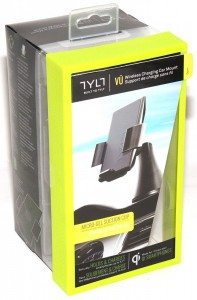 I truly believe charging your devices without having to plug them in is a great feature and the way of the future, that all cellphone/smart device manufactures should embrace. The TYLT VÜ wireless charger was one of my favorite review/tech products of 2014. It's build quality, upright orientation and triple coil design make it the hands down, best inductive charging stand I have ever used. Recently TYLT has introduced a wireless car charging mount engineered to power up and securely hold and display your mobile device while motoring down the road. 
Package Contents:

VÜ Wireless Charging Car Mount
12V Car Adapter Power Supply
2 Adjustable Feet
User Guide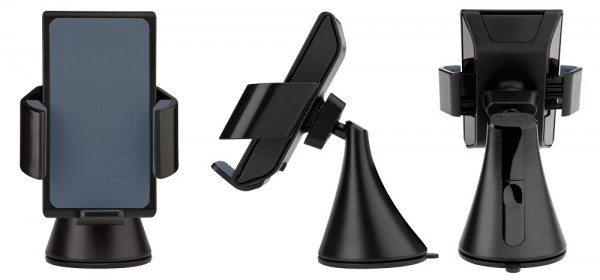 As I stated above, the TYLT VÜ wireless Qi charging car mount is not only a hands-free car smartphone holder but inductive wireless charger as well. The adjustable arms only require one hand to manipulate/operate and are able to hold smartphones with up to 6" screens (aka Nexus 6). The VÜ accommodates my Note 4 easily…
The VÜ car charger is constructed of hard plastic and soft rubber. It affixes to your windshield or car dash via suction cup and adhesive footing.
Specifications:
Width: 70mm
Height: 160mm
Thickness: 130mm
Weight: 264g
Adapter: 12V CLA
Standard: Qi inductive power transfer
Warranty: 1 Year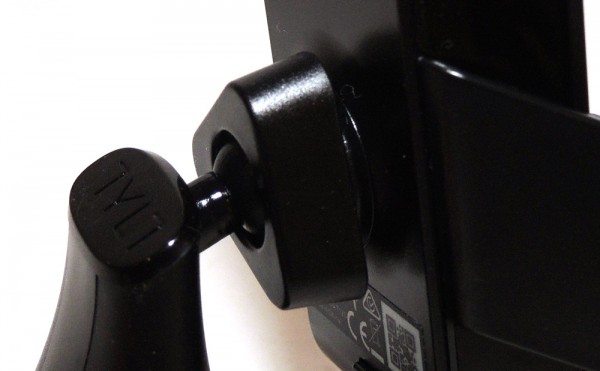 The mount uses a ball and socket design to securely hold the front plate in place.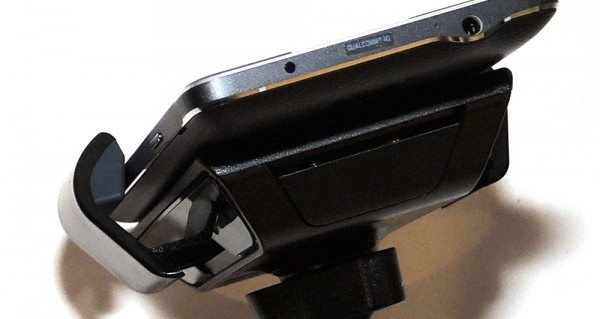 The VÜ car mount is well constructed, has a solid-feel, and reliably charges your device. A supporting foot and two adjustable arms holds your device securely from the sides and base. All points of contact have rubber/foam padding to keep your smartphone steady or from slipping out without scratching your device. There is a top button on the mount that releases the sliding side arms. Though I found once set, I was able to slip my Note 4 in and out of the mount arms without having to readjust them.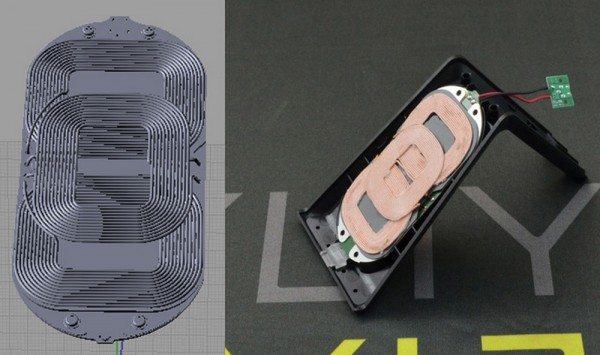 According to TYLT, the three coil system allows for easy/simple placement of your smartphone and ensures it will work with all Qi Phones. On my typical 30 – 40 minute drive home, the VÜ was able to add approximately 15% power to my battery. This mileage may vary depending on your battery capacity.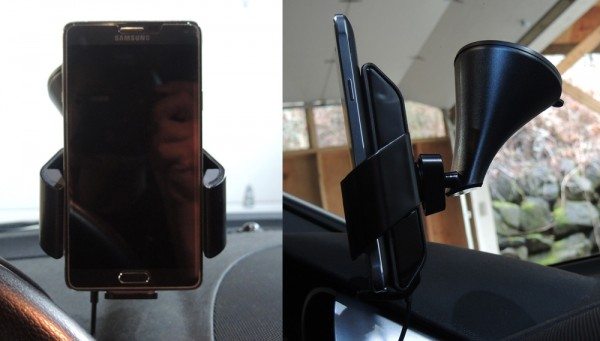 The micro-gel suction cup securely fastens to windshields, (most) dashboards, and solid surfaces. After multiple weeks of use, the VÜ has yet to fall from my windshield even with my heavy Note on board and bumpy road. The supporting foot is removable/exchangeable and TYLT includes an additional U-shaped foot for those times you need to access your smartphone's microUSB port. The mount is definitely not small but not the largest I have ever use either.

The included power adapter plugs into your cigarette lighter or 12 volt port to not only provide power for the VÜ but has an additional 5V 1.3A USB port for charging other device as well. As you can see, the 12V car adapter power supply is relatively big and bulky and has a propitiatory tip that you insert into the base of the VÜ mount. It is a shame TYLT has not gone away from this design and embraced the standard microUSB cable that are the norm these days. This would enable you to use any USB cable, power adapter, or even the powered USB port on the back of your stereo, if you wanted to take the time to bury the cable into the dash of your car.

The TYLT VÜ wireless charging car mount is available in grey, blue, red, and green.
While made of plastic and rubber, the TYLT VÜ wireless charging car mount is well made with solid construction. The ball and socket design and padded gripper arms, safely and securely hold your smartphone while the embedded inductive coils wirelessly charger your Qi-enabled device. During those days I am going from meeting to meeting, never able to charge my smartphone, I find the VÜ a great way to charge my device on my drive home with the added benefit of my Note having a place of its own (aka not rattling around my car).
Source: The sample for this review was provided by TYLT. Please visit their site for more info.

Product Information
Price:
$79.99
Manufacturer:
TYLT
Requirements:
Pros:

Well made with solid construction
Wirelessly charges your Qi enabled device
Safely and securely hold your smartphone
Padded, adjustable gripping arms

Cons:

Large and bulky
Proprietary power tip