We use affiliate links. If you buy something through the links on this page, we may earn a commission at no cost to you. Learn more.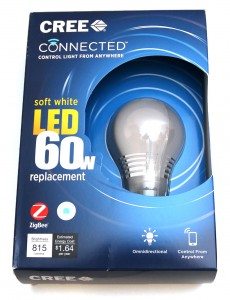 We live in a world where almost everything is connected and I love it. Whether it's my Dropcam cameras, my Withings WiFi Body Scale,  or even being able to check the temperature of the chicken I have baking in the oven with iDevices thermometer, connected devices are convenient and fun to use. Today I want to tell you about the CREE Connected LED light bulb. With this light bulb and a Wink or ZigBee hub, you can control the lights in your home with a tap of smartphone app. Let me show you how this connected bulb works.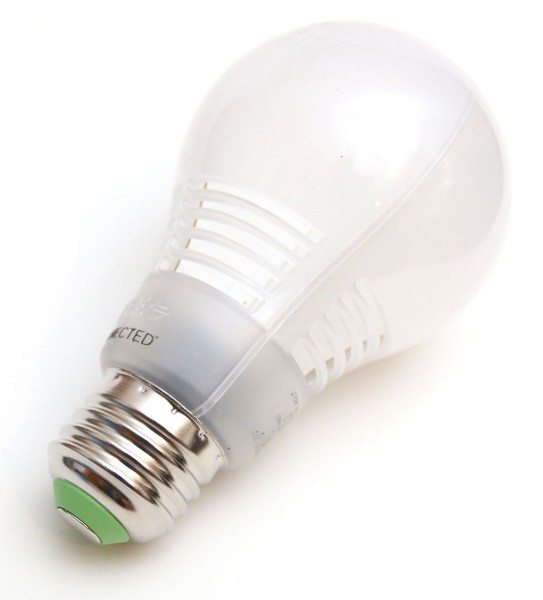 The Cree Connected LED 60W light bulb has a traditional light bulb look and shape. It even fits in any standard light bulb socket. But the Cree bulb isn't an energy sucking light bulb like those old style bulbs, it's an LED bulb that uses much less electricity and as a result you pay much less to power it. The bulb shown above has an estimated energy cost of only $1.64 for a whole year of use. Another advantage of Cree bulbs is that they do not get hot to the touch. Unlike standard bulbs which put out a lot of heat and would burn you if you touched one while it's on, Cree bulbs just get slightly warm. And if you happen to drop the LED bulb on a hard surface it won't shatter because it's made of plastic.
Other than saving money and electricity, the Cree Connected bulb's main advantage is that you can control the light from anywhere with your iOS or Android smartphone and devices. All you need is a ZigBee or Wink certified hub which you can find at various online retailers like Amazon and Home Depot. I tried the Cree Connected bulb with a Wink Hub which was very quick and easy to setup.
With the Wink app installed on my LG G3 smartphone, I was able to turn the Cree bulb on and off with a simple tap of my finger and dim the light with a swipe. Bulbs can be controlled individually or in groups if you have more than one. You can even view a log that shows when the lights were activated or deactivated.
I was also able to setup a schedule to automatically turn the light on and off based on date and time events that I had created. The schedule feature is very convenient for people who travel a lot and want to make it look like someone is home while they are away. It can also be handy during the winter months if you always get home at a certain time of night and want the lights to be on when you open in the door instead of having to fumble around with gloved hands to find the light switch.
Check out this short video demo:
The Cree connected LED Bulb is priced at $14.97 from Home Depot. You can also buy a Wink Hub from Home Depot for $49.99.
Source: The sample for this post was provided by Cree. Please visit their site for more info.